This website uses cookies to ensure you get the best experience while browsing it. By clicking 'Got It' you're accepting these terms.
Fighting Dark Money to Restore Our Democracy
Mar. 31, 2015 09:39AM EST
Climate
It's no secret that since the U.S. Supreme Court's 2010 Citizens United decision approved unrestricted campaign spending by corporations, elections have been drowning in a flood of what's referred as "dark money." Much of it has been passed through so-called social advocacy groups, such as the Koch Brothers-founded Americans for Prosperity, which don't have to reveal the source of the money they spend electing climate deniers to office. So we don't really know how much corporate money is being poured into such groups and where it's coming from. Even the shareholders who technically own these companies aren't privy to this information.
While groups like Move to Amend work to pass a constitutional amendment to end the money avalanche, there's a more direct and immediate route to holding corporations accountable. U.S. Securities and Exchange Commission (SEC) chair Mary Jo White has the power to curb corporate election spending. So a coalition of groups that includes Avaaz, Public Citizen, Common Cause, U.S. PIRG, Greenpeace, International Brotherhood of Teamsters and Communications Workers of America has pooled its money under the auspices of the Corporate Reform Coalition to launch a month-long campaign called "Where Is Mary Jo White?" urging her to do so.
"Publicly traded corporations, including many in the fossil fuel industry, are getting away with hiding their political spending from shareholders and the public, polluting not only our climate, but our democracy," said Greenpeace democracy campaigner Rachel Rye Butler. "The public deserves to know how corporations are spending investor cash to influence elections. More than a million people have asked the Securities and Exchange Commission to take action, so the question is, 'Where is Mary Jo White?'"
To spur White to take action, the comic strip-style ads will be plastered around Washington D.C.'s Union Station, a major transportation hub near SEC's offices. They depict White as a superhero who can save terrified investors and citizens from the "dark money monster." The ads will be promoted through social media with the hashtag #WhereIsMJW and an animated video that shows panicked citizens calling out for White to take action as towering monsters splatter the Capitol and the White House with oil-soaked bags of money.
The campaign is timed to precede the SEC's spring announcement of its rulemaking agenda. Under former Chair Mary Schapiro, the agency had included a political disclosure rule on its 2013 agenda, but White removed it last year. A petition requesting the rulemaking was filed in 2011 by a bipartisan committee of law professors, and more than a million comments have been submitted to the SEC from investors supporting the rule, including large institutional investors such as pension funds and five state treasurers.
"Corporate political spending requires particular investor protections because it exposes investors to significant new risks," points out Lisa Gilbert, director of Public Citizen's Congress Watch division. "Corporate political spending choices may diverge from a company's stated values or policies, or may embroil the company in hot-button issues. Investors have a right to know what candidates or issues their investments are going to support or oppose."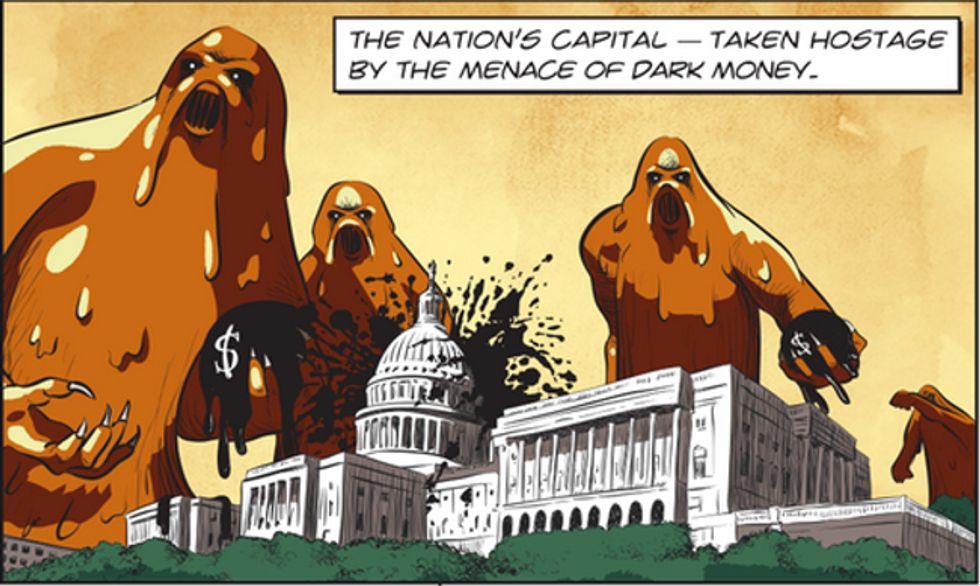 That there is rising investor concern about corporate political spending, especially hidden spending, is indicated by the fact that, in the last five years, shareholders have filed more than 500 resolutions on such corporate spending. Last year such resolutions were the highest-scoring proxy proposals; four garnered majority support in spite of corporate management opposition. Already this year, investors have filed more than 110 such proposals, more than a quarter of all shareholder proposals filed in 2015. And most will receive no action and fail to move the corporations in the direction of greater transparency.
The "Where Is Mary Jo White?" campaign hopes that the SEC will take action on behalf of shareholders who are being stonewalled by the companies whose stock they own.
"From Big Oil to Big Pharma, this undisclosed dark money is rotting our corporate democracy from the inside out, and thousands of citizens are saying no more dirty secrets," said Joseph Huff-Hannon, senior campaigner with Avaaz. "This cheeky ad campaign is calling on SEC Chair Mary Jo White to defend us and our country from these creatures. We know she can. The only question is, will she?"
YOU MIGHT ALSO LIKE
Dark Money Fuels Election Wins for Climate Deniers
Polluting Politics: Koch Industries and Others Spend Millions to Gut Clean Water Act Protections
Koch-Connected Nonprofits Use 'Dark Money' to Fight Political Disclosure
EcoWatch Daily Newsletter
Aerial view of Ruropolis, Para state, northen Brazil, on Sept. 6, 2019. Tthe world's biggest rainforest is under threat from wildfires and rampant deforestation. JOHANNES MYBURGH / AFP via Getty Images
By Kate Martyr
Deforestation in Brazil's Amazon rainforest last month jumped to the highest level since records began in 2015, according to government data.
A total of 563 square kilometers (217.38 square miles) of the world's largest rainforest was destroyed in November, 103% more than in the same month last year, according to Brazil's space research agency.
From January to November this year an area almost the size of the Caribbean island of Puerto Rico was destroyed — an 83% overall increase in destruction when compared with the same period last year.
The figures were released on Friday by the National Institute for Space Research (INPE), and collected through the DETER database, which uses satellite images to monitor forest fires, forest destruction and other developments affecting the rainforest.
What's Behind the Rise?
Overall, deforestation in 2019 has jumped 30% compared to last year — 9,762 square kilometers (approximately 3769 square miles) have been destroyed, despite deforestation usually slowing during November and December.
Environmental groups, researchers and activists blamed the policies of Brazil's president Jair Bolsonaro for the increase.
They say that Bolosonaro's calls for the Amazon to be developed and his weakening support for Ibama, the government's environmental agency, have led to loggers and ranchers feeling safer and braver in destroying the expansive rainforest.
His government hit back at these claims, pointing out that previous governments also cut budgets to environment agencies such as Ibama.
The report comes as Brazil came to loggerheads with the Association of Small Island States (AOSIS) over climate goals during the UN climate conference in Madrid.
AOSIS blasted Brazil, among other nations, for "a lack of ambition that also undermines ours."
Last month, a group of Brazilian lawyers called for Bolsonaro to be investigated by the International Criminal Court over his environmental policies.
Reposted with permission from DW.
The Carolina parakeet went extinct in 1918. James St. John /
CC BY 2.0
The Carolina parakeet, the only parrot species native to the U.S., went extinct in 1918 when the last bird died at the Cincinnati Zoo. Now, a little more than 100 years later, researchers have determined that humans were entirely to blame.
Pexels
Vitamin C is a very important nutrient that's abundant in many fruits and vegetables.
BLM drill seeders work to restore native grasses after wildfire on the Bowden Hills Wilderness Study Area in southeast Oregon, Dec. 14, 2018. Marcus Johnson / BLM / CC BY 2.0
By Tara Lohan
In 2017 the Thomas fire raged through 281,893 acres in Ventura and Santa Barbara counties, California, leaving in its wake a blackened expanse of land, burned vegetation, and more than 1,000 destroyed buildings.