Fighting Dark Money to Restore Our Democracy
It's no secret that since the U.S. Supreme Court's 2010 Citizens United decision approved unrestricted campaign spending by corporations, elections have been drowning in a flood of what's referred as "dark money." Much of it has been passed through so-called social advocacy groups, such as the Koch Brothers-founded Americans for Prosperity, which don't have to reveal the source of the money they spend electing climate deniers to office. So we don't really know how much corporate money is being poured into such groups and where it's coming from. Even the shareholders who technically own these companies aren't privy to this information.
While groups like Move to Amend work to pass a constitutional amendment to end the money avalanche, there's a more direct and immediate route to holding corporations accountable. U.S. Securities and Exchange Commission (SEC) chair Mary Jo White has the power to curb corporate election spending. So a coalition of groups that includes Avaaz, Public Citizen, Common Cause, U.S. PIRG, Greenpeace, International Brotherhood of Teamsters and Communications Workers of America has pooled its money under the auspices of the Corporate Reform Coalition to launch a month-long campaign called "Where Is Mary Jo White?" urging her to do so.
"Publicly traded corporations, including many in the fossil fuel industry, are getting away with hiding their political spending from shareholders and the public, polluting not only our climate, but our democracy," said Greenpeace democracy campaigner Rachel Rye Butler. "The public deserves to know how corporations are spending investor cash to influence elections. More than a million people have asked the Securities and Exchange Commission to take action, so the question is, 'Where is Mary Jo White?'"
To spur White to take action, the comic strip-style ads will be plastered around Washington D.C.'s Union Station, a major transportation hub near SEC's offices. They depict White as a superhero who can save terrified investors and citizens from the "dark money monster." The ads will be promoted through social media with the hashtag #WhereIsMJW and an animated video that shows panicked citizens calling out for White to take action as towering monsters splatter the Capitol and the White House with oil-soaked bags of money.
The campaign is timed to precede the SEC's spring announcement of its rulemaking agenda. Under former Chair Mary Schapiro, the agency had included a political disclosure rule on its 2013 agenda, but White removed it last year. A petition requesting the rulemaking was filed in 2011 by a bipartisan committee of law professors, and more than a million comments have been submitted to the SEC from investors supporting the rule, including large institutional investors such as pension funds and five state treasurers.
"Corporate political spending requires particular investor protections because it exposes investors to significant new risks," points out Lisa Gilbert, director of Public Citizen's Congress Watch division. "Corporate political spending choices may diverge from a company's stated values or policies, or may embroil the company in hot-button issues. Investors have a right to know what candidates or issues their investments are going to support or oppose."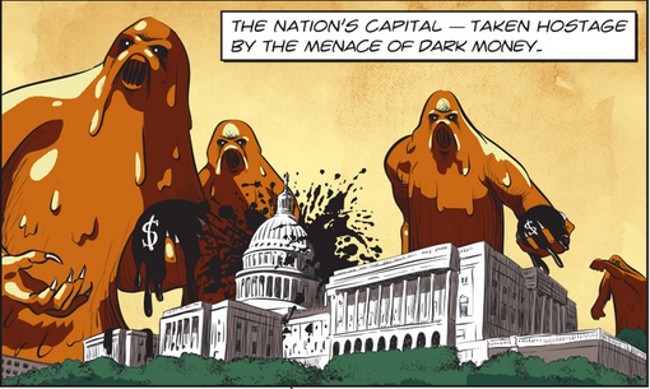 That there is rising investor concern about corporate political spending, especially hidden spending, is indicated by the fact that, in the last five years, shareholders have filed more than 500 resolutions on such corporate spending. Last year such resolutions were the highest-scoring proxy proposals; four garnered majority support in spite of corporate management opposition. Already this year, investors have filed more than 110 such proposals, more than a quarter of all shareholder proposals filed in 2015. And most will receive no action and fail to move the corporations in the direction of greater transparency.
The "Where Is Mary Jo White?" campaign hopes that the SEC will take action on behalf of shareholders who are being stonewalled by the companies whose stock they own.
"From Big Oil to Big Pharma, this undisclosed dark money is rotting our corporate democracy from the inside out, and thousands of citizens are saying no more dirty secrets," said Joseph Huff-Hannon, senior campaigner with Avaaz. "This cheeky ad campaign is calling on SEC Chair Mary Jo White to defend us and our country from these creatures. We know she can. The only question is, will she?"
YOU MIGHT ALSO LIKE
Dark Money Fuels Election Wins for Climate Deniers
Polluting Politics: Koch Industries and Others Spend Millions to Gut Clean Water Act Protections
Koch-Connected Nonprofits Use 'Dark Money' to Fight Political Disclosure
Wikimedia Commons
By Stacy Malkan
Neil deGrasse Tyson has inspired millions of people to care about science and imagine themselves as participants in the scientific process. What a hopeful sign it is to see young girls wearing t-shirts emblazoned with the words, "Forget princess, I want to be an astrophysicist."
Keep reading...
Show less
www.youtube.com
By Andy Rowell
Any day now we will truly witness climate change in action. Within days at worst, maybe weeks at best, scientists predict that a huge section of the Larsen C ice shelf in Antarctica will break off into the ocean, in what is called a major "carving" event.
Keep reading...
Show less
www.youtube.com
President Trump visited Cedar Rapids, Iowa on June 21 to speak to a large crowd in the U.S. Cellular Center at a political rally organized by his campaign.
As Trevor Noah noted during The Daily Show episode last night (starts at 2:25), the real reason Trump has these rallies is to "get back in front of his loyal crowds and feed of their energy." Noah believes that "Trump supporters are so on board with their dude he can say anything and they'll come along for the ride."
Keep reading...
Show less
The Kamuthi solar plant in the southern Indian state of Tamil Nadu.
The rapid growth in renewable energy continues to put a dent in the demand for coal.
Coal India, the world's biggest coal mining company and producer of 82 percent of the country's coal, announced the closure of 37 mines that are financially "unviable."
Keep reading...
Show less
www.youtube.com
By Katie O'Reilly
Two years ago—long before coal became one of the most dominant and controversial symbols of the 2016 presidential election—Bloomberg Philanthropies approached production company RadicalMedia with the idea of creating a documentary exploring the U.S. coal mining industry. Last spring, they brought on Emmy-nominated director Michael Bonfiglio, tasked with forging a compelling story out of the multitudes of facts, statistics and narratives underlying the declining industry.
Keep reading...
Show less
Mayors for 100% Clean Energy
Keep reading...
Show less
www.youtube.com
Thanks to Newsy for their coverage on Thursday's news that the U.S. Fish and Wildlife Service removed grizzly bears in the Greater Yellowstone region from the Endangered Species List.
Watch above as Newsy explains that the decision comes despite serious concerns from the environmental and scientific community, and Tribal Nations about a declining, isolated grizzly bear population with diminishing food resources and record-high mortalities.
Keep reading...
Show less
www.facebook.com
By Francine Kershaw
Seismic airguns exploding in the ocean in search for oil and gas have devastating impacts on zooplankton, which are critical food sources for marine mammals, according to a new study in Nature. The blasting decimates one of the ocean's most vital groups of organisms over huge areas and may disrupt entire ecosystems.
And this devastating news comes on the heels of the National Marine Fisheries Service's proposal to authorize more than 90,000 miles of active seismic blasting. Based on the results of this study, the affected area would be approximately 135,000 square miles.
Keep reading...
Show less
By Jill Richardson
Is coconut oil:
good for you
bad for you
neither good nor bad
scientists don't know
The subject of this question is the source of a disagreement. Initially, the question was thought to be settled decades ago, when scientist Ancel Keys declared all saturated fats unhealthy. Coconut oil, which is solid at room temperature, is a saturated fat.
Keep reading...
Show less


Get EcoWatch in your inbox