This website uses cookies to ensure you get the best experience while browsing it. By clicking 'Got It' you're accepting these terms.
Fighting Dark Money to Restore Our Democracy
Mar. 31, 2015 09:39AM EST
Climate
It's no secret that since the U.S. Supreme Court's 2010 Citizens United decision approved unrestricted campaign spending by corporations, elections have been drowning in a flood of what's referred as "dark money." Much of it has been passed through so-called social advocacy groups, such as the Koch Brothers-founded Americans for Prosperity, which don't have to reveal the source of the money they spend electing climate deniers to office. So we don't really know how much corporate money is being poured into such groups and where it's coming from. Even the shareholders who technically own these companies aren't privy to this information.
While groups like Move to Amend work to pass a constitutional amendment to end the money avalanche, there's a more direct and immediate route to holding corporations accountable. U.S. Securities and Exchange Commission (SEC) chair Mary Jo White has the power to curb corporate election spending. So a coalition of groups that includes Avaaz, Public Citizen, Common Cause, U.S. PIRG, Greenpeace, International Brotherhood of Teamsters and Communications Workers of America has pooled its money under the auspices of the Corporate Reform Coalition to launch a month-long campaign called "Where Is Mary Jo White?" urging her to do so.
"Publicly traded corporations, including many in the fossil fuel industry, are getting away with hiding their political spending from shareholders and the public, polluting not only our climate, but our democracy," said Greenpeace democracy campaigner Rachel Rye Butler. "The public deserves to know how corporations are spending investor cash to influence elections. More than a million people have asked the Securities and Exchange Commission to take action, so the question is, 'Where is Mary Jo White?'"
To spur White to take action, the comic strip-style ads will be plastered around Washington D.C.'s Union Station, a major transportation hub near SEC's offices. They depict White as a superhero who can save terrified investors and citizens from the "dark money monster." The ads will be promoted through social media with the hashtag #WhereIsMJW and an animated video that shows panicked citizens calling out for White to take action as towering monsters splatter the Capitol and the White House with oil-soaked bags of money.
The campaign is timed to precede the SEC's spring announcement of its rulemaking agenda. Under former Chair Mary Schapiro, the agency had included a political disclosure rule on its 2013 agenda, but White removed it last year. A petition requesting the rulemaking was filed in 2011 by a bipartisan committee of law professors, and more than a million comments have been submitted to the SEC from investors supporting the rule, including large institutional investors such as pension funds and five state treasurers.
"Corporate political spending requires particular investor protections because it exposes investors to significant new risks," points out Lisa Gilbert, director of Public Citizen's Congress Watch division. "Corporate political spending choices may diverge from a company's stated values or policies, or may embroil the company in hot-button issues. Investors have a right to know what candidates or issues their investments are going to support or oppose."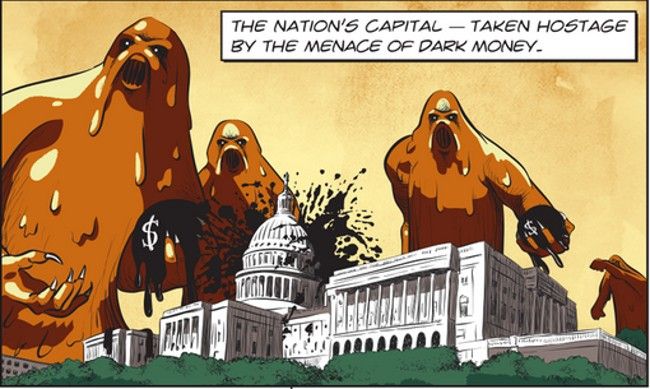 That there is rising investor concern about corporate political spending, especially hidden spending, is indicated by the fact that, in the last five years, shareholders have filed more than 500 resolutions on such corporate spending. Last year such resolutions were the highest-scoring proxy proposals; four garnered majority support in spite of corporate management opposition. Already this year, investors have filed more than 110 such proposals, more than a quarter of all shareholder proposals filed in 2015. And most will receive no action and fail to move the corporations in the direction of greater transparency.
The "Where Is Mary Jo White?" campaign hopes that the SEC will take action on behalf of shareholders who are being stonewalled by the companies whose stock they own.
"From Big Oil to Big Pharma, this undisclosed dark money is rotting our corporate democracy from the inside out, and thousands of citizens are saying no more dirty secrets," said Joseph Huff-Hannon, senior campaigner with Avaaz. "This cheeky ad campaign is calling on SEC Chair Mary Jo White to defend us and our country from these creatures. We know she can. The only question is, will she?"
YOU MIGHT ALSO LIKE
Dark Money Fuels Election Wins for Climate Deniers
Polluting Politics: Koch Industries and Others Spend Millions to Gut Clean Water Act Protections
Koch-Connected Nonprofits Use 'Dark Money' to Fight Political Disclosure
EcoWatch Daily Newsletter
Artist's conception of solar islands in the open ocean. PNAS
Millions of solar panels clustered together to form an island could convert carbon dioxide in seawater into methanol, which can fuel airplanes and trucks, according to new research from Norway and Switzerland and published in the Proceedings of the National Academy of Sciences journal, PNAS, as NBC News reported. The floating islands could drastically reduce greenhouse gas emissions and dependence on fossil fuels.
Marcos Alves / Moment Open / Getty Images
More than 40 percent of insects could go extinct globally in the next few decades. So why did the U.S. Environmental Protection Agency (EPA) last week OK the 'emergency' use of the bee-killing pesticide sulfoxaflor on 13.9 million acres?
EcoWatch teamed up with Center for Biological Diversity via EcoWatch Live on Facebook to find out why. Environmental Health Director and Senior Attorney Lori Ann Burd explained how there is a loophole in the The Federal Insecticide, Fungicide, and Rodenticide Act under section 18, "that allows for entities and states to request emergency exemptions to spraying pesticides where they otherwise wouldn't be allowed to spray."
Simple swaps that cut down on kitchen trash.
Sponsored
By Kayla Robbins
Along with the bathroom, the kitchen is one of the most daunting areas to try and make zero waste.
View of downtown Miami, Florida from Hobie Island on Feb. 2, 2019.
Michael Muraz / Flickr
The Democratic candidates for president descended upon Miami for a two-night debate on Wednesday and Thursday. Any candidate hoping to carry the state will have to make the climate crisis central to their campaign, as The New York Times reported.
By Sharon Kelly
On Monday, the Wall Street Journal featured a profile of Scott Sheffield, CEO of Pioneer Natural Resources, whose company is known among investors for its emphasis on drawing oil and gas from the Permian basin in Texas using horizontal drilling and hydraulic fracturing, or fracking.
Pexels
By Craig K. Chandler
The federal government has available to it, should it choose to use them, a wide range of potential climate change management tools, going well beyond the traditional pollution control regulatory options. And, in some cases (not all), without new legislative authorization.
Denis Poroy / Getty Images
By Dan Gray
Processed foods, in their many delicious forms, are an American favorite.
But new research shows that despite increasing evidence on just how unhealthy processed foods are, Americans have continued to eat the products at the same rate.
By Sarah Steffen
With a profound understanding of their environmental surroundings, indigenous communities around the world are often cited as being pivotal to tackling climate change.