This website uses cookies to ensure you get the best experience while browsing it. By clicking 'Got It' you're accepting these terms.


The best of EcoWatch, right in your inbox. Sign up for our email newsletter!
Fight to Label GE Food in California Gains Momentum
Aug. 10, 2012 12:38PM EST
GMO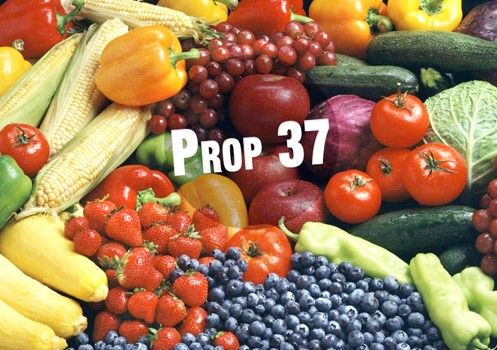 Californians deserve the right to know whether their food contains genetically engineered ingredients, just as consumers do in 40 other countries around the world, including China. But the only way they'll win that right is by voting yes on Proposition 37 on November 6, and today Environmental Working Group, (EWG) a national research and advocacy organization, announced that it will join the fight to pass the measure.
Proposition 37, a relatively straightforward proposal, would require a simple label on any food product that contains ingredients that have been genetically modified, commonly called GMOs. More than 1 million Californians have signed petitions to get the measure on the November ballot.
Until now, GMO foods—primarily soy, corn or beet sugar—have mostly been used in processed food and animal feed, but the U.S. Department of Agriculture is considering approving the sale of genetically modified versions of widely eaten foods such as apples and salmon. Currently, 90 percent of sugar beets and 94 percent of soybeans grown in the U.S., and 88 percent of corn grown for animal feed, are genetically modified.
"Surveys show that more than 90 percent of Californians believe it's their right to know if genetically engineered ingredients are in the food they eat and feed their kids, and for years now they've had no way to find out," said EWG President Ken Cook. "Who will honor that right? Certainly not the global pesticide companies that produce the genetically engineered ingredients that ends up in our food, and definitely not big multinational food companies. In this instance, they're saying the customer is not always right. In fact, Big Food has already announced that defeating California's Proposition 37 is their top priority," Cook said.
"I'm very sorry to say that President Obama has not acted to respect this basic right either, despite promising to do so on the campaign trail in 2008. A President Romney? Forget it. The current majority in Congress certainly won't recognize this right, and as for Sacramento … we have our doubts," added Cook, a California resident. "The only way Californians will win the right to know about genetically modified ingredients in our food is to claim it in the voting booth, and that's why EWG is in this fight."
EWG has joined with a large and diverse coalition—including environmental, public health, food safety and agricultural organizations along with food producers, labor federations and Tea Party-affiliated groups—that believe consumers have a right to know what is in their food.
Cook and other EWG staff will be traveling throughout the state speaking out in favor of Proposition 37 in the run-up to election day and will be calling on the 150,000 EWG supporters in the state to join the fight and bring some friends.
"It is absolutely unacceptable to keep consumers in the dark," said EWG Senior Analyst Kari Hamerschlag in EWG's Oakland office. "Passage of Proposition 37 is essential for not only the people in California but for all eaters across the country who'd like to know what's in the food they and their families eat."
"The fact that in just a few months nearly a million people in California signed a petition asking to put their right to know on the ballot is a sign of the overwhelming public support for this issue in the state," Hamerschlag added.
Visit EcoWatch's GENETICALLY MODIFIED ORGANISM page for more related news on this topic.
EcoWatch Daily Newsletter
The 18th century St. Catherine of Alexandria church is seen after its bell tower was destroyed following a 6.3 magnitude earthquake that struck the town of Porac, pampanga province on April 23. TED ALJIBE / AFP / Getty Images
At least 16 people have died, 81 are injured and 14 are still missing after an earthquake struck Luzon island in the Philippines Monday, according to the latest figures from the National Disaster Risk Reduction and Management Council, as the Philippine Star tweeted Tuesday.
Climate change activists gather in front of the stage at the Extinction Rebellion group's environmental protest camp at Marble Arch in London on April 22, on the eighth day of the group's protest calling for political change to combat climate change. TOLGA AKMEN / AFP / Getty Images
Pexels
By Alina Petre, MS, RD (CA)
Veganism refers to a way of living that attempts to minimize animal exploitation and cruelty. For this reason, vegans aim to exclude all foods containing meat, poultry, fish, eggs, dairy and honey from their diet (1).
American farmers use chlorpyrifos, a pesticide tied to brain and nervous system issues, on crops such as apples, broccoli, corn and strawberries. Stephanie Chapman / Flickr / CC BY 2.0
By Jessica Corbett
In a ruling welcomed by public health advocates, a federal court on Friday ordered the Trump administration to stop stalling a potential ban on a pesticide linked to brain damage in children, giving regulators until mid-July to make a final decision.
fstop123 / iStock / Getty Images Plus
At EcoWatch, our team knows that changing personal habits and taking actions that contribute to a better planet is an ongoing journey. Earth Day, happening on April 22, is a great reminder for all of us to learn more about the environmental costs of our behaviors like food waste or fast fashion.
To offer readers some inspiration this Earth Day, our team rounded up their top picks for films to watch. So, sit back and take in one of these documentary films this Earth Day. Maybe it will spark a small change you can make in your own life.
NASA
By Shuchi Talati
Solar geoengineering describes a set of approaches that would reflect sunlight to cool the planet. The most prevalent of these approaches entails mimicking volcanic eruptions by releasing aerosols (tiny particles) into the upper atmosphere to reduce global temperatures — a method that comes with immense uncertainty and risk. We don't yet know how it will affect regional weather patterns, and in turn its geopolitical consequences. One way we can attempt to understand potential outcomes is through models.
Maria Gunnoe Flight, courtesy of southwings.org
By Julia Conley
Green groups on Saturday celebrated the latest federal ruling aimed at preventing President Donald Trump from rolling back environmental regulations that were put in place by his predecessor.
NASA scientists flew over the Kuskokwim river in southwest Alaska in 2017 to investigate how water levels in the Arctic landscape change as permafrost thaws. Peter Griffith, NASA