This website uses cookies to ensure you get the best experience while browsing it. By clicking 'Got It' you're accepting these terms.
Fight to Label GE Food in California Gains Momentum
Aug. 10, 2012 12:38PM EST
GMO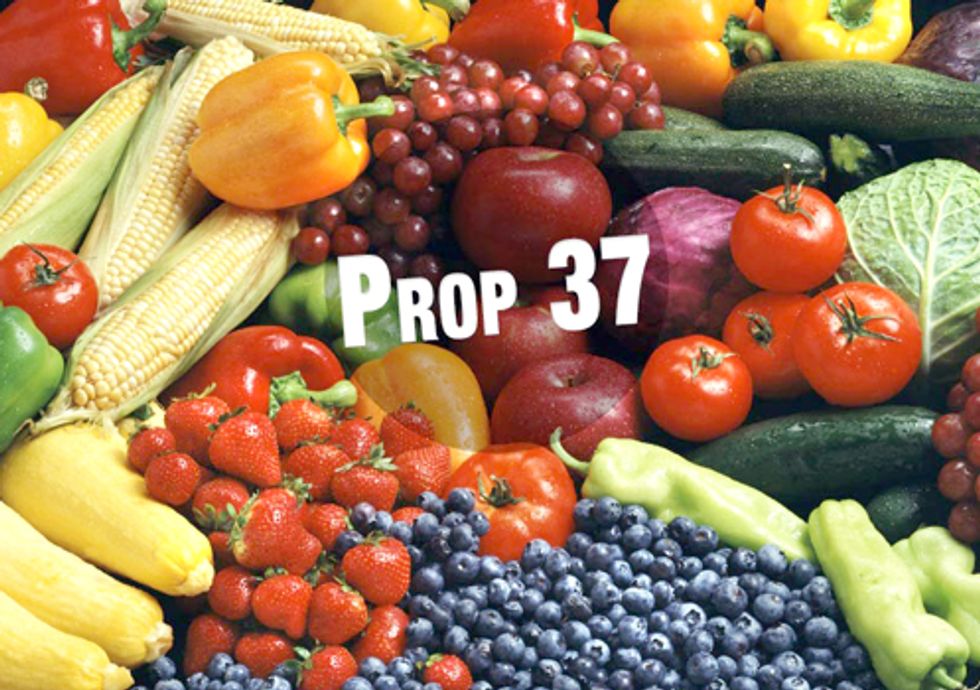 Californians deserve the right to know whether their food contains genetically engineered ingredients, just as consumers do in 40 other countries around the world, including China. But the only way they'll win that right is by voting yes on Proposition 37 on November 6, and today Environmental Working Group, (EWG) a national research and advocacy organization, announced that it will join the fight to pass the measure.
Proposition 37, a relatively straightforward proposal, would require a simple label on any food product that contains ingredients that have been genetically modified, commonly called GMOs. More than 1 million Californians have signed petitions to get the measure on the November ballot.
Until now, GMO foods—primarily soy, corn or beet sugar—have mostly been used in processed food and animal feed, but the U.S. Department of Agriculture is considering approving the sale of genetically modified versions of widely eaten foods such as apples and salmon. Currently, 90 percent of sugar beets and 94 percent of soybeans grown in the U.S., and 88 percent of corn grown for animal feed, are genetically modified.
"Surveys show that more than 90 percent of Californians believe it's their right to know if genetically engineered ingredients are in the food they eat and feed their kids, and for years now they've had no way to find out," said EWG President Ken Cook. "Who will honor that right? Certainly not the global pesticide companies that produce the genetically engineered ingredients that ends up in our food, and definitely not big multinational food companies. In this instance, they're saying the customer is not always right. In fact, Big Food has already announced that defeating California's Proposition 37 is their top priority," Cook said.
"I'm very sorry to say that President Obama has not acted to respect this basic right either, despite promising to do so on the campaign trail in 2008. A President Romney? Forget it. The current majority in Congress certainly won't recognize this right, and as for Sacramento … we have our doubts," added Cook, a California resident. "The only way Californians will win the right to know about genetically modified ingredients in our food is to claim it in the voting booth, and that's why EWG is in this fight."
EWG has joined with a large and diverse coalition—including environmental, public health, food safety and agricultural organizations along with food producers, labor federations and Tea Party-affiliated groups—that believe consumers have a right to know what is in their food.
Cook and other EWG staff will be traveling throughout the state speaking out in favor of Proposition 37 in the run-up to election day and will be calling on the 150,000 EWG supporters in the state to join the fight and bring some friends.
"It is absolutely unacceptable to keep consumers in the dark," said EWG Senior Analyst Kari Hamerschlag in EWG's Oakland office. "Passage of Proposition 37 is essential for not only the people in California but for all eaters across the country who'd like to know what's in the food they and their families eat."
"The fact that in just a few months nearly a million people in California signed a petition asking to put their right to know on the ballot is a sign of the overwhelming public support for this issue in the state," Hamerschlag added.
Visit EcoWatch's GENETICALLY MODIFIED ORGANISM page for more related news on this topic.
EcoWatch Daily Newsletter
A new study shows that half of all Arctic warming and corresponding sea-loss during the late 20th century was caused by ozone-depleting substances. Here, icebergs discharged from Greenland's Jakobshavn Glacier. Kevin Krajick / Earth Institute /
EurekAlert!
The world awakened to the hole in the ozone layer in 1985, which scientists attributed it to ozone depleting substances. Two years later, in Montreal, the world agreed to ban the halogen compounds causing the massive hole over Antarctica. Research now shows that those chemicals didn't just cut a hole in the ozone layer, they also warmed up the Arctic.
Diane Wilson holds up a bag full of nurdles she collected from one of Formosa's outfall areas on Jan. 15. Julie Dermansky / DeSmogBlog
On the afternoon of Jan. 15, activist Diane Wilson kicked off a San Antonio Estuary Waterkeeper meeting on the side of the road across from a Formosa plastics manufacturing plant in Point Comfort, Texas.
After Wilson and the waterkeeper successfully sued Formosa in 2017, the company agreed to no longer release even one of the tiny plastic pellets known as nurdles into the region's waterways. The group of volunteers had assembled that day to check whether the plant was still discharging these raw materials of plastics manufacturing.
Malaysian Environment Minister Yeo Bee Yin (front 2nd L) and officials inspect a container containing plastic waste shipment on Jan. 20, 2020 before sending back to the countries of origin. AFP via Getty Images
The Southeast Asian country Malaysia has sent 150 shipping containers packed with plastic waste back to 13 wealthy countries, putting the world on notice that it will not be the world's garbage dump, as CNN reported. The countries receiving their trash back include the United States, the United Kingdom, France and Canada.
Trump leaves after delivering a speech at the Congress Centre during the World Economic Forum annual meeting in Davos on Jan. 21, 2020. JIM WATSON / AFP via Getty Images