This website uses cookies to ensure you get the best experience while browsing it. By clicking 'Got It' you're accepting these terms.
Fight Continues Over Moratorium of GMO Crops on Hawaii's Big Island
Aug. 05, 2014 08:58AM EST
The battle to protect Hawaii's Big Island from genetically engineered (GE) crops continues.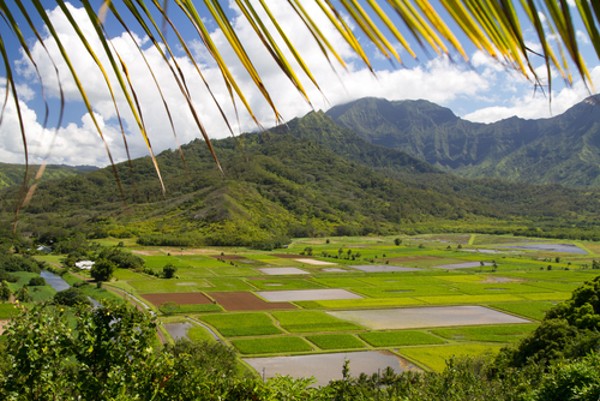 Hawaii has become ground zero for the battle over GMOs. Photo courtesy of Shutterstock
On Aug. 1 Center for Food Safety (CFS), Earthjustice and local farmers filed a motion to intervene in a lawsuit to defend the County of Hawaii's Ordinance 13-121, which places a moratorium on expanding GE crops on the Big Island and regulates the organisms to prevent harm from associated pesticide use and the contamination of non-GE crops.
"Hawaii County, like every county, has the right to protect its farmers and native environments from genetically engineered crops," said George Kimbrell, CFS senior attorney. "Having GE-free zones is critical for the sustainable future of U.S. agriculture, and to protect Hawaii's unique ecosystems."
The lawsuit is driven largely by the Biotechnology Industry Organization, the trade association representing companies like Monsanto. It aims to open up the island for expansion of GE crop production by rolling back the 2013 ordinance. Due to Hawaii's climate, it has become a world center for experimental GE seed production.
"Hawaii is one of the most biologically diverse, as well as spectacularly beautiful, places in the world, but the chemical companies have been turning the islands into experimental laboratories, unleashing a fountain of pesticides and genetically engineered material into the air, land and waters," said Paul Achitoff, Earthjustice managing attorney based in Honolulu. "We stand with the people of Hawaii Island who are trying to protect their island from being transformed into another toxic waste dump."
The Big Island is not the only Hawaiian island facing such legal battles. Kaua'i was sued by three big agrochemical companies in January to block Kaua'i County's genetically modified organism (GMO) regulatory law. Hawaii has become ground zero for the battle over GMOs, with growing grassroots opposition to the five big biotech companies expanding their operations there: Monsanto, Syngenta, DuPont, Dow Agrochemicals and BASF.
"In Hawaii, we believe that our seeds, crops, and foods should remain free of contamination from genetically engineered plants," said Big Island farmer and agricultural educator, Nancy Redfeather.
You Might Also Like
Hawaii House Revives Then Kills GMO Food Labeling Bill
Hawaii Becomes First State in the U.S. to Ban Plastic Bags
Pro Surfers vs. GMOs: New Film Explores Hawaii's Growing Anti-GMO Movement
Plus, learn if there's one that's best for your health.
Catherine Falls Commercial / Moment / Getty Images
An invasive Amynthas worm, also known as a crazy snake worm, Asian jumping worm and Alabama jumper Tom Potterfield / Flickr
By Jason Bittel
My wife and I built a house two years ago on a few acres of woodland outside of Pittsburgh. The backyard is full of maples, poplars, briars and common spicebush. Two-lined salamanders and grumpy-looking crayfish wade among the rocks in the small stream that runs down the edge of the property. Deer, raccoon and opossum tracks appear regularly in the snow and mud. Sometimes, my trail-cam even catches a pair of gray foxes as they slink through the night.
AleksandarNakic / Getty Images
By Kate Murphy
No matter the time of year, there's always a point in each season when my skin decides to cause me issues. While these skin issues can vary, I find the most common issues to be dryness, acne and redness.

David Woodfall / The Image Bank / Getty Images
By Sam Nickerson
The U.S. Environmental Protection Agency (EPA) in April 2018 proposed relaxing standards related to how it assesses the effects of exposure to low levels of toxic chemicals on public health.
Now, correspondence obtained by the LA Times revealed just how deeply involved industry lobbyists and a controversial, industry-funded toxicologist were in drafting the federal agency's proposal to scrap its current, protective approach to regulating toxin exposure.
Steve Irwin poses with a three foot long alligator at the San Francisco Zoo on June 26, 2002. Justin Sullivan / Getty Images
February 22 is the birthday of conservationist and beloved TV personality "Crocodile Hunter" Steve Irwin, who would have been 57 years old today.
Irwin's life was tragically cut short when the barb from a stingray went through his chest while he was filming in 2006, but his legacy of loving and protecting wildlife lives on, most recently in a Google Doodle today honoring his birthday.