This website uses cookies to ensure you get the best experience while browsing it. By clicking 'Got It' you're accepting these terms.
Feds Turn Down Permit for Flaming Gorge Pipeline
May. 17, 2012 09:30AM EST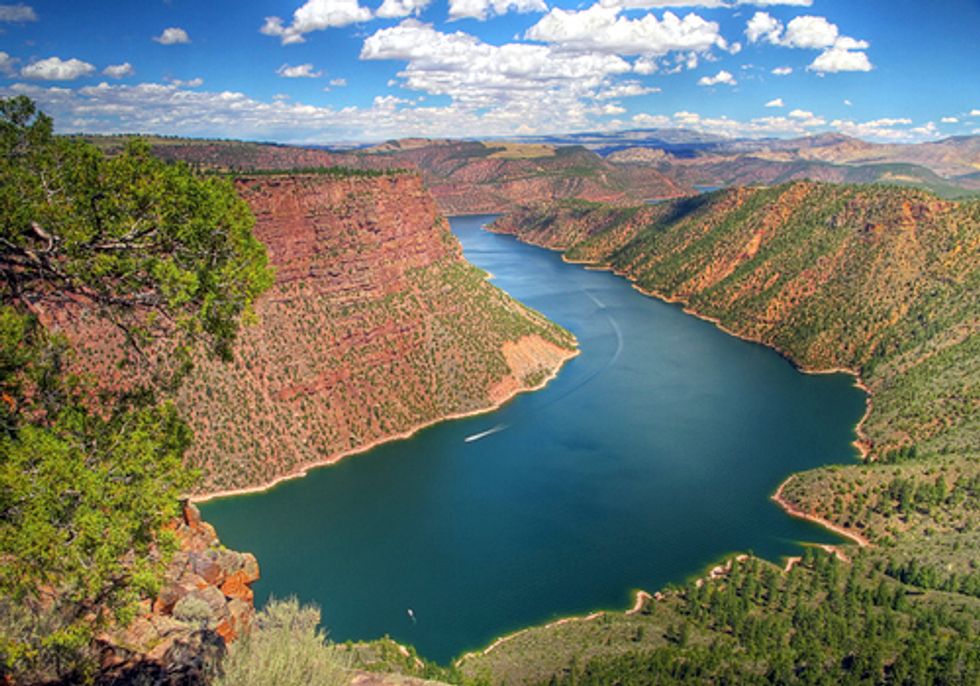 Today, the Federal Energy Regulatory Commission (FERC) closed the door on what will hopefully be the last attempt to permit the Flaming Gorge Pipeline. FERC denied a request for rehearing from Aaron Million's company, Wyco Power and Water, Inc.—an attempted "do-over" on FERC's earlier denial of a preliminary permit. The Colorado developer has spent several years, and a claimed $5 million, attempting to launch this ill-conceived boondoggle. His proposal has been met with stiff opposition from conservation groups, individuals and local communities and businesses. Now, FERC has provided a point-by-point refutation of Wyco's application and rehearing request, and left no doubt that this pipeline remains a pipe dream.
FERC's order recognized that the Flaming Gorge Pipeline proposal is poorly defined, and the approval process would be "difficult and lengthy" due to the opposition and controversy surrounding the project. As a result, FERC states that it would be premature to issue the permit for the project at this time. Importantly, FERC also made clear that it would not license the entire 501-mile water conveyance project. FERC is now the second agency to reject Mr. Million's attempts to review and approve the pipeline, following the Army Corps of Engineers' termination of its review of the project in 2011.
McCrystie Adams, staff attorney for Earthjustice, had the following statement on FERC's action:
"The Flaming Gorge Pipeline would be one of the biggest, most expensive, most environmentally damaging water projects in the history of the western United States. FERC got it right when they dismissed the permit application, and got it right again today when they denied Mr. Million's rehearing request. We hope this will finally put an end to Mr. Million's attempt to profit at the expense of one of the West's last great rivers and the fish and wildlife, as well as the local economies, which depend on it.
"This project—and any similar, large-scale transbasin diversions—is the worst way to meet Colorado's water challenges. Such a project is unnecessary and distracts us from the important work we must do to build a secure water future. Unfortunately, we cannot be confident that this project is dead until Mr. Million and those who might follow his path abandon this futile scheme. We will continue to work to ensure that the Green River is protected and that this and other assaults on the West's rivers do not succeed."
The Flaming Gorge Pipeline is a massive transbasin water supply project that would annually take approximately 81 billion gallons (250,000 acre-feet) of water from the Flaming Gorge Reservoir and the Green River and pipe it more than 500 miles over the Continental Divide to Colorado's Front Range and southeastern Wyoming. This diversion would have devastating impacts on the native fish and wildlife in the Green and Colorado Rivers, batter regional recreational opportunities and jobs that depend on river flows, and potentially be a fatal blow to one of the West's last great rivers. The plight of the Green River and the impacts of the proposed Flaming Gorge Pipeline were highlighted this week when American Rivers declared it #2 on its list of "most endangered rivers" in the U.S.
After an attempt at permitting through the Army Corps of Engineers was rejected last year, Aaron Million's new company Wyco Power and Water, Inc. turned to the FERC. In February, FERC, acting well within its discretion and following its governing regulations, dismissed Wyco's preliminary permit application as "premature."
FERC, in its review of the preliminary permit application, rightly found that Wyco would be unable to gain the many authorizations and the design certainty necessary to file a license application within the three year permit term. Again failing to take "no" for an answer, Wyco then requested a rehearing, yet failed to provide any meaningful evidence or arguments that FERC got it wrong the first time. FERC's ruling today upheld its earlier finding and left it clear that Wyco's application is without merit.
Earthjustice had intervened in FERC's preliminary permit review and filed papers urging the agency to deny the rehearing request. Earthjustice represents a coalition of ten conservation groups with interests throughout the Colorado River Basin: Sierra Club, Center for Biological Diversity, Rocky Mountain Wild, Save the Poudre: Poudre Waterkeeper, Biodiversity Conservation Alliance, Wyoming Outdoor Council, Citizens for Dixie's Future, Glen Canyon Institute, Living Rivers: Colorado Riverkeeper, and Utah Rivers Council.
For more information, click here.
EcoWatch Daily Newsletter
A new report spotlights a U.N. estimate that at least 275 million people rely on healthy coral reefs. A sea turtle near the Heron Island in the Great Barrier Reef is seen above. THE OCEAN AGENCY / XL CATLIN SEAVIEW SURVEY
In a new report about how the world's coral reefs face "the combined threats of climate change, pollution, and overfishing" — endangering the future of marine biodiversity — a London-based nonprofit calls for greater global efforts to end the climate crisis and ensure the survival of these vital underwater ecosystems.
Half of the extracted resources used were sand, clay, gravel and cement, seen above, for building, along with the other minerals that produce fertilizer. Cavan Images / Cavan / Getty Images
The world is using up more and more resources and global recycling is falling. That's the grim takeaway from a new report by the Circle Economy think tank, which found that the world used up more than 110 billion tons, or 100.6 billion metric tons, of natural resources, as Agence France-Presse (AFP) reported.
By Gero Rueter
Heating with coal, oil and natural gas accounts for around a quarter of global greenhouse gas emissions. But that's something we can change, says Wolfgang Feist, founder of the Passive House Institute in the western German city of Darmstadt.

By George Citroner
Recent research finds that official government figures may be underestimating drug deaths by half.
Researchers estimate that 142,000 people died due to drug use in 2016.
Drug use decreases life expectancy after age 15 by 1.4 years for men and by just under 1 year for women, on average.
Government records may be severely underreporting how many Americans die from drug use, according to a new study by researchers from the University of Pennsylvania and Georgetown University.
Water coolers in front of shut-off water fountains at Center School in Stow, MA on Sept. 4, 2019 after elevated levels of PFAS were found in the water. David L. Ryan / The Boston Globe via Getty Images
In a new nationwide assessment of drinking water systems, the Environmental Working Group found that toxic fluorinated chemicals known as PFAS are far more prevalent than previously thought.