This website uses cookies to ensure you get the best experience while browsing it. By clicking 'Got It' you're accepting these terms.
Feds Approve Cove Point Fracked Gas Export Facility
Sep. 30, 2014 09:04AM EST
Energy
Despite ongoing opposition from area residents, the Federal Energy Regulation Commission (FERC) has approved the conversion of the Dominion Cove Point liquified natural gas (LNG) facility in southern Maryland from an import to an export facility. The decision also authorizes the installation of additional compression at Dominion's Pleasant Valley Compressor Station and related facilities in Northern Virginia.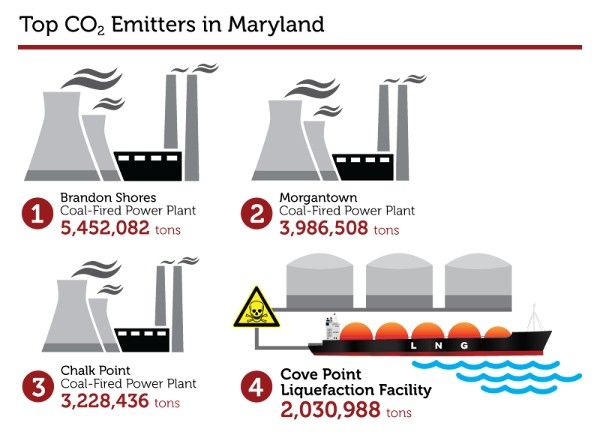 This decision allows the facility to pipe fracked gas from across the region to the area, liquify it and to ship the LNG overseas to China and India. Opponents say this will increase fracking and fuel climate change.
Response from a bevy of environmental and grassroots groups that are fighting the project was negative and outraged.
"FERC's decision to allow LNG exports from Cove Point is fundamentally flawed because the agency failed to consider the simple fact that exporting LNG will mean more drilling and fracking, and that means more climate pollution, more risk of contaminated groundwater, and more threats to the health of people who live near gas wells," said Deb Nardone, director of the Sierra Club's Beyond Natural Gas campaign. "FERC should be standing up for the public good, not the interests of dirty polluters."
"In the rush to export our natural gas, public officials and agencies are failing to protect the health and safety of the residents of Calvert County and people throughout the Chesapeake region," said Waterkeepers Chesapeake executive director Betsy Nicholas. "Upstream impacts of fracking, and new and expanded pipelines and compressor stations are being ignored. Economic impacts to local and regional economies are being ignored. Pollution impacts to the Bay, the Patuxent River and upstream rivers, streams and drinking water sources are being ignored. It's difficult not to conclude that our public officials just don't care."
Local opponents are also concerned about the facility's proximity to homes, schools and businesses in Calvert County, saying it threatens the health and safety of thousands of people with the potential for fires and explosions such as the one that killed 47 people in Lac-Mégantic, Quebec last year. It would be the first such facility built so close to so many homes.
"The Federal Energy Regulation Commission chose to sacrifice the well-being of Maryland communities and endanger public health in favor of hefty profits for Dominion Resources," said Wenonah Hauter of Food & Water Watch. "At a time when citizens should be looking to their political leaders to help lead them away from destructive fossil fuels toward a more sustainable energy future, they are working hand-in-glove with the oil and gas lobby, enabling a process that continues to sacrifice communities and the potential for a healthier environment."
Opponents said that FERC's Environmental Assessment was inadequate and that it failed to conduct a full Environmental Impact Statement, brushing aside the wider impacts on the community of the project and community opposition to it. Two weeks ago, a group of citizens, including members of Calvert County for a Healthy Community, went to the monthly FERC meeting in D.C. to make their voices heard after 250,000 comments in opposition were filed, 1,000 people marched to FERC headquarters in D.C. in July for a sit-in that resulted in 25 arrests, and the commissioners failed to show up at a hearing in their area.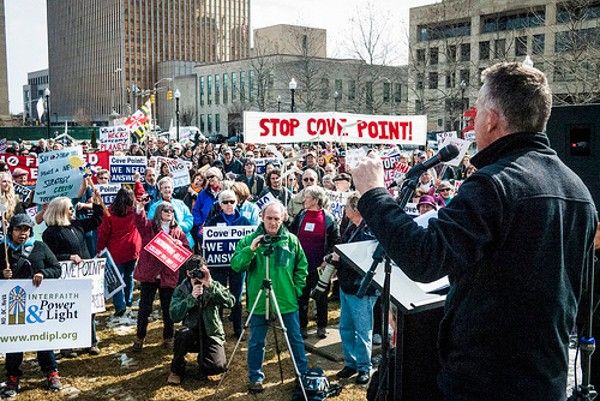 "You are in danger of turning my neighborhood into a sacrifice zone for the gas industry—if you approve the Dominion Cove Point LNG export facility without fully studying the hazards of the project," said group leader Tracey Eno at that meeting. "For more than a year, we have been pleading with you to provide the information on the full effects from this proposal in the form of a comprehensive Environmental Impact Statement. Yet, at every turn you have lowered the bar of scrutiny for Dominion, even as the evidence of threats to our communities has continued to rise."
"Even the EPA said that FERC should weigh gas production stimulus effect of the Cove Point export facility," said Robin Broder of Waterkeepeers Chesapeake. "But somehow FERC concluded it was 'not feasible to more specifically evaluate localized environmental impacts' even though Dominion knows where it will source the fracked gas and knows that new compressor and pipeline capacity will be built. Our public agencies and elected officials are not serving the public's interest and are sacrificing our waterways."
Waterkeepers Chesapeake, one of the groups that has been leading the opposition to the Cove Point project, is now exploring legal options for blocking the project. It plans to join with those groups in increasing pressure on elected officials, both state and federal, to listen to the voices of citizens, including Governor Martin O'Malley, who has been widely mentioned as a 2016 presidential hopeful, Congressman Steny Hoyer, and U.S. Senators Barbara Mikulski and Ben Cardin, all Democrats.
"We are carefully reviewing FERC's decision to approve the Cove Point export facility with our clients and planning our next steps," said Earthjustice associate attorney Jocelyn D'Ambrosio. "If FERC has refused to revisit its inadequate environmental review, we will have no choice but to petition FERC to reconsider its decision, and ultimately we may have to take the case to court."
"FERC's decision to approve Cove Point is the result of a biased review process rigged in favor of approving gas industry projects no matter how great the environmental and safety concerns," said Mike Tidwell, director of the Chesapeake Climate Action Network.  "FERC refused to even require an environmental impact statement for this $3.8 billion facility right on the Bay. We intend to challenge this ruling all the way to court if necessary. For the safety of Marylanders and for people across our region facing new fracking wells and pipelines, we will continue to fight this project until it is stopped."
YOU MIGHT ALSO LIKE
Citizens Speak Out Against Proposed Cove Point LNG Export Facility at FERC Meeting
Cove Point Fracked Gas Export Facility vs. Safety of 24,000 Residents
16 Environmental Groups Implore Obama to End Fracked Gas Exports
EcoWatch Daily Newsletter
By Ngozi Okonjo-Iweala
World leaders have a formidable task: setting a course to save our future. The extreme weather made more frequent and severe by climate change is here. This spring, devastating cyclones impacted 3 million people in Mozambique, Malawi and Zimbabwe. Record heatwaves are hitting Europe and other regions — this July was the hottest month in modern record globally. Much of India is again suffering severe drought.
Covering Climate Now / YouTube screenshot
By Mark Hertsgaard

The United Nations Secretary General says that he is counting on public pressure to compel governments to take much stronger action against what he calls the climate change "emergency."

A new rule that ends limits for hog slaughtering speeds could increase animal suffering, advocates warn. kickers / iStock / Getty Images Plus
Trump's U.S. Department of Agriculture (USDA) finalized a new hog slaughtering rule Tuesday that environmental and food safety advocates warn could harm animals, plant workers and public health, Reuters reported.
Prehistoric and historic walrus skulls, tusks and bone fragments often wash ashore on the southern coast of Snæfellsnes peninsula in Iceland. Hilmar J. Malmquist
A unique subpopulation of ancient walrus in Iceland was likely hunted to extinction by Vikings shortly after arrival to the region, according to new research.
Drivers make their way on the US 101 freeway on Aug. 30 in Los Angeles, California. Mario Tama / Getty Images
In its latest move to undermine action on the climate crisis, the Trump administration will formally rescind California's waiver to set stricter auto emissions standards under the Clean Air Act.
Brazilians living in The Netherlands organized a demonstration in solidarity with rainforest protectors and against the president of Brazil, Jair Bolsonaro on Sept. 1 in The Hague, Netherlands. Romy Arroyo Fernandez / NurPhoto / Getty Images
By Tara Smith
Fires in the Brazilian Amazon have jumped 84 percent during President Jair Bolsonaro's first year in office and in July 2019 alone, an area of rainforest the size of Manhattan was lost every day. The Amazon fires may seem beyond human control, but they're not beyond human culpability.
Author, social activist and filmmaker Naomi Klein speaking on the one year anniversary of Hurricane Maria on Sept. 20, 2018. Erik McGregor / Pacific Press / LightRocket / Getty Images
By Natalie Hanman
Why are you publishing this book now?
I still feel that the way that we talk about climate change is too compartmentalised, too siloed from the other crises we face. A really strong theme running through the book is the links between it and the crisis of rising white supremacy, the various forms of nationalism and the fact that so many people are being forced from their homelands, and the war that is waged on our attention spans. These are intersecting and interconnecting crises and so the solutions have to be as well.