This website uses cookies to ensure you get the best experience while browsing it. By clicking 'Got It' you're accepting these terms.
Federal Protection Will Be Considered for Hammerhead Sharks
Nov. 30, 2011 10:10AM EST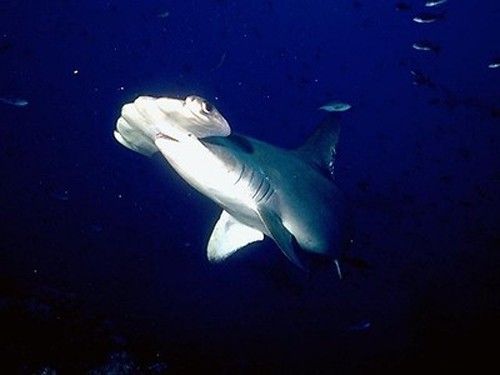 The National Marine Fisheries Service announced a positive preliminary finding on a petition WildEarth Guardians and Friends of Animals submitted to list scalloped hammerhead sharks as "threatened" or "endangered" under the Endangered Species Act (ESA). The agency found that the primary threat to these sharks—capture and finning—is jeopardizing the species. The agency will conduct a 12-month review of the species to determine if listing is warranted.
"This is an important first step to protection for these 'wolves of the sea,'" said Taylor Jones, endangered species advocate for WildEarth Guardians. "More than 99 percent of plants and animals listed under the act persist today. We hope that the hammerhead can escape extinction under the strong protections of the ESA."
The hammerhead's name describes its characteristic elongated, flattened head, which on the scalloped hammerhead has distinctive, curved indentations along the front edge. Scalloped hammerhead sharks can live to 30 years. Adults usually travel alone or in pairs, but juveniles gather in large schools. Most sharks, including scalloped hammerheads, play an important role as apex predators in maintaining ocean bio-communities. Ecosystem stability and biodiversity, congressional priorities for the ESA, could seriously suffer from the loss of these top predators. Listing species with global distribution can both protect the species domestically, and help focus U.S. resources toward enforcement of international regulation and recovery of the species.
The International Union for Conservation of Nature lists the scalloped hammerhead species as "endangered" on its Red List. These sharks live in coastal waters in portions of the Atlantic, Pacific and Indian Oceans. All scalloped hammerhead populations are threatened by fish commerce—the main cause of population declines.
Scalloped hammerhead sharks have very high commercial value. While scalloped hammerheads are especially coveted for their fins, which are used in dishes such as shark-fin soup, the shark's flesh is also sold in various forms as food, the hides are commercially valued, and the remainder is used for vitamins and fishmeal for agribusiness use. The commercial value of the species, combined with the sharks' slow rate of reproduction, makes them highly vulnerable to exploitation.
"Shark exploitation must be confronted if scalloped hammerheads and other sharks are to survive and thrive," said Lee Hall, vice president of Legal Affairs for Friends of Animals.
The practice of finning is of particular concern for scalloped hammerheads and other sharks. In this practice, crews land the sharks and remove only their fins, disposing of the remainder of the animals overboard and leaving disabled sharks to drown or die of starvation. By taking only the fins, crews catch and kill many more sharks than their boats could otherwise hold—and many more than can be officially recorded as losses to the bio-community.
Hong Kong is a primary hub for the shark fin trade, and as China's economy strengthens, demand for the expensive shark-fin soup rises. Fortunately for the sharks, international campaigns to ban the shark fin trade have begun to raise awareness of the predators' imperilment.
For more information, click here.
EcoWatch Daily Newsletter
Artist's conception of solar islands in the open ocean. PNAS
Millions of solar panels clustered together to form an island could convert carbon dioxide in seawater into methanol, which can fuel airplanes and trucks, according to new research from Norway and Switzerland and published in the Proceedings of the National Academy of Sciences journal, PNAS, as NBC News reported. The floating islands could drastically reduce greenhouse gas emissions and dependence on fossil fuels.
Marcos Alves / Moment Open / Getty Images
More than 40 percent of insects could go extinct globally in the next few decades. So why did the U.S. Environmental Protection Agency (EPA) last week OK the 'emergency' use of the bee-killing pesticide sulfoxaflor on 13.9 million acres?
EcoWatch teamed up with Center for Biological Diversity via EcoWatch Live on Facebook to find out why. Environmental Health Director and Senior Attorney Lori Ann Burd explained how there is a loophole in the The Federal Insecticide, Fungicide, and Rodenticide Act under section 18, "that allows for entities and states to request emergency exemptions to spraying pesticides where they otherwise wouldn't be allowed to spray."
Simple swaps that cut down on kitchen trash.
Sponsored
By Kayla Robbins
Along with the bathroom, the kitchen is one of the most daunting areas to try and make zero waste.
View of downtown Miami, Florida from Hobie Island on Feb. 2, 2019.
Michael Muraz / Flickr
The Democratic candidates for president descended upon Miami for a two-night debate on Wednesday and Thursday. Any candidate hoping to carry the state will have to make the climate crisis central to their campaign, as The New York Times reported.
By Sharon Kelly
On Monday, the Wall Street Journal featured a profile of Scott Sheffield, CEO of Pioneer Natural Resources, whose company is known among investors for its emphasis on drawing oil and gas from the Permian basin in Texas using horizontal drilling and hydraulic fracturing, or fracking.
Pexels
By Craig K. Chandler
The federal government has available to it, should it choose to use them, a wide range of potential climate change management tools, going well beyond the traditional pollution control regulatory options. And, in some cases (not all), without new legislative authorization.
Denis Poroy / Getty Images
By Dan Gray
Processed foods, in their many delicious forms, are an American favorite.
But new research shows that despite increasing evidence on just how unhealthy processed foods are, Americans have continued to eat the products at the same rate.
By Sarah Steffen
With a profound understanding of their environmental surroundings, indigenous communities around the world are often cited as being pivotal to tackling climate change.