This website uses cookies to ensure you get the best experience while browsing it. By clicking 'Got It' you're accepting these terms.
Six years since the BP Oil drilling disaster and the federal government has gone from being a part of injuring the people of the Gulf Coast to insulting us. In 2010, the BP/Deepwater Horizon explosion showed how extreme energy extraction injures Gulf Coast workers, communities and ecosystems. Six years later, we continue to witness the agony of fisher folks, business owners and workers in the region as claims from the disaster are prolonged and denied.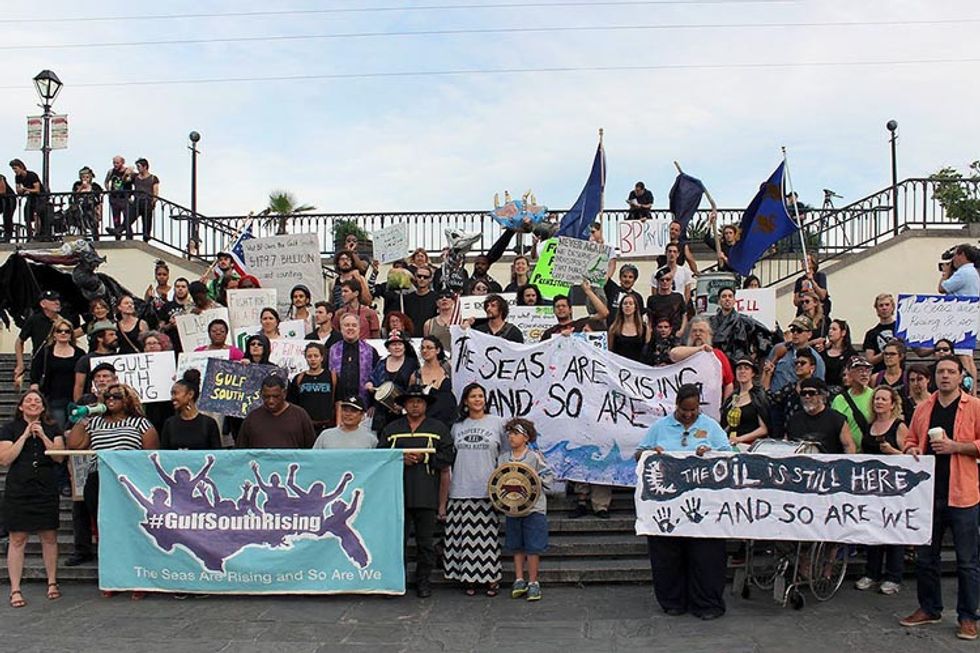 In New Orleans, the Bureau of Ocean and Energy Management (BOEM) hosted a public hearing earlier this week on the proposed Outer Continental Shelf Oil and Gas Leasing Program for 2017-2022. The U.S. Department of Interior is offering up hundreds of millions of acres in the Gulf of Mexico to allow for deeper oil and gas drilling in the region. On a contradictory note, later this week the U.S. is slated to sign the Paris accord acknowledging the need for national action as part of a global imperative to combat the impending impacts of climate change.
We already feel the powerful impacts of climate change here in Louisiana. More than 10 years after Hurricane Katrina, we are still haunted by the fact that climate change worsens chronic justice issues and poses a particular threat to the way of life for residents of the Gulf Coast. While BOEM holds its hearing to do more drilling in the Gulf of Mexico, Native American tribes in south Louisiana like the United Houma Nation are relocating from their historical homelands due to sea level rise and historic African American communities in New Orleans like Residents of Gordon Plaza are fighting multi-generational court battles to relocate due to the poisoning of their land and toxic exposure during extreme weather.
The extraction, refinement and burning of fossil fuels accelerates climate change—we know this. We also know that offshore oil and gas operations negatively impact the local environment by contributing to land subsidence, coastal erosion, air and water pollution, and ecosystem disruptions. The tension comes in balancing the economic impacts of oil and gas on local and national economies versus the human and ecological impact in a region too often used as this nation's sacrifice zone. Communities of the Gulf Coast continue to fight oppressive government policies that have built the world's most powerful companies while living in the nation's poorest socioeconomic conditions—a combination of which has left us vulnerable to climate change.
The Gulf South has sacrificed its land and people for long enough. The negative financial, social, environmental and climate impacts of a solely extractive energy economy must no longer be ignored or denied. The Gulf South Rising delegation to Paris reported that we have an opportunity to create a renewable energy future and restore democracy in our Gulf, for our nation and for our planet.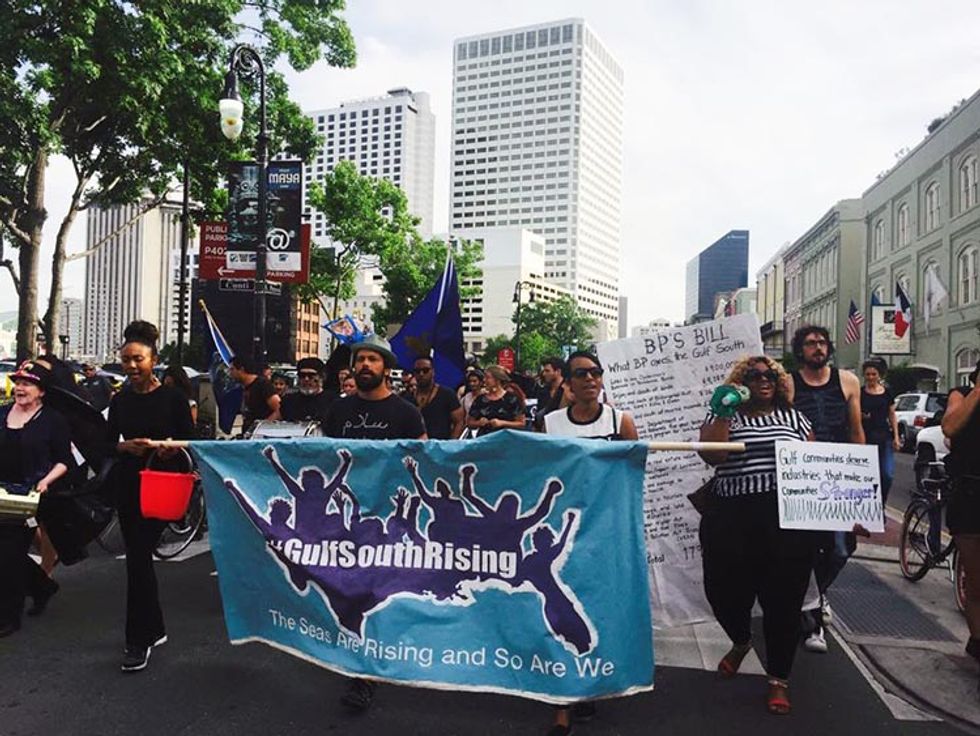 The proposal for new offshore oil and gas leasing in the Gulf and in the Arctic must be rejected. Sign this petition today to call on the federal government to stop new drilling on all of our coasts. Our business and government leaders must find the courage to invest in a renewable energy economy with bold plans to decrease our dependence on fossil fuel extraction.
The first step in achieving energy democracy is to listen to Louisiana's most unique and cherished communities as they call for a just transition away from what is harming our coast and toward what builds healthy and sustainable communities.
Colette Pichon Battle, Esq. is the executive director of the Gulf Coast Center for Law & Policy, a non-profit law firm and justice center advocating for ecological equity for Gulf South communities of color on the frontline of climate change.
YOU MIGHT ALSO LIKE
San Francisco Becomes First Major City to Require Solar Panels on New Buildings
What You Need to Know Six Years After BP's Gulf Oil Disaster
166 Million Americans Live With Unhealthful Levels of Air Pollution
EcoWatch Daily Newsletter
We need our government to do everything it can to stop PFAS contamination and exposure from wreaking havoc in communities across the country. LuAnn Hun /
Unsplash
By Genna Reed
The EPA announced last week that it is issuing a preliminary regulatory determination for public comment to set an enforceable drinking water standard to two of the most common and well-studied PFAS, PFOA and PFOS.
This decision is based on three criteria:
PFOA and PFOS have an adverse effect on public health
PFOA and PFOS occur in drinking water often enough and at levels of public health concern;
regulation of PFOA and PFOS is a meaningful opportunity for reducing the health risk to those served by public water systems.
Charging EVs in Stockholm: But where does a dead battery go? Ranjithsiji / Wikimedia Commons
By Kieran Cooke
Driving an electric-powered vehicle (EV) rather than one reliant on fossil fuels is a key way to tackle climate change and improve air quality — but it does leave the old batteries behind as a nasty residue.
U.S. Secretary of the Treasure Steven Mnuchin arrives for a welcome dinner at the Murabba Palace in Riyadh, Saudi Arabia on Feb. 22, 2020 during the G20 finance ministers and central bank governors meeting. FAYEZ NURELDINE / AFP via Getty Images
Finance ministers from the 20 largest economies agreed to add a scant mention of the climate crisis in its final communiqué in Riyadh, Saudi Arabia on Sunday, but they stopped short of calling it a major economic risk, as Reuters reported. It was the first time the G20 has mentioned the climate crisis in its final communiqué since Donald Trump became president in 2017.
Aerial view of Parque da Cachoeira, which suffered the January 2019 dam collapse, in Brumadinho, state of Minas Gerais, Brazil — one of the country's worst industrial accidents that left 270 people dead. Millions of tons of toxic mining waste engulfed houses, farms and waterways, devastating the mineral-rich region. DOUGLAS MAGNO / AFP / Getty Images
Participants of the climate demonstration Fridays for Future walk through Hamburg, Germany on Feb. 21, 2020. Axel Heimken / picture alliance via Getty Images