This website uses cookies to ensure you get the best experience while browsing it. By clicking 'Got It' you're accepting these terms.
Six years since the BP Oil drilling disaster and the federal government has gone from being a part of injuring the people of the Gulf Coast to insulting us. In 2010, the BP/Deepwater Horizon explosion showed how extreme energy extraction injures Gulf Coast workers, communities and ecosystems. Six years later, we continue to witness the agony of fisher folks, business owners and workers in the region as claims from the disaster are prolonged and denied.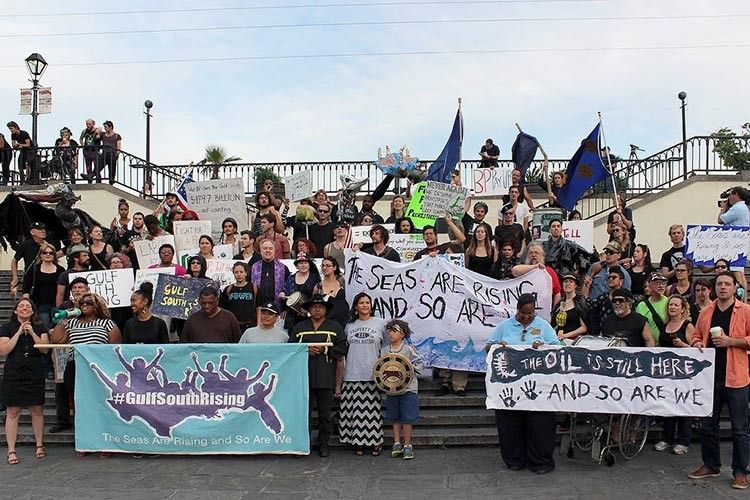 In New Orleans, the Bureau of Ocean and Energy Management (BOEM) hosted a public hearing earlier this week on the proposed Outer Continental Shelf Oil and Gas Leasing Program for 2017-2022. The U.S. Department of Interior is offering up hundreds of millions of acres in the Gulf of Mexico to allow for deeper oil and gas drilling in the region. On a contradictory note, later this week the U.S. is slated to sign the Paris accord acknowledging the need for national action as part of a global imperative to combat the impending impacts of climate change.
We already feel the powerful impacts of climate change here in Louisiana. More than 10 years after Hurricane Katrina, we are still haunted by the fact that climate change worsens chronic justice issues and poses a particular threat to the way of life for residents of the Gulf Coast. While BOEM holds its hearing to do more drilling in the Gulf of Mexico, Native American tribes in south Louisiana like the United Houma Nation are relocating from their historical homelands due to sea level rise and historic African American communities in New Orleans like Residents of Gordon Plaza are fighting multi-generational court battles to relocate due to the poisoning of their land and toxic exposure during extreme weather.
The extraction, refinement and burning of fossil fuels accelerates climate change—we know this. We also know that offshore oil and gas operations negatively impact the local environment by contributing to land subsidence, coastal erosion, air and water pollution, and ecosystem disruptions. The tension comes in balancing the economic impacts of oil and gas on local and national economies versus the human and ecological impact in a region too often used as this nation's sacrifice zone. Communities of the Gulf Coast continue to fight oppressive government policies that have built the world's most powerful companies while living in the nation's poorest socioeconomic conditions—a combination of which has left us vulnerable to climate change.
The Gulf South has sacrificed its land and people for long enough. The negative financial, social, environmental and climate impacts of a solely extractive energy economy must no longer be ignored or denied. The Gulf South Rising delegation to Paris reported that we have an opportunity to create a renewable energy future and restore democracy in our Gulf, for our nation and for our planet.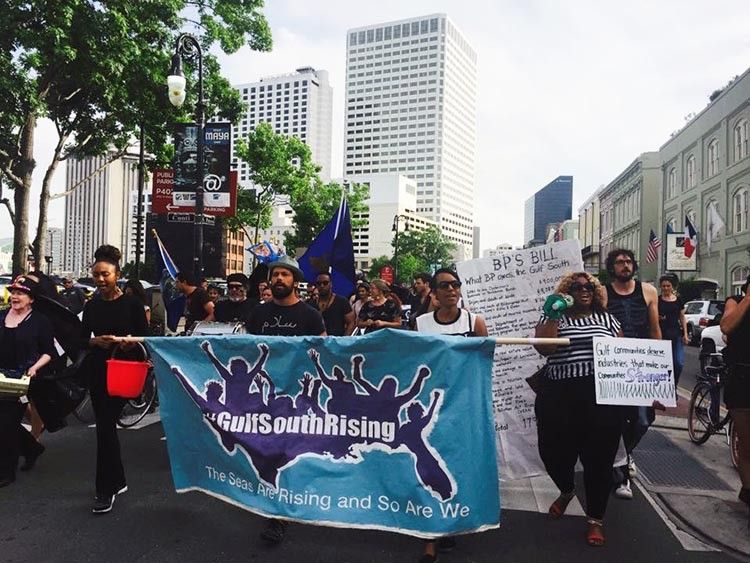 The proposal for new offshore oil and gas leasing in the Gulf and in the Arctic must be rejected. Sign this petition today to call on the federal government to stop new drilling on all of our coasts. Our business and government leaders must find the courage to invest in a renewable energy economy with bold plans to decrease our dependence on fossil fuel extraction.
The first step in achieving energy democracy is to listen to Louisiana's most unique and cherished communities as they call for a just transition away from what is harming our coast and toward what builds healthy and sustainable communities.
Colette Pichon Battle, Esq. is the executive director of the Gulf Coast Center for Law & Policy, a non-profit law firm and justice center advocating for ecological equity for Gulf South communities of color on the frontline of climate change.
YOU MIGHT ALSO LIKE
San Francisco Becomes First Major City to Require Solar Panels on New Buildings
What You Need to Know Six Years After BP's Gulf Oil Disaster
166 Million Americans Live With Unhealthful Levels of Air Pollution
EcoWatch Daily Newsletter
Smog over Los Angeles. Westend61 / Getty Images
After four decades of improving air quality, the U.S. has started to take a step backwards, as the number of polluted days has ticked upwards over the last two years, the Associated Press reported.
Photobos / iStock / Getty Images
Governors in Vermont and Maine signed bills on Monday that will ban plastic bags in their states next year, The Hill reported.
The Maine ban will go into effect next Earth Day, April 22, 2020. The Vermont ban, which extends beyond plastic bags and is the most comprehensive plastics ban so far, will go into effect in July 2020. The wait time is designed to give businesses time to adjust to the ban.
picture-alliance / AP Images / D. Goldman
By Daniel Moattar
Eastern Kentucky's hills are interrupted by jarring flats of bare rock: the aftermath of mountaintop removal mining, which uses explosives to destroy and harvest coal-rich peaks.
By Molly Taft
Lisa Marshall isn't your typical activist. For one thing, she's not into crowds. "I don't really like rallies," Marshall, a mom of three from upstate New York, said. "They're a little stressful — not my favorite thing."

An oil drilling site in a residential area of Los Angeles, California on July 16, 2014.
Faces of Fracking / Flickr
By Jake Johnson
A comprehensive analysis of nearly 1,500 scientific studies, government reports, and media stories on the consequences of fracking released Wednesday found that the evidence overwhelmingly shows the drilling method poses a profound threat to public health and the climate.

sonsam / iStock / Getty Images
By Grace Francese
A new Environmental Working Group (EWG) study published in Environmental Research found that nitrate, one of the most common contaminants of drinking water, may cause up to 12,594 cases of cancer per year, but that's not its only danger: It can pose unique health risks to children.
Melt water from Everest's Khumbu glacier. Ed Giles / Getty Images
EPA Administrator Andrew Wheeler signs his replacement for the Clean Power Plan. Win McNamee / Getty Images