This website uses cookies to ensure you get the best experience while browsing it. By clicking 'Got It' you're accepting these terms.
Federal Judge Throws out Lawsuit Challenging Endangered Species Listing
Nov. 22, 2011 04:13PM EST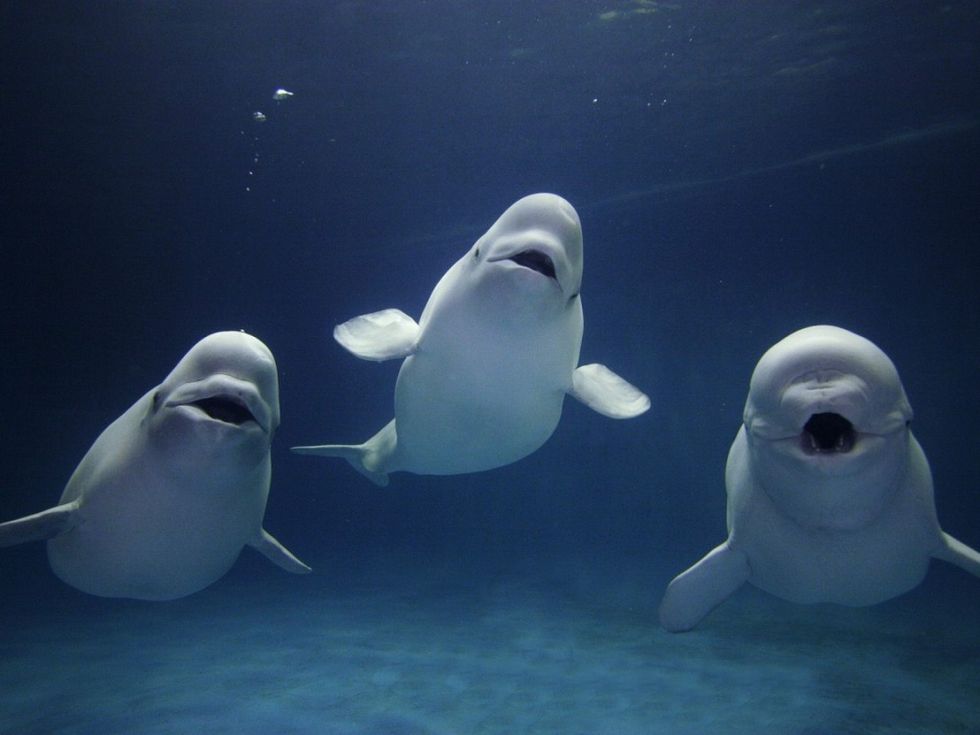 By Richard Mauer
For the second time in less than six months, a federal judge on Nov. 21 threw out a lawsuit by the Gov. Sean Parnell administration challenging an endangered species listing, this time involving Cook Inlet's beluga whales.
In the latest ruling, the chief judge of the Washington, D.C., District Court, Royce Lamberth, said the state failed on all its points to show that the National Marine Fisheries Service improperly designated belugas as endangered in the Cook Inlet region.
That follows a similar decision in June by another federal judge in Washington, Emmet Sullivan, who said the U.S. Fish and Wildlife Service properly designated polar bears as endangered. The state is appealing that decision.
Bob Shavelson of Cook Inletkeeper, one of the organizations that intervened in the beluga case in support of the federal fisheries service, said the ruling demonstrated that the state's lawsuit was "a waste of taxpayer money."
"The state would be better served paying scientists instead of lawyers and letting the scientists do science and not be handcuffed by politics," said Shavelson. He was referring in part to a Parnell administration order, issued in connection with beluga recovery efforts, that barred state scientists from publicly disagreeing with administration policy.
In a prepared statement, Alaska Attorney General John Burns expressed disappointment with the ruling.
State officials say they are concerned that recovery efforts for belugas, if too strict, could threaten oil and gas development and shipping in the Inlet. Escopeta Oil Co., which recently announced a major gas discovery in Cook Inlet, had intervened in the lawsuit on the side of the state.
"We maintain that the listing process was defective because it did not sufficiently involve the state or consider the conservation measures already in place to protect Cook Inlet belugas," Burns said. "We are reviewing the decision and considering further options."
But in his ruling, Lamberth, a Reagan appointee, took note of the state's conservation measures and rejected them as inadequate.
"Ultimately, whatever conservation efforts were already being made by the state ... clearly had not demonstrated a degree of effectiveness sufficient to alleviate concern over the small population size in Cook Inlet, since the population had shown no signs of recovery and was indeed continuing to decline," Lamberth wrote in his decision.
The failure of the state to renew its coastal management program—bills to do so died this year in the Alaska Legislature—"certainly does not help (Alaska's) argument that the (National Marine Fisheries) service somehow overlooked an important state-sponsored conservation effort," the judge wrote in his 25-page decision.
Lamberth also rejected the state's contention that its objections weren't adequately heard by the federal government.
"But the record reflects that the service held four public hearings—three in Alaska and one in Maryland—and received approximately 180,000 public comments on the proposed rule," Lamberth wrote. "In any event, plaintiffs' argument that the opportunity for public comment was somehow not 'full' borders on the absurd."
Instead, he said, the National Marine Fisheries Service "considered—and thoroughly responded to—each of Alaska's objections to the proposed rule."
While beluga populations around the Northern Hemisphere are generally healthy, the subspecies in Cook Inlet begin sliding in the 1980s, then declined dramatically from 1994 to 1998 in a "catastrophic spree of subsistence whaling," Lamberth wrote.
"Aided by modern technology, Alaska Natives decimated the beluga population in Cook Inlet, harvesting nearly half of the remaining 650 whales in only four years," Lamberth said.
New rules put a moratorium on the hunt. The federal government declined to list belugas as endangered in 2000, predicting the population would bounce back. Instead, Lamberth said, whale numbers continued to decline an average of more than 1 percent a year.
The 1973 Endangered Species Act has five criteria for determining whether a species should be listed. While any one would have been adequate, Lamberth said, Cook Inlet belugas met all five. On April 20, 2007, the fisheries service proposed listing belugas and scheduled a public comment period. It issued its final ruling Oct. 28, 2008, in the waning days of the Bush administration.
In February, the fisheries service designated more than 3,000 square miles of Cook Inlet shoreline and marine area as critical habitat for belugas, leading some state officials and development advocates to complain that the local economy could be stifled. Federal officials urged more cautious reactions, saying they had no plans to turn the Inlet into an exclusive zone for whales, which in any event had coexisted with offshore oil drilling and shipping for decades.
Among a dozen parties to the lawsuit, initially brought by Alaska on June 4, 2010, were the whales themselves, represented by four attorneys from environmental organizations. Lamberth took over the case after another judge allowed the famed white whales to join the lawsuit as an intervenor defendant. He described that status as a "noble gesture" with "no legal significance."
For more information, click here.
EcoWatch Daily Newsletter
U.S. President Donald Trump listens as Anthony Fauci, Director of the National Institute of Allergy and Infectious Diseases speaks in the Rose Garden for the daily coronavirus briefing at the White House on March 29 in Washington, DC. Tasos Katopodis / Getty Images
By Jake Johnson
Just over a month after proclaiming that the number of coronavirus cases in the U.S. would soon "be down to close to zero," President Donald Trump said during a press briefing on the White House lawn Sunday that limiting U.S. deaths from the pandemic to between 100,000 and 200,000 people would mean his administration and the country as a whole did "a very good job."
Dicamba is having a devastating impact in Arkansas and neighboring states. A farmer in Mississippi County, Arkansas looks at rows of soybean plants affected by dicamba. The Washington Post / Getty Images
Documents unearthed in a lawsuit brought by a Missouri farmer who claimed that Monsanto and German chemical maker BASF's dicamba herbicide ruined his peach orchard revealed that the two companies knew their new agricultural seed and chemical system would likely damage many U.S. farms, according to documents seen by The Guardian.
Washington State Governor Jay Inslee and other leaders speak to the press on March 28, 2020 in Seattle. Karen Ducey / Getty Images
A bushfire burns outside the Perth Cricket Stadium in Perth, Australia on Dec. 13, 2019. PETER PARKS / AFP via Getty Images

By Albert Van Dijk, Luigi Renzullo, Marta Yebra and Shoshana Rapley
2019 was the year Australians confronted the fact that a healthy environment is more than just a pretty waterfall in a national park; a nice extra we can do without. We do not survive without air to breathe, water to drink, soil to grow food and weather we can cope with.
By Fino Menezes
Everyone adores dolphins. Intelligent, inquisitive and playful, these special creatures have captivated humans since the dawn of time. But dolphins didn't get to where they are by accident — they needed to develop some pretty amazing superpowers to cope with their environment.