This website uses cookies to ensure you get the best experience while browsing it. By clicking 'Got It' you're accepting these terms.
Federal Government Takes Tentative Step toward Protecting Great Lakes
Dec. 02, 2011 10:12AM EST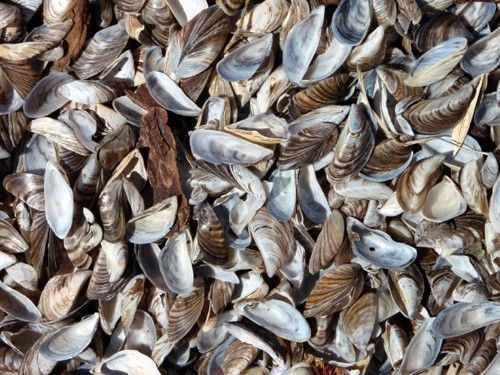 Late Nov. 30, the federal government took another tentative step toward protecting the Great Lakes and vulnerable coastal waters from the scourge of invasive species with proposed limitations on their chief delivery vehicle—ballast water dumping by commercial vessels. The U.S. Environmental Protection Agency (EPA) proposed a new national permit to deal with discharges of ballast water that are a normal part of operating freighters and other large commercial vessels. As a result of a legal settlement, that permit will limit the number of invasive species that vessels can dump in the Great Lakes and other water bodies. Unfortunately, EPA's new limits are pegged to standards established by the International Maritime Organization, which while supported by the shipping industry, are not strict enough to prevent the introduction and spread of invasive organisms which currently cost the eight Great Lakes states more than $1 billion every five years.
"It is hard to see the movement of invasive species until it is too late," said Thom Cmar, attorney for the Natural Resources Defense Council. "Unfortunately, out of sight, out of mind has meant that we have not dealt with the problem of 'living pollution' as aggressively as other environmental threats like oil spills or toxic releases. The new proposed ballast water permit is par for that course—it is a start, but nowhere near what is needed to stop these uninvited critters from sapping our most valuable water resources."
The permit update comes on the heels of a long legal battle to force EPA to regulate ballast water under the Clean Water Act. Protective limits on invasive species in vessels' ballast discharges are necessary to prevent the introduction and spread of aquatic invasive species carried in the ballast tanks from overseas ports. Species like the zebra and quagga mussels, spiny water fleas and round gobies have all arrived to the Great Lakes via the unregulated discharge of contaminated ballast water.
"Since the opening of the St. Lawrence Seaway, the Great Lakes has been ground zero for freshwater invasions from overseas vessels," said Jennifer Nalbone, director of Navigation and Invasive Species for Great Lakes United. "The EPA's VGP (Vessel General Permit) is a real opportunity to advance protection for the Great Lakes and the nation. After decades of painfully slow progress, our waters deserve a leap forward in protection, not a baby step."
While the new permit represents an improvement over previous versions, conservation groups and scientists are concerned that the weak international standards are not strict enough to prevent the next major invasive species threat. International Maritime Organization ballast water standards are not scientifically based and offer only a marginal improvement over the current practice of flushing ballast tanks with saltwater.
The federal Clean Water Act requires EPA to give states an opportunity to add requirements to the proposed permit if the states find that more stringent provisions are necessary to protect against vessels' pollution. The states of New York and California have already adopted far more stringent standards, based on their own scientific determinations that anything less protective would leave their waters vulnerable to new species invasions. As part of EPA's permit update, all of the states will have the opportunity to decide whether they will adopt their own more stringent ballast water standards. In addition, the Coast Guard has finally sent its final rule-making to set standards for living organisms in ships' ballast water to the Office of Budget and Management. By contrast, recent legislation passed by the U.S. House of Representatives would also adopt the weak International Maritime Organization ballast water standards, but it would do so while also eliminating EPA's authority to require more protections under the Clean Water Act, as well as states' authority to create more stringent requirements under tougher state laws.
"The proposed EPA permit is a step in the right direction, but it still doesn't shut the door on invasive species," said Andy Buchsbaum, director of the National Wildlife Federation-Great Lakes Program Office. "On the positive side, it sets numerical limits for ballast water discharges and maintains the rights of states to add additional protections. But EPA's proposed standard still allows the discharge of invasive organisms into the Great Lakes and the nation's waters at significant levels. That's simply not acceptable."
EPA will entertain public comments on the draft permit for 75 days, before finalizing the permit in late 2012. Conservation groups will submit written comments to EPA urging the permit be strengthened.
Great Lakes groups also express concern over the exemption of "lakers," ships operating only in the Great Lakes. While these boats may not be responsible for the introduction of new invasive species from overseas, they have been shown to facilitate the movement of foreign organisms between the Great Lakes. Additionally, the permit allows for a lengthy delay before vessels will be required to install new ballast technology, allowing some vessels to operate for more than a decade before meeting the new standards.
"The Great Lakes are more than ready for a strong national standard that can help win the war against invasive species," said Joel Brammeier, president and CEO of the Alliance for the Great Lakes. "While EPA's first draft does not go far enough to protect our waters, there is still time to craft a permit that truly puts us on track to eliminate devastating invasions of the largest freshwater resource on the continent."
"Stopping the influx of invasive species is essential to restore and protect the Great Lakes," said Jeff Skelding, campaign director for the Healing Our Waters-Great Lakes Coalition. "The people, communities and businesses that have paid billions of dollars over the years to deal with the vast economic and environmental damage caused by invasive species deserve the strongest possible water quality protections."
For more information, click here.
EcoWatch Daily Newsletter
Tuna auctions are a tourist spectacle in Tokyo. Outside the city's most famous fish market, long queues of visitors hoping for a glimpse of the action begin to form at 5 a.m. The attraction is so popular that last October the Tsukiji fish market, in operation since 1935, moved out from the city center to the district of Toyosu to cope with the crowds.

gmnicholas / E+ / Getty Images
Kristan Porter grew up in a fishing family in the fishing community of Cutler, Maine, where he says all roads lead to one career path: fishing. (Porter's father was the family's lone exception. He suffered from terrible seasickness, and so became a carpenter.) The 49-year-old, who has been working on boats since he was a kid and fishing on his own since 1991, says that the recent warming of Maine's cool coastal waters has yielded unprecedented lobster landings.
Aerial view of lava flows from the eruption of volcano Kilauea on Hawaii, May 2018. Frizi / iStock / Getty Images
Hawaii's Kilauea volcano could be gearing up for an eruption after a pond of water was discovered inside its summit crater for the first time in recorded history, according to the AP.
The Eqip Sermia Glacier is seen behind a moraine left exposed by the glacier's retreat during unseasonably warm weather on Aug. 1 at Eqip Sermia, Greenland. Sean Gallup / Getty Images
hadynyah / E+ / Getty Images
By Johnny Wood
The Ganges is a lifeline for the people of India, spiritually and economically. On its journey from the Himalayas to the Bay of Bengal, it supports fishermen, farmers and an abundance of wildlife.
The river and its tributaries touch the lives of roughly 500 million people. But having flowed for millennia, today it is reaching its capacity for human and industrial waste, while simultaneously being drained for agriculture and municipal use.
Here are some of the challenges the river faces.
By Jake Johnson
As a growing number of states move to pass laws that would criminalize pipeline protests and hit demonstrators with years in prison, an audio recording obtained by The Intercept showed a representative of a powerful oil and gas lobbying group bragging about the industry's success in crafting anti-protest legislation behind closed doors.
Reposted with permission from our media associate Common Dreams.

DESIREE MARTIN / AFP / Getty Images
Wildfires raging on Gran Canaria, the second most populous of Spain's Canary Islands, have forced around 9,000 people to evacuate.