This website uses cookies to ensure you get the best experience while browsing it. By clicking 'Got It' you're accepting these terms.
Federal Government Continues to Pretend BP Oil Spill Never Happened
Jan. 27, 2012 12:00PM EST
Energy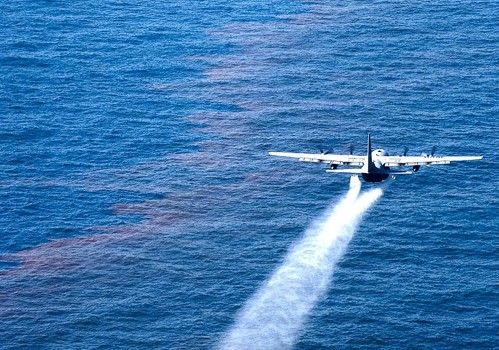 The Jan. 26 announcement by the U.S. Department of the Interior to sell leases and allow offshore oil drilling in 38 million acres in the Central Gulf of Mexico is troubling, because the regulatory oversight and safety problems that led to BP's 2010 catastrophic Gulf oil spill haven't yet been remedied.
Just last month, the National Academy of Engineering issued a report concluding that deep water drilling in the Gulf of Mexico is fraught with corner-cutting and lax regulatory oversight.
Deep water drilling in the Gulf, the report said, is "some of the most complex and most risky ventures conducted by commercial enterprises," and that the devastating BP well explosion raises "questions about the industry's overall safety preparedness, the ability to handle the complexities of the deep-water operations, and industry oversight to approve and monitor well plans and operational practices and personnel competency and training."
The engineering experts concluded that a deficient safety culture led BP to rely on blowout preventers as equipment that just "couldn't fail." Even before the well blowout, "there were numerous warnings to both industry and regulators about potential failures of existing" blowout preventers, the report says. The report points to studies in 2001, 2002, 2004, and a 1999 well blowout and fire off the Louisiana coast.
Ignoring the experts' findings, the Interior Department is now allowing more deep water drilling, which leaves communities vulnerable to another major oil spill along the Louisiana, Texas, Mississippi, Alabama and Florida coasts.
"The federal government is acting as if the BP disaster never happened," said Earthjustice attorney David Guest. "The Interior Department is supposed to be looking out for the public. Instead, they are pandering to drilling companies and putting Gulf Coast communities at risk."
The high risk involved in deep water drilling is the subject of an Earthjustice lawsuit against the federal government. The suit contends that federal regulators have conducted an irrationally optimistic risk assessment for Shell Oil Company's plan to drill for oil in deep Gulf waters near the site of BP's devastating spill. Earthjustice filed suit on behalf of the Sierra Club, the Gulf Restoration Network, and the Florida Wildlife Federation. The legal challenge in the 11th Circuit in Atlanta, Ga. now awaits oral arguments. Earthjustice's challenge points out that Shell's exploration plan anticipates the company using the same type of blowout preventer that failed at BP's Deepwater Horizon well. The federal Bureau of Ocean Energy Management, Regulation and Enforcement (BOEM) approved Shell's plan after concluding that another accidental spill is virtually impossible.
"The Shell plan should be withdrawn until BOEM completes a risk assessment that comports with the facts found by independent experts," Guest said. "The academy report proves that the government's optimistic risk assessments for deep water drilling are wrong."
For more information, click here.
EcoWatch Daily Newsletter
Colombia rainforest. Marcel Oosterwijk / CC BY-SA 2.0
Many of us think of the Amazon as an untouched wilderness, but people have been thriving in these diverse environments for millennia. Due to this long history, the knowledge that Indigenous and forest communities pass between generations about plants, animals and forest ecology is incredibly rich and detailed and easily dwarfs that of any expert.
picture-alliance / Newscom / R. Ben Ari
By Wesley Rahn
Plastic byproducts were found in 97 percent of blood and urine samples from 2,500 children tested between 2014 and 2017, according to a study by the German Environment Ministry and the Robert Koch Institute.

Pexels
Medically reviewed by Daniel Bubnis, MS, NASM-CPT, NASE Level II-CSS
Hot yoga has become a popular exercise in recent years. It offers many of the same benefits as traditional yoga, such as stress reduction, improved strength, and flexibility.
Lara Hata / iStock / Getty Images
By SaVanna Shoemaker, MS, RDN, LD
Rice is a staple in many people's diets. It's filling, inexpensive, and a great mild-tasting addition to flavorful dishes.
An image of the trans-alaskan oil pipeline that carries oil from the northern part of Alaska all the way to valdez. This shot is right near the arctic national wildlife refuge. kyletperry / iStock / Getty Images Plus
The Trump administration has initialized the final steps to open up nearly 1.6 million acres of the protected Alaskan National Wildlife Refuge to allow oil and gas drilling.
Kaboompics / Pexels
Tensions between lawmakers and several large manufacturing companies came to a head on Capitol Hill this week during a hearing on toxic fluorochemicals in U.S. drinking water.