This website uses cookies to ensure you get the best experience while browsing it. By clicking 'Got It' you're accepting these terms.
Federal District Court Hears Oral Arguments against Monsanto
Feb. 01, 2012 10:00AM EST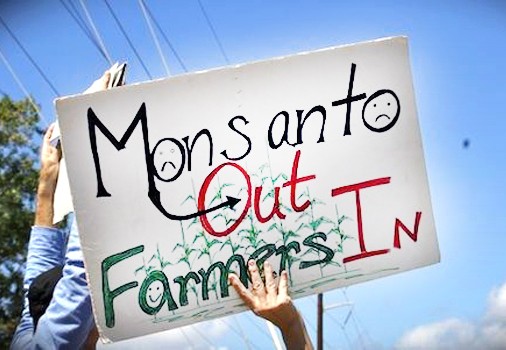 On Jan. 31 family farmers from across the country took part in the first phase of the Organic Seed Growers and Trade Association (OSGATA) et al. v. Monsanto court case. The case was filed to protect farmers from genetic trespass by Monsanto's genetically modified (GMO) seed, which can contaminate organic and non-GMO farmers' crops and open farmers up to abusive lawsuits.
About 200 supporters met at Foley Square in Manhattan the morning of Jan. 31. In total, more than 300,000 people are represented by 83 plaintiffs from 36 organizations in the case against Monsanto.
As a result of aggressive lawsuits against farmers with contaminated crops, Monsanto has created an atmosphere of fear in rural America and driven dozens of farmers into bankruptcy. Farmers now have the opportunity to fight back and have their voices heard in a court of law.
The Federal District Court judge has agreed to hear oral arguments in this landmark case to decide whether or not the case will move forward. The judge has until March 31st to make a decision.
Occupy Wall Street Food Justice, Occupy Big Food and Food Democracy Now! assembled at Foley Square in solidarity with farmers on the front lines of the struggle against corporate domination of the nation's food system.
To learn more about the details of the case, click here.
For more information, click here.
Visitors to the Grand Canyon may have been exposed to unsafe radiation levels, for almost two decades. George Rose / Getty Images
Grand Canyon visitors and employees who passed through the national park's museum collection building were exposed to radiation for nearly two decades, AZCentral reported Monday.
That's because, until last year, three five-gallon paint buckets filled with uranium ore were stored in the building, according to a Feb. 4 email sent out to all National Park Service employees by Grand Canyon safety, health and wellness manager Elston "Swede" Stephenson.
The Grand Canyon celebrates its 100th birthday as a national park this month, but it just earned itself a protector who is even older!
Portland alley advocates estimate there are 76 miles of alleys in their city—all potential green public spaces. This northeast Portland neighborhood is one of many projects reclaiming forgotten concrete pathways for nature and people. Derek Dauphin
By Lynn Freehill-Maye
Rachel Schutz hated watching the kids play outside, and not because she was a curmudgeon. As director of an after-school program in a Latino neighborhood near ­Portland, Oregon, she likes the outdoors, the piney tang that hangs in the damp air.
RiverNorthPhotography / E+ / Getty Images
Today, the U.S. celebrates Presidents' Day, a day to commemorate the leadership and legacy of the so-far only men who have governed the country since its founding.
Bogdan Kurylo / iStock / Getty Images
By Jeff Turrentine
If you think this is going to be yet another column admonishing you for not doing enough to curb the amount of single-use plastic in our waste stream, you can relax. You don't need a lecture at this point.