This website uses cookies to ensure you get the best experience while browsing it. By clicking 'Got It' you're accepting these terms.
Federal Court to Decide if Kids Can Sue Government for Failing to Act on Climate Change
Mar. 11, 2016 09:32AM EST
By Clayton Aldern, Billmoyers.com
Courtrooms usually aren't jovial places, but with 21 youth plaintiffs and two busloads of supporting junior high-school students in tow, the air in the U.S. District Courthouse here on Wednesday felt more field trip than federal court.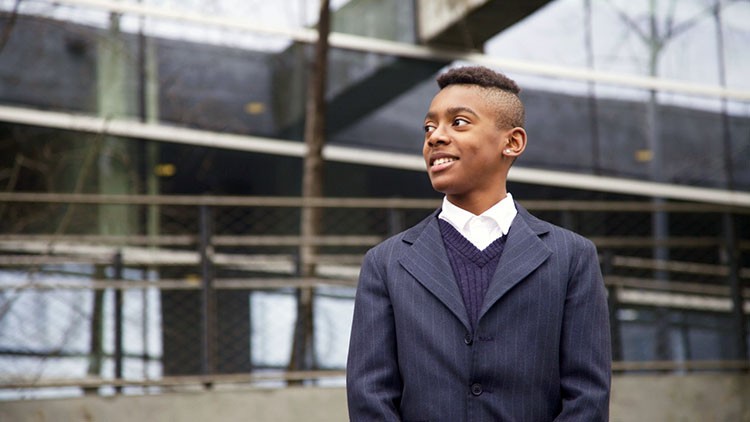 The occasion for the youthful energy was a hearing on a complaint filed on behalf of the plaintiffs, aged 8 - 19, by Oregon nonprofit Our Children's Trust. The kids' lawyers assert that their clients and the younger generation as a whole, have been deprived of key rights by their own government. By failing to act on climate change, they argue, the U.S. government—including President Obama and a baker's dozen federal agencies—has valued its own generation more than future generations, who will bear a greater burden with respect to the climate crisis.
The Justice Department filed a motion to dismiss the complaint and Wednesday's hearing had a federal judge considering that motion. The youth plaintiffs' counsel sparred with government lawyers as well as attorneys representing fossil fuel interests. This kind of case might sound, well, juvenile, but trade groups with ties to the oil and gas lobby—the American Petroleum Institute, the American Fuel and Petrochemical Manufacturers and the National Association of Manufacturers—were concerned enough about it that they joined as co-defendants in November of last year. Now, the Oregon U.S. District Court will decide whether or not the complaint will proceed to trial.
Xiuhtezcatl Tonatiuh Martinez, a 15-year-old indigenous activist and a plaintiff on the case, summed up the kids' perspective at a press conference after the hearing. "We are valuing our futures over profits," he said. "We are valuing this planet over corporate greed."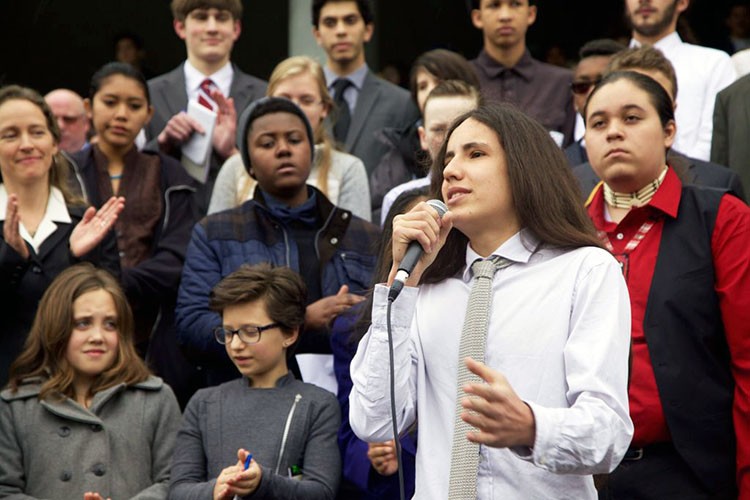 This isn't the first time Our Children's Trust has brought forth a youth climate lawsuit. Indeed, the group has at one time or another filed suit in all 50 states and currently has cases pending in five states. Back in November, in a case brought by a coalition of Seattle teenagers, a Washington judge ruled that the state was constitutionally obligated to protect its natural resources "for the common benefit of the people of the State"—a notable win for the young plaintiffs—but she did not go so far as to rule that the state's carbon emissions-limiting standards in question needed to adhere to the "best available science." A 2011 suit, which the youth plaintiffs ended up losing, also targeted the federal government for failing to keep the atmosphere safe for future generations. It perhaps goes without saying that these types of complaints are incredible long shots.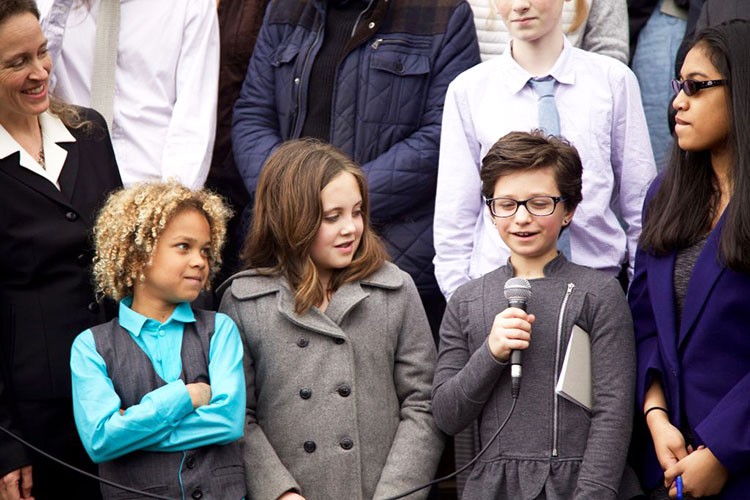 Julia Olson, a lawyer with Wild Earth Advocates and Our Children's Trust who argued the plaintiffs' case on Wednesday, is optimistic about the outcome of this complaint, though. "I believe in our Constitution and I think it can work to address even the most systemic, intractable problem of our generation," she told me.
The complaint alleges violation of the kids' Fifth Amendment rights to due process and equal protection. By failing to act on climate change, it argues, the government discriminates against youth as a class. Without access to a healthy climate, they're deprived of their fundamental rights to life, liberty and property.
The complaint is also built on the public trust doctrine, a carryover from English common law that says a government has the duty to protect certain natural resources and systems on behalf of current and future generations. "It originated with Emperor Justinian in Rome," Alex Loznak, a 19-year-old plaintiff, explained to the press. "It's reflected in the Magna Carta, the writings of Thomas Jefferson and cited in U.S. court decisions dating back to the 1800s."
An important question at hand on Wednesday was whether the public trust doctrine applies to the federal government. The U.S. government and its fossil-fuel industry co-defendants argued that legal precedent only considers it to apply to states. That's a crucial distinction, because it will help determine whether or not the plaintiffs even have standing in the federal court system.
The defendants also contend that if the federal court took on the case, it would amount to an egregious overstep of authority by the judiciary. "This is the type of problem that is designed to be solved by the political branches," argued U.S. counsel Sean C. Duffy at the hearing. He said that denying the U.S. government's motion for dismissal would effectively turn the judicial branch into a "de facto super-agency."
Another core argument of the defense is that all cases addressing constitutional rights must demonstrate that the government, through its actions, has infringed upon these rights or exceeded its authority. Instead, the defense argued, the kids' case alleges a failure to act and you can't require the government to simply "do more." "Our Constitution is one that limits the power of government," argued intervenor counsel Quin Sorenson, who represented industry interests at the hearing.
That's not how Olson sees it, though. "What we have today is not just a failure to act," she told the press after the hearing. "The government is not just sitting by and doing nothing. They are doing everything to cause this problem." Indeed, the complaint calls out the government for its continued actions to "permit, authorize and subsidize fossil fuel extraction, development, consumption and exportation."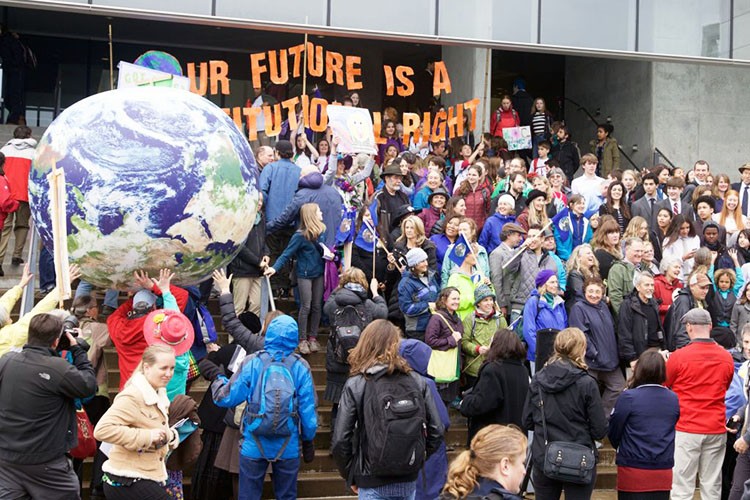 Courthouse in Eugene, OR, after the hearing. The banner reads, "Our future is a constitutional right." Photo credit: Clayton Aldern / Grist
It's also not unprecedented for a court to demand that the government meet a specific standard to ensure its citizens' safety, she said. In Brown v. Plata, for example, a 2010 Supreme Court case concerning prison reform, the court required a mandatory limit on prison populations for the sake of health and safety. Summarizing the decision, she said that while the Supreme Court had no scientific standards to apply at the time, it ruled that it could rely on expert evidence. "The Court selected the number—it set the standard—to keep those prisoners safe." And when it comes to determining the safe level of climate pollution in the atmosphere, "we have scientific standards," she said.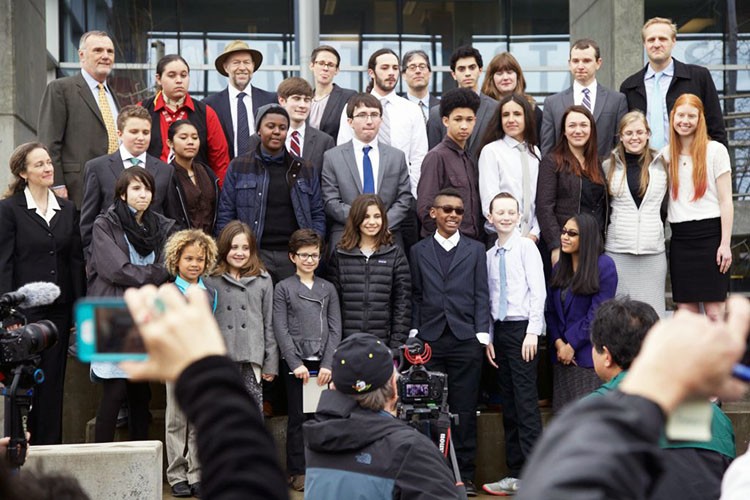 pose with Our Children's Trust attorneys Phil Gregory (top left) and Julia Olson
(bottom left). Photo credit: Clayton Aldern / Grist
"The way I hope it will go is that the judicial branch will say, 'You've got to do something,'" said Dr. James Hansen, adjunct professor at Columbia University and former director of NASA Goddard Institute for Space Studies. Hansen's granddaughter is a plaintiff in the case and he's formally listed in the complaint as the legal guardian of "Future Generations." He continued, "Hopefully the court will ask for a plan: How are you going to ensure the rights of young people?"
In a time of gridlock and sorely needed climate action, the case couldn't come soon enough, Hansen said. "It gets harder and harder to stabilize the climate if you go longer and longer without turning the curve."
Addressing climate change is perhaps the greatest challenge of our time and it necessarily causes us to ask some big questions. Is there a constitutional right to be free from climate change? Is there a constitutional right to a safe climate? Is youth a class or simply a mutable trait? If the federal government takes actions that worsen the climate crisis, does that amount to an abuse of its power?
Said Olson: "We are not just in a climate crisis. We will have a significant constitutional crisis and a crisis in our democracy if this doesn't work."
YOU MIGHT ALSO LIKE
Jury Awards Two Dimock Couples $4.2 Million After Finding Cabot Oil & Gas Negligent in Fracking Contamination Case
Obama, Trudeau Agree to Safeguarding Arctic, Reducing Methane Emissions
Democratic Debate Puts Fossil Fuel Industry on Notice
21 Kids Take on the Feds and Big Oil in Historic Climate Lawsuit
Prince William and British naturalist David Attenborough attend converse during the World Economic Forum annual meeting, on January 22 in Davos, Switzerland. Fabrice Cofferini /AFP / Getty Images
Britain's Prince William interviewed famed broadcaster David Attenborough on Tuesday at the World Economic Forum's annual meeting in Switzerland.
During the sit-down, the 92-year-old naturalist advised the world leaders and business elite gathered in Davos this week that we must respect and protect the natural world, adding that the future of its survival—as well as humanity's survival—is in our hands.
Electric vehicle sales took off in 2018, with a record two million units sold around the world, according to a new Deloitte analysis.
What's more, the accounting firm predicts that another 21 million electric cars will be on the road globally over the next decade due to growing market demand for clean transportation, government subsidies, as well as bans on fossil fuel cars.
Teenager Alex Weber and friends collected nearly 40,000 golf balls hit into the ocean from a handful of California golf courses.
Alex Weber /
CC BY-ND
Southwest Greenland had the most consistent ice loss from 2003 to 2012. Eqalugaarsuit, Ostgronland, Greenland on Aug. 1, 2018.
Rob Oo / CC BY 2.0
Greenland is melting about four times faster than it was in 2003, a new study published Monday in the Proceedings of the National Academy of Sciences found, a discovery with frightening implications for the pace and extent of future sea level rise.
"We're going to see faster and faster sea level rise for the foreseeable future," study lead author and Ohio State University geodynamics professor Dr. Michael Bevis said in a press release. "Once you hit that tipping point, the only question is: How severe does it get?"
Finally, some good news about the otherwise terrible partial government shutdown. A federal judge ruled that the Trump administration cannot issue permits to conduct seismic testing during the government impasse.
The Justice Department sought to delay—or stay—a motion filed by a range of coastal cities, businesses and conservation organizations that are suing the Trump administration over offshore oil drilling, Reuters reported. The department argued that it did not have the resources it needed to work on the case due to the shutdown.
Most people have heard of the Amazon, South America's famed rainforest and hub of biological diversity. Less well known, though no less critical, is the Pantanal, the world's largest tropical wetland.
Like the Amazon, the Pantanal is ecologically important and imperiled. Located primarily in Brazil, it also stretches into neighboring Bolivia and Paraguay. Covering an area larger than England at more than 70,000 square miles, the massive wetland provides irreplaceable ecosystem services that include the regulation of floodwaters, nutrient renewal, river flow for navigability, groundwater recharge and carbon sequestration. The wetland also supports the economies of the four South American states it covers.
Demonstrators participate in a protest march over agricultural policy on Jan. 19 in Berlin, Germany. Carsten Koall / Getty Images Europe
By Andrea Germanos
Organizers said 35,000 people marched through the streets of the German capital on Saturday to say they're "fed up" with industrial agriculture and call for a transformation to a system that instead supports the welfare of the environment, animals and rural farmers.

The fire that erupted after a pipeline explosion in Mexico Friday. FRANCISCO VILLEDA / AFP / Getty Images
By Patrick Rogers
If you have ever considered making the switch to an environmentally friendly electric vehicle, don't drag your feet. Though EV prices are falling, and states are unveiling more and more public charging stations and plug-in-ready parking spots, the federal government is doing everything it can to slam the brakes on our progress away from gas-burning internal combustion engines. President Trump, likely pressured by his allies in the fossil fuel industry, has threatened to end the federal tax credits that have already helped put hundreds of thousands of EVs on the road—a move bound to harm not only our environment but our economy, too. After all, the manufacturing and sale of EVs, hybrids, and plug-in hybrids supported 197,000 jobs in 2017, according to the most recent U.S. Energy and Employment Report.