This website uses cookies to ensure you get the best experience while browsing it. By clicking 'Got It' you're accepting these terms.
FDA's New Voluntary Antibiotics Policy Fails to Protect Human Health
Dec. 11, 2013 05:12PM EST
Health + Wellness
The U.S. Food and Drug Administration (FDA) on Wednesday issued new guidelines regarding use of antibiotics in food animals that are not sick.
Under the new rules, food animal producers no longer be able to use antibiotics to make animals grow faster. If producers need to give the drugs to a sick animal, they will have to get a prescription from a veterinarian.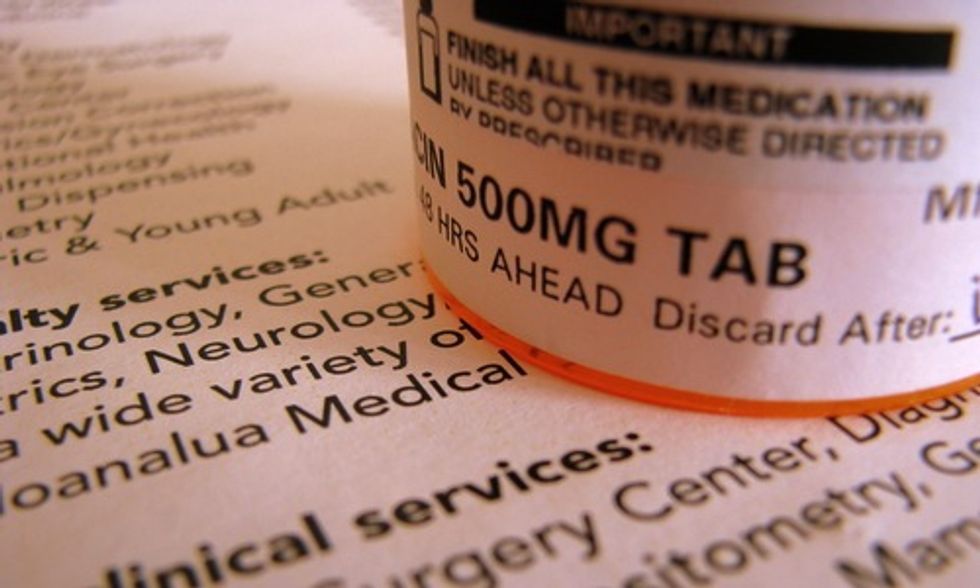 Shutterstock
The agency will ask drug manufacturers to change labels to feature language to deter using the medicines to make animals grow. Companies will have three months to tell the agency whether they will change the labels, and three years to carry out the new rules.
The long-pending guidelines came under criticism by groups such as the Natural Resources Defense Council (NRDC) and others because the drug label changes are only voluntary and do not compel any changes in the use of antibiotics.
About 80 percent of the antibiotics sold in the U.S. are for use in cows, chickens and pigs—mostly on animals that are not sick. That practice has been widely recognized by scientists to breed antibiotic-resistant bacteria and threaten human health.
When antibiotics are used day after day at low doses to speed up animal growth or compensate for crowded, stressful and unsanitary feedlot conditions, some bacteria become resistant, multiply and escape the feedlot to threaten human health.
The FDA's policy would address only the use of antibiotics to speed up animal growth. Preventive uses to avoid diseases associated with poor factory farming conditions pose the same risks, are similar in nature and have significant overlap with uses for growth promotion, the NRDC said.
"FDA's policy is an early holiday gift to industry. It is a hollow gesture that does little to tackle a widely recognized threat to human health," Avinash Kar, NRDC health attorney, said in a media release.
"FDA has essentially followed a voluntary approach for more than 35 years, but use of these drugs to raise animals has increased," Kar said. "There's no reason why voluntary recommendations will make a difference now, especially when FDA's policy covers only some of the many uses of antibiotics on animals that are not sick. FDA is failing the American people."
Leading health groups, medical doctors and other scientists such as the American Academy of Pediatrics and the Infectious Disease Society have sounded the alarm, saying that "overuse and misuse of important antibiotics in food animals must end, in order to protect human health." The World Health Organization and the Institute of Medicine of the National Academy of Sciences have reached similar conclusions.
A new report, Antibiotic Resistance Threats from the U.S. Centers for Disease Control and Prevention (CDC) estimated that at least 23,000 Americans die each year from drug-resistant infections and that antibiotic resistance is implicated in at least 2 million infections annually.
While human overconsumption of antibiotics contributes to the problem, the CDC has confirmed the link between antibiotic use on industrial farms and the rise of antibiotic resistance, saying that there is "strong scientific evidence of a link between antibiotic use in food animals and antibiotic resistance in humans" and warns of "potentially catastrophic consequences" if resistance is not slowed. The report also states: "Up to half of antibiotic use in humans and much of antibiotic use in animals is unnecessary and inappropriate and makes everyone less safe."
In 1977, the FDA concluded that feeding animals low doses of the antibiotics penicillin and tetracyclines, which are used in human medicine, could promote antibiotic-resistant bacteria capable of infecting people, and posed a risk to human health.
NRDC and its partners brought a lawsuit to force the FDA to act and won two landmark decisions in federal district court in 2012. The FDA has appealed the decisions and a decision is pending on appeal. NRDC's partners in the litigation are the Center for Science in the Public Interest, the Food Animal Concerns Trust, Public Citizen and the Union of Concerned Scientists.
Visit EcoWatch's FOOD page for more related news on this topic.

EcoWatch Daily Newsletter
The staircase to a subway station in SOHO with a temporary closure, flood control installation sign. Jeffrey Greenberg / Universal Images Group / Getty Images
The Metropolitan Transit Authority in New York City tested out a new system designed to protect its subways stations from flooding when another super storm hits, creating a bizarre sight on Wednesday, as The Verge reported.
Flat-lay of friends eating vegan and vegetarian Thanksgiving or Friendsgiving dinner with pumpkin pie, roasted vegetables, fruit and rose wine. Foxys_forest_manufacture / Royalty-free / iStock / Getty Images
Thanksgiving can be a tricky holiday if you're trying to avoid animal products — after all, its unofficial name is Turkey Day. But, as more and more studies show the impact of meat and dairy consumption on the Earth, preparing a vegan Thanksgiving is one way to show gratitude for this planet and all its biodiversity.
Residents wear masks for protection as smoke billows from stacks in a neighborhood next to a coal fired power plant on Nov. 26, 2015 in Shanxi, China. Kevin Frayer / Getty Images
By Matt Berger
It's not just kids in the United States.
Children worldwide aren't getting enough physical activity.
That's the main conclusion of a new World Health Organization (WHO) study released Wednesday.
By Tim Ruben Weimer
Tanja Diederen lives near Maastricht in the Netherlands. She has been suffering from Hidradenitis suppurativa for 30 years. Its a chronic skin disease in which the hair roots are inflamed under pain — often around the armpits and on the chest.