This website uses cookies to ensure you get the best experience while browsing it. By clicking 'Got It' you're accepting these terms.
FDA Officially Belongs to Big Pharma With Senate Confirmation of Dr. Robert Califf
Feb. 25, 2016 09:19AM EST
Politics
It is hard to believe only four senators opposed the confirmation of Robert Califf, who was approved Wednesday as the next Food and Drug Administration (FDA) commissioner. Vocal opponent Bernie Sanders condemned the vote from the campaign trail. But where was Dick Durbin? Where were all the lawmakers who say they care about industry and Wall Street profiteers making money at the expense of public health?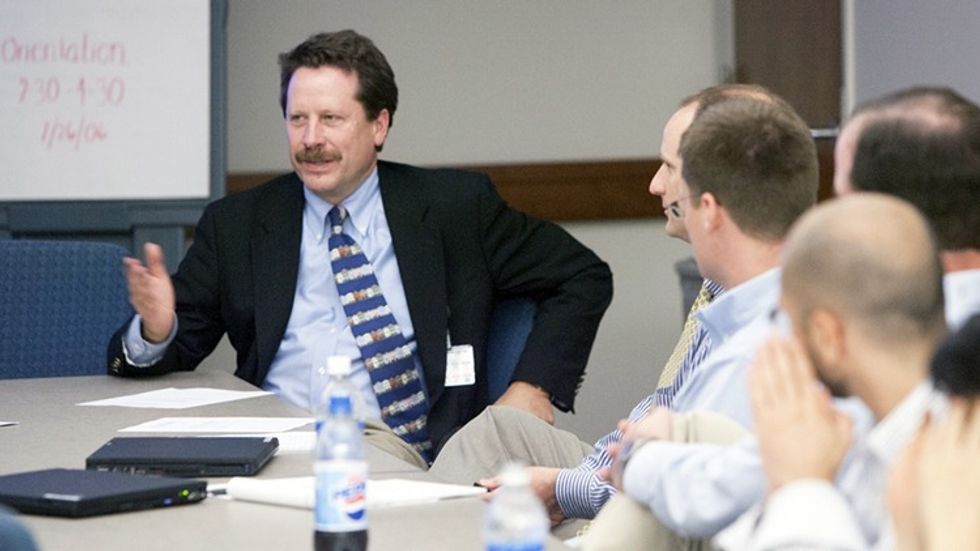 Califf, chancellor of clinical and translational research at Duke University until recently, received money from 23 drug companies including the giants like Johnson & Johnson, Lilly, Merck, Schering Plough and GSK according to a disclosure statement on the website of Duke Clinical Research Institute.
Not merely receiving research funds, Califf also served as a high level Pharma officer, say press reports. Medscape, the medical website, discloses that Califf "served as a director, officer, partner, employee, advisor, consultant or trustee for Genentech." Portola Pharmaceuticals says Califf served on its board of directors until leaving for the FDA.
In disclosure information for a 2013 article in Circulation, Califf also lists financial links to Gambro, Regeneron, Gilead, AstraZeneca, Roche and other companies and equity positions in four medical companies. Gilead is the maker of the $1000-a-pill hepatitis C drug AlterNet recently wrote about. This is FDA commissioner material?
Califf has gone on record that collaboration between industry and regulators is a good thing. He told NPR, "Many of us consult with the pharmaceutical industry, which I think is a very good thing. They need ideas and then the decision about what they do is really up to the person who is funding the study." What?
He is known for defending Vioxx which is reported to have caused at least 50,000 heart attacks and events before its withdrawal. (Merck is said to have known about Vioxx' cardio effects but marketed the blockbuster drug anyway).
Califf was instrumental in the Duke drug trial of the blood thinner Xarelto and a cheerleader of the drug despite medical experts' objections to its approval and 379 subsequent deaths. Xarelto's serious and foreseeable risks were back in the news this week.
Duke, where Califf directed clinical research, is still recovering from a major research fraud scandal that resulted in terminated grants, retracted papers and a "60 Minutes" special. It is the least appropriate place from which to choose an FDA commissioner.
Many had high hopes for the FDA when Margaret Hamburg was confirmed as commissioner in 2009 because of her public health background. But she swiftly moved to loosen conflict-of-interest rules governing those who can serve on FDA expert advisory committees and appointed Califf the FDA deputy commissioner for medical products and tobacco as she was leaving.
Califf was also Obama's choice for FDA Commissioner.
This is not the first time the FDA has brought in a Big Pharma cheerleader to lead the agency that regulates Big Pharma.
In 2005, a 33-year-old Wall Street insider known for recommending hot medical stocks, Scott Gottlieb, was named FDA deputy commissioner for medical and scientific affairs. When a multiple sclerosis drug trial was stopped because three people lost blood platelets and one died, Gottlieb called it "an overreaction" because the disease, not the drug, might be to blame. He rushed Chantix, Pfizer's stop-smoking drug, varenicline, to market, which was linked to a string of 2006 suicides and the violent death of Dallas musician Carter Albrecht. Gottlieb was forced to recuse himself from planning for a possible bird flu epidemic because of his financial ties to Roche and Sanofi-Aventis and had to bow out of work related to Eli Lilly, Proctor & Gamble and five other drug companies.
Even without a Pharma-funded FDA commissioner, many dangerous drugs approved by the agency have been withdrawn due to great harm. Who remembers Vioxx, Bextra, Baycol, Trovan, Meridia, Seldane, Hismanal, Darvon, Mylotarg, Lotronex, Propulsid, Raxar or Redux?
Califf's confirmation amounts to a handover of the agency to Big Pharma.
YOU MIGHT ALSO LIKE
10 Reasons to Oppose the Senate Version of the DARK Act
Battle Lines Are Drawn as Congress Reforms the 40-Year-Old Toxic Substances Control Act
Stephen Colbert: This Is the Road to the White House
1,000 Coloradans: 'Rejecting the TPP Is Most important Thing Congress Can Do'
EcoWatch Daily Newsletter
A new report spotlights a U.N. estimate that at least 275 million people rely on healthy coral reefs. A sea turtle near the Heron Island in the Great Barrier Reef is seen above. THE OCEAN AGENCY / XL CATLIN SEAVIEW SURVEY
In a new report about how the world's coral reefs face "the combined threats of climate change, pollution, and overfishing" — endangering the future of marine biodiversity — a London-based nonprofit calls for greater global efforts to end the climate crisis and ensure the survival of these vital underwater ecosystems.
Half of the extracted resources used were sand, clay, gravel and cement, seen above, for building, along with the other minerals that produce fertilizer. Cavan Images / Cavan / Getty Images
The world is using up more and more resources and global recycling is falling. That's the grim takeaway from a new report by the Circle Economy think tank, which found that the world used up more than 110 billion tons, or 100.6 billion metric tons, of natural resources, as Agence France-Presse (AFP) reported.
By Gero Rueter
Heating with coal, oil and natural gas accounts for around a quarter of global greenhouse gas emissions. But that's something we can change, says Wolfgang Feist, founder of the Passive House Institute in the western German city of Darmstadt.

By George Citroner
Recent research finds that official government figures may be underestimating drug deaths by half.
Researchers estimate that 142,000 people died due to drug use in 2016.
Drug use decreases life expectancy after age 15 by 1.4 years for men and by just under 1 year for women, on average.
Government records may be severely underreporting how many Americans die from drug use, according to a new study by researchers from the University of Pennsylvania and Georgetown University.
Water coolers in front of shut-off water fountains at Center School in Stow, MA on Sept. 4, 2019 after elevated levels of PFAS were found in the water. David L. Ryan / The Boston Globe via Getty Images
In a new nationwide assessment of drinking water systems, the Environmental Working Group found that toxic fluorinated chemicals known as PFAS are far more prevalent than previously thought.