This website uses cookies to ensure you get the best experience while browsing it. By clicking 'Got It' you're accepting these terms.
FDA, EPA Issue New Seafood Guidelines for Pregnant Women and Children
Jun. 10, 2014 03:56PM EST
Food
Federal officials announced today major changes in advice to pregnant and breastfeeding women by recommending consumption of at least eight ounces of low-mercury fish per week.
It is the first time that the U.S. Environmental Protection Agency (EPA) and Food and Drug Administration (FDA) have issued recommendations on the minimum amount of fish that pregnant women and children should eat. The previous advisory, issued in 2004, included only maximum amounts to protect their fetuses and young children from mercury, which can harm developing brains and reduce IQs.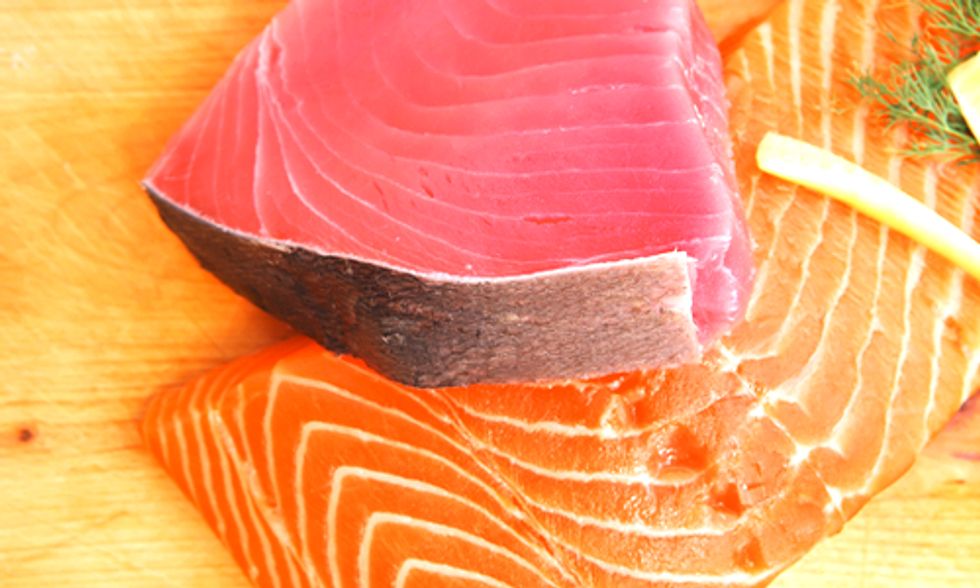 Photo courtesy of Shutterstock
"Eating fish with lower levels of mercury provides numerous health and dietary benefits," Nancy Stoner, the EPA's acting assistant administrator for the Office of Water, said in a statement. "This updated advice will help pregnant women and mothers make informed decisions about the right amount and right kinds of fish to eat during important times in their lives and their children's lives."
Under the long-awaited, proposed new guidelines, pregnant and breastfeeding women are advised to eat a minimum of eight ounces and no more than 12 ounces of fish with low levels of methylmercury, including shrimp, pollock, salmon, canned light tuna, tilapia, catfish and cod. That is equivalent to two or three fish servings per week. Young children, according to the advisory, also should have two or three servings of low-mercury fish per week.
As in the old recommendations, pregnant and nursing women and young children are advised to avoid four high-mercury fish: tilefish from the Gulf of Mexico, shark, swordfish and king mackerel.
The agencies also reiterated their specific recommendations for limits on albacore (or white) tuna: no more than six ounces a week. Advice about consumption of tuna has been highly controversial, with the fishing industry criticizing any limits and health advocacy groups pushing for the FDA and EPA to add it to the list of fish to avoid.
When asked about high levels of mercury in light tuna, Dr. Stephen Ostroff, the FDA's chief scientist, said during a call to reporters that the agencies included only four fish on the "do not eat" list because "they have consistently shown higher levels of methylmercury.
"We will continue to look at levels of methylmercury in a variety of fish and in the future make recommendations about other fish as well," Dr. Ostroff said.
Orange roughy and marlin also have slightly higher concentrations than most fish, added Elizabeth Southerland, EPA's director of the Office of Science and Technology. She said the agencies are asking the public to comment on whether those fish should be added to the list of fish to avoid.
Environmental groups filed a lawsuit against the FDA and EPA earlier this year, saying that the 2004 advisory was out of date and that women should be advised to eat less mercury-contaminated fish. They also are seeking clearer recommendations and labels that are easier for women to understand. EPA and FDA officials on Tuesday declined to comment on the lawsuit.
Environmentalists said today they were disappointed by the proposed changes, mostly because of the lack of warning labels on canned tuna.
"Over one-third of American's exposure to methylmercury is from tuna, because tuna are higher-mercury fish and Americans consume so much," said Michael Bender, director of the Mercury Policy Project. "Albacore 'white' canned tuna generally has three times as much mercury as 'light' tuna. However, Americans consume about three times as much of the light variety. Therefore, each variety—'white' and 'light'—contributes a staggering 16 percent of Americans' dietary exposure."
Representatives of the fish industry lauded the new advice, saying it "clears the water on outdated seafood guidance for pregnant and breastfeeding women."
"FDA is working to translate years of important nutrition science into updated advice, and that's exciting," said Jennifer McGuire of the National Fisheries Institute, which represents seafood companies including Gorton's Inc. and Bumble Bee Foods. "Expectant moms and health professionals alike have been confused about seafood advice during pregnancy and FDA has begun the process of setting the record straight that fish should be a pregnancy staple."
The advice can be confusing, since studies have found both benefits and dangers to eating fish. Studies have linked pregnant women's high mercury consumption in seafood to reduced IQs and memories and other neurological effects in their children. The findings are largely based on two decades of tests of school children in the Faroe Islands, who were highly exposed in the womb through their mother's consumption of whale meat.
At the same time, research has shown that fish consumption provides vital nutrients, Omega-3 fatty acids and protein, for fetal brain growth, and that children's IQs increase when their mothers had eaten low-mercury fish.
"We don't think women would accrue the same benefits in terms of health and development if they were to use supplements in place of fish," Dr. Ostroff said.
FDA officials said their analysis of data from more than 1,000 pregnant women found that 21 percent ate no fish in the previous month. Those who did ate less than the U.S. Department of Agriculture's Dietary Guidelines for Americans recommend.
Before finalizing the rules, the two agencies plan to hold public meetings and will solicit comments for 30 days.
--------
YOU MIGHT ALSO LIKE
How Weight Gain During Pregnancy Could Protect Your Baby From Toxic Chemicals
7 Tips for a Non-Toxic Pregnancy
New Study Show Proximity to Fracking Sites Increases Risk of Birth Defects
--------
EcoWatch Daily Newsletter
Participants of the climate demonstration Fridays for Future walk through Hamburg, Germany on Feb. 21, 2020. Axel Heimken / picture alliance via Getty Images
Blue whale (Balaenoptera musculus) surfacing, showing the remains of a blow and its mottled appearance near South Georgia Island in the Polar Regions. Mick Baines & Maren / Getty Images
The largest animal on Earth is proving that wildlife protections work.
More than 300 people were forced to evacuate and 46 were sent to the hospital after a gas pipeline ruptured in Mississippi Saturday.

Pexels
By Tim Lydon
Climate-related disasters are on the rise, and carbon emissions are soaring. Parents today face the unprecedented challenge of raising children somehow prepared for a planetary emergency that may last their lifetimes. Few guidebooks are on the shelves for this one, yet, but experts do have advice. And in a bit of happy news, it includes strategies already widely recognized as good for kids.
Pexels
Be it Nina Simone and James Brown for civil rights, Joni Mitchell and Marvin Gaye for the environment, or Jackson Browne and Buffalo Springfield for nuclear disarmament, musicians have long helped push social movements into the limelight.