FDA Bans Three Chemicals Linked to Cancer From Food Packaging
Under pressure from the Environmental Working Group (EWG) and other environmental and health groups, the U.S. Food and Drug Administration (FDA) is banning three grease-resistant chemical substances linked to cancer and birth defects from use in pizza boxes, microwave popcorn bags, sandwich wrappers and other food packaging.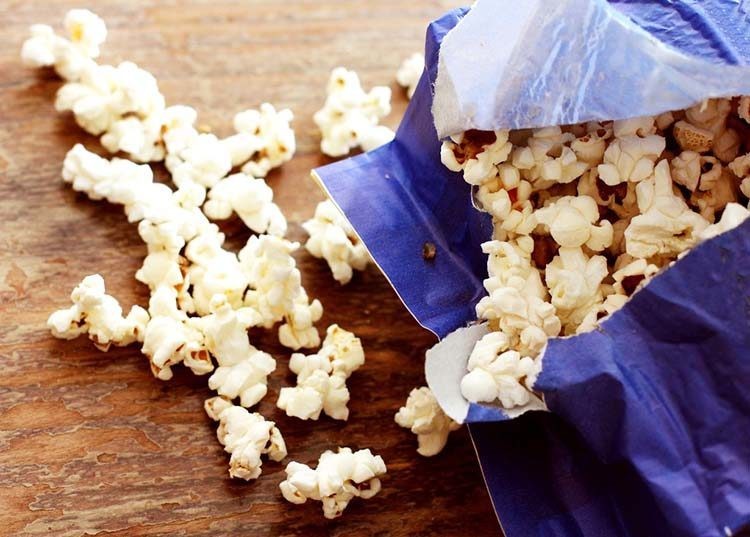 The FDA's belated action comes more than a decade after EWG and other advocates sounded alarms and five years after U.S. chemical companies stopped making the chemicals. It does nothing to prevent food processors and packagers from using almost 100 related chemicals that may also be hazardous.
"Industrial chemicals that pollute people's blood clearly have no place in food packaging," EWG President Ken Cook said. "But it's taken the FDA more than 10 years to figure that out and it's banning only three chemicals that aren't even made any more.
"This is another egregious example of how, all too often, regulatory actions under the nation's broken chemical laws are too little and too late to protect Americans' health. Congress needs to ensure that chemicals that make their way into food, either as deliberate additives or as contaminants from packaging and other outside sources, are thoroughly investigated."
The packaging substances banned by FDA, in an order that takes effect Feb. 1, are perfluorinated compounds or PFCs, a class that includes the chemicals used to make DuPont's Teflon and 3M's Scotchgard. Through their use in thousands of consumer products, PFCs have polluted the blood of virtually all Americans. They can be passed through the umbilical cord to the fetus. They contaminate drinking water for more than 6.5 million people in 27 states, according to water tests conducted by the U.S. Environmental Protection Agency (EPA).
In 2005, former DuPont engineer Glen Evers revealed that for decades, DuPont had hidden its use of a PFC-based coating in paper food packaging, despite evidence that PFCs were harmful to human health. Following Evers' disclosures, EWG wrote to the leaders of numerous fast-food companies, asking them to disclose whether their companies used PFCs in food wrappers. Burger King and some other companies said they would stop using wrappers with certain PFCs. In 2008, the California Legislature approved an EWG-backed bill to ban some PFCs in food packaging, but it was vetoed by then-Gov. Arnold Schwarzenegger.
Meanwhile, in 2005, the EPA made voluntary agreements with DuPont, 3M and other chemical companies to phase out production and use of some PFCs. But because the EPA regulates chemicals in consumer products while the FDA has authority over chemicals in food, the EPA phaseout did not remove the compounds from the FDA's list of substances approved for contact with food.
Although the three chemicals were no longer made in the U.S. as of 2011, the possibility remained that food packaging with those chemicals made in other countries could be imported to America. In October 2014, EWG and eight other groups petitioned the FDA to bar them from its list of approved food-contact materials.
Over the past decade, chemical companies have introduced dozens of chemicals similar to those phased out under the EPA-led deal. The FDA has approved almost 100 other PFC compounds for use in food packaging.
In 2008, EWG investigated FDA safety assessments and approvals for those next-generation PFCs and concluded that the agency failed to give adequate attention to the long-term health consequences of exposure to those substances. Since then, FDA has approved 20 more PFC chemicals for use in food wrappers. Public information on the safety of these substances is largely nonexistent.
"We know very little about the safety of these next-generation PFCs in food wrappers," EWG Senior Scientist David Andrews said, who analyzed the more recent FDA approvals. "But their chemical structure is very similar to the ones that have been phased out and the very limited safety testing that has been done suggests they may have some of the same health hazards. To protect Americans' health, the FDA and EPA should require that chemicals be proved safe before they are allowed on the marketplace."
The FDA ban comes in response to a petition filed by the Natural Resources Defense Council, Center for Food Safety, Breast Cancer Fund, Center for Environmental Health, Clean Water Action, Center for Science in the Public Interest, Children's Environmental Health Network, Improving Kids' Environment and EWG.
YOU MIGHT ALSO LIKE
Venezuela Bans GMO Crops, Passes One of World's Most Progressive Seed Laws
Teflon's Toxic Legacy: DuPont Knew for Decades It Was Contaminating Water Supplies
Meet the Farmer + NYT Bestseller Inspiring the Local Food Revolution
16 Reasons 2016 Will Bring Positive Change to the Global Food System
Laurie Woolever
By James O'Hare
There are 20 million people in the world facing famine in South Sudan, Somalia, Nigeria and Yemen. In developed nations, too, people go hungry. Venezuela, for instance, is enduring food insecurity on a national level as a result of economic crisis and political corruption. In the U.S., the land of supposed excess, 12.7 percent of households were food insecure in 2015, meaning they didn't know where their next meal would come from.
Keep reading...
Show less
Melwater, Greenland ice sheet. Diane Tuft
Artists are taking the climate crisis into frame and the results are emotional, beautiful and stirring.
So you've seen the best climate change cartoons and shared them with your friends. You've showed your family the infographics on climate change and health, infographics on how the grid works and infographics about clean, renewable energy. You've even forwarded these official National Oceanic and Atmospheric Administration graphs that explain the 10 clear indicators of climate change to your colleagues at the office.
Keep reading...
Show less
May. 27, 2017 01:11PM EST
As the Trump administration moves full speed ahead on boosting the oil and fossil fuel industry, opposition to increased pipeline construction is cropping up in different communities around the country.
Keep reading...
Show less
May. 27, 2017 01:02PM EST
Minke whale stranding near Havergate Island in Suffolk. MCGA.
By Simon Evans
Last Saturday, two dead whales washed up on the coast of Suffolk, in eastern England, and a third was spotted floating at sea.
What happened next illustrates how news can spread and evolve into misinformation, when reported by journalists rushing to publish before confirming basic facts or sourcing their own quotes.
Keep reading...
Show less
May. 27, 2017 01:22PM EST
By Monica Amarelo and Paul Pestano
Sun safety is a crucial part of any outdoor activity for kids, and sunscreen can help protect children's skin from harmful ultraviolet rays. Kids often get sunburned when they're outside unprotected for longer than expected. Parents need to plan ahead and keep sun protection handy in their cars or bags.
Keep reading...
Show less
May. 27, 2017 01:02PM EST
By Joe McCarthy
A lot of people take part in community clean-up efforts—spending a Saturday morning picking up litter in a park, mowing an overgrown field or painting a fence.
Keep reading...
Show less
May. 26, 2017 03:22PM EST
Rink Glacier in western Greenland, with a meltwater lake visible center. NASA/OIB
Scientists have had their eyes on Greenland as its iconic glaciers have begun disappearing due to a warming climate. But, what they didn't expect to see was a whole new type of melting.
Keep reading...
Show less
May. 26, 2017 03:40PM EST
A coalition of conservation groups and others announced Thursday that a historic number of comments and petitions of support have been submitted to the U.S. Department of the Interior in support of Bears Ears National Monument. Despite the entirely inadequate 15-day comment period ending on May 26, more than 685,000 comments in support of Bears Ears National Monument have been collected.
Keep reading...
Show less


Get EcoWatch in your inbox