This website uses cookies to ensure you get the best experience while browsing it. By clicking 'Got It' you're accepting these terms.


The best of EcoWatch, right in your inbox. Sign up for our email newsletter!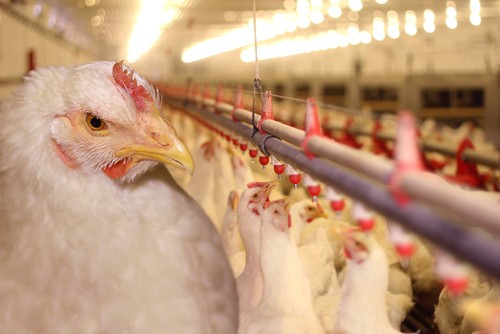 Photo courtesy of Shutterstock
Attorneys at Center for Food Safety (CFS) filed a lawsuit on behalf of CFS, the Institute for Agriculture and Trade Policy (IATP) and seven other U.S. food safety, agriculture, public health and environmental groups to compel the Food and Drug Administration (FDA) to respond to the groups' three year-old petition which calls for immediate withdrawal of FDA's approval of arsenic-containing compounds as feed additives for food animals. Filed the same day Consumer Reports released an alarming study on antibiotic resistance in turkey, the lawsuit highlights yet another gaping hole in FDA oversight of animal feed additives.
Arsenic is commonly added to poultry feed for the FDA-approved purposes of inducing faster weight gain on less feed, and creating the perceived appearance of a healthy color in meat from chickens, turkeys and hogs. Yet new studies increasingly link these practices to serious human health problems. The lawsuit filed last week seeks to force the FDA to fulfill its mandate to better protect the public from arsenic. The 2009 petition presented abundant science to FDA that organic arsenic compounds—like those added to animal feed—are directly toxic to animals and humans, but also that they convert to cancer-causing, inorganic arsenic inside of chickens, in manure-treated soil and in humans. Additional testing since submission of the 2009 petition demonstrates even greater cause for public concern and therefore greater urgency meriting FDA's prompt attention.
"FDA could easily and immediately fix the problem," said Paige Tomaselli, senior staff attorney with CFS, "but instead puts its head in the sand. We can only conclude the FDA is catering to the companies that continue to sell products containing arsenic that ends up in our food supply."
"FDA leadership is asleep at the switch, if not turning a blind eye to public health," said David Wallinga, MD, a physician with the IATP. "Seven years ago, IATP blew the whistle on FDA's indifference to arsenic being needlessly fed to chickens and turkeys. More than a decade ago, we sounded the alarm on how FDA let the routine feeding of drugs to chickens and turkeys help ensure that Americans would eat meat often contaminated with bacteria resistant to multiple antibiotics. We are filing suit because nothing much has changed."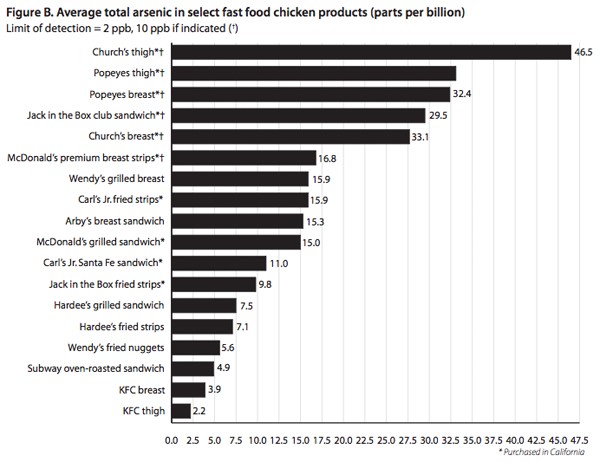 Read IATP's 2006 full report, Playing Chicken: Avoiding Arsenic in Your Meat.
First approved as animal feed additives in the 1940s, arsenic-containing compounds remain legal for use in U.S. chicken, turkey and swine production. They were never approved as safe for animal feed in the European Union, Japan and many other countries.
Substantial evidence confirming the serious public health risks of using arsenic as a feed additive was provided as part of the 2009 petition to the FDA.
Since 2009, this evidence has continued to grow, yet the FDA still fails to respond to the 2009 petition:
In 2011, the FDA reported its own study concluding that organic arsenic could transform into the toxic carcinogen inorganic arsenic, and that levels of inorganic arsenic in chicken livers were substantially higher for chickens treated with the arsenical Roxarsone than for chickens not treated with Roxarsone.
Also in 2011, Alpharma (a division of Pfizer) announced it would voluntarily suspend—not revoke—sale of Roxarsone within 30 days following the release of FDA's study. At this time, FDA commented that Roxarsone raised concerns of "completely avoidable exposure to a carcinogen."
In 2012, Maryland's Governor signed H.B. 167, banning use, sale, or distribution of Roxarsone or any other feed additive that contains arsenic, or histostat.
While these efforts are a step in the right direction, they are far from the comprehensive approach that is necessary under the law to protect public health. For example, without an FDA ban in place, Alpharma is free to begin marketing Roxarsone at any time.
Organizations participating in the lawsuit include: Center for Biological Diversity, Center for Environmental Health, Center for Food Safety, Food Animal Concerns Trust, Food & Water Watch, Health Care Without Harm, Institute for Agriculture and Trade Policy, Oregon Physicians for Social Responsibility and San Francisco Bay Area Physicians for Social Responsibility.
Visit EcoWatch's FACTORY FARMING page for more related news on this topic.
EcoWatch Daily Newsletter
Aerial view of the explosion site of a chemical factory on March 22 in Yancheng, Jiangsu Province of China. Caixin Media / VCG / Getty Images)
At least 47 people have died in an explosion at a plant in Yancheng, China Thursday run by a chemical company with a history of environmental violations, Sky News reported.
A fishmonger in Elmina, a fishing port in the Central Region of Ghana. Environmental Justice Foundation
By Daisy Brickhill
Each morning, men living in fishing communities along Ghana's coastline push off in search of the day's catch. But when the boats come back to shore, it's the women who take over.
Pexels
By Sam Nickerson
Links between excess sugar in your diet and disease have been well-documented, but new research by Harvard's School of Public Health might make you even more wary of that next soda: it could increase your risk of an early death.
The study, published this week in the American Heart Association's journal Circulation, found that drinking one or two sugar-sweetened beverages (SSBs) each day — like sodas or sports drinks — increases risk of an early death by 14 percent.
Tyson Foods is recalling approximately 69,093 pounds of frozen chicken strips because they may have been contaminated with pieces of metal, the U.S. Department of Agriculture (USDA) Food Safety and Inspection Service (FSIS) announced Thursday.
The affected products were fully-cooked "Buffalo Style" and "Crispy" chicken strips with a "use by" date of Nov. 30, 2019 and an establishment number of "P-7221" on the back of the package.
"FSIS is concerned that some product may be in consumers' freezers," the recall notice said. "Consumers who have purchased these products are urged not to consume them. These products should be thrown away or returned to the place of purchase."
Environmental exposure to pesticides, both before birth and during the first year of life, has been linked to an increased risk of developing autism spectrum disorder, according to the largest epidemiological study to date on the connection.
The study, published Wednesday in BMJ, found that pregnant women who lived within 2,000 meters (approximately 1.2 miles) of a highly-sprayed agricultural area in California had children who were 10 to 16 percent more likely to develop autism and 30 percent more likely to develop severe autism that impacted their intellectual ability. If the children were exposed to pesticides during their first year of life, the risk they would develop autism went up to 50 percent.
The ExxonMobil Torrance Refinery in Torrance, California.
waltarrrr / Flickr
ExxonMobil could be the second company after Monsanto to lose lobbying access to members of European Parliament after it failed to turn up to a hearing Thursday into whether or not the oil giant knowingly spread false information about climate change.
The call to ban the company was submitted by Green Member of European Parliament (MEP) Molly Scott Cato and should be decided in a vote in late April, The Guardian reported.
Bernie Sanders holds his first presidential campaign rally at Brooklyn College on March 02 in Brooklyn, New York. Kena Betancur / VIEWpress / Corbis. Getty Images
Bernie Sanders has become the first contender in the crowded 2020 Democratic presidential primary field to pledge to offset all of the greenhouse gas emissions released by campaign travel, The Huffington Post reported Thursday.