This website uses cookies to ensure you get the best experience while browsing it. By clicking 'Got It' you're accepting these terms.
Fasting for Fukushima on Third Anniversary
Mar. 09, 2014 08:49PM EST
Energy


Fasting can be a way of mourning, of cleansing, of meditation, of focus.
On Tuesday, March 11, the third anniversary of the beginning of the disaster at Fukushima, we will abstain from food from dawn to dusk. Our purpose is tied to the atomic disaster that continues to threaten life on Earth.
The three melt-downs, four explosions, scattered fuel rods and continual gusher of radioactive water into the Pacific Ocean at Fukushima have torn a deadly hole in the fabric of our ability to survive on this planet.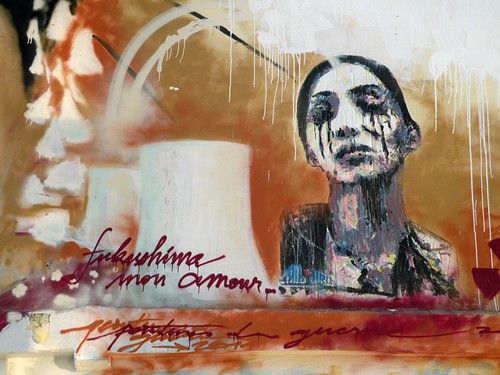 Its corporate perpetrators were repeatedly warned by tens of thousands of citizen activists not to build these reactors in an earthquake zone that has been washed by tsunamis. Not only did they build them, they took down a natural 85-foot-high sea wall in the process that might have greatly lessened the damage of the tsunami that did come.
The disaster that has struck Fukushima has much about it that's unique. But it's just the tip of the radioactive iceberg that is the global atomic reactor industry.
There are other reactor sites threatened by earthquakes and tsunamis. Among them is Diablo Canyon, whose two reactors could be turned to rubble by the multiple fault lines that surround it, spewing radiation that would irradiate California's Central Valley and send a lethal cloud across the U.S.
There are other reactors threatened by suicidal siting, such as the triple reactor complex at South Carolina's Oconee, downriver from a dam whose failure could send also send a wall of water into multiple cores.
Throughout the world more than 400 rust bucket reactors are aging dangerously, riddled with operator error, shoddy construction, leaky cooling systems, least-cost corner cutting and official lies.
In all cases, the revolution in renewables has made them economically obsolete. The long-dead hype of a failed "too cheap to meter" technology has been buried by a Solartopian vision, a green-powered Earth in the process of being born.
What would speed that process most is the rapid shutdown of a these old-tech dinosaurs that do nothing but cost us money and harm our planet and our health.
For decades we were told commercial reactors could not explode. But five have done just that.
The industry said that radiation releases could do no harm at Hiroshima and Nagasaki, during the atmospheric bomb tests, with medical x-rays, with atomic waste storage, at Three Mile Island, Chernobyl, Fukushima, and of course at the next major melt-down and the one after that and the one after that.
The automatic industry response is always the same: "not enough radiation has escaped to harm anyone." Push a button, no matter what the disaster, no matter where the radiation goes and how little anybody knows about it, that's what they say now, and will say yet again each time another nuke bites the radioactive dust.
So today we live in fear not only of what's happening at Fukushima, but of what is all-too-certain to come next.
This must finally stop. If we are to have an economic, ecological or biological future on this planet, all atomic reactor construction must halt, and all operating reactors must be phased out as fast as possible.
To honor this vision, we won't eat from dawn to dusk on March 11.
It's a small, symbolic step. But one we feel is worth taking. Feel free to join us!
Visit EcoWatch's FUKUSHIMA page for more related news on this topic.
——–
Harvey Wasserman edits NukeFree.org and wrote Solartopia! Our Green-Powered Earth.
Jill Stein was the Green Party's 2012 Presidential candidate. She is now organizing for Earth Day to May Day, a wave of action for People, Planet and Peace over Profit, at GlobalClimateConvergence.org.
David Swanson is working to organize a movement to end war at WorldBeyondWar.org. His books include War Is A Lie. He blogs at davidswanson.org and warisacrime.org and works for rootsaction.org. He hosts Talk Nation Radio. Follow him on Twitter: @davidcnswanson and Facebook.

EcoWatch Daily Newsletter
Ryan Hagerty / USFWS
It's become a familiar story with the Trump administration: Scientists write a report that shows the administration's policies will cause environmental damage, then the administration buries the report and fires the scientists.
A coalition of some of the largest environmental groups in the country joined forces to file a lawsuit in federal court challenging the Trump administration's maneuver to weaken the Endangered Species Act.
beyond foto / Getty Images
By Kimberly Holland
Children who eat a lot of gluten in their earliest years may have an increased risk of developing celiac disease and gluten intolerance, according to a new study published in JAMATrusted Source.
Joe Raedle / Getty Images
By Jake Johnson
Calling the global climate crisis both the greatest threat facing the U.S. and the greatest opportunity for transformative change, Sen. Bernie Sanders unveiled today a comprehensive Green New Deal proposal that would transition the U.S. economy to 100 percent renewable energy and create 20 million well-paying union jobs over a decade.
The Parties to CITES agreed to list giraffes on Appendix II of the Convention on International Trade in Endangered Species (CITES) today at the World Wildlife Conference or CoP18 in Geneva. Such protections will ensure that all giraffe parts trade were legally acquired and not sourced from the poached giraffes trade and will require countries to make non-detriment findings before allowing giraffe exports. The listing will also enable the collection of international trade data for giraffes that might justify greater protections at both CITES and other venues in the future.

The WHO stressed that more research is needed on the potential health risks of microplastic ingestion. luchschen / iStock / Getty Images Plus
The UN's health agency on Thursday said that microplastics contained in drinking water posed a "low" risk at their current levels.
However, the World Health Organization (WHO) — in its first report on the potential health risks of microplastic ingestion — also stressed more research was needed to reassure consumers.
Brazil's right-wing President Jair Bolsonaro is giving President Trump a run for his money in the alternative facts department.
Washington Gov. Jay Inslee, who made solving the climate crisis the center of his presidential campaign, is dropping out of the 2020 Democratic primary race.