This website uses cookies to ensure you get the best experience while browsing it. By clicking 'Got It' you're accepting these terms.
Farmworkers Unite to Demand Protections from Pesticides
Jul. 16, 2013 03:37PM EST
Health + Wellness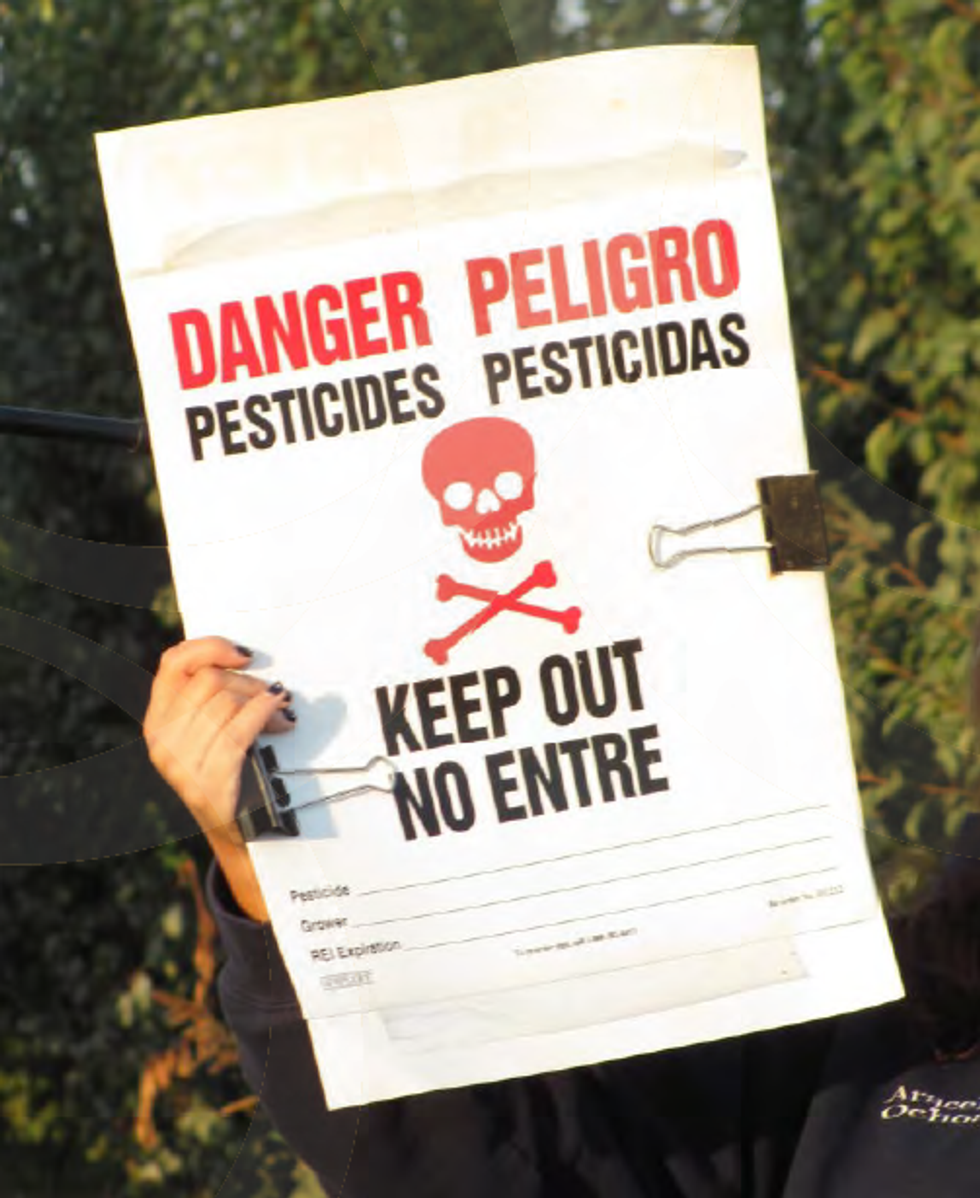 Farmworkers from across the nation are meeting with their members of Congress today to call for stronger protections for farmworkers from hazardous pesticides. These simple, straightforward and commonsense protections have not been updated for more than 20 years. In February 2013, Beyond Pesticides joined with a coalition of environmental and farmworker organizations to submit a letter to the Environmental Protection Agency (EPA), urging the agency implement these long overdue revisions to the Worker Protection Standard (WPS) of the Federal Insecticide, Fungicide and Rodenticide Act, also known as FIFRA. An estimated 5.1 billion pounds of pesticides are applied to crops annually in the U.S., and farmworkers face the greatest threat from these chemicals than any other sector of society, with thousands of farmworkers each year experiencing pesticide poisoning.
The nation's 1-2 million farmworkers form the backbone of the U.S. agricultural economy and many are regularly exposed to pesticides. An average of 57.6 out of every 100,000 agricultural workers experience acute pesticide poisoning, illness or injury each year, the same order of magnitude as the annual incidence rate of breast cancer in the U.S. The federal government estimates that there are 10,000-20,000 acute pesticide poisonings among workers in the agricultural industry annually, a figure that likely understates the actual number of acute poisonings since many affected farmworkers may not seek care from a physician. As a result of cumulative long-term exposures, they and their children, who often times also work on the farm or live nearby, are at risk of developing serious chronic health problems such as cancer, neurological impairments and Parkinson's disease. Children, according to a recent American Academy of Pediatrics (AAP) report, face even greater health risks compared to adults when exposed to pesticides.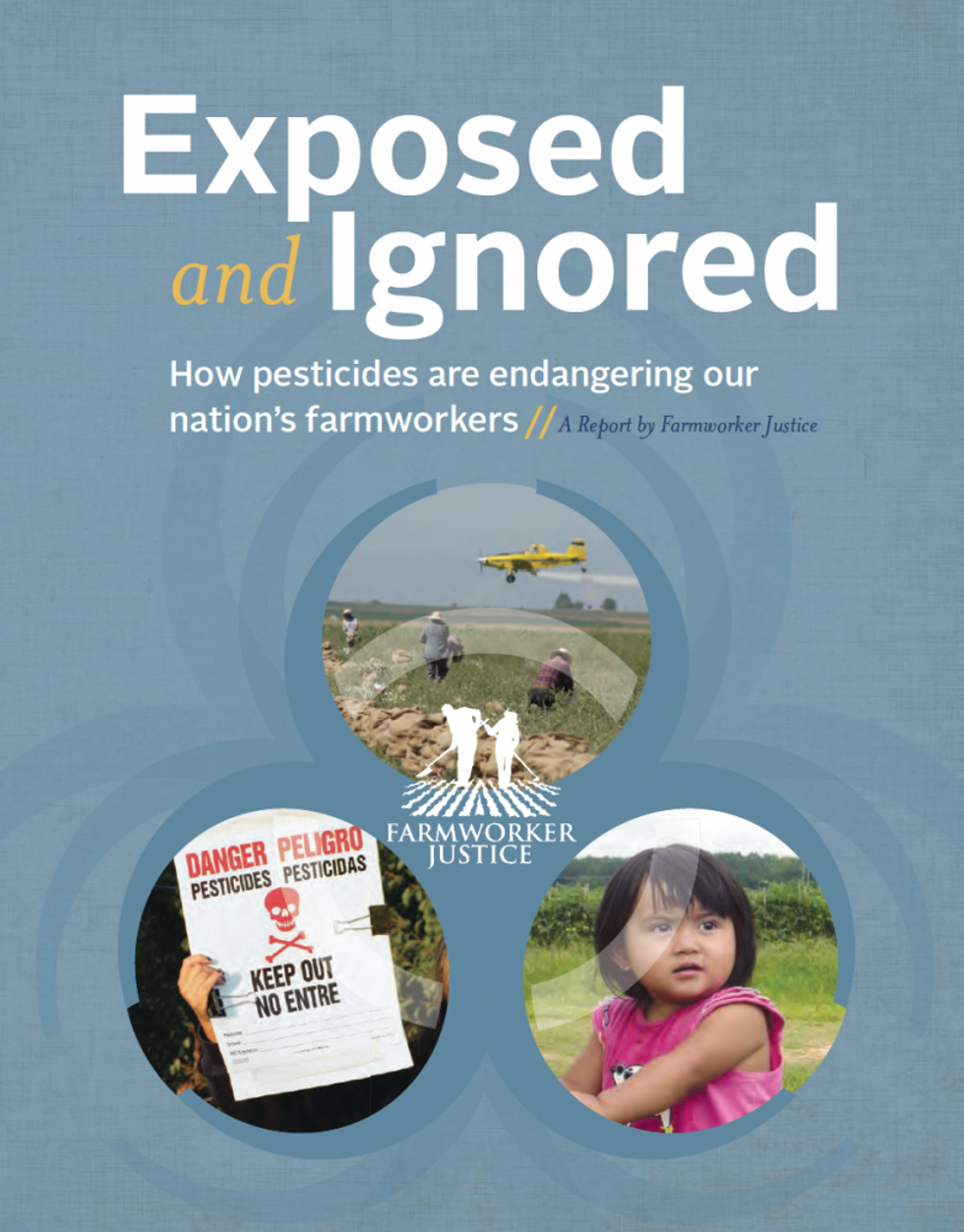 Underscoring the urgent need for these reforms, Farmworker Justice released a new report yesterday, entitled Exposed and Ignored, How Pesticides are Endangering Our Nation's Farmworkers. In testimony on Capitol Hill, Occupational and Environmental Health Director of Farmworker Justice Virginia Ruiz painted a grim picture of the conditions farmworkers and their families face.
"The close proximity of agricultural fields to residential areas and schools makes it nearly impossible for farmworkers and their families to escape exposure because pesticides are in the air they breathe and the food they eat, and the soil where they work and play," stated Ruiz. She also noted the heartbreaking point that, in order to minimize exposure, farmworkers are told not to hug their children when they come home from work—they must first remove their clothes, and take a shower.
Most workers in the U.S. look to the Occupational Safety and Health Administration (OSHA) for standards to protect them from exposure to hazardous chemicals. However, farmworkers are not eligible for protection under these rules. Protection for farmworkers from pesticides is left to the EPA's authority under the WPS, a standard that is far more lenient than OSHA rules and is fundamentally inadequate.
The farmworkers and advocates are calling for these following changes to the WPS of FIFRA:
Provide more frequent and more comprehensible pesticide safety training for farmworkers.
Include information about farmworker families' exposures to pesticides in the required training materials.
Ensure that workers receive information about specific pesticides used in their work.
Require safety precautions and protective equipment limiting farmworkers' contact with pesticides.
Require medical monitoring of workers who handle neurotoxic pesticides.
Despite the straightforward and commonsense nature of these new protections, environmental and farmworker groups have grown increasingly concerned over the possible changes to WPS. After a 2010 EPA document proposed WPS that would determine ways to increase training, improve safety requirements, provide clear emergency information and create strong protection for applicators, the agency abruptly changed course. A handout distributed at the 2012 Pesticide Program Dialogue Committee meeting downplayed the details within those goals, bringing into question the agency's previous commitments. Advocacy groups are disturbed by EPA's mercurial attitude towards farmworker protection, and fearful that there will be further delays in releasing WPS. The farmworkers meeting on Capitol Hill this week hope to spur lawmakers to call on EPA to implement these long-overdue standards, and provide funding for much needed national farmworker studies in order to accurately account for the hazardous effects of pesticides on farmworker health.
In testimony on Capitol Hill yesterday, Ed Zuroweste, MD, chief medical officer at the Migrant Clinicians Network, summarized the importance of this issue, stating, "Prevention is key. In a perfect world the elimination of dangerous pesticides would guarantee that workers would not get poisoned. Until we reach that 'perfect world' we should strive to substitute and use less toxic chemicals. We shouldn't lose track that this should always be our ultimate goal. But since we are still far away from this perfect world, we need to emphasize other ways to keep the worker safe."
In the absence of widespread adoption of organic practices, worker protections for farmworkers must be strengthened. Consumers can do their part and help encourage the protection of the people who help put food on our table every day by purchasing organic. By buying organic, you support an agricultural system that does not heavily rely on the widespread application of dangerous pesticides. Beyond Pesticides recently updated the Eating with a Conscience database to reflect the risk conventional produce poses to farmworker health.
Visit EcoWatch's HEALTH page for more related news on this topic.
——-
EcoWatch Daily Newsletter
By Sabrina Kessler
Far-reaching allegations about how a climate-sinning American multinational could shamelessly lie to the public about its wrongdoing mobilized a small group of New York students on a cold November morning. They stood in front of New York's Supreme Court last week to follow the unprecedented lawsuit against ExxonMobil.
By Alex Robinson
Leah Garcés used to hate poultry farmers.
The animal rights activist, who opposes factory farming, had an adversarial relationship with chicken farmers until around five years ago, when she sat down to listen to one. She met a poultry farmer called Craig Watts in rural North Carolina and learned that the problems stemming from factory farming extended beyond animal cruelty.
People navigate snow-covered sidewalks in the Humboldt Park neighborhood on Nov. 11 in Chicago. Scott Olson / Getty Images
Temperatures plunged rapidly across the U.S. this week and around 70 percent of the population is expected to experience temperatures around freezing Wednesday.
A general view of the flooded St. Mark's Square after an exceptional overnight "Alta Acqua" high tide water level, on Nov. 13 in Venice. MARCO BERTORELLO / AFP / Getty Images
President Donald Trump doesn't like wind turbines.
In April, he claimed they caused cancer, and he sued to stop an offshore wind farm that was scheduled to go up near land he had purchased for a golf course in Aberdeenshire in Scotland. He lost that fight, and now the Trump Organization has agreed to pay the Scottish government $290,000 to cover its legal fees, The Washington Post reported Tuesday.
A verdant and productive urban garden in Havana. Susanne Bollinger / Wikimedia Commons
By Paul Brown
When countries run short of food, they need to find solutions fast, and one answer can be urban farming.
Trevor Noah appears on set during a taping of "The Daily Show with Trevor Noah" in New York on Nov. 26, 2018.
The Daily Show With Trevor Noah / YouTube screenshot