This website uses cookies to ensure you get the best experience while browsing it. By clicking 'Got It' you're accepting these terms.
Farmers Rewarded for Practicing 'Carbon Farming'
Jan. 26, 2015 11:48AM EST
Food
Soils naturally absorb and sequester carbon dioxide and following organic practices, such as adding compost and bringing back herds of grazing animals, can make a huge difference in how much carbon dioxide soils can retain.
In 2007, a California rancher, John Wick and his partners at the Marin Carbon Project convinced researchers at the University of California, Berkeley that restoring grassland soils could serve as a major source of carbon sequestration. Using his land for the experiments, the researchers found that every year, Wick's soils held more and more carbon.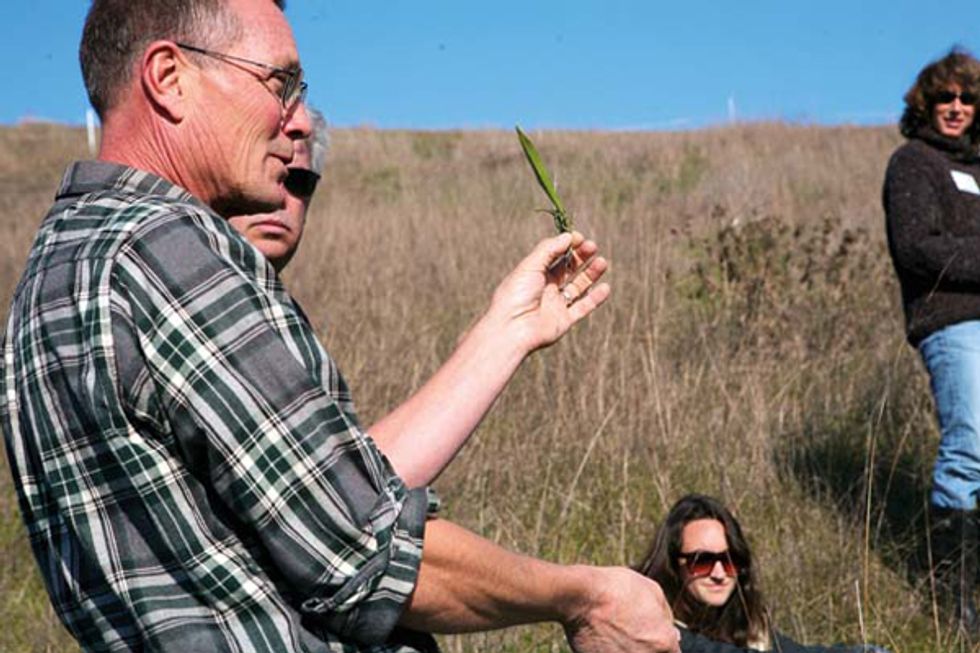 After years of study, they found that "compost applied to five percent of the state's grazing land would store a year's worth of emissions from conventional farms and forestry operations there."
Calling these regenerative practices "carbon farming," the state of California is rewarding farmers and ranchers for how much carbon they have in their soil. Farmers receive tradable greenhouse gas emission reduction credits, which they can sell on California's Greenhouse Gas Reduction Exchange. The program allows farmers to benefit from the state's cap-and-trade program.
Now, the program is going nationwide. Through a grant from the U.S. Department of Agriculture (USDA), Ducks Unlimited, a conservation nonprofit, has developed a way to measure and reward farmers for carbon sequestration.
"Under the program, ranchers voluntarily set aside grassland in a permanent conservation easement that allows them to grow hay and graze animals, but forbids tilling or conversion to other uses," according to Sustainable Business. The more carbon they sequester, the more credits they earn. Once the carbon in the soil is measured and formally registered, organizations or companies can buy the credits.
Australia already has a nationwide system for carbon credits from farming and forestry. By planting trees, reducing fertilizer use and methane emissions from livestock, Australian farmers receive carbon credits to sell into the nation's carbon trading system.
The World Bank has also started a carbon trading program for small-scale farmers in Kenya. Through the World Bank's BioCarbon Fund 60,000 Kenyan farmers receive carbon credits by improving the organic matter in the soil.
All of these programs are voluntary, and thus, limited for now. But Tom Vilsack, USDA Secretary, explains their importance: "Ranchers benefit from new revenue streams, while thriving grasslands provide nesting habitat for wildlife, are more resilient to extreme weather, and help mitigate the impact of climate change."
[This article was updated for accuracy, Jan. 28.]
YOU MIGHT ALSO LIKE
The Solution Under Our Feet: How Regenerative Organic Agriculture Can Save the Planet
Part II: How Regenerative Organic Agriculture Can Save the Planet
EcoWatch Daily Newsletter
Pro-environment demonstrators on the streets of Washington, DC during the Jan. 20, 2017 Trump inauguration.
Mobilus In Mobili
/ Flickr /
CC BY-SA 2.0
By Dr. Brian R. Shmaefsky
One year after the Flint Water Crisis I was invited to participate in a water rights session at a conference hosted by the US Human Rights Network in Austin, Texas in 2015. The reason I was at the conference was to promote efforts by the American Association for the Advancement of Science (AAAS) to encourage scientists to shine a light on how science intersects with human rights, in the U.S. as well as in the context of international development. My plan was to sit at an information booth and share my stories about water quality projects I spearheaded in communities in Bangladesh, Colombia, and the Philippines. I did not expect to be thrown into conversations that made me reexamine how scientists use their knowledge as a public good.
Mt. Rainier and Reflection Lake on Sept. 10, 2015. Crystal Geyser planned to open a bottling plant near Mt. Rainier, emails show.
louelke - on and off / Flickr
Bottled water manufacturers looking to capture cool, mountain water from Washington's Cascade Mountains may have to look elsewhere after the state senate passed a bill banning new water permits, as The Guardian reported.
Large storage tank of Ammonia at a fertilizer plant in Cubatão, Sao Paulo State, Brazil. Luis Veiga / The Image Bank / Getty Images
The shipping industry is coming to grips with its egregious carbon footprint, as it has an outsized contribution to greenhouse gas emissions and to the dumping of chemicals into open seas. Already, the global shipping industry contributes about 2 percent of global carbon emissions, about the same as Germany, as the BBC reported.
At high tide, people are forced off parts of the pathway surrounding DC's Tidal Basin. Andrew Bossi /
Wikimedia
The Jefferson Memorial in Washington, DC overlooks the Tidal Basin, a man-made body of water surrounded by cherry trees. Visitors can stroll along the water's edge, gazing up at the stately monument.
But at high tide, people are forced off parts of the path. Twice a day, the Tidal Basin floods and water spills onto the walkway.
Lioness displays teeth during light rainstorm in Kruger National Park, South Africa. johan63 / iStock / Getty Images
Ahead of government negotiations scheduled for next week on a global plan to address the biodiversity crisis, 23 former foreign ministers from various countries released a statement on Tuesday urging world leaders to act "boldly" to protect nature.