This website uses cookies to ensure you get the best experience while browsing it. By clicking 'Got It' you're accepting these terms.


The best of EcoWatch, right in your inbox. Sign up for our email newsletter!
Farmers Destroy 'Golden Rice' GMO Trials in Philippines
Aug. 12, 2013 08:32AM EST
GMO
By Katie Rucke
Filipino farmers destroyed an 800 square meter trial plot of genetically modified rice Thursday that was just weeks away from being sent to the authorities for a safety evaluation.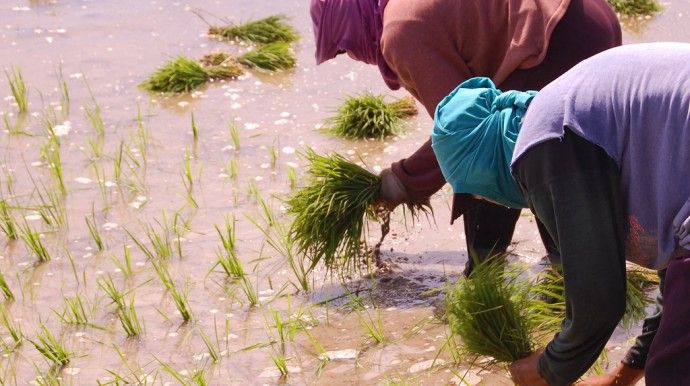 The "Golden Rice" crop was genetically engineered (GE) by scientists to create an increased production of beta-carotene, which the human body converts into vitamin A. The Golden Rice project was started about 20 years ago by German researchers, who received funding from the Rockefeller Foundation.
The group of about 400 protesters, which included local farmers and members of two anti-GMO groups—the Kilusang Magbubukid ng Bikol (KMB) and the Sararong Inisyatiba nin Kahinwanmaan sa Wasakon ang Agrokemikals na Lasong-GMO (Sikwal-GMO)—said they uprooted and trampled the rice plants because they wanted to protect the health of the people and their environment.
Despite the use of genetically modified technology being highly contentious in the Philippines, researchers planted five small test plots in the country, and hoped to be able to release the crop to farmers starting in 2014.
The Philippines is the world's fourth-largest importer of rice in the world, since the country has very limited land resources to produce the amount of rice needed. However, officials reported earlier this year that due to increased rice planting, they expected a 6 percent increase of the crop this year, which was estimated to result in the production of 18 million metric tons of rice.
Despite the limited amount of land for rice production and the fact that 89 percent of the rice is consumed, Filipino rice farmers often don't earn enough income to support their families on that money alone.
Scientists reasoned that since there are millions of children in the developing world that have a vitamin A deficiency, which can cause blindness and increase a person's susceptibility to disease, the vitamin A deficiency is seen as a significant problem in the world. Reports from Helen Keller International say that there are around 670,000 children that die each year around the world from a vitamin A deficiency, and about 350,000 will go blind.
Of the five experimental fields in the country, protesters reportedly destroyed just one. While there were about 30 policemen at the field trying to prevent the destruction of the crop, Bert Autor, the coordinator of Sikwal-GMO and secretary-general of the KMB, said farmers finished the job in about 15 minutes.
"They [farmers] were not able to control their emotional outburst," Autor said in a statement, adding that the farmers were fired up by warnings from "concerned scientists and peasant leaders" about the "dangers" of the Golden Rice (or GM rice) to health and its threat to biodiversity.
Autor added that the rice "was nothing but a ploy of agrochemical transnational corporations like Syngenta to satisfy their monopoly on seeds and rake more profits." Syngenta, the third-largest biotechnology and global chemical company in the world, owns the patent on Golden Rice.
Autor said that despite promises from officials from the Department of Agriculture that there wouldn't be any trial fields, the trials have continued. "We are very concerned as there is news that feed testing will start this year and that the harvest will be used in these feed experiments. In China, the people have protested against the feed trials on children, prompting proponents to compensate the affected families. We do not want our people, especially our children to be used in these experiments," he said.
"This should serve as a stern warning to those planning to conduct GM field trials in Bicol. What we need is a comprehensive and long-term solution to address hunger and malnutrition. Golden rice, and GMOs [genetically-modified organisms], in general, will only aggravate the already dire condition of the small and resource-poor farmers."
Despite the protest and destruction of the field, the International Rice Research Institute (IRRI), the Department of Agriculture and the Philippine Rice Research Institute all have said that the development of the Golden Rice crop will continue in the country, since the purpose of the genetically modified crop is to fight malnutrition.
On its website, the IRRI said the field trials were part of the organization's work to see if the crop would be a safe and effective way to reduce vitamin A deficiencies, which mostly affect women and children.
Dr. Bruce Tolentino is the deputy director general of communications and partnerships for the IRRI. He said "Vitamin A deficiency is horrible and unnecessary, and we want to do our part to help to reduce it."
He added that the organization was "really disappointed" the field was vandalized, but said that "This is not a major setback, because it is just one trial of a series and just one of several sites. We remain completely committed to continuing our Golden Rice research to help improve people's nutrition."
But despite the allegedly good-intentions of IRRI to develop the crop, the Asian Peasant Coalition (APC) has said there are better ways to reduce the number of people with vitamin A deficiencies than using a genetically engineered crop.
Rahmat Ajiguna, secretary-general of the APC, said farmers cannot trust any scientist or government official who has ties to IRRI, Syngenta, Monsanto or any other agrochemical organization.
Dr. Chito Medina, convenor of Resist and Masipag (Farmer and Scientist for the Development of Agriculture) national coordinator, agreed with the protest and called for an immediate stop to all field testing of GM crops, explaining that the crops are hazardous to human health, the environment and agriculture.
Visit EcoWatch's GE FOOD page for more related news on this topic.

EcoWatch Daily Newsletter
arinahabich / Stock / Getty Images
By Sydney Swanson
With April hopping along and Easter just around the corner, it's time for dyeing eggs (and inadvertently, dyeing hands.) It's easy to grab an egg-dyeing kit at the local supermarket or drug store, but those dye ingredients are not pretty.
Aerial of farmland and mountains near Seaward Kaikoura Range in New Zealand. David Wall Photo / Lonely Planet Images / Getty Images Plus
By Jordan Davidson
New Zealand's pristine image as a haven of untouched forests and landscapes was tarnished this week by a brand new government report. The Environment Aotearoa 2019 painted a bleak image of the island nation's environment and its future prospects.
heshphoto / Image Source / Getty Images
Mike Taube / Getty Images
A new EPA rule on asbestos does not say anything about the asbestos currently in the environment. Bob Allen / Getty Images
A mountain woodland caribou bull in the Muskwa-Kechika Wilderness area in northern British Columbia, Canada. John E Marriott / All Canada Photos / Getty Images
It's heartening, in the midst of the human-caused sixth mass extinction, to find good wildlife recovery news. As plant and animal species disappear faster than they have for millions of years, Russia's Siberian, or Amur, tigers are making a comeback. After falling to a low of just a few dozen in the mid-20th century, the tigers now number around 500, with close to 100 cubs — thanks to conservation measures that include habitat restoration and an illegal hunting crackdown.