Farmer Fights for Her Land as Shell Begins Fracking Amidst Hundreds of Abandoned Oil Wells
Nov. 06, 2012 09:46AM EST
Energy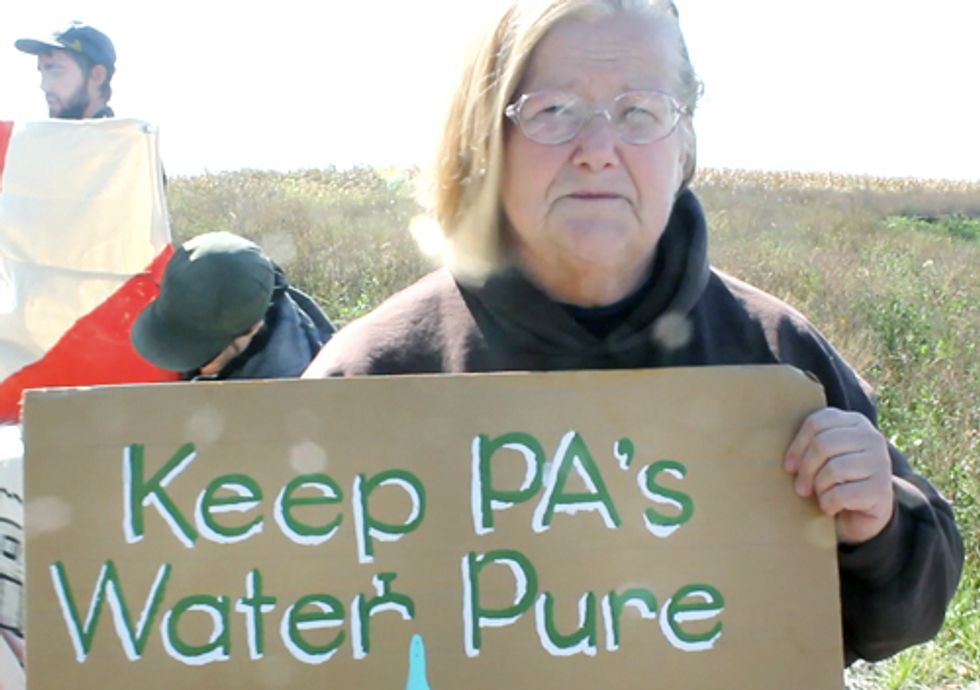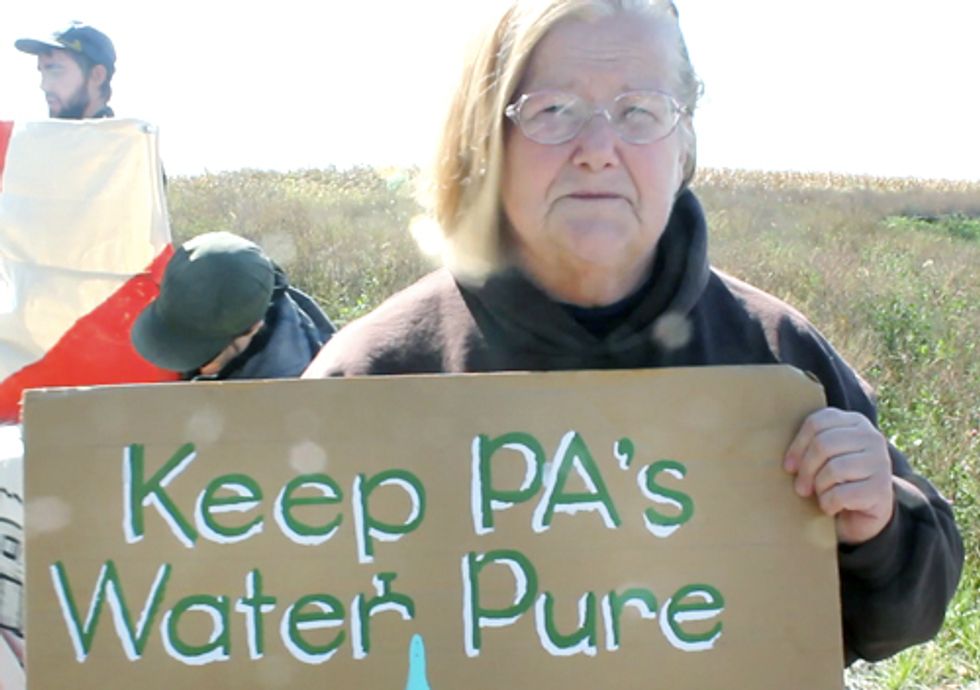 Maggie Henry's eyes lit up when she handed me a cherry tomato plucked from the mat of tomato plants carpeting her greenhouse and said, "Now tell me that's not the best tomato in the world!" Henry is passionate about the food she grows and the land where it comes from. She has been raising chickens and pigs, and a half acre of vegetables on her farm near New Castle, PA for the last 10 years. Before that her husband Dale ran a small dairy operation, which had been passed down from his father and grandfather.
However, some of her enthusiasm has recently dwindled and weeds have taken over some of her garden. The weeds got away from her this summer because she has been busy fighting the permit for an unconventional gas well going in on a neighbor's property.
Henry's crusade started when she learned last winter that oil giant Shell had received a permit to drill one of its first fracking gas wells 4,000 feet from her property line. Around the same time, she also learned that Shell held a lease on her land which her mother-in-law, who was on the deed for the property at the time, had signed six years ago without her or her husband's knowledge or consent. With a well permit so close and Henry's land leased, Shell could drill a well under her farm. Suddenly, Henry's life was turned upside down.
Fracking, she knows, poses risks, but Henry has an additional cause for concern—her farm is littered with abandoned, unplugged oil wells from a drilling boom at the turn of the last century. Old wells can act as a pathway through which gas and fluids from the fracking process or from shallow layers above, could migrate during new drilling activity.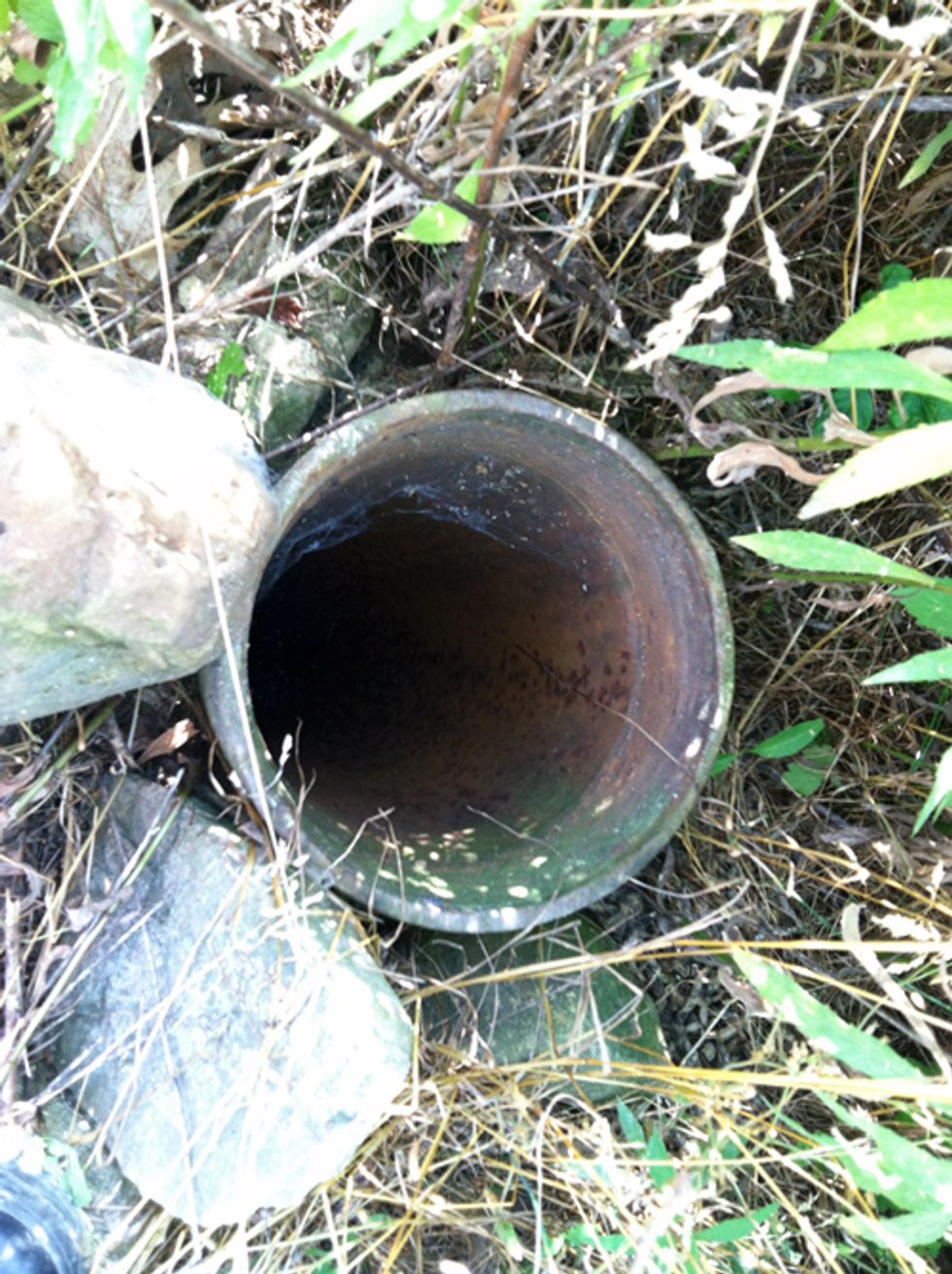 Historical maps show at least 10 abandoned conventional wells on Henry's property, only two of which she can locate. The surrounding area is dotted with as many as 1,500 old wells drilled in what was known as the Bessemer Oil Pool.
This is the legacy of a century and a half of oil and gas extraction in Pennsylvania, where the first commercial oil well in the world was drilled in 1859. By conservative estimates there are at least 200,000 abandoned oil and gas wells in the state, many of which have been forgotten, overgrown or plowed under, and lie hidden in the same areas where companies like Shell are now fracking.
In the spring Henry filed an objection to the permit with the Pennsylvania Environmental Hearing Board and found attorneys at the Environmental Law Clinic at the University of Pittsburgh to take her case. Hydro-geologist Daniel Fisher was hired by Henry's attorneys to assess the risks posed by the old wells. "Each of these abandoned wells is a potentially direct pathway or conduit to the surface should any gas or fluids migrate upward from the wells during or after fracking," Fisher's report concluded.
Methane leaks from gas wells have been responsible for numerous explosions in or near residences in Pennsylvania in recent years. Migrating gas and fluids also threaten groundwater supplies, on which Henry and her animals depend for their drinking water. Earlier this year a major gas leak in Tioga County, PA, caused by Shell's own drilling operations, produced a 30 foot geyser of methane and water, which spewed from an unplugged well and forced several families to evacuate. 
Fisher's report, presented to the Environmental Hearing Board, was unequivocal, "PADEP [Department of Environmental Protection] should not have approved and issued the permit." Yet, weeks before the board was set to make a decision, Henry's attorneys capitulated and negotiated an out-of-court settlement with Shell. Henry believes that the law clinic, fearing a decision in Shell's favor, sought the settlement to preserve their court record.
"They basically just bailed on me. It was, you know, 'Sign this, you don't have a choice.'" Feeling coerced by her lawyers, Henry agreed. She says she received no money in the deal and that Shell has not followed through on other parts of the agreement, but because of a non-disclosure clause, she cannot discuss the details.
Construction at the well site began in August and Shell's drilling rig, visible above the belt of trees at Henry's property line, has now been operating for more than a month. Once drilling is finished, Shell will begin fracking, pumping millions of gallons of water, sand and toxic chemicals underground to release natural gas from the deep shale layer.
The Henrys have watched their farming community decline over thelast 20 years with the consolidation of the dairy industry. Like them, most of their neighbors have been forced to quit the business and sell their herds. But with their small, organic operation, the Henrys have managed to keep the farm alive. Fracking, they fear, could be the last straw.
Abandoned by her attorneys and with no other legal recourse, Henry is inviting activists from the region to her farm to prepare for direct action. From Nov. 10-12, the Pittsburgh-based Shadbush Environmental Justice Collective will host the Shalefield Justice Action Camp, a three-day crash course training in the planning, strategy, and tactics behind civil disobedience and nonviolent direct action, as well as a host of other workshops about industry watchdogging and grassroots organizing. 
The camp is intended to prepare for future actions in Henry's area and throughout the region. All over Pennsylvania, communities are being sickened and displaced by the gas industry and are finding no relief through legal or political channels. Organizers hope to empower people with the skills to stand up to the industry through direct action, like so many other activists in the climate movement have this year.
Henry is excited for the camp, but not under any illusions, "I'd like to think there was hope that this would all work out ... but I don't know how naïve that is." Still, she says, she's found support and solidarity from other activists and draws parallels to the landowners in Texas fighting the Keystone XL pipeline. "I just felt alone for so long. It's good not to feel alone."
Visit EcoWatch's FRACKING page for more related news on this topic.
EcoWatch Daily Newsletter