Farmed Salmon Rejected Over Huge Spike in Antibiotic Use Due to Bacterial Outbreak
Costco is in the news again for its food purchases. Last month, 300,000 people demanded that Costco commit to not selling GMO salmon and in the last few weeks Ryan Gosling, Brad Pitt and Bill Maher have all called out the retail giant for selling eggs from caged hens. But when it comes to Chilean salmon pumped up on antibiotics, Costco is saying enough is enough.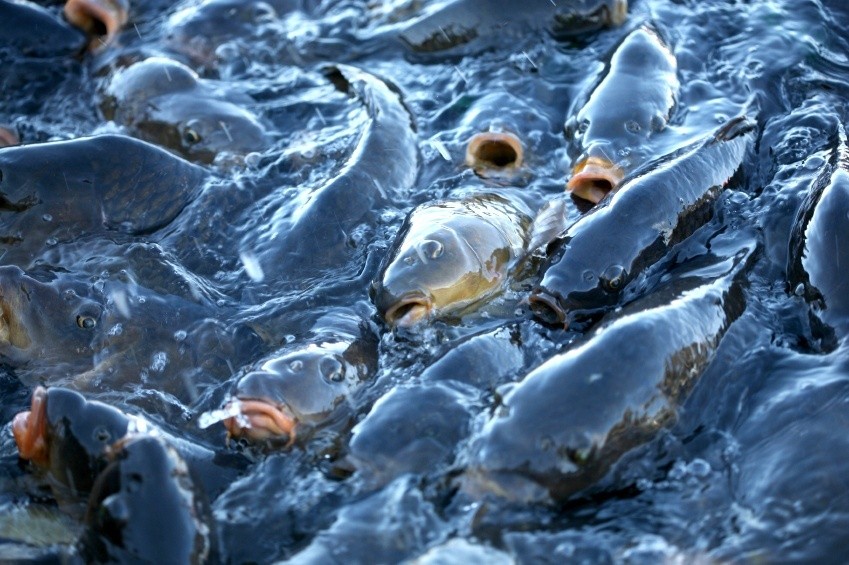 The recent spike in antibiotic use in Chilean farmed salmon has caused Costco to decrease its reliance on the South American country's farmed salmon, opting instead for farmed salmon from Norway, whose farmers use far fewer antibiotics. In fact, Norway's use of antibiotics in aquaculture is at the lowest level since the late 1970s, according to a recent report from the Norwegian Veterinary Institute.
Up until a few months ago, Costco was sourcing 90 percent of the 600,000 pounds of salmon it purchases every week from Chilean salmon farms, reports Reuters. But antibiotic use among Chilean farmers has increased 25 percent from 2013, due in large measure to a bacterial outbreak in Chile's coastal waters. In response, Costco has begun to source 60 percent of its salmon from Norway and drop down to only 40 percent from Chile.
To battle Piscirickettsiosis (or SRS) bacteria, which causes lesions, hemorrhaging and swollen kidneys and spleens, and ultimately death in infected fish, Chilean farmers are using ever increasing amount of antibiotics to try and keep their fish stock healthy. But concerns about drug-resistant superbugs have led many American consumers to seek out antibiotic-free products.
A former executive at a Chilean salmon producer worries that the move "could hurt the local industry's reputation and spur other retailers to follow suit," says Reuters. But Costco is not the first to make such a switch. Retailers such as Whole Foods and Trader Joe's have gradually phased out Chilean farmed salmon in favor of wild-caught, antibiotic-free fish. Even Target has eliminated farmed salmon from its shelves.
"The whole industry is starting to shift," Costco told Reuters. "If I was to ask you your biggest concern on produce, you might say pesticides. When we ask people in protein, generally it's going to be hormones or antibiotics."
Chile, the second largest producer of salmon in the world, produced close to 1 million tons of fish last year and used about 1.2 million pounds of antibiotics to raise those fish, according to Reuters. In comparison, Norway, the world's number one producer of salmon, produces more salmon (around 1.4 million tons) and uses far fewer antibiotics (2,142 pounds of antibiotics in 2013, the latest year for data). And The Seattle Times reports that "Costco was able to nudge Norwegian salmon farmers toward offering salmon raised without antibiotics."
Industry executives insist that the fish treated with antibiotics are safe for consumption. "The final product consumers eat has no antibiotics," Ricardo Garcia, chief executive of salmon producer Camanchaca, told Reuters. "The Chilean salmon go through a detox period before being harvested" and the U.S. Food and Drug Administration "says its inspections since October 2014 of these fish have not turned up any unapproved drug residues," reports Consumerist.
Still, many worry about the larger issue of developing drug-resistant pathogens. "In 2014, a Chilean government report noted antibiotic-resistant strains of SRS turning up in the country's salmon farms. And they will likely continue to pop up so long as farmers keep using the same antibiotics," says Consumerist.
"The bacteria will respond for a few years to the antibiotics treatment but afterward will become stronger and resistant," Alex Munoz, vice president for South America at Oceana in Chile, told Reuters.
There's also the issue that Chile uses a family of antibiotics in its salmon called quinolones, which "are not approved for use in aquaculture in the U.S. or other countries due their negative effect on the human immune system," according to Oceana, who is working to persuade the Chilean government to ban the antibiotics.
YOU MIGHT ALSO LIKE
$40 Million More Reasons to Love Leonardo DiCaprio
Epic Video Narrated by Neil deGrasse Tyson Explains the Universe in 8 Minutes
Massive Pod of Pilot Whales Slaughtered in the Faroe Islands
Laurie Woolever
By James O'Hare
There are 20 million people in the world facing famine in South Sudan, Somalia, Nigeria and Yemen. In developed nations, too, people go hungry. Venezuela, for instance, is enduring food insecurity on a national level as a result of economic crisis and political corruption. In the U.S., the land of supposed excess, 12.7 percent of households were food insecure in 2015, meaning they didn't know where their next meal would come from.
Keep reading...
Show less
Melwater, Greenland ice sheet. Diane Tuft
Artists are taking the climate crisis into frame and the results are emotional, beautiful and stirring.
So you've seen the best climate change cartoons and shared them with your friends. You've showed your family the infographics on climate change and health, infographics on how the grid works and infographics about clean, renewable energy. You've even forwarded these official National Oceanic and Atmospheric Administration graphs that explain the 10 clear indicators of climate change to your colleagues at the office.
Keep reading...
Show less
May. 27, 2017 01:11PM EST
As the Trump administration moves full speed ahead on boosting the oil and fossil fuel industry, opposition to increased pipeline construction is cropping up in different communities around the country.
Keep reading...
Show less
May. 27, 2017 01:02PM EST
Minke whale stranding near Havergate Island in Suffolk. MCGA.
By Simon Evans
Last Saturday, two dead whales washed up on the coast of Suffolk, in eastern England, and a third was spotted floating at sea.
What happened next illustrates how news can spread and evolve into misinformation, when reported by journalists rushing to publish before confirming basic facts or sourcing their own quotes.
Keep reading...
Show less
May. 27, 2017 01:22PM EST
By Monica Amarelo and Paul Pestano
Sun safety is a crucial part of any outdoor activity for kids, and sunscreen can help protect children's skin from harmful ultraviolet rays. Kids often get sunburned when they're outside unprotected for longer than expected. Parents need to plan ahead and keep sun protection handy in their cars or bags.
Keep reading...
Show less
May. 27, 2017 01:02PM EST
By Joe McCarthy
A lot of people take part in community clean-up efforts—spending a Saturday morning picking up litter in a park, mowing an overgrown field or painting a fence.
Keep reading...
Show less
May. 26, 2017 03:22PM EST
Rink Glacier in western Greenland, with a meltwater lake visible center. NASA/OIB
Scientists have had their eyes on Greenland as its iconic glaciers have begun disappearing due to a warming climate. But, what they didn't expect to see was a whole new type of melting.
Keep reading...
Show less
May. 26, 2017 03:40PM EST
A coalition of conservation groups and others announced Thursday that a historic number of comments and petitions of support have been submitted to the U.S. Department of the Interior in support of Bears Ears National Monument. Despite the entirely inadequate 15-day comment period ending on May 26, more than 685,000 comments in support of Bears Ears National Monument have been collected.
Keep reading...
Show less


Get EcoWatch in your inbox