This website uses cookies to ensure you get the best experience while browsing it. By clicking 'Got It' you're accepting these terms.
Farm Bill Conservation Programs Are 'Essential for Great Lakes Restoration'
Jul. 17, 2012 10:00AM EST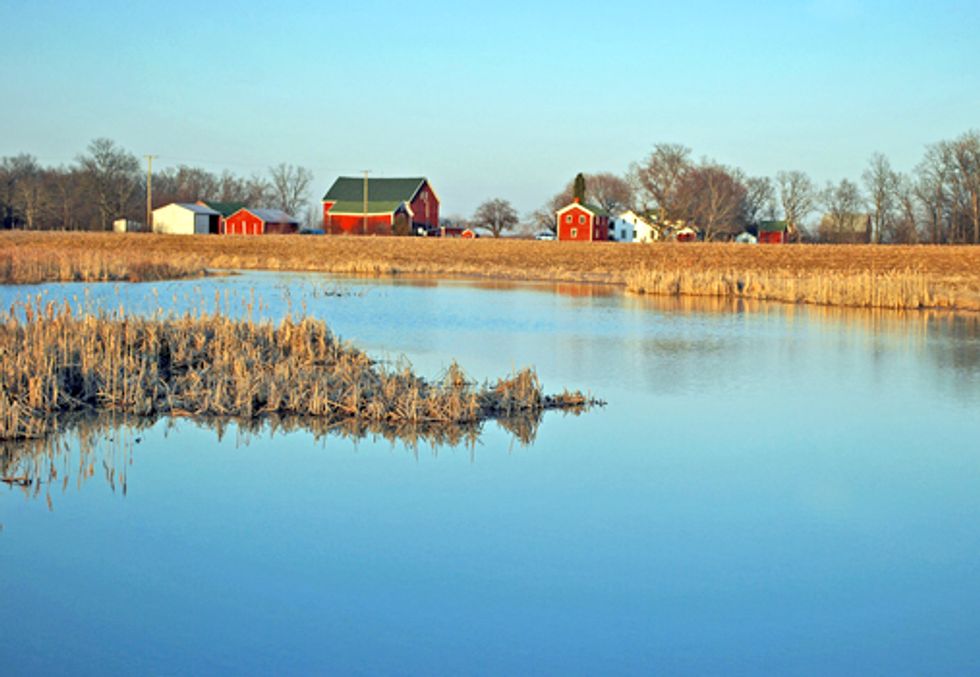 As the U.S. Congress deliberates the final shape of the 2012 Farm Bill—which contains the largest source of conservation funding in the federal budget—the Healing Our Waters-Great Lakes Coalition is urging federal public officials to support strong conservation provisions which are essential to restore the Great Lakes.
Farm Bill conservation programs protect water quality by providing financial support to farmers to take specific actions on their farms to protect the environment, such as protecting wildlife habitat or controlling pollution. These programs are instrumental in helping prevent manure and excessive fertilizer from flowing off of farm fields and into rivers, streams and the Great Lakes, which can cause toxic algae blooms, which close beaches, kill fish and harm local businesses.
The primary agriculture and food policy tool of the federal government, the Farm Bill awards more than $500 million per year to farmers in the Great Lakes states of Illinois, Indiana, Michigan, Minnesota, New York, Ohio, Pennsylvania and Wisconsin.
"Farm conservation programs are essential for Great Lakes restoration," said Jeff Skelding, director of the Healing Our Waters-Great Lakes Coalition. "Farm conservation programs are producing results, but there is more work to do. We thank Senate Agriculture Committee Chairwoman Debbie Stabenow (D-MI) and Ranking Member Pat Roberts (R-KS) and House Agriculture Chairman Frank Lucas (R-OK) and Ranking Member Colin Peterson (D-MN) for their leadership to work collaboratively to revise the Farm Bill. We are excited to work with the Great Lakes congressional delegation to pass a strong 2012 Farm Bill that is good for people, the Great Lakes and the economy."
The U.S. Congress is looking to revise the federal Farm Bill for the first time since 2008. The U.S. Senate passed the Agriculture Reform, Food and Jobs Act of 2012 (S. 3240) June 21. The House Committee on Agriculture passed the Federal Agriculture and Risk Management (H.R. 6083) July 12. The current Farm Bill expires September 30.
U.S. House and Senate versions of the Farm Bill contain about $58 billion for rural conservation programs—a cut of roughly 10 percent from the 2008 Farm Bill. The bills also contain a new regional partnership program that targets conservation funding to as many as eight priority conservation regions, including the Great Lakes region. The new program could provide approximately $7.8 million per year in additional Farm Bill funds for conservation work.
                                                                             2012 Farm Bill—House        2012 Farm Bill—Senate        2008 Farm Bill
Conservation funding (over 10 years)         $58.01                                             $57.7 billion                                   $65 billion
Conservation cuts (over 10 years)               $6.06 billion                                  $6.37 billion                                   NA
Partnership Program (over 10 years)          $1 billion                                        $1 billion                                         NA
"Congressional champions like Sen. Stabenow and other Senate and House leaders have helped to hold the line against further cuts to these successful programs," said Gildo Tori, director of public policy for Ducks Unlimited. "Programs like the Wetlands Reserve Program provide a tremendous benefit by improving water quality and providing important wildlife habitat. Farm Bill programs benefit farmers, the Great Lakes and the economy."
The Senate Farm Bill also contains strong conservation policies, including conservation compliance, which is a covenant between farmers and taxpayers: To receive federal financial assistance, farmers must embrace simple conservation practices, refraining from farming highly erodible soils or draining wetlands on their property. These steps are critical for reducing soil erosion, protecting wetlands, reducing downstream flooding risk and decreasing nutrients into rivers, lakes and streams.
"Conservation compliance is a common sense," said Julie Sibbing, director of agriculture and forestry programs at the National Wildlife Federation. "It is unfair to ask taxpayers to help fund insurance for farmers while these same farmers are increasing the risk to downstream communities. This provision is a wise move for the environment and economy."
The national discussion about the direction of the Farm Bill comes amidst an historic federal effort to restore the Great Lakes. For the last three years, the U.S. Congress and Obama administration have worked together in a bi-partisan manner to invest more than $1 billion to clean up the lakes through the Great Lakes Restoration Initiative, which funds projects to clean up toxic pollution, prevent polluted run-off, restore habitat and wetlands and confront the introduction of aquatic invasive species like the Asian carp. Some of the money from the initiative flows through federal Farm Bill programs, which pays farmers to set aside fields as wetlands or conservation reserves, or to better manage their fertilizer or waste.
"Farm Bill conservation programs work and need to continue," said Ron Wyss, a farmer in Ada, Ohio, who is receiving Great Lakes Restoration Initiative funds to prevent and manage run-off on his farm. "Farmers can play an important roll in protecting and restoring water quality if we have the right policies in place."
Farm bill programs also create jobs and save taxpayers money: Less pollution and sediment from farms means lower costs for water treatment and dredging.
"Great Lakes restoration and farm conservation go hand-in-hand," said Joe Logan, director of agriculture programs for the Ohio Environmental Council. "Farmers have a unique role to play in protecting our Lakes, our drinking water and our way of life."
A 2011 study by the U.S. Department of Agriculture's Natural Resources Conservation Service found that conservation tillage and other conservation practices have resulted in a 50 percent decline in sediment entering rivers and streams that flow into the Great Lakes. It also found 36 percent and 37 percent declines, respectively, in phosphorus and nitrogen loading.
"Farm Bill conservation programs are producing results like preserving access to areas to hunt waterfowl and cleaner, healthier drinking water for families in communities all across the region," said Chad Lord, policy director for the Healing Our Waters-Great Lakes Coalition. "Congress has an opportunity to pass a bill this year that supports progress and creates jobs that benefits millions of people across the region. They must act now before the problems get worse and more costly to solve."
The Healing Our Waters-Great Lakes Coalition consists of more than 120 environmental, conservation and outdoor recreation organizations, zoos, aquariums and museums representing millions of people, whose common goal is to restore and protect the Great Lakes. Learn more by clicking here.
Visit EcoWatch's FARM BILL page for more related news on this topic.
EcoWatch Daily Newsletter
The CDC has emphasized that washing hands with soap and water is one of the most effective ways to prevent the spread of COVID-19. Guido Mieth / Moment / Getty Images
The Centers for Disease Control has emphasized that washing hands with soap and water is one of the most effective measures we can take in preventing the spread of COVID-19. However, millions of Americans in some of the most vulnerable communities face the prospect of having their water shut off during the lockdowns, according to The Guardian.
A California newt (Taricha torosa) from Napa County, California, USA. Connor Long /
CC BY-SA 3.0
Aerial photos of the Sierra Nevada — the long mountain range stretching down the spine of California — showed rust-colored swathes following the state's record-breaking five-year drought that ended in 2016. The 100 million dead trees were one of the most visible examples of the ecological toll the drought had wrought.
Now, a few years later, we're starting to learn about how smaller, less noticeable species were affected.
Disinfectants and cleaners claiming to sanitize against the novel coronavirus have started to flood the market.
Natthawat / Moment / Getty Images
Disinfectants and cleaners claiming to sanitize against the novel coronavirus have started to flood the market, raising concerns for the U.S. Environmental Protection Agency (EPA), which threatened legal recourse against retailers selling unregistered products, according to The New York Times.
A customer packs groceries in reusable bags at a NYC supermarket on March 1, 2020. Eduardo Munoz Alvarez/Getty Images
The global coronavirus pandemic has thrown our daily routine into disarray. Billions are housebound, social contact is off-limits and an invisible virus makes up look at the outside world with suspicion. No surprise, then, that sustainability and the climate movement aren't exactly a priority for many these days.
Ingredients are displayed for the Old School Pinto Beans from the Decolonize Your Diet cookbook by Luz Calvo and Catriona Rueda Esquibel. Melissa Renwick / Toronto Star via Getty Images
By Molly Matthews Multedo
Livestock farming contributes to global warming, so eating less meat can be better for the climate.