This website uses cookies to ensure you get the best experience while browsing it. By clicking 'Got It' you're accepting these terms.
By Joe Donnelly
The bullet he'd been dodging for many years finally caught up with the great Oregon wolf, OR4, Thursday. In the early afternoon, officials from the Oregon Department of Fish and Wildlife (ODFW) shot to death the patriarch of the Imnaha Pack from a helicopter over Wallowa County, an area where gray wolves dispersing from Idaho first began returning to Oregon, where they'd been killed off in the mid-20th century. Shot along with OR4 was his likely pregnant partner, OR 39, known as Limpy for an injured and badly healed leg, and their two pups.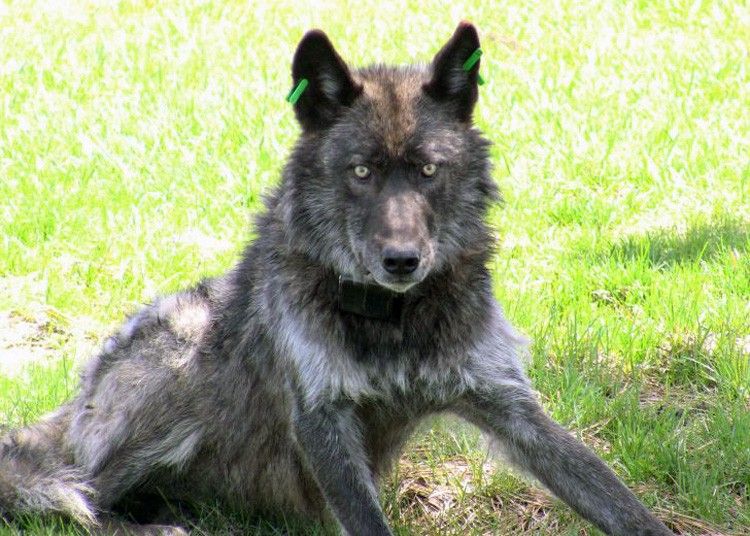 The animals were killed for being presumed guilty of the deaths of four calves and a sheep on private pastureland on the fringes of the pack's territory in northeast Oregon.
Rob Klavins, who has been a wolf advocate on the front lines of the cultural and political battles that have accompanied the reemergence of wolves in the West as field coordinator for the conservation group Oregon Wild, heard the helicopters take off and knew the sound spelled doom for OR4.
"It was hard for a lot of people," said Klavins, reached on Friday at his home near the town of Joseph in Wallowa County. "Even some of his detractors had a begrudging respect" for OR4, the fourth wolf to be fitted with a location-tracking radio collar in Oregon. He weighed at least 115 pounds, the largest known wolf in Oregon at the time of his death, and survived for 10 years, three years longer than most wolves in the wild.
OR4 and his progeny have been largely responsible for the gray wolf's intrepid return to lands where the species was long ago hunted, poisoned, trapped, burned and otherwise chased nearly to extinction.
Cattle farmers, who receive a subsidy from taxpayers to graze their animals on vast ranges of publicly-owned land where the wolves also dwell, worry about wolves killing their property. Hunters want first shot at the game, such as deer and elk, that wolves favor. But livestock depredations in Oregon are extremely rare, and have become scarcer even as the wolf population has increased. Meanwhile, ODFW's data shows that Oregon's wolves are having no effect on elk, deer and wild sheep populations. Of course, those statistics are small consolation to the rancher who suffered the loss of property in March.
In early 2008, OR4 and his mate at the time, OR2, were among the first wolves to swim the Snake River, scale enormous mountains, and establish a foothold for wolves in game-rich Wallowa County. Since then, more than 110 Oregon wolves have spread from the remote northeast corner of the state, over the Cascades, and to near the California border. Many of these pioneering wolves were spawned by OR4.
Beginning with his first pack in 2009, OR4 fathered, provided for, and protected dozens of wolf pups that survived in the Oregon wild—and made their way all the way south to California, where OR7, known as the "lone wolf," trekked in 2012. Today, OR7 has his own pack in the California-Oregon border region. The alpha female of the Shasta pack—the first gray wolf pack to make California home since 1924—is the offspring of OR4.
That OR4 lasted this long is source of wonder to those who have followed his starring role in Oregon's gray-wolf comeback story. In 2011, a brief cattle-killing spree by the Imnaha pack had him slated for execution. A suit by Oregon Wild and other conservation groups stayed the execution order and OR4 settled into a mostly incident-free life as Oregon's biggest and baddest-ass wolf.
There is good reason to believe OR4 was cast out of his pack early this year, and his decision to move into livestock calving ground was borne of the need of an old, slowing and dull-toothed male—no longer able to bring down elk—to fend for his hobbled mate, to whom he was endearingly loyal, and his yearling pups.
"He was an outlaw wolf with a heart of gold," said Amaroq Weiss, the West Coast Wolf Coordinator for the Center for Biological Diversity. Weiss recalled a 2009 video of OR4 leading his Imnaha pack up a snowy mountainside as a defining image from the early days of Oregon's wolf recovery. "He was definitely a father figure."
The Shasta Pack that is part of OR4's legacy will soon be coming into its second litter. It is protected by the California Endangered Species Act. In Oregon, though, wolves were removed from the endangered species list in November, which allowed OR4's pack to be shot to death Thursday. Activists have sued to re-list the animals.
The wolf management plan that provided the legal justification for the killing of OR4, Limpy and their pups is up for review in Oregon this year. The state has determined that the wolf population met benchmarks that allow livestock producers more lethal options when dealing with depredating wolves. Klavins and others would like to make sure the updated plan calls for every non-lethal option to be exhausted before wolves are killed.
"What was done [Thursday] was sufficient for an agency that views wildlife as agents of damage and whose primary job is to protect private interests at taxpayer expense," Klavins said. "But it's not good enough for a public agency whose mission is to 'protect and enhance Oregon's fish and wildlife and their habitats for use and enjoyment by present and future generations,' " he continued, quoting from the agency's official documents. "They need to do better. Oregonians deserve better."
Wolf advocate Wally Sykes is one of the few to have encountered OR4 in the wild.
"I was kind of initially prepared for something to happen, but the visual image of an old wolf being hunted down by a helicopter, with his hobbling mate by his side and his two freaked out pups along with him, is an ugly picture to carry in your head," Sykes said. He said officials he spoke with were "not at all happy to have killed these wolves."
Sykes' recording of OR4's howl can be heard here:
This article was reposted with permission from our media associate TakePart.

YOU MIGHT ALSO LIKE
Researchers Celebrate First Live Encounter With Sumatran Rhino in Borneo for 40+ Years
Leonardo DiCaprio Faces Deportation Threat After Criticizing Indonesia's Palm Oil Industry
Jeff Bridges: Plastic Is a Substance the Earth Cannot Digest
Car Engine Cover, Fishing Net and Plastic Bucket Found in Stomachs of Dead Sperm Whales
EcoWatch Daily Newsletter
Sen. Michael Bennet (D-CO) speaks during the North American Building Trades Unions Conference at the Washington Hilton April 10, 2019 in Washington, DC. Zach Gibson / Getty Images
Colorado senator and 2020 hopeful Michael Bennet introduced his plan to combat climate change Monday, in the first major policy rollout of his campaign. Bennet's plan calls for the establishment of a "Climate Bank," using $1 trillion in federal spending to "catalyze" $10 trillion in private spending for the U.S. to transition entirely to net-zero emissions by 2050.
When Trump's Environmental Protection Agency (EPA) announced its replacement for the Obama-era Clean Power Plan in August 2018, its own estimates said the reduced regulations could lead to 1,400 early deaths a year from air pollution by 2030.
Now, the EPA wants to change the way it calculates the risks posed by particulate matter pollution, using a model that would lower the death toll from the new plan, The New York Times reported Monday. Five current or former EPA officials familiar with the plan told The Times that the new method would assume there is no significant health gain by lowering air pollution levels below the legal limit. However, many public health experts say that there is no safe level of particulate matter exposure, which has long been linked to heart and lung disease.
A crate carrying one of the 33 lions rescued from circuses in Peru and Columbia is lifted onto the back of a lorry before being transported to a private reserve on April 30, 2016 in Johannesburg, South Africa. Dan Kitwood / Getty Images
By Andrea Germanos
Animal welfare advocates are praising soon-to-be introduced legislation in the U.S. that would ban the use of wild animals in traveling circuses.
A tornado Monday in Union City, Oklahoma.
TicToc by Bloomberg / YouTube screenshot
A woman walks in front of her water-logged home in Sriwulan village, Sayung sub-district of Demak regency, Central Java, Indonesia on Feb. 2, 2018. Siswono Toyudho / Anadolu Agency /Getty Images
Matt Cardy / Stringer / Getty Images
The Guardian is changing the way it writes about environmental issues.
Blueberry yogurt bark. SEE D JAN / iStock / Getty Images Plus
Having nutritious snacks to eat during the workday can help you stay energized and productive.

A 2017 flood in Elk Grove, California. Florence Low / California Department of Water Resources
By Tara Lohan
It's been the wettest 12 months on record in the continental United States. Parts of the High Plains and Midwest are still reeling from deadly, destructive and expensive spring floods — some of which have lasted for three months.
Mounting bills from natural disasters like these have prompted renewed calls to reform the National Flood Insurance Program, which is managed by Federal Emergency Management Agency and is now $20 billion in debt.