This website uses cookies to ensure you get the best experience while browsing it. By clicking 'Got It' you're accepting these terms.


The best of EcoWatch, right in your inbox. Sign up for our email newsletter!
Families Forced to Flee Their Homes From Out-of-Control Leak at Fracking Well
Dec. 17, 2014 04:46PM EST
Fracking
More than two dozen families have been forced to flee their homes in Monroe County in eastern Ohio as natural gas poured from a leak at an unused fracking well, the C0lumbus Dispatch revealed.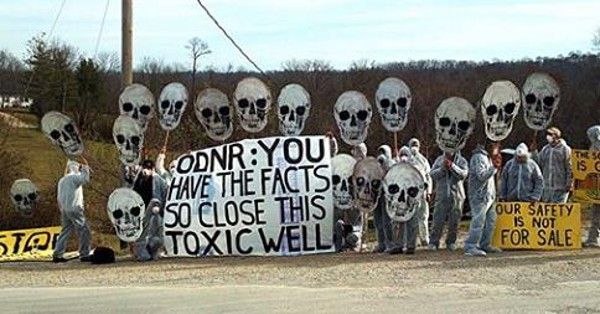 According to Ohio Department of Natural Resources (ODNR) spokeswoman Bethany McCorkle, crews lost control of the well Saturday and have not yet been able to stop the leak. Families were evacuated from homes within a 1.5-mile radius of the well near the Ohio River. "There's still a steady stream of natural gas coming from the wellhead," said McCorkle.
Texas-based Triad Hunter, which owns the drilling site, released a statement saying it had "experienced a loss of control of a well, the Stalder 3UH, located in Monroe County, Ohio. The previously drilled and completed Stalder 3UH well had been temporarily plugged and abandoned in preparation for the drilling of three additional Utica horizontal wells on the Stalder pad. However, despite numerous precautionary measures taken in connection with the temporary plugging and abandonment operation, the well began to flow uncontrollably while recommencing production operations. Triad Hunter personnel were removing the well's night cap flange when a pressure disruption occurred. They attempted to bolt back down this equipment but were not able to safely do so prior to natural gas flowback."
"Triad Hunter has contacted all necessary regulatory authorities and evacuated field personnel and the residents in the immediate area," it continued. "Currently, all field personnel are accounted for, and no injuries have been reported. Only critical personnel remain at a command center near the well site to mitigate the incident. Wild Well Control of Houston, Texas has been mobilized and is currently on site preparing for well control operations. Additional details will be released as they become available."
According to McCorkle, the well had been fracked and plugged a year ago.
"This whole situation is uncommon in general," she said. "A full investigation will give us more information as to what happened, what led up to the incident and why there was so much pressure."
That probably won't be much comfort to the families and others living in the area of Ohio's growing number of fracking operations.
"There have been other explosions and fires at fracking wells and drilling sites in Ohio," the Dispatch concluded blandly without providing further details.
Indeed there have—many of them reported in the Dispatch. In October, 400 homes were evacuated in Jefferson County, also on the Ohio River to the north of Monroe County, when a fracking operation there sprung a leak. McCorkle said the ODNR was investigating. In June, a fracking site in Clarington, also in Monroe County, caught fire, causing multiple explosions. That accident spilled large amounts of toxic chemicals into a nearby stream, killing fish and wildlife; the well operator company waited several days to disclose what chemicals had been released. The ODNR was investigating. That was days after another out-of-control gas leak in Bethel Township in Monroe County.
"The out of control natural gas leak at a fracking site in Monroe County demonstrates, once again, the lack of foresight on the part of Ohio Governor John Kasich, the Ohio legislature and the Ohio Department of Natural Resources on the issue of fracking," said Alison Auciello, Ohio organizer for Food & Water Watch.
"The ODNR must have a short memory because they're saying these types of accidents are 'uncommon in general.' Just this past summer residents in Monroe County were evacuated while the Eisenbarth well pad exploded," said Auciello. "As the Monroe County leak continues to force evacuations, Governor Andrew Cuomo banned fracking in the state of New York today, citing health concerns from the New York Department of Health. How many accidents will it take for Governor Kasich take a nod from Governor Cuomo, pay attention to the science, listen to his constituents and realize that there is no such thing a safe fracking?"
YOU MIGHT ALSO LIKE
Ohio Singled Out for Worst Fracking Waste Disposal Practices 
Groups Sue Ohio Governor for Illegally Making State a Fracking Waste Dump
EcoWatch Daily Newsletter
A child playing with a ball from planet earth during Extinction Rebellion rally on April 18 in London, England. Brais G. Rouco / Barcroft Media / Getty Images
Earth Day 2019 just passed, but planning has already begun for Earth Day 2020, and it's going to be a big deal.
Geneva Vanderzeil, A Pair & A Spare / Flickr / CC BY 2.0
Is your closet filled with clothes you don't wear (and probably don't like anymore)? Are you buying cheap and trendy clothing you only wear once or twice? What's up with all the excess? Shifting to a more Earth-conscious wardrobe can help simplify your life, as well as curb fast fashion's toll on people and the planet.
Christine Zenino / Wikimedia Commons / CC BY 2.0

The 18th century St. Catherine of Alexandria church is seen after its bell tower was destroyed following a 6.3 magnitude earthquake that struck the town of Porac, pampanga province on April 23. TED ALJIBE / AFP / Getty Images
At least 16 people have died, 81 are injured and 14 are still missing after an earthquake struck Luzon island in the Philippines Monday, according to the latest figures from the National Disaster Risk Reduction and Management Council, as the Philippine Star tweeted Tuesday.
Climate change activists gather in front of the stage at the Extinction Rebellion group's environmental protest camp at Marble Arch in London on April 22, on the eighth day of the group's protest calling for political change to combat climate change. TOLGA AKMEN / AFP / Getty Images
Pexels
By Alina Petre, MS, RD (CA)
Veganism refers to a way of living that attempts to minimize animal exploitation and cruelty. For this reason, vegans aim to exclude all foods containing meat, poultry, fish, eggs, dairy and honey from their diet (1).
American farmers use chlorpyrifos, a pesticide tied to brain and nervous system issues, on crops such as apples, broccoli, corn and strawberries. Stephanie Chapman / Flickr / CC BY 2.0
By Jessica Corbett
In a ruling welcomed by public health advocates, a federal court on Friday ordered the Trump administration to stop stalling a potential ban on a pesticide linked to brain damage in children, giving regulators until mid-July to make a final decision.
fstop123 / iStock / Getty Images Plus
At EcoWatch, our team knows that changing personal habits and taking actions that contribute to a better planet is an ongoing journey. Earth Day, happening on April 22, is a great reminder for all of us to learn more about the environmental costs of our behaviors like food waste or fast fashion.
To offer readers some inspiration this Earth Day, our team rounded up their top picks for films to watch. So, sit back and take in one of these documentary films this Earth Day. Maybe it will spark a small change you can make in your own life.