This website uses cookies to ensure you get the best experience while browsing it. By clicking 'Got It' you're accepting these terms.
Families Forced to Flee Their Homes From Out-of-Control Leak at Fracking Well
Dec. 17, 2014 04:46PM EST
More than two dozen families have been forced to flee their homes in Monroe County in eastern Ohio as natural gas poured from a leak at an unused fracking well, the C0lumbus Dispatch revealed.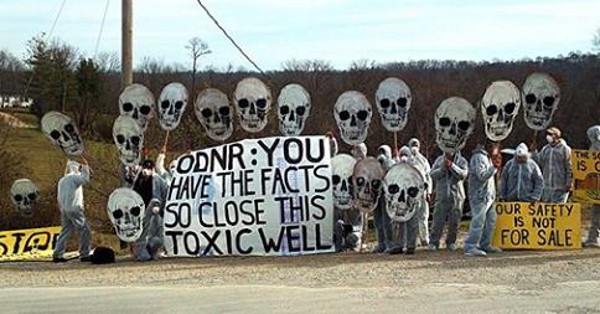 According to Ohio Department of Natural Resources (ODNR) spokeswoman Bethany McCorkle, crews lost control of the well Saturday and have not yet been able to stop the leak. Families were evacuated from homes within a 1.5-mile radius of the well near the Ohio River. "There's still a steady stream of natural gas coming from the wellhead," said McCorkle.
Texas-based Triad Hunter, which owns the drilling site, released a statement saying it had "experienced a loss of control of a well, the Stalder 3UH, located in Monroe County, Ohio. The previously drilled and completed Stalder 3UH well had been temporarily plugged and abandoned in preparation for the drilling of three additional Utica horizontal wells on the Stalder pad. However, despite numerous precautionary measures taken in connection with the temporary plugging and abandonment operation, the well began to flow uncontrollably while recommencing production operations. Triad Hunter personnel were removing the well's night cap flange when a pressure disruption occurred. They attempted to bolt back down this equipment but were not able to safely do so prior to natural gas flowback."
"Triad Hunter has contacted all necessary regulatory authorities and evacuated field personnel and the residents in the immediate area," it continued. "Currently, all field personnel are accounted for, and no injuries have been reported. Only critical personnel remain at a command center near the well site to mitigate the incident. Wild Well Control of Houston, Texas has been mobilized and is currently on site preparing for well control operations. Additional details will be released as they become available."
According to McCorkle, the well had been fracked and plugged a year ago.
"This whole situation is uncommon in general," she said. "A full investigation will give us more information as to what happened, what led up to the incident and why there was so much pressure."
That probably won't be much comfort to the families and others living in the area of Ohio's growing number of fracking operations.
"There have been other explosions and fires at fracking wells and drilling sites in Ohio," the Dispatch concluded blandly without providing further details.
Indeed there have—many of them reported in the Dispatch. In October, 400 homes were evacuated in Jefferson County, also on the Ohio River to the north of Monroe County, when a fracking operation there sprung a leak. McCorkle said the ODNR was investigating. In June, a fracking site in Clarington, also in Monroe County, caught fire, causing multiple explosions. That accident spilled large amounts of toxic chemicals into a nearby stream, killing fish and wildlife; the well operator company waited several days to disclose what chemicals had been released. The ODNR was investigating. That was days after another out-of-control gas leak in Bethel Township in Monroe County.
"The out of control natural gas leak at a fracking site in Monroe County demonstrates, once again, the lack of foresight on the part of Ohio Governor John Kasich, the Ohio legislature and the Ohio Department of Natural Resources on the issue of fracking," said Alison Auciello, Ohio organizer for Food & Water Watch.
"The ODNR must have a short memory because they're saying these types of accidents are 'uncommon in general.' Just this past summer residents in Monroe County were evacuated while the Eisenbarth well pad exploded," said Auciello. "As the Monroe County leak continues to force evacuations, Governor Andrew Cuomo banned fracking in the state of New York today, citing health concerns from the New York Department of Health. How many accidents will it take for Governor Kasich take a nod from Governor Cuomo, pay attention to the science, listen to his constituents and realize that there is no such thing a safe fracking?"
YOU MIGHT ALSO LIKE
Ohio Singled Out for Worst Fracking Waste Disposal Practices 
Groups Sue Ohio Governor for Illegally Making State a Fracking Waste Dump
Southwest Greenland had the most consistent ice loss from 2003 to 2012. Eqalugaarsuit, Ostgronland, Greenland on Aug. 1, 2018.
Rob Oo / CC BY 2.0
Climate change has been called the biggest challenge of our time. Last year, scientists with the United Nations said we basically have 12 years to limit global warming to 1.5ºC to avoid planetary catastrophe.
Amid a backdrop of rising global carbon emissions, there's a real case for pessimism. However, many scientists are hopeful of a way out.
Martin Luther King Jr. at steps of the Lincoln Memorial where he delivered his famous, "I Have a Dream" speech in 1963.
"Injustice anywhere is a threat to justice everywhere." Dr. Martin Luther King Jr.'s words and actions continue to resonate on the 90th anniversary of his birth.
As the country honors the life and legacy of the iconic civil rights leader today, we are reminded that the social justice and the climate movements are deeply connected.
A Massachusetts road coated with snow and ice following the winter storm which prompted Trump to mock climate change. Scott Eisen / Getty Images
President Donald Trump has once again contradicted the findings of the U.S. government when it comes to the threat posed by climate change. Days after a Department of Defense report outlined how climate-related events like wildfires and flooding put U.S. military installations at risk, Trump took to Twitter to mock the idea that the world could be getting warmer, Time reported.
Trump's tweet came in response to a massive winter storm that blanketed the Midwest and Northeast this weekend.
The fire that erupted after a pipeline explosion in Mexico Friday. FRANCISCO VILLEDA / AFP / Getty Images
A dramatic pipeline explosion in central Mexico Friday has killed at least 85 people, Mexican Health Minister Jorge Alcocer Valera said Sunday night, The Associated Press reported.

The explosion occurred in a field in the municipality of Tlahuelilpan as people rushed to gather fuel from the pipeline, which had been ruptured by suspected thieves. Many were covered in oil before a fireball shot into the air.
Mead is a fermented beverage traditionally made from honey, water and a yeast or bacterial culture.
U.S. Army member helps clear debris from Tyndall Air Force Base following Hurricane Michael.
U.S. Army
The Pentagon released a Congressionally mandated report (pdf) that warns flooding, drought and wildfires and other effects of climate change puts U.S. military bases at risk.
The 22-page analysis states plainly: "The effects of a changing climate are a national security issue with potential impacts to Department of Defense (DoD or the Department) missions, operational plans, and installations."
Power plants across Texas are leaching toxins into groundwater, according to new research. A report released this week from the Environmental Integrity Project found that all of the state's 16 coal-fired power plants are leaching contaminants from coal ash into the ground, and almost none of the plants are properly lining their pits to prevent leakage.