This website uses cookies to ensure you get the best experience while browsing it. By clicking 'Got It' you're accepting these terms.
Fake Meat and Other Tainted Food in China Exposed on 'Wikipedia' Website
Sep. 12, 2014 12:03PM EST
Food
From time to time there's a scare in the U.S. about food imported from China, with the pet food incident that sickened and killed thousands of animals the best known.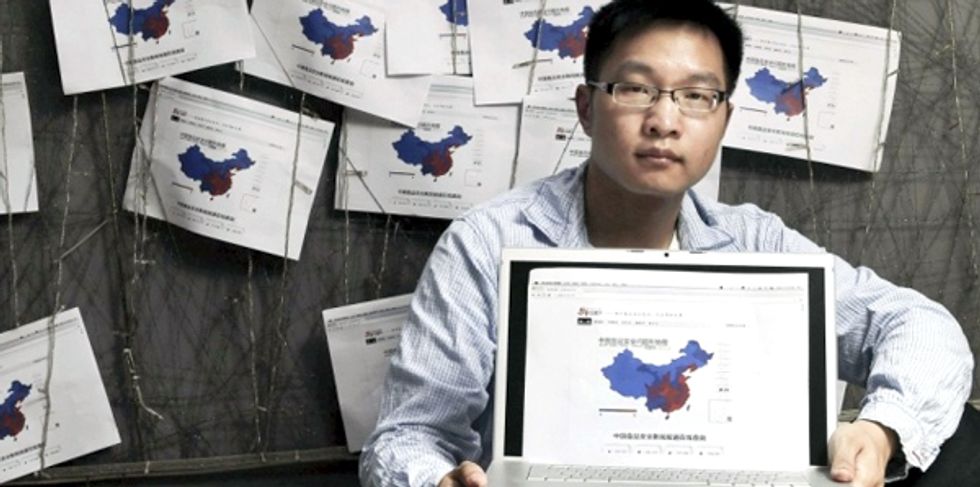 Some Chinese aren't any happier about questionable food produced in their country than Americans are, especially after the 2008 adulterated milk scandal that killed six infants and hospitalized tens of thousands.
That scandal attracted the interest of Wu Heng, a graduate student from Shanghai. As more incidents of tainted food were publicized, it eventually led him to start a website, launched in May 2012, to aggregate and disseminate information about tainted food. The site, Throwing It Out the Window, or Zhi Chu Chuang Wai in Chinese, takes its name from a story about President Theodore Roosevelt throwing a sausage out the window after reading Upton Sinclair's 1906 book The Jungle about the horrors of the meat-packing industry.
The website details such appetite-killing incidents as pork colored with chemicals to look like beef, restaurants using cooking oil recovered from dumpsters, "lamb" that turned out to be rat, and expired meat or meat from already-dead animals being mixed with good meat.
Wu has now turned those posts into a newly published book, also called Throwing It Out the Window. It collects some of the information from his site and provides advice on how to avoid the worst of the tainted food, although he says it's virtually impossible to avoid it entirely.
Wu describes the site as a "Wikipedia," but it's basically a database of news articles and government press releases about food safety incidents, warnings, and recalls. Prior to launching the site, he and about three dozen other students analyzed and categorized more than 17,000 news reports. Categories included fake food, expired food, food containing potentially unsafe additives, food containing foreign matter, problem packaging, food sold without a license, substandard food, food that has not passed quarantine inspection and unhygienic food.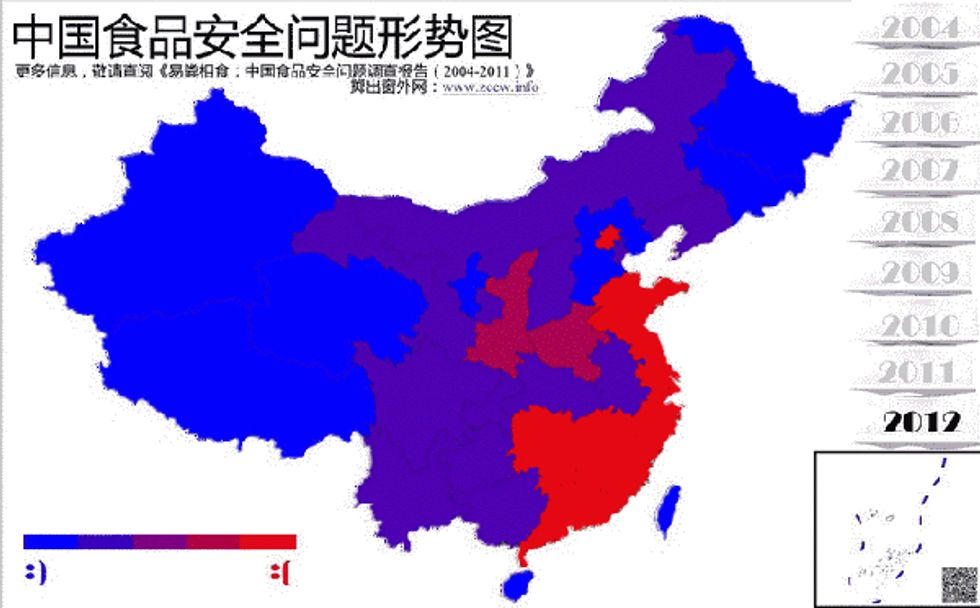 Wu also created the China Food Darwin Awards, inspired by American author Wendy Northcutt's Darwin Awards, referring to people whose stupidity caused  their own demise. These awards, decided by a public poll, are given to people or companies "whose aim it is to destroy the food of the Chinese people." The first was awarded to scavengers who collect discarded oil from such sources as grease traps, animal parts, and trash, and turn it into cheap cooking oil known as "gutter oil."
The reaction from Chinese government officials to Wu's website has been positive. The Shanghai Food Safety Office even asked for his assistance in promoting their food safety hotline.
YOU MIGHT ALSO LIKE
USDA to Allow Chickens From U.S. to Be Shipped to China for Processing and Back to U.S. for Consumption, Just Like Seafood
Higher Cancer Rates and Tainted Local Foods Linked to Tar Sands Operations
EcoWatch Daily Newsletter
Deserted view of NH24 near Akshardham Temple on day nine of the 21-day nationwide lockdown to curb the spread of coronavirus on April 2, 2020 in New Delhi, India. Raj K Raj / Hindustan Times via Getty Images
A Unicef social mobilizer uses a speaker as she carries out public health awareness to prevent the spread and detect the symptoms of the COVID-19 coronavirus by UNICEF at Mangateen IDP camp in Juba, South Sudan on April 2. ALEX MCBRIDE / AFP / Getty Images
By Eddie Ndopu
South Africa is ground zero for the coronavirus pandemic in Africa.
Its townships are typical of high-density neighbourhoods across the continent where self-isolation will be extremely challenging.
The failure to eradicate extreme poverty is a threat beyond the countries in question.
The outside of the Food and Drug Administration headquarters in White Oak, Md. on Nov. 9, 2015. Al Drago / CQ Roll Call
The U.S. Food and Drug Administration has approved the use of two malarial drugs to treat and prevent COVID-19, the respiratory infection caused by the SARS-CoV-2 coronavirus, despite only anecdotal evidence that either is proven effective in treating or slowing the progression of the disease in seriously ill patients.

Some
speculate
that the dissemination of the Antarctic beeches or Nothofagus moorei (seen above in Australia) dates to the time when
Antarctica
, Australia and
South America
were connected. Auscape / Universal Images Group / Getty Images
A team of scientists drilled into the ground near the South Pole to discover forest and fossils from the Cretaceous nearly 90 million years ago, which is the time when dinosaurs roamed the Earth, as the BBC reported.
The recovery of elephant seals is one of the "signs of hope" that scientists say show the oceans can recover swiftly if we let them. NOAA /
CC BY 2.0