This website uses cookies to ensure you get the best experience while browsing it. By clicking 'Got It' you're accepting these terms.


The best of EcoWatch, right in your inbox. Sign up for our email newsletter!
Faith Leaders Speak Out Against Fracking Amid Pope Francis' Visit to U.S.
Sep. 24, 2015 09:08AM EST
Energy

Earlier this year, Pope Francis called for decisive climate action in his encyclical. Now, while the Pope is visiting the U.S. for the first time, faith leaders across the country are speaking out against fracking—a form of extreme fossil fuel extraction that hurts our health and communities, contributes to climate change, and will prolong our dependence on oil and gas at the expense of the development of truly renewable energy.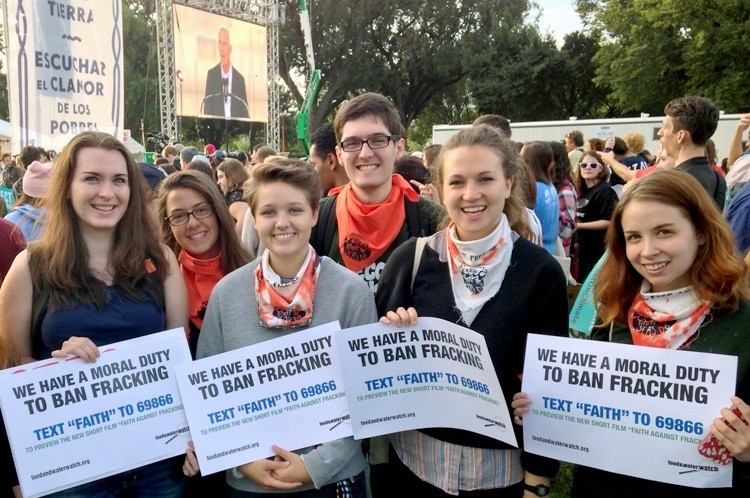 Today, Food & Water Watch is previewing a Faith Against Fracking video with messages from faith leaders of various denominations from across the country, as the Pope addresses Congress on the Hill, and as activists call for moral action for climate justice on the mall outside the Capitol.
We can't miss this historic opportunity to highlight the moral issues around climate change—and fracking. And the faith leaders in the video are doing just that:
"This is the time when all of us are being called to create a perfect world. We are all called in conscience to look to our higher self—our God image—and see the responsibility that we have." —Lupe Anguiano, Former Nun & Founder, Stewards of the Earth
"The Pope has given us a wonderful gift in this Encyclical. We can see within his words the values that all people of faith can share of caring for God's creation." —Dr. Leah Schade, Pastor, United in Christ Lutheran Church
"Pope Francis says that care for creation is not a domain of a few people. 'Those people in the environmental movement, let them take care of it.' No, it's our responsibility because it is our common home, and all of those in this country have the moral responsibility to get involved." —Fr. Jacek Orzechowski, Franciscan Friar, Ordo Fratrum Minorum
"This is what is unethical. We are doing things for money that we know are wrong." —Rev. Dr. Ambrose Carroll, Senior Pastor, Church by the Side of the Road
"A world that values economics above human health is a world that we don't need because ultimately it's a detriment to all of us. It's like creating our own cancer. If we don't have our health, what difference does economics make?" —Rev. Dr. Hubert Ivery, Pastor, St. Mark's United Methodist Church
"We all hear the conversation about being energy independent. Energy independence doesn't mean giving all our power to the oil industry to do whatever the heck they want with our communities. If they really want to be energy independent, they should be focusing on renewable energy, green energy. Energy that is not only going to benefit the pockets of the industry, but that is going to benefit the health of our communities." —Juan Flores, Former Seminarian and Community Organizer, CRPE
The video also includes Rev. Joy Atkinson, Minister of Starr King Unitarian Universalist Church; Rabbi Michael Lerner, Chair, Network of Spiritual Progressives; Anne Marie Sayers and Kanyon Sayers Roods, Indian Country, Coastal Ohlone; and Rev. Kelvin Sauls, Holman United Methodist Church.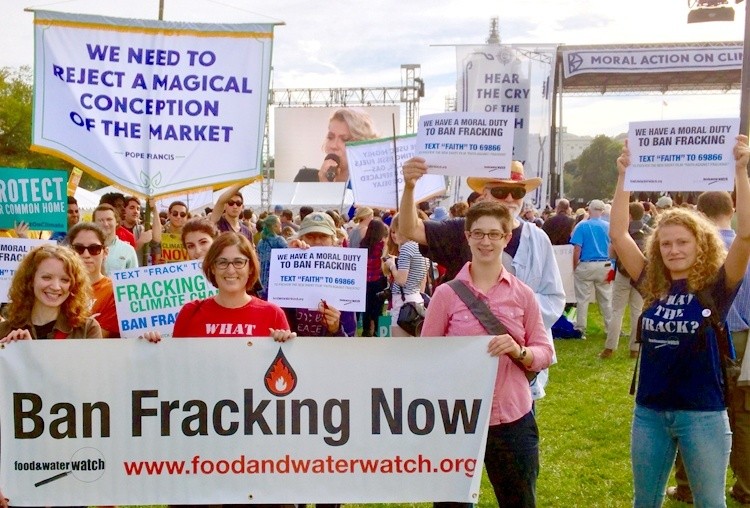 Communities of faith are increasingly rallying around the call to abandon fossil fuels and work for renewable energy. Last weekend, Pennsylvania faith leaders sent an open letter to Governor Tom Wolf asking him to stop fracking the Keystone State. Yesterday, the Pope addressed the public on the White House lawn, where he invoked Martin Luther King Jr.'s words to urge climate action: "To use a telling phrase of the Rev. Martin Luther King, we can say that we have defaulted on a promissory note and now is the time to honor it."
A good first step is to show this video into your communities of faith, and help create momentum to stop fracking where you live and to work for a renewable energy future. It will take all of us getting involved to pressure our elected officials to enact policies that will bring about renewable energy solutions—and save our planet and its people in the process.
YOU MIGHT ALSO LIKE
Fracking Increases Oklahoma Earthquakes from Two a Year to Two a Day
Fracking Boom Bursts in Face of Low Oil Prices
What the Industry Doesn't Want You to Know About Fracking
EcoWatch Daily Newsletter
PhotoAlto / Laurence Mouton / Getty Images
By Ana Reisdorf, MS, RD
You've probably heard the buzz around collagen supplements and your skin by now. But is the hype really that promising? After all, research has pointed to both the benefits and downsides of collagen supplements — and for many beauty-conscious folk, collagen isn't vegan.
Pixabay
By Marlene Cimons
Neil Pederson's introduction to tree rings came from a "sweet and kindly" college instructor, who nevertheless was "one of the most boring professors I'd ever experienced," Pederson said. "I swore tree rings off then and there." But they kept coming back to haunt him.
Aerial view of the explosion site of a chemical factory on March 22 in Yancheng, Jiangsu Province of China. Caixin Media / VCG / Getty Images)
At least 47 people have died in an explosion at a plant in Yancheng, China Thursday run by a chemical company with a history of environmental violations, Sky News reported.
A fishmonger in Elmina, a fishing port in the Central Region of Ghana. Environmental Justice Foundation
By Daisy Brickhill
Each morning, men living in fishing communities along Ghana's coastline push off in search of the day's catch. But when the boats come back to shore, it's the women who take over.
Pexels
By Sam Nickerson
Links between excess sugar in your diet and disease have been well-documented, but new research by Harvard's School of Public Health might make you even more wary of that next soda: it could increase your risk of an early death.
The study, published this week in the American Heart Association's journal Circulation, found that drinking one or two sugar-sweetened beverages (SSBs) each day — like sodas or sports drinks — increases risk of an early death by 14 percent.
Tyson Foods is recalling approximately 69,093 pounds of frozen chicken strips because they may have been contaminated with pieces of metal, the U.S. Department of Agriculture (USDA) Food Safety and Inspection Service (FSIS) announced Thursday.
The affected products were fully-cooked "Buffalo Style" and "Crispy" chicken strips with a "use by" date of Nov. 30, 2019 and an establishment number of "P-7221" on the back of the package.
"FSIS is concerned that some product may be in consumers' freezers," the recall notice said. "Consumers who have purchased these products are urged not to consume them. These products should be thrown away or returned to the place of purchase."
Environmental exposure to pesticides, both before birth and during the first year of life, has been linked to an increased risk of developing autism spectrum disorder, according to the largest epidemiological study to date on the connection.
The study, published Wednesday in BMJ, found that pregnant women who lived within 2,000 meters (approximately 1.2 miles) of a highly-sprayed agricultural area in California had children who were 10 to 16 percent more likely to develop autism and 30 percent more likely to develop severe autism that impacted their intellectual ability. If the children were exposed to pesticides during their first year of life, the risk they would develop autism went up to 50 percent.