This website uses cookies to ensure you get the best experience while browsing it. By clicking 'Got It' you're accepting these terms.
Faith Communities Together
Feb. 02, 2012 10:45AM EST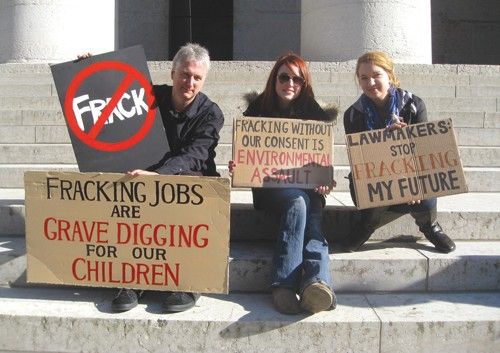 Faith Communities Together (FACT) for Frack Awareness formed last June in response to the growing local concern over the extreme extraction industry, in particular to high-volume, high-pressure hydraulic fracturing for natural gas, best known as fracking.
FACT consists of 15 Ohio faith organizations coming from six different faith traditions— Unitarian Universalists, United Church of Christ, Catholic, Methodist, Presbyterian and atheist—and spans eight Ohio counties, including Cuyahoga, Lake, Geauga, Mahoning, Trumbull, Portage, Belmont and Summit. FACT has 93 participating individuals who range from active members of religious congregations to individuals who are approaching environmental topics from a moral or spiritual perspective.
FACT draws upon the technical and scientific expertise of the Network for Oil and Gas Accountability and Protection (NEOGAP), an Ohio-based group that is organized to educate, empower and advocate for the citizens of Ohio who are facing threats to health, safety and property rights posed by oil and gas development. FACT draws upon the cultural and faith based expertise of several of its members who are part of various clergy. FACT recognizes the ethical and moral challenges that fracking creates for the land and for people.
As members of faith communities in Ohio, FACT works to protect God's Creation from the harm caused by the extraction of resources such as oil, natural gas, coal and other non-renewable sources of energy. FACT will achieve its mission by:
• Educating the public about these issues, including harm to our clean water resources, especially those caused by high volume, high pressure hydraulic fracturing for natural gas.
FACT distributed to its member congregations and individual members a copy of the DVD Ohio, Get FrACTive! To help educate and communicate with congregations and communities. The video looks at the problems fracking brings to health, safety, economy, property rights and values, and discusses methods of educating neighbors and local government leaders about fracking and signing drilling leases.
• Supporting efforts to end the exploitation of workers and landowners involved in these activities, many of whom are impoverished and disadvantaged.
FACT is reaching out to poor, rural communities throughout the eastern areas of Ohio to help provide information about the potential hazards of signing leases, recognizing that income and job opportunities are desperately needed.
FACT welcomed a new member in January—the Ohio Valley Unitarian Universalist Congregation. They will be known as FACT-OV and will serve the Ohio Valley, including Belmont, Guernsey, Harrison and Jefferson Counties in Ohio and Brooke, Marshall and Ohio Counties in West Virginia.
• Encouraging of faith communities not to lease parish land for fracking and to warn their members to not lease their personal land for fracking.
FACT has formed a letter writing committee made up of clergy and lay persons to develop letters to relay this warning.
• Convincing faith communities to help pass federal, state and local laws that protect our water and air, and human health and safety.
Eight FACT members attended the Stop the Madness No Frack Ohio Rally at the Ohio Statehouse on Jan.10. The purpose of this gathering was to urge Gov. John Kasich to protect the environment and public health by passing SB 213/HB 345, which would impose a moratorium on fracking permits and wastewater disposal injection wells. A FACT member congregation, Unitarian Universalist Church of Youngstown, Ohio served as headquarters for a bus transporting citizens from Youngstown to the rally in Columbus.
• Urging faith communities that we must conserve energy and protect our potable water, and develop, promote and incorporate truly clean, renewable sources of energy.
The Unitarian Universalist Association of Congregations' Green Sanctuary Program is a model for this practice.The voluntary program provides a framework for congregations and congregants to proclaim and live out their commitment to the Earth.
Would you like to learn more about the extreme extraction industry and fracking? Would you like to learn of ways your faith organization could become involved with the issue of extreme extraction and fracking? Would you like to find refreshment and rejuvenation as you seek to lead a green and faithful life ? If so, consider attending the next monthly FACT meeting.
Anyone is welcome to attend as a representative of a faith organization (church, temple, mosque and others) or simply as an individual participant. The next monthly FACT meeting is Saturday, Feb. 11 from 9:30 to 11 a.m. in Kent, Ohio. This meeting is to be followed by a "no fracking" rally and march. The rally and march is from 11 a.m. to 1 p.m. beginning on Main Street in Kent.
For more information on FACT or the upcoming monthly meeting, email Kristina.
For more information on NEOGAP click here.
EcoWatch Daily Newsletter
Artist's conception of solar islands in the open ocean. PNAS
Millions of solar panels clustered together to form an island could convert carbon dioxide in seawater into methanol, which can fuel airplanes and trucks, according to new research from Norway and Switzerland and published in the Proceedings of the National Academy of Sciences journal, PNAS, as NBC News reported. The floating islands could drastically reduce greenhouse gas emissions and dependence on fossil fuels.
Marcos Alves / Moment Open / Getty Images
More than 40 percent of insects could go extinct globally in the next few decades. So why did the U.S. Environmental Protection Agency (EPA) last week OK the 'emergency' use of the bee-killing pesticide sulfoxaflor on 13.9 million acres?
EcoWatch teamed up with Center for Biological Diversity via EcoWatch Live on Facebook to find out why. Environmental Health Director and Senior Attorney Lori Ann Burd explained how there is a loophole in the The Federal Insecticide, Fungicide, and Rodenticide Act under section 18, "that allows for entities and states to request emergency exemptions to spraying pesticides where they otherwise wouldn't be allowed to spray."
Simple swaps that cut down on kitchen trash.
Sponsored
By Kayla Robbins
Along with the bathroom, the kitchen is one of the most daunting areas to try and make zero waste.
View of downtown Miami, Florida from Hobie Island on Feb. 2, 2019.
Michael Muraz / Flickr
The Democratic candidates for president descended upon Miami for a two-night debate on Wednesday and Thursday. Any candidate hoping to carry the state will have to make the climate crisis central to their campaign, as The New York Times reported.
By Sharon Kelly
On Monday, the Wall Street Journal featured a profile of Scott Sheffield, CEO of Pioneer Natural Resources, whose company is known among investors for its emphasis on drawing oil and gas from the Permian basin in Texas using horizontal drilling and hydraulic fracturing, or fracking.
Pexels
By Craig K. Chandler
The federal government has available to it, should it choose to use them, a wide range of potential climate change management tools, going well beyond the traditional pollution control regulatory options. And, in some cases (not all), without new legislative authorization.
Denis Poroy / Getty Images
By Dan Gray
Processed foods, in their many delicious forms, are an American favorite.
But new research shows that despite increasing evidence on just how unhealthy processed foods are, Americans have continued to eat the products at the same rate.
By Sarah Steffen
With a profound understanding of their environmental surroundings, indigenous communities around the world are often cited as being pivotal to tackling climate change.