Faith Against Fracking
May. 15, 2015 08:56AM EST
Energy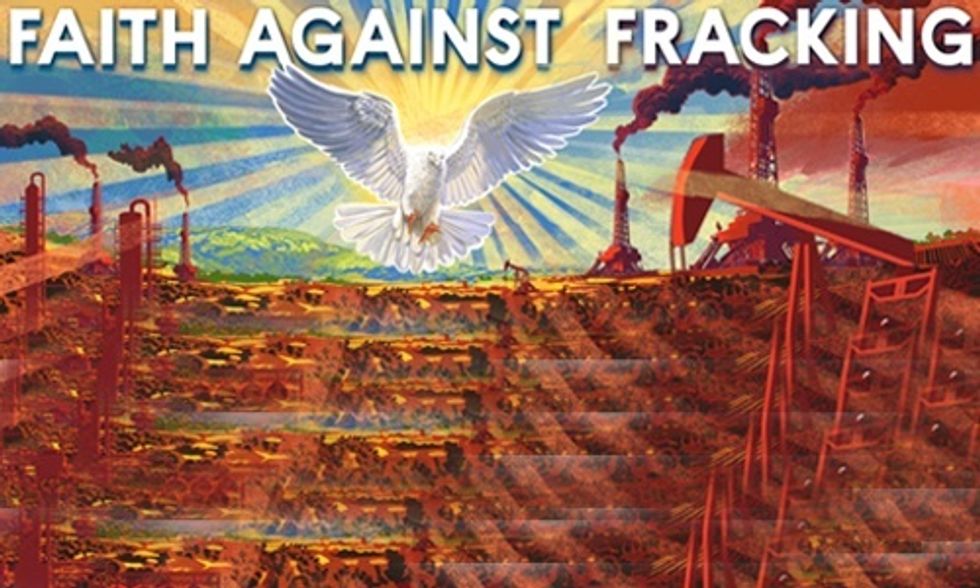 As pressure mounts for Gov. Jerry Brown to take action on fracking and other extraction methods putting communities and the environment at risk, Californians Against Fracking released a new film Wednesday showcasing several faith leaders across a variety of faiths who are calling for a statewide moratorium and a switch to 100 percent renewable energy.
Here is an exclusive clip from the film made exclusively for EcoWatch readers:
"Although there will always be powerful voices who seeks to justify exploitative practices as a means of economic advancement, there must also be leaders who stand against this destruction and stand for life affirming economic development that will protect that which cannot be replaced," Rev. Kelvin Sauls, Pastor of Holman United Methodist Church, said in a letter to Brown. "We ask you to rise to this moral challenge, probably the most significant of your career and one that you have long been preparing for, and declare a moratorium on fracking and other extreme methods of well stimulation and unconventional oil and gas extraction in California."
At The Church by the Side of the Road, members of Californians Against Fracking, faith leaders and community members screened the premiere of Faith Against Fracking and opened up a broad dialogue on the important role of religious groups in taking environmental action against fracking.
"This is what is unethical—the things that we're doing for money that we know is wrong," said Rev. Ambrose Carroll, a senior pastor at the church. "The bible says treat others as you would want to be treated. So, why would you allow something to happen on one side of town that you wouldn't allow to happen in your own backyard? If it's not good for you, then of course it's not good for others."

The documentary premiered as California is in the midst of a severe drought. Californians are being forced to cut their water usage by 25 percent, yet Brown continues to allow oil companies to use vast amounts of water for fracking and other unconventional extraction methods. Even worse, state officials have allowed oil companies to illegally inject industry waste water into hundreds of injection wells in protected aquifers. And scientific tests over the past two years found high levels of toxic chemicals in recycled waste water used to irrigate crops in the Central Valley. Meanwhile, reports of health impacts from affected communities continue to mount.
"The fight against fracking is not only about low income communities and communities of color, but communities of faith," said Juan Flores, a former seminarian. "The reality is that if we have faith, we have to stand up for faith. We cannot let anyone come and crush us. I think what we have to take care of is quality of life. […] All of us have to come together and finally pay attention to the world that was given to us to take care of."
Flores is Community Organizer at Center for Race, Poverty and the Environment in Delano. For three days straight, local preschool teachers in Delano were forced to stop allowing children outside on the playground when toxic fumes from an oil pump just 150 yards away made the playground unsafe.
Faith Against Fracking will be screening in churches, synagogues and religious community centers across the state in the coming months. Visit Californians Against Fracking for more information.
YOU MIGHT ALSO LIKE
Fracking Chemicals Found in Drinking Water, New Study Says
Mapping the Dangers of Fracking
Jon Stewart's Hilarious Take on Oklahoma's Fracking Earthquakes
EcoWatch Daily Newsletter
Recent Stories from EcoWatch