This website uses cookies to ensure you get the best experience while browsing it. By clicking 'Got It' you're accepting these terms.
Factory Farms Poison Iowa's Drinking Water to Make Spam for China
Feb. 25, 2014 12:27PM EST
Health + Wellness
OnEarth published an investigative cover story on Monday regarding Iowa's staggering rise of hog production over the last decade and its impact on local drinking water and surrounding communities.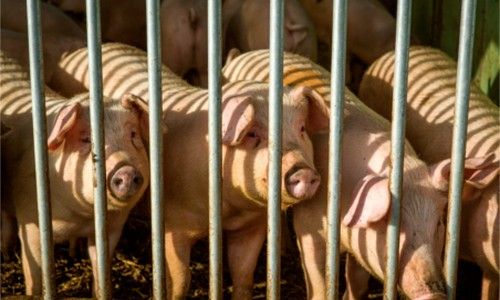 The piece, Hog Wild: How Factory Farms Are Poisoning Iowa's Water, explores the lapses in environmental oversight and regulation and the potentially fatal effects of Iowa's 8,500 factory farms that produce unparalleled volumes of fecal waste. It also investigates Iowa factory farms' push to significantly bolster its Spam sales in Chinese and other Asian markets. 
Ted Genoways, OnEarth's editor-at-large, went on site to some of Iowa's largest hog confinement facilities and reported on how manure goes virtually untreated before being spread onto millions of acres of cropland as fertilizer, where it then washes into nearby waterways.
This water pollution has resulted in Iowa drinking water supplies that have alarmingly high antibiotic levels, and dangerous amounts of bacteria and nitrate levels deemed high enough to be deadly to small children, said Jacqueline Wei, Natural Resources Defense Council (NRDC) media associate, in a prepared statement. 
To tell the story, Genoways gained unprecedented access to Hormel Meats, a hog finishing facility on Iowa's Des Moines River watershed, as well as an Iowa Department of Natural Resources (DNR) inspection of the facility, allowing him to weave together big agriculture, science and politics and uncover the struggles of tackling industrial farm manure pollution.
He writes:
"Between May and July 2013, as downpours sheeted off drought-hardened fields, scientists at the Des Moines Water Works [DMWW] watched manure contamination spike to staggering levels at intake sites on the Raccoon and Des Moines rivers. These two major tributaries of the Mississippi are also the usual sources of drinking water for roughly one out of every six Iowans. But at one point last summer, nitrate in the Raccoon [River] reached 240 percent of the level allowed under the Clean Water Act, and the DMWW warned parents not to let children drink from the tap, reminding them of the risk of blue baby syndrome. (Nitrate impairs the oxygen capacity of the bloodstream; in babies and toddlers the syndrome can effectively cut off their air supply, rendering them a deathly blue.)"
He adds the number of Iowa DNR staffers conducting inspections has been cut by 60 percent since 2007.
Even though Iowa is the country's leading hog producer, the problem isn't just limited to the rural Midwestern state. There's very little industry-wide information available about how factory farms handle their waste or even where they are located, said Wei. 
The NRDC has been taking legal action to hold the U.S. Environmental Protection Agency accountable for protecting America's waterways by pushing for more factory farm transparency and oversight and by fighting industry pollution loopholes.
The NRDC has also been encouraging sustainable farming practices that don't rely on the abuse of drugs by urging Food and Drug Administration officials to follow two federal court orders that mandate the agency act to limit antibiotics overuse farms.
Visit EcoWatch's FOOD and HEALTH pages for more related news on this topic.

EcoWatch Daily Newsletter
A. Battenburg / Technical University of Munich
By Sarah Kennedy
Algae in a pond may look flimsy. But scientists are using algae to develop industrial-strength material that's as hard as steel but only a fraction of the weight.
Variety of fermented food korean traditional kimchi cabbage and radish salad. white and red sauerkraut in ceramic plates over grey spotted background. Natasha Breen / REDA&CO / Universal Images Group / Getty Image
Even if you've never taken probiotics, you've probably heard of them.
These supplements provide numerous benefits because they contain live microorganisms, such as bacteria or yeast, which support the healthy bacteria in your gut (1, 2, 3, 4).
Pexels
Singapore will become the first country in the world to place a ban on advertisements for carbonated drinks and juices with high sugar contents, its health ministry announced last week. The law is intended to curb sugar consumption since the country has some of the world's highest diabetes rates per capita, as Reuters reported.
A typical adult takes around 20,000 breaths per day. If you live in a megacity like Beijing, with many of those lungfuls you're likely to inhale a noxious mixture of chemicals and pollutants.
Fred Stone holds his brown swiss cow Lida Rose at his Arundel dairy farm on March 18 after a press conference where he spoke about PFAS chemical contamination in his fields. Gregory Rec / Portland Portland Press Herald via Getty Images
By Susan Cosier
First there was Fred Stone, the third-generation dairy farmer in Maine who discovered that the milk from his cows contained harmful chemicals. Then came Art Schaap, a second-generation dairy farmer in New Mexico, who had to dump 15,000 gallons of contaminated milk a day.
Protesters attend the 32nd annual Fur-Free Friday demonstration on Nov. 23, 2018 in Beverly Hills, California. Ella DeGea / Getty Images
California Governor Gavin Newsom signed into law a bill that that bans the sale and manufacture of fur products in the state. The fur ban, which he signed into law on Saturday, prohibits Californians from selling or making clothing, shoes or handbags with fur starting in 2023, according to the AP.
By Simon Evans
During the three months of July, August and September, renewables generated an estimated total of 29.5 terawatt hours (TWh), compared with just 29.1TWh from fossil fuels, the analysis shows.
A demonstrator waves an Ecuadorian flag during protests against the end of subsidies to gasoline and diesel on Oct. 9 in Quito, Ecuador. Jorge Ivan Castaneira Jaramillo / Getty Images