This website uses cookies to ensure you get the best experience while browsing it. By clicking 'Got It' you're accepting these terms.
FACTORY FARMING SERIES PART IV: The Chesapeake's Manure Problem
Sep. 07, 2012 07:05AM EST
By Karen Steuer
The Chesapeake's Manure Problem is part of a four-part series. Click here to read Part I. Click here to read Part II. Click here to read Part III.
What do 2,700 plant species, 525 species of fin and shell-fish and more than 17 million people have in common? They are all residents of the Chesapeake Bay watershed. The bay provides economic benefits of more than $33 billion a year from recreational and commercial activities, including the harvest of the well-known blue crab. Its vast, 64,000-square-mile watershed stretches from upstate New York to southern Virginia and east to the Delmarva Peninsula.
Unfortunately, the waters of the world's third-largest estuary have become contaminated and as a result, harvests of striped bass, oysters and blue crabs have significantly declined and habitats important to these species have suffered. Among the pollution culprits are the nutrients nitrogen and phosphorus, which, in excess, can trigger massive algal blooms that lead to declines in the bay's life-giving dissolved oxygen.
The sources of those nutrient pollutants are various, but significant among them is animal agriculture, particularly from concentrated animal feeding operations (CAFOs).
About 42 percent of the Chesapeake region's 87,000 farms are primarily livestock operations, while 7 percent produce a mixture of crops and animals. Nutrient yields are particularly high from the southern Shenandoah Valley of Virginia, southeastern Pennsylvania and the lower Delmarva Peninsula, where animal agriculture is heavily concentrated. Generating 44 million tons of manure each year, the watershed's livestock contribute about half of the total nutrient load from all agricultural sources.
Most of the manure is used to fertilize cropland. Applied at the right time and rate, it can be highly beneficial for growing plants. But as land is developed into nonagricultural uses, less is available for efficient and responsible disposal. In fact, most of the waste generated in the bay region is used to fertilize crops on less than 10 percent of the watershed's agricultural lands. This increases the likelihood of over-application and thus the likelihood of environmental and human health threats.
Nutrients can easily be carried by rainwater or snowmelt runoff, entering local streams and waterways that ultimately empty into the Chesapeake Bay. The pollutants, particularly nitrogen compounds, are also conveyed to the bay via the groundwater that many of us use for drinking. In addition, ammonia gas from manure piles and fertilized fields rises into the air and eventually falls onto the surface of the bay's waters and tributaries.
These, however, aren't the only animal agriculture-generated pollutants that affect the bay. Manure from feeding operations often contains a foul mixture of pathogens, antibiotics, cleaning fluids, heavy metals and pesticides. These form an additional threat to human health and wildlife. 
There's no question that responsible manure management is critical to maintaining a healthy bay. Unfortunately, according to the U.S. Environmental Protection Agency (EPA), much of the manure remains unregulated. Some comes from farm operations that fall below U.S. EPA thresholds for what legally constitutes a CAFO, or escapes regulation when it leaves the CAFO to be used as fertilizer on crops.
As CAFO operations have become more industrialized, regulations have not kept pace.  You can help. The Chesapeake is not the only watershed affected by CAFO pollution—many states have CAFOs.
In my next blog entry, I'll discuss the impacts that CAFOs have had on communities in other parts of the U.S.
Below see the Pew Environment Group's infographic explaining the problems resulting from animal waste from CAFOs: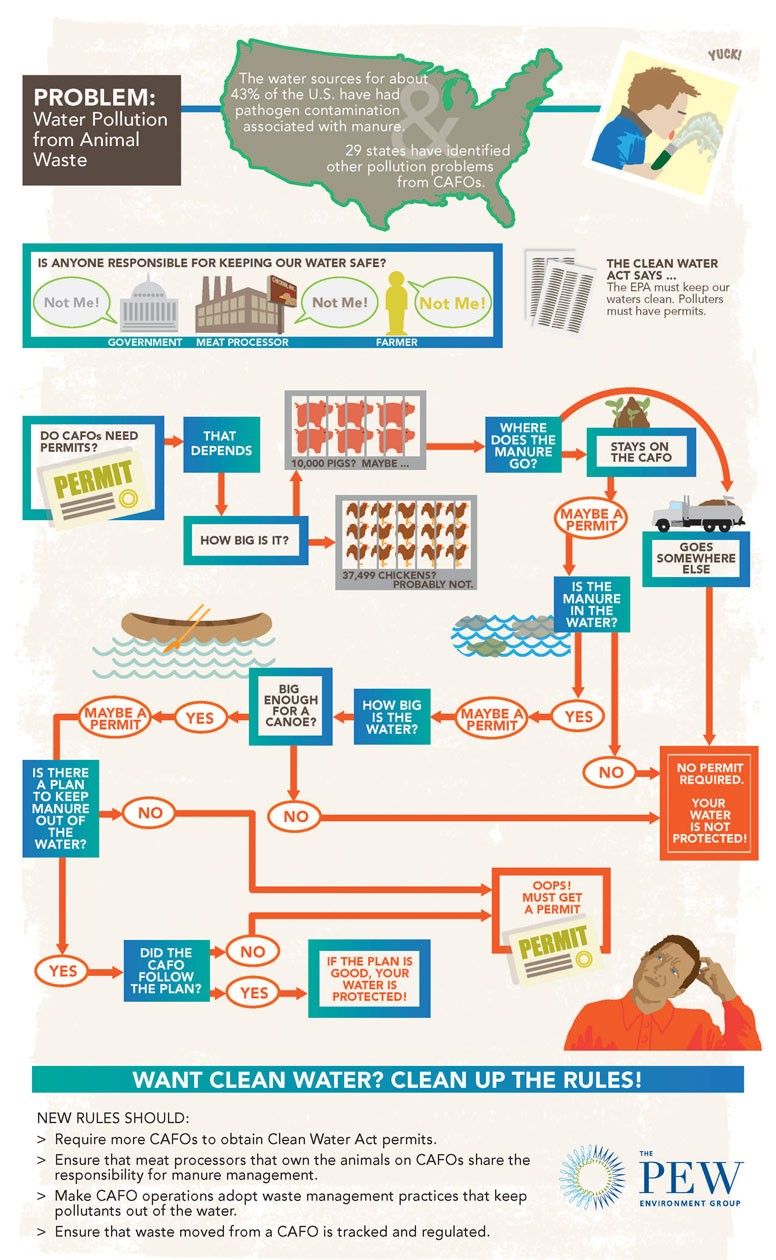 Visit EcoWatch's FACTORY FARMING page for more related news on this topic.
--------
Karen Steuer joined Pew in 2008 as director of government relations for the Pew Environment Group. Steuer has extensive experience in environmental work in Washington, D.C., dating to 1991, when she served as deputy staff director for the House Merchant Marine and Fisheries Subcommittee on Fisheries and Wildlife Conservation and the Environment. Since then, she has served as a special assistant to Rep. William Delahunt of Massachusetts; as director of the International Fund for Animal Welfare's Program on Commercial Exploitation and Trade in Wildlife; as an independent consultant on environmental and wildlife issues with Green Answers; and as vice president, government affairs, for the National Environmental Trust. Steuer holds a bachelor's degree in environmental science from Goddard College.
EcoWatch Daily Newsletter
Colombia rainforest. Marcel Oosterwijk / CC BY-SA 2.0
Many of us think of the Amazon as an untouched wilderness, but people have been thriving in these diverse environments for millennia. Due to this long history, the knowledge that Indigenous and forest communities pass between generations about plants, animals and forest ecology is incredibly rich and detailed and easily dwarfs that of any expert.
picture-alliance / Newscom / R. Ben Ari
By Wesley Rahn
Plastic byproducts were found in 97 percent of blood and urine samples from 2,500 children tested between 2014 and 2017, according to a study by the German Environment Ministry and the Robert Koch Institute.

Pexels
Medically reviewed by Daniel Bubnis, MS, NASM-CPT, NASE Level II-CSS
Hot yoga has become a popular exercise in recent years. It offers many of the same benefits as traditional yoga, such as stress reduction, improved strength, and flexibility.
Lara Hata / iStock / Getty Images
By SaVanna Shoemaker, MS, RDN, LD
Rice is a staple in many people's diets. It's filling, inexpensive, and a great mild-tasting addition to flavorful dishes.
An image of the trans-alaskan oil pipeline that carries oil from the northern part of Alaska all the way to valdez. This shot is right near the arctic national wildlife refuge. kyletperry / iStock / Getty Images Plus
The Trump administration has initialized the final steps to open up nearly 1.6 million acres of the protected Alaskan National Wildlife Refuge to allow oil and gas drilling.
Kaboompics / Pexels
Tensions between lawmakers and several large manufacturing companies came to a head on Capitol Hill this week during a hearing on toxic fluorochemicals in U.S. drinking water.