This website uses cookies to ensure you get the best experience while browsing it. By clicking 'Got It' you're accepting these terms.
Factory Farming—Not Just on Land Anymore
Nov. 02, 2011 05:29PM EST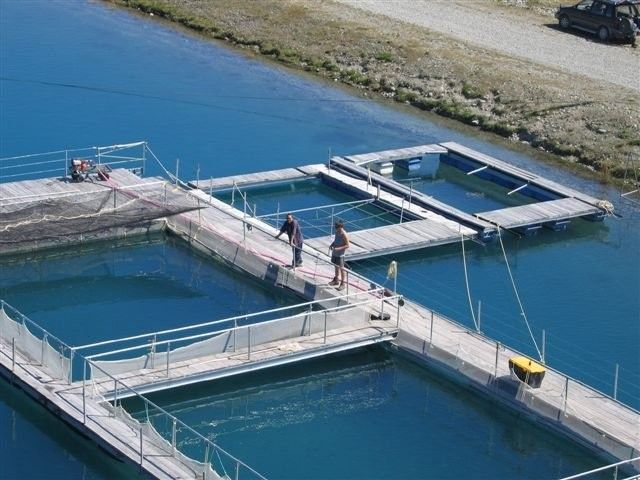 By Wenonah Hauter
When most people think of factory farming they typically think of feedlots, hog factories or chicken operations—not massive open net pens growing millions of fish in our oceans. However, factory fish farming will soon pose many of the same threats to the environment and to consumers as its land-based counterparts.
Growing fish in a crowded environment in open net pens or cages and giving them antibiotic-laced feed inevitably leads to pollution. The waste, which includes excess feed, antibiotics and the chemicals used to treat the cages, flows directly into the ocean and, ultimately, on to our plates.
Food & Water Watch's new report reveals that if the government used factory fish farming to reach its stated goal of offsetting the U.S. seafood trade deficit (that is, importing less seafood than it exports), 200 million of these fish would need to be produced in ocean cages off U.S. coasts each year. Calculations show that this could result in the discharge of as much nitrogenous waste as the untreated sewage from a city nearly nine times more populous than Los Angeles.
The environmental issues don't end there. Escapes from open ocean pens are common, and when farmed fish escape they can compete or interbreed with wild fish, altering natural behavior and weakening important genetic traits. They can also spread disease to wild fish. Washington State and California, for example, are now dealing with a highly contagious disease that is linked to factory fish farms and is threatening to wipe out their wild salmon populations.
Currently, there are only a handful of factory fish farms operating in U.S. federal waters, although there are many closer to the shore in state waters (like those off the coast of Washington State and California). However, just this year the federal government announced a new national aquaculture (fish farming) plan that promotes the increase of these unsustainable farms farther out in the ocean, in federal waters. What's worse, the government announced it will be bringing these fish farms to the already besieged Gulf of Mexico.
What happens when a hurricane hits the Gulf and tears through these massive fish farms, releasing millions of fish? The last thing we need is another big industry disaster in Gulf waters.
It's important that we let Congress know that we don't support factory farming—on land or in the ocean, and that we educate ourselves on other types of more sustainable fish farming, like recirculating, land-based fish farms. These closed-system farms often incorporate plants that purify the water. Fish escapes are impossible since the farms are on land, and consumers aren't threatened by the types of antibiotics, pesticides and other toxins necessitated by crowded, ocean farm conditions. For more information, check out our report, Fishy Farms: The Government's Push for Factory Farming in Our Oceans.
For more information, click here.
EcoWatch Daily Newsletter
Smog over Los Angeles. Westend61 / Getty Images
After four decades of improving air quality, the U.S. has started to take a step backwards, as the number of polluted days has ticked upwards over the last two years, the Associated Press reported.
Photobos / iStock / Getty Images
Governors in Vermont and Maine signed bills on Monday that will ban plastic bags in their states next year, The Hill reported.
The Maine ban will go into effect next Earth Day, April 22, 2020. The Vermont ban, which extends beyond plastic bags and is the most comprehensive plastics ban so far, will go into effect in July 2020. The wait time is designed to give businesses time to adjust to the ban.
picture-alliance / AP Images / D. Goldman
By Daniel Moattar
Eastern Kentucky's hills are interrupted by jarring flats of bare rock: the aftermath of mountaintop removal mining, which uses explosives to destroy and harvest coal-rich peaks.
By Molly Taft
Lisa Marshall isn't your typical activist. For one thing, she's not into crowds. "I don't really like rallies," Marshall, a mom of three from upstate New York, said. "They're a little stressful — not my favorite thing."

An oil drilling site in a residential area of Los Angeles, California on July 16, 2014.
Faces of Fracking / Flickr
By Jake Johnson
A comprehensive analysis of nearly 1,500 scientific studies, government reports, and media stories on the consequences of fracking released Wednesday found that the evidence overwhelmingly shows the drilling method poses a profound threat to public health and the climate.

sonsam / iStock / Getty Images
By Grace Francese
A new Environmental Working Group (EWG) study published in Environmental Research found that nitrate, one of the most common contaminants of drinking water, may cause up to 12,594 cases of cancer per year, but that's not its only danger: It can pose unique health risks to children.
Melt water from Everest's Khumbu glacier. Ed Giles / Getty Images
EPA Administrator Andrew Wheeler signs his replacement for the Clean Power Plan. Win McNamee / Getty Images