This website uses cookies to ensure you get the best experience while browsing it. By clicking 'Got It' you're accepting these terms.
Factory Farming—Not Just on Land Anymore
Nov. 02, 2011 05:29PM EST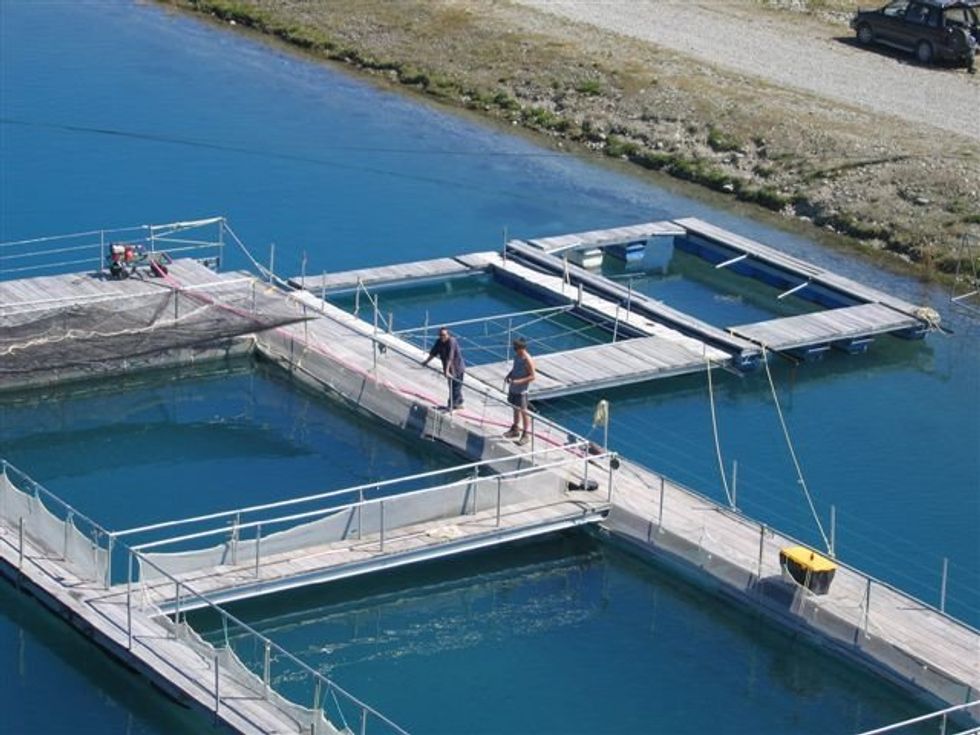 By Wenonah Hauter
When most people think of factory farming they typically think of feedlots, hog factories or chicken operations—not massive open net pens growing millions of fish in our oceans. However, factory fish farming will soon pose many of the same threats to the environment and to consumers as its land-based counterparts.
Growing fish in a crowded environment in open net pens or cages and giving them antibiotic-laced feed inevitably leads to pollution. The waste, which includes excess feed, antibiotics and the chemicals used to treat the cages, flows directly into the ocean and, ultimately, on to our plates.
Food & Water Watch's new report reveals that if the government used factory fish farming to reach its stated goal of offsetting the U.S. seafood trade deficit (that is, importing less seafood than it exports), 200 million of these fish would need to be produced in ocean cages off U.S. coasts each year. Calculations show that this could result in the discharge of as much nitrogenous waste as the untreated sewage from a city nearly nine times more populous than Los Angeles.
The environmental issues don't end there. Escapes from open ocean pens are common, and when farmed fish escape they can compete or interbreed with wild fish, altering natural behavior and weakening important genetic traits. They can also spread disease to wild fish. Washington State and California, for example, are now dealing with a highly contagious disease that is linked to factory fish farms and is threatening to wipe out their wild salmon populations.
Currently, there are only a handful of factory fish farms operating in U.S. federal waters, although there are many closer to the shore in state waters (like those off the coast of Washington State and California). However, just this year the federal government announced a new national aquaculture (fish farming) plan that promotes the increase of these unsustainable farms farther out in the ocean, in federal waters. What's worse, the government announced it will be bringing these fish farms to the already besieged Gulf of Mexico.
What happens when a hurricane hits the Gulf and tears through these massive fish farms, releasing millions of fish? The last thing we need is another big industry disaster in Gulf waters.
It's important that we let Congress know that we don't support factory farming—on land or in the ocean, and that we educate ourselves on other types of more sustainable fish farming, like recirculating, land-based fish farms. These closed-system farms often incorporate plants that purify the water. Fish escapes are impossible since the farms are on land, and consumers aren't threatened by the types of antibiotics, pesticides and other toxins necessitated by crowded, ocean farm conditions. For more information, check out our report, Fishy Farms: The Government's Push for Factory Farming in Our Oceans.
For more information, click here.
EcoWatch Daily Newsletter
European Commission President Ursula von der Leyen delivers a press statement on the European Green Deal at the EU headquarters in Brussels, Belgium on Dec. 11, 2019. Xinhua / Zheng Huansong via Getty Images
The European Commission introduced a plan to overhaul the bloc's economy to more sustainable, climate-conscious policies and infrastructure, with the goal of being carbon-neutral by 2050, according to CNBC.
Young activists shout slogans on stage after Greta Thunberg (not in the picture) took part in the plenary session during the COP25 Climate Conference on Dec. 11 in Madrid, Spain. Pablo Blazquez Dominguez / Getty Images
By Andrea Germanos
Young activists took over and occupied the main stage at the COP25 climate conference in Madrid, Spain Wednesday and demanded world leaders commit to far more ambitious action to address the ecological emergency.
A NASA image showing the ozone hole at its maximum extent for 2015. NASA Goddard Space Flight Center
The Montreal Protocol, a 1987 international treaty prohibiting the production of chlorofluorocarbons (CFCs) to save the ozone layer, was the first successful multilateral agreement to successfully slow the rate of global warming, according to new research. Now, experts argue that similar measures may lend hope to the climate crisis.
Police in Wales are in the midst of an unusual investigation: the sudden death of more than 200 starlings.
Donald Trump Jr. killed an argali sheep like this one on a hunting trip in Mongolia. powerofforever/ iStock / Getty Images Plus
During a hunting trip in Mongolia this August, Donald Trump Jr. shot and killed an endangered argali sheep, and received a permit only after the fact.