This website uses cookies to ensure you get the best experience while browsing it. By clicking 'Got It' you're accepting these terms.
Factory Farming—Not Just on Land Anymore
Nov. 02, 2011 06:29PM EST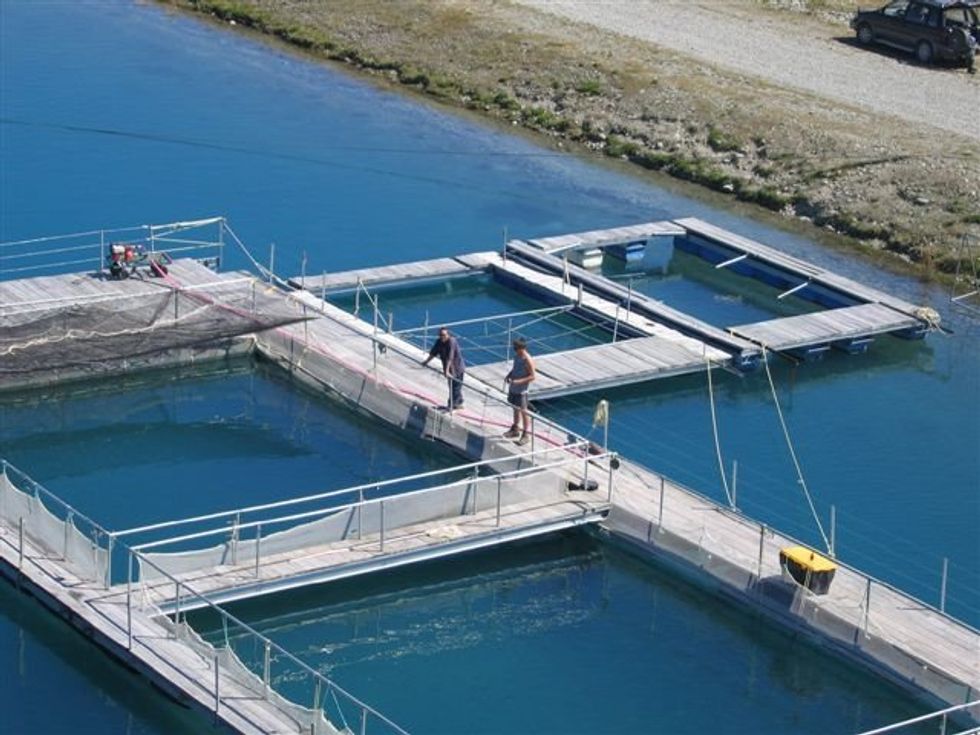 By Wenonah Hauter
When most people think of factory farming they typically think of feedlots, hog factories or chicken operations—not massive open net pens growing millions of fish in our oceans. However, factory fish farming will soon pose many of the same threats to the environment and to consumers as its land-based counterparts.
Growing fish in a crowded environment in open net pens or cages and giving them antibiotic-laced feed inevitably leads to pollution. The waste, which includes excess feed, antibiotics and the chemicals used to treat the cages, flows directly into the ocean and, ultimately, on to our plates.
Food & Water Watch's new report reveals that if the government used factory fish farming to reach its stated goal of offsetting the U.S. seafood trade deficit (that is, importing less seafood than it exports), 200 million of these fish would need to be produced in ocean cages off U.S. coasts each year. Calculations show that this could result in the discharge of as much nitrogenous waste as the untreated sewage from a city nearly nine times more populous than Los Angeles.
The environmental issues don't end there. Escapes from open ocean pens are common, and when farmed fish escape they can compete or interbreed with wild fish, altering natural behavior and weakening important genetic traits. They can also spread disease to wild fish. Washington State and California, for example, are now dealing with a highly contagious disease that is linked to factory fish farms and is threatening to wipe out their wild salmon populations.
Currently, there are only a handful of factory fish farms operating in U.S. federal waters, although there are many closer to the shore in state waters (like those off the coast of Washington State and California). However, just this year the federal government announced a new national aquaculture (fish farming) plan that promotes the increase of these unsustainable farms farther out in the ocean, in federal waters. What's worse, the government announced it will be bringing these fish farms to the already besieged Gulf of Mexico.
What happens when a hurricane hits the Gulf and tears through these massive fish farms, releasing millions of fish? The last thing we need is another big industry disaster in Gulf waters.
It's important that we let Congress know that we don't support factory farming—on land or in the ocean, and that we educate ourselves on other types of more sustainable fish farming, like recirculating, land-based fish farms. These closed-system farms often incorporate plants that purify the water. Fish escapes are impossible since the farms are on land, and consumers aren't threatened by the types of antibiotics, pesticides and other toxins necessitated by crowded, ocean farm conditions. For more information, check out our report, Fishy Farms: The Government's Push for Factory Farming in Our Oceans.
For more information, click here.
EcoWatch Daily Newsletter
U.S. President Donald Trump listens as Anthony Fauci, Director of the National Institute of Allergy and Infectious Diseases speaks in the Rose Garden for the daily coronavirus briefing at the White House on March 29 in Washington, DC. Tasos Katopodis / Getty Images
By Jake Johnson
Just over a month after proclaiming that the number of coronavirus cases in the U.S. would soon "be down to close to zero," President Donald Trump said during a press briefing on the White House lawn Sunday that limiting U.S. deaths from the pandemic to between 100,000 and 200,000 people would mean his administration and the country as a whole did "a very good job."
Dicamba is having a devastating impact in Arkansas and neighboring states. A farmer in Mississippi County, Arkansas looks at rows of soybean plants affected by dicamba. The Washington Post / Getty Images
Documents unearthed in a lawsuit brought by a Missouri farmer who claimed that Monsanto and German chemical maker BASF's dicamba herbicide ruined his peach orchard revealed that the two companies knew their new agricultural seed and chemical system would likely damage many U.S. farms, according to documents seen by The Guardian.
Washington State Governor Jay Inslee and other leaders speak to the press on March 28, 2020 in Seattle. Karen Ducey / Getty Images
A bushfire burns outside the Perth Cricket Stadium in Perth, Australia on Dec. 13, 2019. PETER PARKS / AFP via Getty Images

By Albert Van Dijk, Luigi Renzullo, Marta Yebra and Shoshana Rapley
2019 was the year Australians confronted the fact that a healthy environment is more than just a pretty waterfall in a national park; a nice extra we can do without. We do not survive without air to breathe, water to drink, soil to grow food and weather we can cope with.
By Fino Menezes
Everyone adores dolphins. Intelligent, inquisitive and playful, these special creatures have captivated humans since the dawn of time. But dolphins didn't get to where they are by accident — they needed to develop some pretty amazing superpowers to cope with their environment.