This website uses cookies to ensure you get the best experience while browsing it. By clicking 'Got It' you're accepting these terms.
Factory Farming—Not Just on Land Anymore
Nov. 02, 2011 05:29PM EST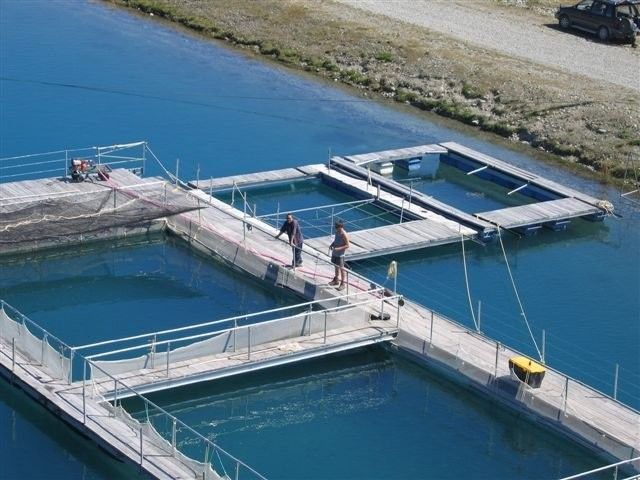 By Wenonah Hauter
When most people think of factory farming they typically think of feedlots, hog factories or chicken operations—not massive open net pens growing millions of fish in our oceans. However, factory fish farming will soon pose many of the same threats to the environment and to consumers as its land-based counterparts.
Growing fish in a crowded environment in open net pens or cages and giving them antibiotic-laced feed inevitably leads to pollution. The waste, which includes excess feed, antibiotics and the chemicals used to treat the cages, flows directly into the ocean and, ultimately, on to our plates.
Food & Water Watch's new report reveals that if the government used factory fish farming to reach its stated goal of offsetting the U.S. seafood trade deficit (that is, importing less seafood than it exports), 200 million of these fish would need to be produced in ocean cages off U.S. coasts each year. Calculations show that this could result in the discharge of as much nitrogenous waste as the untreated sewage from a city nearly nine times more populous than Los Angeles.
The environmental issues don't end there. Escapes from open ocean pens are common, and when farmed fish escape they can compete or interbreed with wild fish, altering natural behavior and weakening important genetic traits. They can also spread disease to wild fish. Washington State and California, for example, are now dealing with a highly contagious disease that is linked to factory fish farms and is threatening to wipe out their wild salmon populations.
Currently, there are only a handful of factory fish farms operating in U.S. federal waters, although there are many closer to the shore in state waters (like those off the coast of Washington State and California). However, just this year the federal government announced a new national aquaculture (fish farming) plan that promotes the increase of these unsustainable farms farther out in the ocean, in federal waters. What's worse, the government announced it will be bringing these fish farms to the already besieged Gulf of Mexico.
What happens when a hurricane hits the Gulf and tears through these massive fish farms, releasing millions of fish? The last thing we need is another big industry disaster in Gulf waters.
It's important that we let Congress know that we don't support factory farming—on land or in the ocean, and that we educate ourselves on other types of more sustainable fish farming, like recirculating, land-based fish farms. These closed-system farms often incorporate plants that purify the water. Fish escapes are impossible since the farms are on land, and consumers aren't threatened by the types of antibiotics, pesticides and other toxins necessitated by crowded, ocean farm conditions. For more information, check out our report, Fishy Farms: The Government's Push for Factory Farming in Our Oceans.
For more information, click here.
EcoWatch Daily Newsletter
A. Battenburg / Technical University of Munich
By Sarah Kennedy
Algae in a pond may look flimsy. But scientists are using algae to develop industrial-strength material that's as hard as steel but only a fraction of the weight.
Variety of fermented food korean traditional kimchi cabbage and radish salad. white and red sauerkraut in ceramic plates over grey spotted background. Natasha Breen / REDA&CO / Universal Images Group / Getty Image
Even if you've never taken probiotics, you've probably heard of them.
These supplements provide numerous benefits because they contain live microorganisms, such as bacteria or yeast, which support the healthy bacteria in your gut (1, 2, 3, 4).
Pexels
Singapore will become the first country in the world to place a ban on advertisements for carbonated drinks and juices with high sugar contents, its health ministry announced last week. The law is intended to curb sugar consumption since the country has some of the world's highest diabetes rates per capita, as Reuters reported.
A typical adult takes around 20,000 breaths per day. If you live in a megacity like Beijing, with many of those lungfuls you're likely to inhale a noxious mixture of chemicals and pollutants.
Fred Stone holds his brown swiss cow Lida Rose at his Arundel dairy farm on March 18 after a press conference where he spoke about PFAS chemical contamination in his fields. Gregory Rec / Portland Portland Press Herald via Getty Images
By Susan Cosier
First there was Fred Stone, the third-generation dairy farmer in Maine who discovered that the milk from his cows contained harmful chemicals. Then came Art Schaap, a second-generation dairy farmer in New Mexico, who had to dump 15,000 gallons of contaminated milk a day.
Protesters attend the 32nd annual Fur-Free Friday demonstration on Nov. 23, 2018 in Beverly Hills, California. Ella DeGea / Getty Images
California Governor Gavin Newsom signed into law a bill that that bans the sale and manufacture of fur products in the state. The fur ban, which he signed into law on Saturday, prohibits Californians from selling or making clothing, shoes or handbags with fur starting in 2023, according to the AP.
By Simon Evans
During the three months of July, August and September, renewables generated an estimated total of 29.5 terawatt hours (TWh), compared with just 29.1TWh from fossil fuels, the analysis shows.
A demonstrator waves an Ecuadorian flag during protests against the end of subsidies to gasoline and diesel on Oct. 9 in Quito, Ecuador. Jorge Ivan Castaneira Jaramillo / Getty Images