This website uses cookies to ensure you get the best experience while browsing it. By clicking 'Got It' you're accepting these terms.
Factory Farming: Bad for People, Planet and Economy
Nov. 19, 2013 05:29PM EST
Food
Factory farms, where large numbers of livestock are raised indoors in conditions intended to maximize production at minimal cost, affect all of us.
Huge meat companies have steadily driven down the prices farmers receive for the livestock they raise, forcing farmers to get big or get out. Small farms have been replaced by factory farms that pollute nearby air and water, undermine rural economies and reduce the quality of life for neighbors.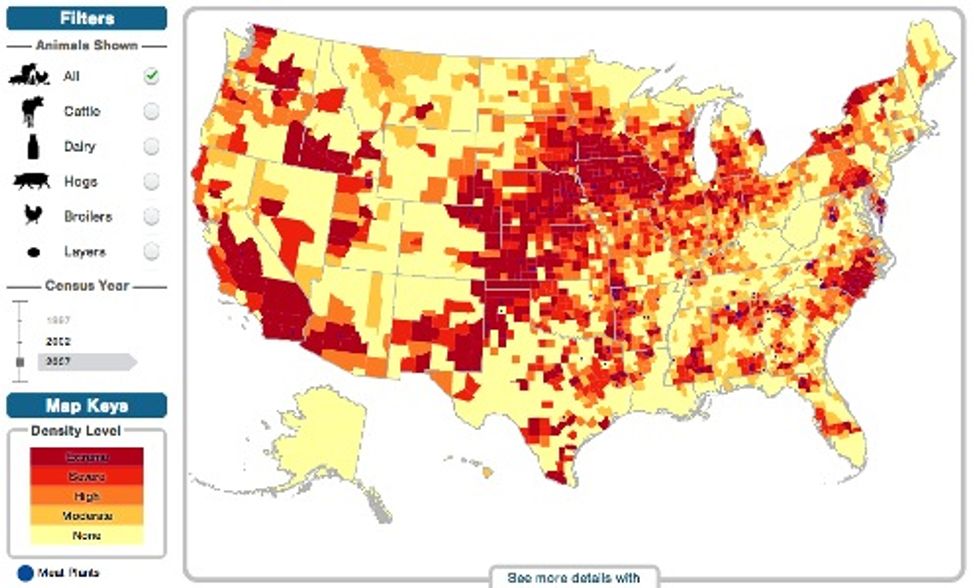 The meat industry tells consumers that factory farms are modern, efficient and produce cheap food. But factory farms leave consumers with fewer choices and make them pay more for meat, poultry and dairy products, while farmers get paid less.
Factory farms increase the risk of pathogens like E. coli and salmonella that cause food-borne illness in people. And bad practices on even a few factory farms can end up on everyone's plate.
Food-borne illness isn't the only health threat from factory farms. Overuse of antibiotics can fuel the growth of antibiotic-resistant bacteria, the use of arsenic and growth hormones can increase the risk of cancer in people and crowded conditions can be a breeding ground for disease.
Chickens and hogs on factory farms have no access to the outdoors, fresh air or natural light. Cattle on factory farms do not graze on pasture. And the pressure put on animals to grow quicker and produce more meat or milk results in frequent health problems.
An interactive Factory Farm Map, a project of Food & Water Watch, gives the details on livestock operations down to the county level. Click on a state in the map and choose a county to learn the number of animals—whether cattle, dairy, hogs, broilers or layers—and the average per site over several years. The map has a key to show where the animal density levels are highest and you can filter the information for types of livestock. Below the map, you can choose a state for charts, rankings and facts specific to that area.
EcoWatch Daily Newsletter
A new study shows that half of all Arctic warming and corresponding sea-loss during the late 20th century was caused by ozone-depleting substances. Here, icebergs discharged from Greenland's Jakobshavn Glacier. Kevin Krajick / Earth Institute /
EurekAlert!
The world awakened to the hole in the ozone layer in 1985, which scientists attributed it to ozone-depleting substances. Two years later, in Montreal, the world agreed to ban the halogen compounds causing the massive hole over Antarctica. Research now shows that those chemicals didn't just cut a hole in the ozone layer, they also warmed up the Arctic.
Diane Wilson holds up a bag full of nurdles she collected from one of Formosa's outfall areas on Jan. 15. Julie Dermansky / DeSmogBlog
On the afternoon of Jan. 15, activist Diane Wilson kicked off a San Antonio Estuary Waterkeeper meeting on the side of the road across from a Formosa plastics manufacturing plant in Point Comfort, Texas.
After Wilson and the waterkeeper successfully sued Formosa in 2017, the company agreed to no longer release even one of the tiny plastic pellets known as nurdles into the region's waterways. The group of volunteers had assembled that day to check whether the plant was still discharging these raw materials of plastics manufacturing.
Malaysian Environment Minister Yeo Bee Yin (front 2nd L) and officials inspect a container containing plastic waste shipment on Jan. 20, 2020 before sending back to the countries of origin. AFP via Getty Images
The Southeast Asian country Malaysia has sent 150 shipping containers packed with plastic waste back to 13 wealthy countries, putting the world on notice that it will not be the world's garbage dump, as CNN reported. The countries receiving their trash back include the United States, the United Kingdom, France and Canada.
Trump leaves after delivering a speech at the Congress Centre during the World Economic Forum annual meeting in Davos on Jan. 21, 2020. JIM WATSON / AFP via Getty Images