This website uses cookies to ensure you get the best experience while browsing it. By clicking 'Got It' you're accepting these terms.
Factory Farming: Bad for People, Planet and Economy
Nov. 19, 2013 05:29PM EST
Factory farms, where large numbers of livestock are raised indoors in conditions intended to maximize production at minimal cost, affect all of us.
Huge meat companies have steadily driven down the prices farmers receive for the livestock they raise, forcing farmers to get big or get out. Small farms have been replaced by factory farms that pollute nearby air and water, undermine rural economies and reduce the quality of life for neighbors.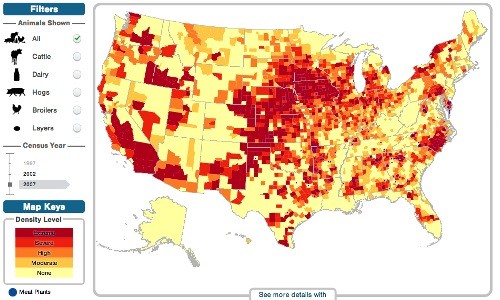 The meat industry tells consumers that factory farms are modern, efficient and produce cheap food. But factory farms leave consumers with fewer choices and make them pay more for meat, poultry and dairy products, while farmers get paid less.
Factory farms increase the risk of pathogens like E. coli and salmonella that cause food-borne illness in people. And bad practices on even a few factory farms can end up on everyone's plate.
Food-borne illness isn't the only health threat from factory farms. Overuse of antibiotics can fuel the growth of antibiotic-resistant bacteria, the use of arsenic and growth hormones can increase the risk of cancer in people and crowded conditions can be a breeding ground for disease.
Chickens and hogs on factory farms have no access to the outdoors, fresh air or natural light. Cattle on factory farms do not graze on pasture. And the pressure put on animals to grow quicker and produce more meat or milk results in frequent health problems.
An interactive Factory Farm Map, a project of Food & Water Watch, gives the details on livestock operations down to the county level. Click on a state in the map and choose a county to learn the number of animals—whether cattle, dairy, hogs, broilers or layers—and the average per site over several years. The map has a key to show where the animal density levels are highest and you can filter the information for types of livestock. Below the map, you can choose a state for charts, rankings and facts specific to that area.
Pixabay
By John R. Platt
The world needs to change the way it eats, not just as individuals but as a society.
The Russian military is taking measures to protect the residents of a remote Arctic settlement from a mass of polar bears, German press agency DPA reported.
The move comes after regional authorities declared a state of emergency over the weekend after sightings of more than 50 bears in the town of Belushya Guba since December.
This year's letter from Bill and Melinda Gates focused on nine things that surprised them. For the Microsoft-cofounder, one thing he was surprised to learn was the massive amount of new buildings the planet should expect in the coming decades due to urban population growth.
"The number of buildings in the world is going to double by 2060. It's like we're going to build a new New York City every month for the next 40 years," he said.
Over the past few years, it seems vegan cooking has gone from 'brown rice and tofu' to a true art form. These amazing cooks show off the creations on Instagram—and we can't get enough.