This website uses cookies to ensure you get the best experience while browsing it. By clicking 'Got It' you're accepting these terms.


The best of EcoWatch, right in your inbox. Sign up for our email newsletter!
Fact Checking Fossil Fuel Industry's Attacks on Wind Energy
Dec. 04, 2013 09:14AM EST
Business
It was only a matter of time before wind energy supporters fired back at the fossil fuel-funded Institute for Energy Research (IER) for releasing a report this week that was peppered with falsehoods.
It didn't help that its sister organization, the American Energy Alliance, equated the federal wind production tax credit (PTC) as "welfare" in its promotion of the IER study.
The American Wind Energy Association (AWEA)'s Elizabeth Salerno took a look at the study and found a few inaccuracies with IER's claims. Comparing IER's addiction to "spreading misinformation" to a chain smoker,  here are four points about wind energy Salerno believes were left out of the "Estimating the State-Level Impact of Federal Wind Energy Subsidies" report:
Using tax policy to spur growth in energy sectors is nothing new
It's important to understand that there is no comprehensive energy policy in the U.S. The reality is that much of what the U.S. has relied on to spur domestic energy growth is a collection federal, state, and local public policy techniques, including the tax code.
A new report out earlier this year, "Energy tax policy: Issues in the 113th congress" by the Congressional Research Service (CRS) makes this point clear.
"Energy tax policy involves the use of one of the government's main fiscal instruments, taxes (both as an incentive and as a disincentive) to alter the allocation or configuration of energy resources and their use," the report reads. "In theory, energy taxes and subsidies, like tax policy instruments in general, are intended either to correct a problem or distortion in the energy markets or to achieve some economic (efficiency, equity, or macroeconomic) objective."
The truth is, tax incentives for the energy sector began in 1913, when intangible drilling costs were given to the oil industry and dozens have been added since then, most of which support fossil fuels.  In fact, the Nuclear Energy Institute's own tally concludes that federal subsidies to fossil and nuclear energy sources totaled more than $650 billion from 1950 to 2010. Despite their remarkably long life spans, such incentives are mostly ignored in the current energy debate.
And while other industries continue to receive tax incentives carrying an expensive price tag, the PTC more than pays for itself in local, state, and federal taxes over the life of wind power projects, according to a NextEra Energy analysis.
All 50 states benefit from wind power equipped with the PTC
IER's report strategically ignores the NextEra analysis demonstrating that the PTC more than pays for itself, in addition to the sizable economic benefits wind power has produced in all 50 states.
Wind power generated $25 billion in private investment, paying millions to landowners and local communities. Every state in the union, including 70 percent of all U.S. congressional districts, has an operating wind project, manufacturing plant or wind-related jobs.
All Online Wind Energy-Related Manufacturing Facilities & Wind Energy Projects by Congressional District, 2012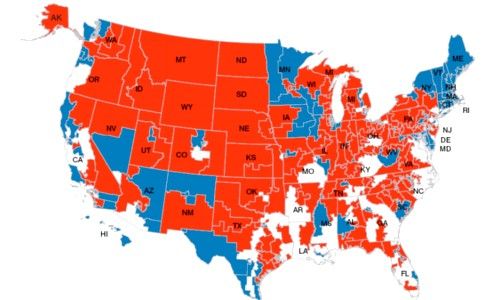 Wind energy is one of the most broadly dispersed energy industries, with manufacturing currently in 44 states and turbines installed in 39 states plus Puerto Rico.
U.S. Wind Energy Capacity Installed, as of Q3, 2013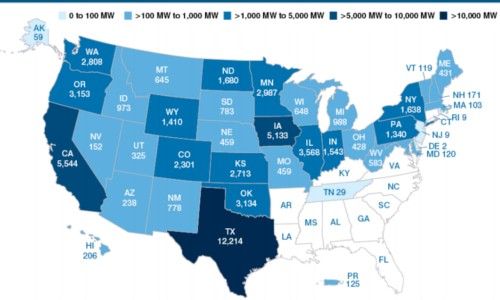 In fact, "Made in the USA" is now a label American wind power can proudly display on a majority (over 70 percent) of its parts and supplies.
U.S. Wind Energy-related Manufacturing Facilities, 2012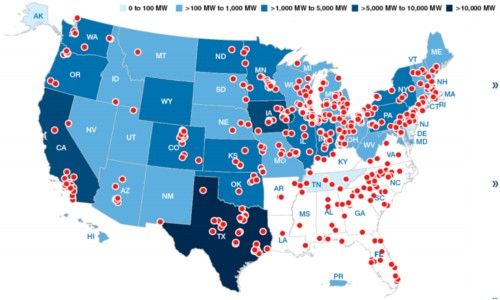 American wind power supports 80,000 full-time jobs and according to a Department of Energy analysis, with the right policies in place, wind power could support 500,000 full-time domestic jobs by 2030.
Wind energy brings taxes and other revenues to rural communities, benefiting county and local services, schools, and health care and public safety facilities. Plus, land lease payments to rural landowners, farmers, and ranchers hosting America's new drought-resistant cash crop often total millions of dollars in states across the country.
Wind energy is reducing electricity prices across the country
More than a dozen studies by grid operators and state governments have confirmed that wind energy reduces electricity prices by displacing more expensive sources of energy. That includes a recent report by Synapse Energy Economics that found that doubling the use of wind energy in the Mid-Atlantic and Great Lake states would save consumers $6.9 billion per year on net, after accounting for both wind and transmission costs.
Because the electric power system is a highly integrated network, many of these electricity price reduction benefits accrue to states that have little to no wind energy. For example, the Synapse study found that the $6.9 billion in benefits of wind energy would be broadly spread across the 13 Mid-Atlantic and Great Lakes states, even to states without wind energy, as wind plants allow fossil-fired power plants in other states to reduce their output and fuel use.
These interstate consumer benefits of wind energy are even more clear when utilities buy wind energy from other states. For example, Southern Company's Georgia and Alabama utilities have made three large purchases of wind energy from Oklahoma and Kansas, explaining that those purchases reduce its customers' electric bills.
Environmental benefits from wind power are also spread across all 50 states
Another goal of the PTC was to establish better U.S. energy security and address concerns about the environment. As the 2013 CRS report notes:
"The U.S energy tax policy as it presently stands aims to address concerns regarding the environment as well as those surrounding national security. Incentives promoting renewable energy production, energy efficiency and conservation, and alternative technology vehicles address both environmental and national security concerns. Tax incentives for the domestic production of fossil fuels also promote energy security by attempting to reduce the nation's reliance on imported energy sources."
Adding wind power displaces the most expensive, least efficient power source on the utility system—usually an older fossil fuel plant. The total wind power installed today now allows us to avoid the equivalent of 100 million metric tons of CO2 annually—the equivalent of taking over 17 million cars off the road.
Wind power uses no water to generate electricity, while most other types of power plants use substantial quantities. Installing over 60 gigawatts of wind power has resulted in saving the equivalent of 37 billion gallons of water annually. That's 130 gallons of water per person.
Wind energy does not emit particulate matter, which is associated with heart and lung disease, and it also does not emit mercury or other heavy metals, which collect in the food chain and are harmful to human and animal health.
In fact, according to a report completed for the New York State Energy Research and Development Authority (NYSERDA), wind power has the lowest impact on wildlife and the environment of any of several technologies studied – including coal, oil, natural gas, nuclear, and hydropower.
The bipartisan support that the PTC has historically received has been a reflection of Congress understanding that the majority of American people want more wind energy. With all these economic and environmental benefits, it's easy to understand why that overwhelming support exists.
IER's best (worst) efforts will not change these facts.
Visit EcoWatch's RENEWABLES page for more related news on this topic.

EcoWatch Daily Newsletter
A tropical storm above Bangkok on Aug. 04, 2016. Hristo Rusev/ NurPhoto / Getty Images
By Jeff Turrentine
First off: Bangkok Wakes to Rain, the intricately wrought, elegantly crafted debut novel by the Thai-American author Pitchaya Sudbanthad, isn't really about climate change. This tale set in the sprawling subtropical Thai capital is ultimately a kind of family saga — although its interconnected characters aren't necessarily linked by a bloodline. What binds them is their relationship to a small parcel of urban land on which has variously stood a Christian mission, an upper-class family house, and a towering condominium. All of the characters have either called this place home or had some other significant connection to it.
orn_france / iStock / Getty Images
Dioscorea alata is a species of yam commonly referred to as purple yam, ube, violet yam, or water yam.
Left: MirageC / Moment / Getty Images Right: Pongsak Tawansaeng / EyeEm / Getty Images
People march to TCF Bank Stadium to protest against the mascot for the Washington Redskins before the game against the Minnesota Vikings on Nov. 2, 2014 at TCF Bank Stadium in Minneapolis, Minnesota. Hannah Foslien / Getty Images
Maine Gov. Janet Mills signed a bill into law Thursday banning public schools or universities in the state from using Native American mascots, names or imagery. Mills' action will make Maine the first state in the nation with such a ban once it goes into effect later this year, The Bangor Daily News reported.
A man protests against the use of disposable plastics outside the Houses of Parliament on March 28 in London. John Keeble / Getty Images
Gov. Jay Inslee (D-WA) testifies during a House Energy and Commerce Environment and Climate Change Subcommittee hearing on Capitol Hill on April 2 in Washington, DC. Zach Gibson / Getty Images
By Julia Conley
A new climate action plan put forth by Democratic presidential candidate Gov. Jay Inslee on Thursday is being praised for highlighting the enormous benefits that would result from a rapid shift in the U.S. to a renewable energy economy that centers on the needs of workers and vulnerable communities.

6okean / iStock / Getty Images Plus
A federal judge ruled this week that the Food and Drug Administration must begin implementing regulations for the many types of e-cigarettes now on the market in the U.S.