This website uses cookies to ensure you get the best experience while browsing it. By clicking 'Got It' you're accepting these terms.
F&M College's Composting Adds to Campus Sustainability
Apr. 30, 2014 11:40AM EST
Five miles from Franklin & Marshall's campus, down a dirt road marked by a dairy sign, lies the Terra-Gro composting facility. In partnership with Oregon Dairy, the facility has been in operation for about a decade and has a second location in Peach Bottom, PA, near the Conowingo Reservoir.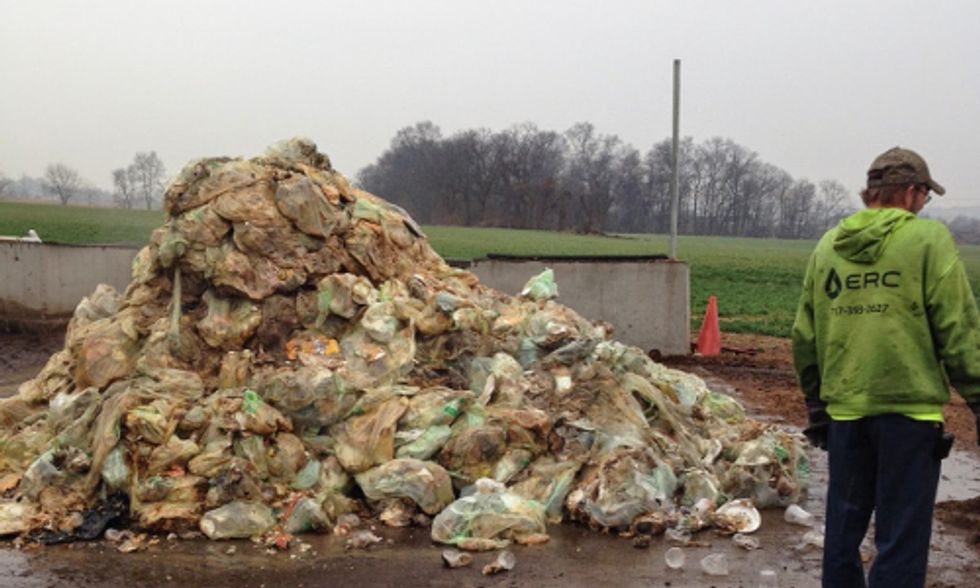 Five miles from Franklin & Marshall's campus lies the Terra-Gro composting facility. Photo credit: Spencer Johnson
F&M's food waste and compostable dinnerware is combined with the food waste of other companies and businesses in Lancaster County to create the compost Terra-Gro churns on a daily basis. Food waste is critical in rounding out the compost and providing nitrogen to balance the carbon found in cow or horse manure and sawdust. Too much manure draws the nitrogen out with excess carbon and leads to bad compost.
Before selling compost, Terra-Gro provided animal bedding for farms because selling compost alone isn't too profitable. Fortunately, Terra-Gro's connection to trucking and the Oregon Dairy farm makes the venture worth investing in. Many turf companies buy compost at a wholesale price to use over their turf due to its ability to retain water. Many don't know this, myself included until recently, but compost is efficient at reducing stormwater runoff, the leading cause of nitrogen pollution in U.S. waterways. This is a particularly important problem in Lancaster County due to large-scale industrial agriculture.
Compost is largely unresearched, which means many farmers are hesitant to implement composting into their business practices, said Terra-Gro guide Loren Martin.
"It's hard to calculate the cost/benefit analysis of selling the compost and buying it back," Martin said. "Since consultants such as Team Ag and Red Barn Association, with no science background, are likely making these decisions for the farmers, they usually advise against it."
If more farmers composted and used that compost to refertilize their farms, the problem of stormwater runoff that drains to the Chesapeake Bay would be greatly reduced. In order to see these changes, we need to bring scientists and consultants together and make sure they realize the environmental and economic importance of composting.
It takes approximately three months for a composting operation to be complete. Terra-Gro's process involves three roofed facilities (to prevent leachates and runoff) and a staggered process strategy. The food waste is immediately mixed with sawdust and manure upon arrival to avoid excess liquid, which is collected by a sloped concrete drain and pumped back into the pile.
Conversely, if the compost becomes too dry, liquid manure from the dairy farm is pumped into the mixture to moisten it. In order to remove bad pathogens like salmonella and E. coli, in addition to increasing decomposition speed, the pile needs to stay between 130°F and 150ºF. Before the compost is complete it is screened by a giant machine with little porcupine-like sifters in order to get undesirable materials, such as glass and plastic, out of the mixture. The removal of individual condiment packets has been instrumental in reducing sources of contamination from F&M's food waste.
Most interesting on my tour of Terra-Gro wasn't the compost or the anaerobic digestor that powers the whole dairy farm and heats Terra-Gro's office—it was the windrow machine, the machine responsible for churning the compost. It was designed by a Terra-Gro employee, Merle Ranck, a man with no professional engineering background, and it has twice the fuel efficiency of their old windrow machine. The patent is currently pending.
F&M's implementation of composting is one of many things that the school hopes to accomplish with its Sustainability Master Plan.
Other environmental initiatives, such as 350.org's national Fossil Free divestment campaign to remove the institution's endowment from fossil fuels, are also occurring on campus. F&M's environmental stewardship should serve as a lesson for the community to support similar environmentally-friendly initiatives.
——–
YOU MIGHT ALSO LIKE
130+ Universities Join Movement to Measure Sustainable Dining on Campus
How to Compost in Your Apartment
9 Ways to Cook for One With Zero Waste
——–
EcoWatch Daily Newsletter
California Gov. Gavin Newsom speaking with attendees at the 2019 California Democratic Party State Convention at the George R. Moscone Convention Center in San Francisco.
Gage Skidmore
/ Flickr /
CC BY-SA 2.0
California Gov. Gavin Newsom imposed new restrictions on oil exploration in his state yesterday by putting a moratorium on hundreds hydraulic fracturing permits until the projects are reviewed by independent scientists, as the AP reported.
The endangered Houston toad. Courtesy of U.S. Fish and Wildlife Service
While the planet continues to heat up, almost every single one of the 459 species listed as endangered in the U.S. will struggle as the climate crisis intensifies, according to new research published in the journal Nature Climate Change.
"This singular scientific achievement was accomplished at Heliogen's commercial facility in Lancaster, California."
Heliogen
A startup backed by Bill Gates unveiled a breakthrough solar technology Tuesday that could free heavy industry from fossil fuels.
Rhodiola rosea is an adaptogenic herb that can help with chronic fatigue and stress-related burnout. Tero Laakso / Flickr
By Gavin Van De Walle, MS, RD
While everyone has specific life stressors, factors related to job pressure, money, health, and relationships tend to be the most common.
Stress can be acute or chronic and lead to fatigue, headaches, upset stomach, nervousness, and irritability or anger.
A video shows a woman rescuing a koala from Australia's wildfires.
VOA News / YouTube screenshot
More than 350 koalas may have died in the wildfires raging near the Australian town of Port Macquarie in New South Wales, but one got a chance at survival after a woman risked her life to carry him to safety.