This website uses cookies to ensure you get the best experience while browsing it. By clicking 'Got It' you're accepting these terms.
F&M College's Composting Adds to Campus Sustainability
Apr. 30, 2014 12:40PM EST
Five miles from Franklin & Marshall's campus, down a dirt road marked by a dairy sign, lies the Terra-Gro composting facility. In partnership with Oregon Dairy, the facility has been in operation for about a decade and has a second location in Peach Bottom, PA, near the Conowingo Reservoir.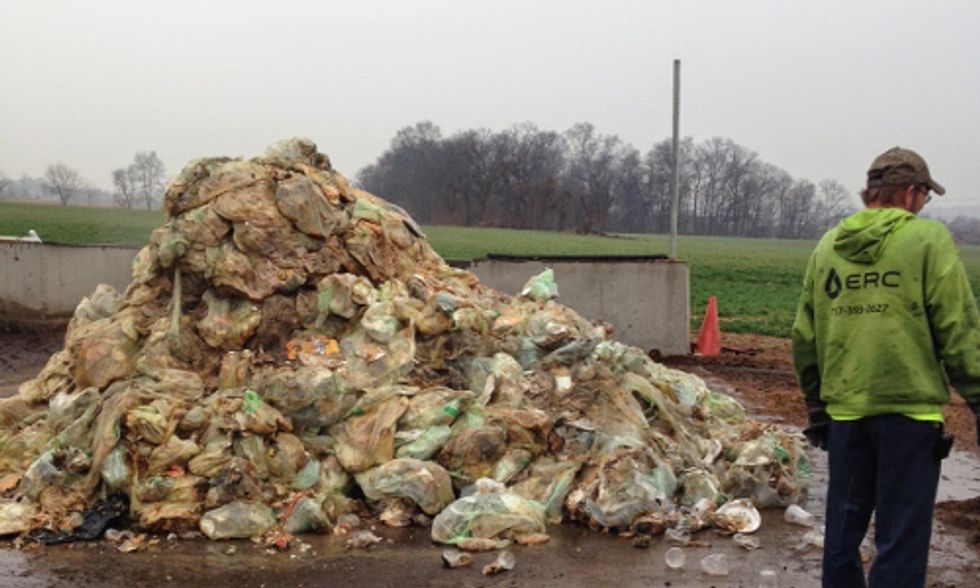 Five miles from Franklin & Marshall's campus lies the Terra-Gro composting facility. Photo credit: Spencer Johnson
F&M's food waste and compostable dinnerware is combined with the food waste of other companies and businesses in Lancaster County to create the compost Terra-Gro churns on a daily basis. Food waste is critical in rounding out the compost and providing nitrogen to balance the carbon found in cow or horse manure and sawdust. Too much manure draws the nitrogen out with excess carbon and leads to bad compost.
Before selling compost, Terra-Gro provided animal bedding for farms because selling compost alone isn't too profitable. Fortunately, Terra-Gro's connection to trucking and the Oregon Dairy farm makes the venture worth investing in. Many turf companies buy compost at a wholesale price to use over their turf due to its ability to retain water. Many don't know this, myself included until recently, but compost is efficient at reducing stormwater runoff, the leading cause of nitrogen pollution in U.S. waterways. This is a particularly important problem in Lancaster County due to large-scale industrial agriculture.
Compost is largely unresearched, which means many farmers are hesitant to implement composting into their business practices, said Terra-Gro guide Loren Martin.
"It's hard to calculate the cost/benefit analysis of selling the compost and buying it back," Martin said. "Since consultants such as Team Ag and Red Barn Association, with no science background, are likely making these decisions for the farmers, they usually advise against it."
If more farmers composted and used that compost to refertilize their farms, the problem of stormwater runoff that drains to the Chesapeake Bay would be greatly reduced. In order to see these changes, we need to bring scientists and consultants together and make sure they realize the environmental and economic importance of composting.
It takes approximately three months for a composting operation to be complete. Terra-Gro's process involves three roofed facilities (to prevent leachates and runoff) and a staggered process strategy. The food waste is immediately mixed with sawdust and manure upon arrival to avoid excess liquid, which is collected by a sloped concrete drain and pumped back into the pile.
Conversely, if the compost becomes too dry, liquid manure from the dairy farm is pumped into the mixture to moisten it. In order to remove bad pathogens like salmonella and E. coli, in addition to increasing decomposition speed, the pile needs to stay between 130°F and 150ºF. Before the compost is complete it is screened by a giant machine with little porcupine-like sifters in order to get undesirable materials, such as glass and plastic, out of the mixture. The removal of individual condiment packets has been instrumental in reducing sources of contamination from F&M's food waste.
Most interesting on my tour of Terra-Gro wasn't the compost or the anaerobic digestor that powers the whole dairy farm and heats Terra-Gro's office—it was the windrow machine, the machine responsible for churning the compost. It was designed by a Terra-Gro employee, Merle Ranck, a man with no professional engineering background, and it has twice the fuel efficiency of their old windrow machine. The patent is currently pending.
F&M's implementation of composting is one of many things that the school hopes to accomplish with its Sustainability Master Plan.
Other environmental initiatives, such as 350.org's national Fossil Free divestment campaign to remove the institution's endowment from fossil fuels, are also occurring on campus. F&M's environmental stewardship should serve as a lesson for the community to support similar environmentally-friendly initiatives.
——–
YOU MIGHT ALSO LIKE
130+ Universities Join Movement to Measure Sustainable Dining on Campus
How to Compost in Your Apartment
9 Ways to Cook for One With Zero Waste
——–
EcoWatch Daily Newsletter
Solar panel installations and a wind turbine at the Phu Lac wind farm in southern Vietnam's Binh Thuan province on April 23, 2019. MANAN VATSYAYANA / AFP via Getty Images
The buildings of downtown Los Angeles are partially obscured at midday on November 5, 2019 as seen from Pasadena, California. Mario Tama / Getty Images.
By Ajit Niranjan
Two main risk factors are currently known to raise the chance of dying from the novel coronavirus that has brought the world to a halt: being old and having a weak immune system.
Air pollution makes the second of those more likely.
Hospital workers applaud during a tribute to the essential health care workers at Hospital Universitario de Mostoles in Mostoles, Spain on March 27, 2020. Legan P. Mace / SOPA Images / LightRocket via Getty Images
Essential farm workers continue to work as Florida agriculture industry struggles during coronavirus pandemic. Joe Raedle / Getty Images.
By Liz Carlisle
This opinion piece was originally published by Yes! Magazine on March 30, 2020.
As the coronavirus crisis has laid bare, the U.S. urgently needs a strategic plan for farmland. The very lands we need to ensure community food security and resilience in the face of crises like this pandemic and climate change are currently being paved over, planted to chemically raised feed grains for factory farm animals, and acquired by institutional investors and speculators. For far too long, the fate of farmlands has flown under the radar of public dialogue—but a powerful new proposal from think tank Data for Progress lays out how a national strategic plan for farmland could help boost economic recovery while putting the U.S. on a path to carbon neutrality.
A worker with nonprofit organization Martha's Table loads bags of fresh produce to distribute to people in need during the novel coronavirus outbreak on April 1, 2020 in Washington, DC. Chip Somodevilla / Getty Images
By Shawn Radcliffe
The CDC recommends that all people wear cloth face masks in public places where it's difficult to maintain a 6-foot distance from others. This will help slow the spread of the virus from people without symptoms or people who do not know they have contracted the virus. Cloth face masks should be worn while continuing to practice social distancing. Instructions for making masks at home can be found here. Note: It's critical to reserve surgical masks and N95 respirators for healthcare workers.