This website uses cookies to ensure you get the best experience while browsing it. By clicking 'Got It' you're accepting these terms.
ExxonMobil Donates $260,000 to Obama Inauguration
Jan. 21, 2013 10:06AM EST
Climate
By Steve Horn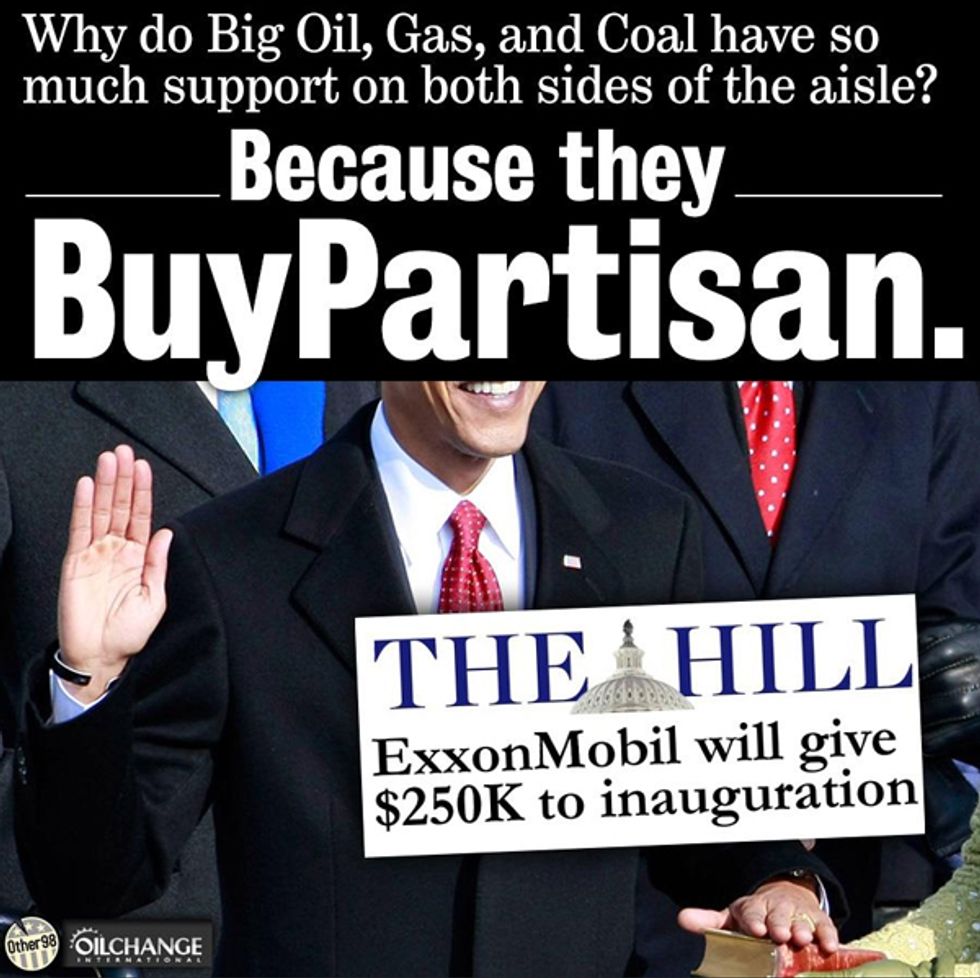 President Barack Obama will be publicly sworn in today—on Martin Luther King Jr. Day—to serve his second term as the 44th President of the U.S.
Today is also the three-year anniversary of Citizens United v. FEC, a U.S. Supreme Court ruling that—in a 5-4 decision—deemed that corporations are "people" under the law. Former U.S. Sen. Russ Feingold (D-WI)—who now runs Progressives United (a rhetorical spin-off of Citizens United)—said in Feb. 2012 that the decision "opened floodgates of corruption" in the U.S. political system. 
Unlike for his first Inauguration, Obama has chosen to allow unlimited corporate contributions to fill the fund-raising coffers of the entity legally known as the Presidential Inaugural Committee. Last time around the block, Obama refused corporate contributions for the Inauguration Ceremony as "a commitment to change business as usual in Washington."
But not this time. With a fundraising goal of $50 million in its sights, the Obama Administration has "opened floodgates" itself for corporate influence-peddling at the 57th Inaugural Ceremony. 
A case in point: the Obama Administration's corporate backers for the Inaurguation have spent more than $283 million on lobbying since 2009, the Center for Public Integrity explained in a recent report.
"It's a deeply disturbing move, and a reversal from the positive steps they took in 2009," Robert Weissman, president of Public Citizen told Roll Call. "Corporations make donations to events like the inaugural festivities because they get something back in return."
One of the biggest givers so far is none other than what Pulitzer Prize winning investigative journalist Steve Coll calls a "Private Empire"—ExxonMobil.
ExxonMobil: More than $260,000 to Obama's Inauguration Committee
According to a scoop by The Hill, ExxonMobil contributed $250,000 to the Inaugural Committee. Additionally, ExxonMobil attorney Judith Batty has given the Committee $10,750, according to the Center for Responsive Politics. Thus, ExxonMobil has given the Committee a grand total of more than $260,000.  
ExxonMobil earned a profit of $41.1 billion in 2011 and in the first three quarters of 2012 earned a profit of $34.92 billion, well on pace to surpass its 2011 profit margin.
Some mathematical context is warranted. This means ExxonMobil earned $9,935 per minute in the first three quarters of 2012, $596,107 per hour and $14.3 million per day in profits.
Despite these oligarchic-type bottom lines, ExxonMobil doesn't even pay its fair share in taxes, as ThinkProgress explained in a March 2012 article:
Citizens for Tax Justice reported Exxon paid only 17.6 percent taxes in 2010, lower than the average American, and a Reuters analysis using the same criteria estimates that Exxon will pay only 13 percent in effective taxes for 2011. Exxon paid zero taxes to the federal government in 2009.
In practice, this means that ExxonMobil actually pays less in taxes by percentage than an average Middle Class American family. 
For a corporation with financial wealth of this magnitude and one that, to boot, evades paying taxes, $260,000 is truly a "drop in the bucket." And yet in a political system favoring those who can "pay to play," it's a true game-changer in terms of gaining direct access to the Administration.
Obama Administration Responds ... Sort Of
Critics say it's more of the same out of an Obama Administration that in the first term had a cozy relationship with corporate patrons. 
"It fits into a pattern of not treating this campaign-finance issue with concern when in fact it is of great concern to the integrity of the political process and our democratic system," Fred Wertheimer, president of Democracy 21, told The Hill. 
The Obama team's response? According to them, they are champions of campaign-finance reform and anti-corruption measures. 
"This president has done more to reduce the influence of special interests in Washington than any administration in history," White House spokesman Eric Schultz told The Hill. 
It looks as if Oil Change International has hit the nail on the head in framing this one, asking and answering the following question with an accompanying graphic co-created with The Other 98%: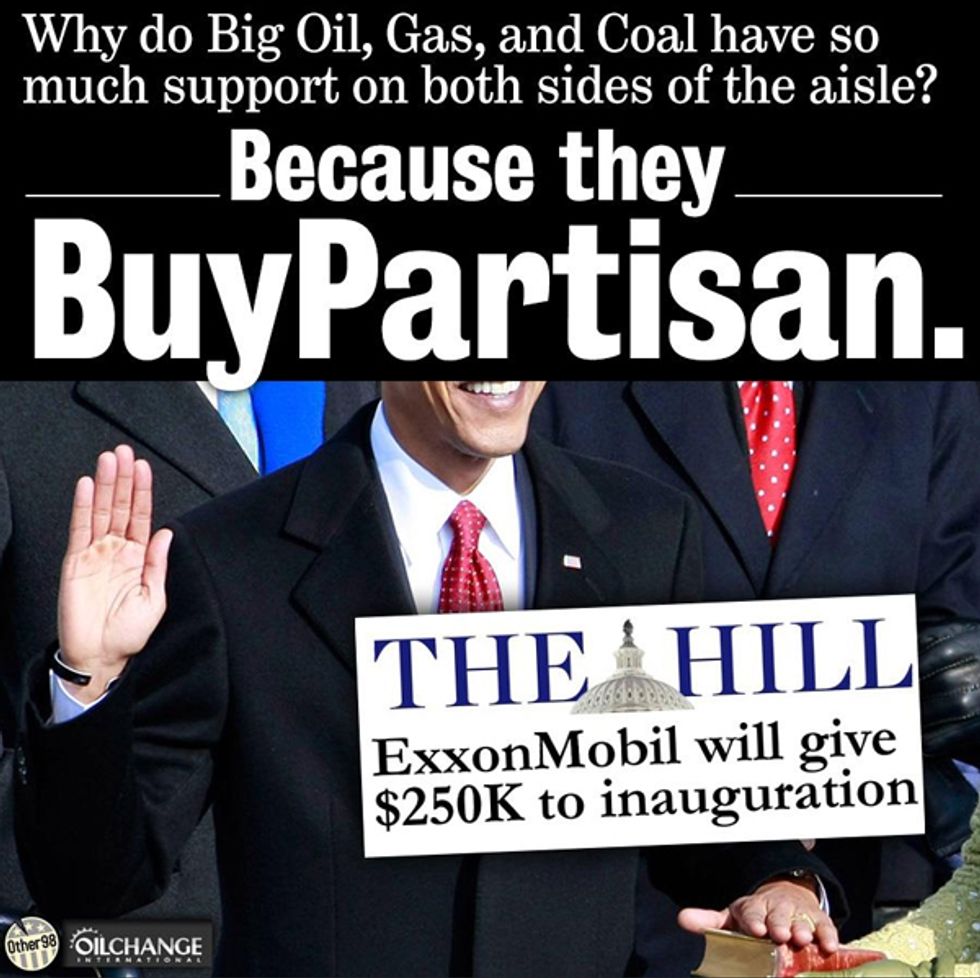 Visit EcoWatch's ENERGY page for more related news on this topic.
EcoWatch Daily Newsletter
One of the 25 new Long Beach Transit hybrid gasoline-electric buses on April 23, 2009. Jeff Gritchen / Digital First Media / Orange County Register / Getty Images
In Long Beach, California, some electric buses can charge along their route without cords or wires.
When a bus reaches the Pine Avenue station, it parks over a special charging pad. While passengers get on and off, the charger transfers energy to a receiver on the bottom of the bus.
Semi trucks travel along I94 on June 21 near Lake forest, Illinois. Scott Olson / Getty Images
The Trump administration pushed through an exemption to clean air rules, effectively freeing heavy polluting, super-cargo trucks from following clean air rules. It rushed the rule without conducting a federally mandated study on how it would impact public health, especially children, said the Environmental Protection Agency (EPA) Inspector General Charles J. Sheehan in a report released yesterday, as the AP reported.

A time-restricted eating plan provides a new way to fight obesity and metabolic diseases that affect millions of people worldwide. RossHelen / iStock / Getty Images Plus
By Satchin Panda and Pam Taub
People with obesity, high blood sugar, high blood pressure or high cholesterol are often advised to eat less and move more, but our new research suggests there is now another simple tool to fight off these diseases: restricting your eating time to a daily 10-hour window.
Kunhui Chih / iStock / Getty Images Plus
A man and his dog walk past an H&M store in Stockholm, Sweden on March 11, 2014. Melanie Stetson Freeman / The Christian Science Monitor via Getty Images
By Ashutosh Pandey
H&M's flagship store at the Sergels Torg square in Stockholm is back in business after a months-long refurbishment. But it's not exactly business as usual here.