This website uses cookies to ensure you get the best experience while browsing it. By clicking 'Got It' you're accepting these terms.
ExxonMobil Donates $260,000 to Obama Inauguration
Jan. 21, 2013 10:06AM EST
Climate
By Steve Horn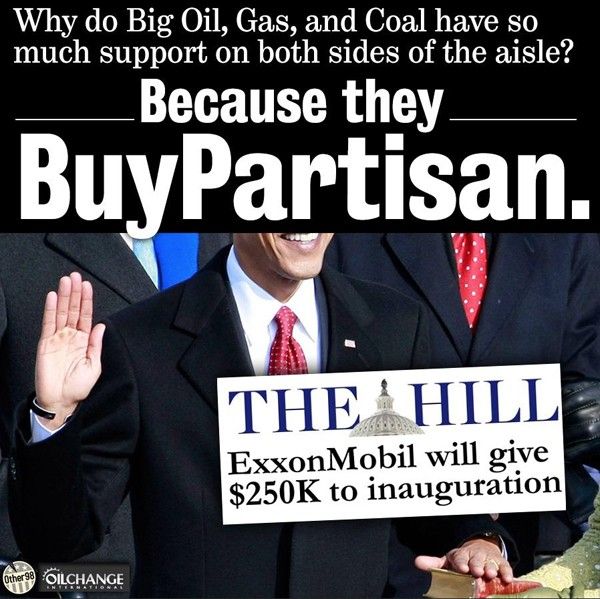 President Barack Obama will be publicly sworn in today—on Martin Luther King Jr. Day—to serve his second term as the 44th President of the U.S.
Today is also the three-year anniversary of Citizens United v. FEC, a U.S. Supreme Court ruling that—in a 5-4 decision—deemed that corporations are "people" under the law. Former U.S. Sen. Russ Feingold (D-WI)—who now runs Progressives United (a rhetorical spin-off of Citizens United)—said in Feb. 2012 that the decision "opened floodgates of corruption" in the U.S. political system. 
Unlike for his first Inauguration, Obama has chosen to allow unlimited corporate contributions to fill the fund-raising coffers of the entity legally known as the Presidential Inaugural Committee. Last time around the block, Obama refused corporate contributions for the Inauguration Ceremony as "a commitment to change business as usual in Washington."
But not this time. With a fundraising goal of $50 million in its sights, the Obama Administration has "opened floodgates" itself for corporate influence-peddling at the 57th Inaugural Ceremony. 
A case in point: the Obama Administration's corporate backers for the Inaurguation have spent more than $283 million on lobbying since 2009, the Center for Public Integrity explained in a recent report.
"It's a deeply disturbing move, and a reversal from the positive steps they took in 2009," Robert Weissman, president of Public Citizen told Roll Call. "Corporations make donations to events like the inaugural festivities because they get something back in return."
One of the biggest givers so far is none other than what Pulitzer Prize winning investigative journalist Steve Coll calls a "Private Empire"—ExxonMobil.
ExxonMobil: More than $260,000 to Obama's Inauguration Committee
According to a scoop by The Hill, ExxonMobil contributed $250,000 to the Inaugural Committee. Additionally, ExxonMobil attorney Judith Batty has given the Committee $10,750, according to the Center for Responsive Politics. Thus, ExxonMobil has given the Committee a grand total of more than $260,000.  
ExxonMobil earned a profit of $41.1 billion in 2011 and in the first three quarters of 2012 earned a profit of $34.92 billion, well on pace to surpass its 2011 profit margin.
Some mathematical context is warranted. This means ExxonMobil earned $9,935 per minute in the first three quarters of 2012, $596,107 per hour and $14.3 million per day in profits.
Despite these oligarchic-type bottom lines, ExxonMobil doesn't even pay its fair share in taxes, as ThinkProgress explained in a March 2012 article:
Citizens for Tax Justice reported Exxon paid only 17.6 percent taxes in 2010, lower than the average American, and a Reuters analysis using the same criteria estimates that Exxon will pay only 13 percent in effective taxes for 2011. Exxon paid zero taxes to the federal government in 2009.
In practice, this means that ExxonMobil actually pays less in taxes by percentage than an average Middle Class American family. 
For a corporation with financial wealth of this magnitude and one that, to boot, evades paying taxes, $260,000 is truly a "drop in the bucket." And yet in a political system favoring those who can "pay to play," it's a true game-changer in terms of gaining direct access to the Administration.
Obama Administration Responds ... Sort Of
Critics say it's more of the same out of an Obama Administration that in the first term had a cozy relationship with corporate patrons. 
"It fits into a pattern of not treating this campaign-finance issue with concern when in fact it is of great concern to the integrity of the political process and our democratic system," Fred Wertheimer, president of Democracy 21, told The Hill. 
The Obama team's response? According to them, they are champions of campaign-finance reform and anti-corruption measures. 
"This president has done more to reduce the influence of special interests in Washington than any administration in history," White House spokesman Eric Schultz told The Hill. 
It looks as if Oil Change International has hit the nail on the head in framing this one, asking and answering the following question with an accompanying graphic co-created with The Other 98%: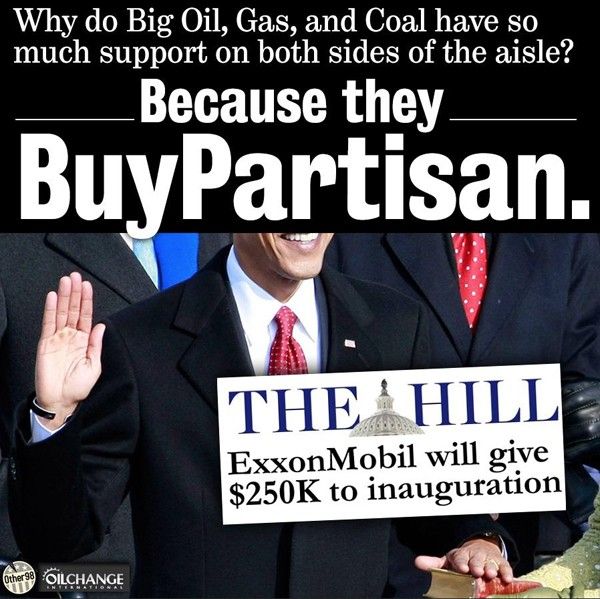 Visit EcoWatch's ENERGY page for more related news on this topic.
EcoWatch Daily Newsletter

georgeclerk / E+ / Getty Images
By Jennifer Molidor
One million species are at risk of extinction from human activity, warns a recent study by scientists with the United Nations. We need to cut greenhouse gas pollution across all sectors to avoid catastrophic climate change — and we need to do it fast, said the Intergovernmental Panel on Climate Change.
This research should serve as a rallying cry for polluting industries to make major changes now. Yet the agriculture industry continues to lag behind.
Edwin Remsburg / VW Pics / Getty Images
Botswana, home to one third of Africa's elephants, announced Wednesday that it was lifting its ban on the hunting of the large mammals.
"The Ministry of Environment, Natural Resources Conservation and Tourism wishes to inform the public that following extensive consultations with all stakeholders, the Government of Botswana has taken a decision to lift the hunting suspension," the government announced in a press release shared on social media.
Pxhere
By Richard Denison
Readers of this blog know how concerned EDF is over the Trump EPA's approval of many dozens of new chemicals based on its mere "expectation" that workers across supply chains will always employ personal protective equipment (PPE) just because it is recommended in the manufacturer's non-binding safety data sheet (SDS).
By Grant Smith
From 2009 to 2012, Gregory Jaczko was chairman of the Nuclear Regulatory Commission, which approves nuclear power plant designs and sets safety standards for plants. But he now says that nuclear power is too dangerous and expensive — and not part of the answer to the climate crisis.
A lake in Rocky Mountain National Park. Brett Walton / Circle of Blue
By Brett Walton
When Greg Wetherbee sat in front of the microscope recently, he was looking for fragments of metals or coal, particles that might indicate the source of airborne nitrogen pollution in Rocky Mountain National Park. What caught his eye, though, were the plastics.
Gabriele Holtermann Gorden / Pacific Press / LightRocket / Getty Images
In a big victory for animals, Prada has announced that it's ending its use of fur! It joins Coach, Jean Paul Gaultier, Giorgio Armani, Versace, Ralph Lauren, Vivienne Westwood, Michael Kors, Donna Karan and many others PETA has pushed toward a ban.
This is a victory more than a decade in the making. PETA and our international affiliates have crashed Prada's catwalks with anti-fur signs, held eye-catching demonstrations all around the world, and sent the company loads of information about the fur industry. In 2018, actor and animal rights advocate Pamela Anderson sent a letter on PETA's behalf urging Miuccia Prada to commit to leaving fur out of all future collections, and the iconic designer has finally listened.
Amer Ghazzal / Barcroft Media / Getty Images
If people in three European countries want to fight the climate crisis, they need to chill out more.
That's the conclusion of a new study from think tank Autonomy, which found that Germany, the UK and Sweden all needed to drastically reduce their workweeks to fight climate change.
Amazon Employees for Climate Justice held a press conference after the annual shareholder meeting on May 22. Amazon Employees for Climate Justice