This website uses cookies to ensure you get the best experience while browsing it. By clicking 'Got It' you're accepting these terms.
Exxon Using Tobacco's Failed Free Speech Defense for Decades of Deception on Climate Change
Apr. 26, 2016 08:03AM EST
Climate
The past week has seen a barrage of opinion pieces carrying water for the fossil fuel industry, defending against the ongoing fraud investigations. The Washington Post had two pieces, Newsweek had one and the Financial Times had an editorial, in addition to op-eds in a couple of other conservative outlets. Of those six, half were penned by groups funded at least in part by fossil fuel companies.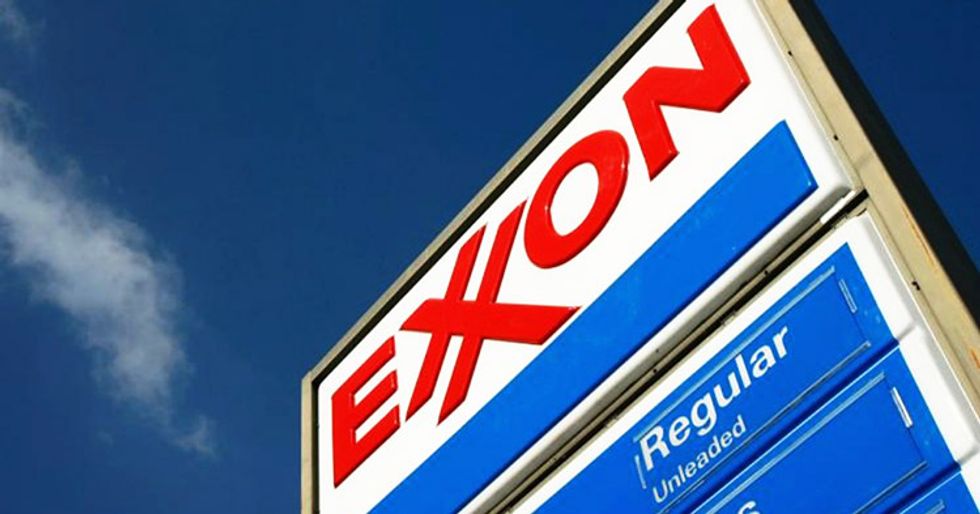 The arguments are all by and large the same, claiming that the investigations infringe on fossil fuels companies' right to free speech while steadfastly ignoring the fact that ExxonMobil funded climate denial to protect their business model. Only the Financial Times editorial actually acknowledges the "misleading claims from fossil fuel interests and their allies" but concludes that it is "because the stakes [of the debate] are so high that all arguments must be heard." While that sounds fair at first Glantz, it quickly sounds silly when applied to a recent example: the tobacco industry's denial of the fact that its carcinogenic product is addictive.
All but one of the pieces similarly ignored the tobacco industry precedent and the only person who mentioned it was one of the few voices not plugged into the professional denial apparatus.
As for the pros, Newsweek ran a blog post from the Hoover Institution, which rambled on about climate science that's supposedly still uncertain, lamenting that fair debate is impossible if one side can bring the other to court. Not mentioned is how a fair debate can be possible if one side launches multi-million dollar PR campaigns to mislead the public about the science.
Heritage's Hans von Spakovsky's piece in the Washington Times misses the tobacco precedent, but went all the way back to the Spanish Inquisition for his First Amendment fear mongering. George Will used his column in the Washington Post to offer a lesson on how this campaign is part of a larger progressive strategy to shut down debate. But apparently it's Will that needs a history lesson, as he uses as evidence a story about a 2013 IRS investigation accusing the agency of targeting conservatives. But that investigation "found no evidence" that the IRS actions were politically motivated. No doubt his column is similarly bereft of evidence.
The Washington Post also gave space to the Competitive Enterprise Institute (CEI) to defend itself by pretending it is being investigated for political dissent, not its years of Exxon funding for climate denial. Worth noting CEI's careful phrasing about its relationship with Exxon, which CEI says "publicly ended its support for us after 2005." With Donors Trust and others making it possible to anonymize giving, the key word is "publicly."
Ironically, despite the admission that its Exxon funding is a perfectly legitimate reason to look into its communications, CEI considers its subpoena to be a fishing expedition. Meanwhile, CEI's own coal-funded Chris Horner continues to engage in nuisance FOIAs for climate scientists.
Exxon's defense is a hot topic in denierland, as it advances the narrative that the fossil fuel industry is an embattled population facing government persecution. But here's a reality check: Before Honduran activist Berta Cáceres was murdered on March 2, she reported receiving 33 death threats after years of intimidation. Instead of investigating a man who had previously bragged about his plans to murder her, authorities claim the prime suspects are two of her fellow activists.
Looks like the fossil fuel industry isn't the one facing persecution after all.
YOU MIGHT ALSO LIKE
Clinton Snubs Koch Endorsement
Gov. Cuomo Rejects the Constitution Pipeline, Huge Win for the Anti-Fracking Movement
Federal Offshore Drilling Plan: From Injury to Insult
EcoWatch Daily Newsletter
Loggers operate in an area of lodgepole pine trees killed by the mountain pine beetle in the Beaverhead-Deerlodge National Forest on Sept. 13, 2019 in Montana. As climate change makes summers hotter and drier in the Northern Rockies, forests are threatened with increasing wildfire activity, deadly pathogens and insect infestations, including the mountain pine beetle outbreak. The insects have killed more than six million acres of forest across Montana since 2000. Chip Somodevilla / Getty Images
Wild rice flatbread is one of many Native recipes found in Indigikitchen.
Indigikitchen
The online cooking show Indigikitchen is providing a platform to help disseminate Indigenous food recipes — while helping eaters recognize their impact on the planet and Native communities.
On the Solomon Islands, rats and poachers are the two major threats to critically endangered sea turtles. A group of local women have joined forces to help save the animals from extinction.
By Joe Roman
One of the most important global conservation events of the past year was something that didn't happen. For the first time since 2002, Iceland — one of just three countries that still allow commercial whaling — didn't hunt any whales, even though its government had approved whaling permits in early 2019.
People participate in a national mile-long march to highlight the push for clean water in Flint Feb. 19, 2016 in Flint, Michigan.
Bill Pugliano
/ Stringer / Getty Images
The Supreme Court made a decision Tuesday that means Flint residents can sue state and local officials over the water crisis that leached lead into their water and resulted in at least 12 deaths.