This website uses cookies to ensure you get the best experience while browsing it. By clicking 'Got It' you're accepting these terms.
Exxon Pressures Government to Lift Restrictions on Oil Exports
Dec. 19, 2013 12:42PM EST
Energy
It wasn't long ago that the dirty energy industry and their friends in Congress and the media were screaming that we needed to open up every corner of America to oil and gas drilling in order to lower energy costs and help protect our country from oil-rich countries who don't like the U.S.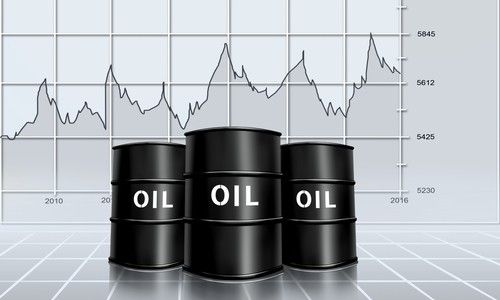 Photo courtesy of Shutterstock
We were promised that increased domestic production would lower our fuel costs, strengthen our national security and help ensure our economic prosperity. And even after the Obama Administration agreed to open up even more federal lands to drilling, the American public has yet to see any of these benefits materialize. 
But the oil industry isn't complaining. They've been given everything that they asked for over the last few years, and while we're still paying, on average, $3.22 a gallon at the pump, the industry is pulling in profits of $375 million a day between the top five companies.
You would think that Big Oil would have little to complain about at this point, but you'd be wrong. Apparently, they feel like their record profits should be even higher, so they've now decided that it's time to ease restrictions on oil exports so they can go take advantage of more lucrative overseas markets. Here at home, however, expect your pain at the pump to continue. You're not their priority, despite the fancy advertising.
ExxonMobil, the most profitable oil company in America, has called on the federal government to ease the rules regarding how much domestically-produced oil can be shipped out of the U.S. They are backed in this call by their friends in the conservative media, including the Wall Street Journal. 
To reiterate, they want to take the oil that we finally agreed to let them "drill, baby drill" out of our national parks and public lands—the oil that was supposed to lower our prices to take the burden off of U.S. families, but never did—and ship it to markets that are paying more for oil. Why? So they can make profits that make $375 million per day look like minimum wage by comparison.
The economics behind the price of oil that a country will pay are incredibly complicated and difficult to understand. As we've stated before, the price of a barrel of oil is set on the international market, meaning most countries are going to pay the same amount for the same product. 
But that really only tells half the story of oil prices, and it only accounts for the crude that is pulled from the ground, not the final refined product that is typically shipped to importing countries who lack refining capabilities.
The U.S. is a great example. Even though most Americans think they pay exorbitant prices at the pump, we are not bent completely "over the barrel" on the price of oil. U.S. gasoline prices are still among the lowest in the world, and part of that is because we have the refining capacity to import crude oil, and our abundant ports make that a fairly easy task. 
When crude oil is sold to a country that doesn't have its own supplies, the oil industry is able to jack up the price for transport. Additionally, if the country buying the supply does not have the capacity to refine crude oil itself, the company will gladly provide that service for an additional hefty charge. 
These factors are what Exxon is hoping to take advantage of in this push to gain approval from Congress to sell more American oil abroad.
But we have advantages that other countries do not—lots of ports and refining capacity, often taxpayer subsidized to boot. 
We also have another advantage, one critically important in determining the price of oil and gas—the U.S. dollar still has quite a bit of buying power. Last week, the price of a barrel of oil from OPEC finished at about $106. That $106 figure means different things to different countries. For a country whose currency is in a weakened state, that $106 figure is a lot more expensive than it is for a country that is a global leader in currency exchange. 
This means that if an oil company keeps their money in the area where the oil is sold, they will technically have a larger cash reserve. If they bring it back into the U.S., the exchange rates would yield a lower amount in their home currency. As a result, they would likely keep their money offshore, waiting for their foreign currency holdings to rise, which would then be exchanged for a larger amount in U.S. currency. 
There are also other factors including federal taxes, but those are less important here, as they are not given as profits back to the industry. 
All those financial incentives to industry help mask the real issue, which is the increased global dependence on fossil fuels. Rather than investing in alternative, clean, renewable sources of energy in other areas of the world, Exxon wants to feed everyone their oil. And the increased shipping would cause even more fossil fuels to be burned, creating an environmentally toxic cycle of fossil fuel dependency. 
The bottom line is that Americans were sold the idea of the need for increased domestic oil production because it would lower our costs at home. That never happened. And now that ExxonMobil has the keys to our national oil treasure, they are begging for the chance to sell it to export markets that will yield them a higher profit. 
All this is taking place while Big Oil's parrots in the media are still pushing for even more domestic oil drilling.
The leaders of both major political parties in the U.S. support increased oil drilling, which only serves to benefit the interests of the dirty energy industry. In fact, during a debate from last year's presidential election, President Obama and Republican candidate Mitt Romney got into a heated debate about whose policies would lead to even more drilling:
And who could forget this gem from former Alaskan Governor Sarah Palin, complete with the real facts about domestic oil drilling:
Lowering the price at the pump for American consumers was never the goal of oil companies like ExxonMobil. It never will be, either. 
Oil industry fat cats are focused on their own retirement plans, not yours. And they're doing a great job of sewing those golden parachutes for themselves at our expense.
We should probably not hasten their success by letting more American oil go to the highest bidder. After all, wasn't this supposed to be about securing our families' energy future?
Visit EcoWatch's ENERGY page for more related news on this topic.

EcoWatch Daily Newsletter
Lara Hata / iStock / Getty Images
By SaVanna Shoemaker, MS, RDN, LD
Rice is a staple in many people's diets. It's filling, inexpensive, and a great mild-tasting addition to flavorful dishes.
An image of the trans-alaskan oil pipeline that carries oil from the northern part of Alaska all the way to valdez. This shot is right near the arctic national wildlife refuge. kyletperry / iStock / Getty Images Plus
The Trump administration has initialized the final steps to open up nearly 1.6 million acres of the protected Alaskan National Wildlife Refuge to allow oil and gas drilling.
Kaboompics / Pexels
Tensions between lawmakers and several large manufacturing companies came to a head on Capitol Hill this week during a hearing on toxic fluorochemicals in U.S. drinking water.
A male african lion plays with his 4 month old cub at Big Marsh in Serengeti National Park, Tanzania. Nick Garbutt / Barcroft Media / Getty Images
A Florida man has been allowed to import a Tanzanian lion's skin, skull, claws and teeth, a first since the animal was listed as threatened under the Endangered Species Act, according to US Fish and Wildlife Service records uncovered by the Center for Biological Diversity through the Freedom of Information Act.
A fracked natural gas well in northwest Louisiana has been burning for two weeks after suffering a blowout. A state official said the fire will likely burn for the next month before the flames can be brought under control by drilling a relief well.
The universe is expanding much quicker than previously thought, according to researchers in Germany, leading scientists to suggest it may be more than 2 billion years younger than past estimates.