Exxon Mobil Pipeline Rupture and Train Derailment Oil Spill Exemplify Concerns of Keystone XL
Mar. 31, 2013 12:34PM EST
Energy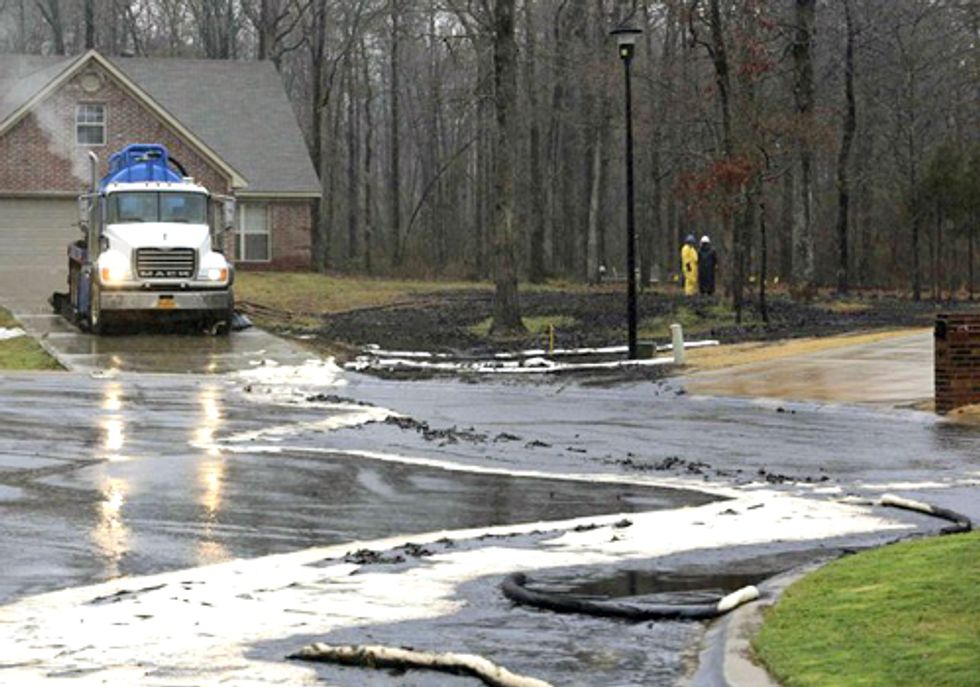 On Friday, an Exxon Mobil pipeline ruptured spilling an estimated 84,000 gallons of heavy crude oil from the Canadian tar sands region, causing the evacuation of 22 homes in the small town of Mayflower, Ark., about 20 miles north of Little Rock.
According to Exxon, the Environmental Protection Agency (EPA) considers the incident a "major spill." The 20-inch Pegasus pipeline runs 858 miles from Patoka, Ill. to Nederland, Texas. According to a Saturday press release from Exxon, 189,000 gallons of oil and water have been recovered from the site so far, and it is prepared to clean up more than twice that amount. Exxon's release said the company is "staging a response for over 10,000 barrels [420,000 gallons] to be conservative."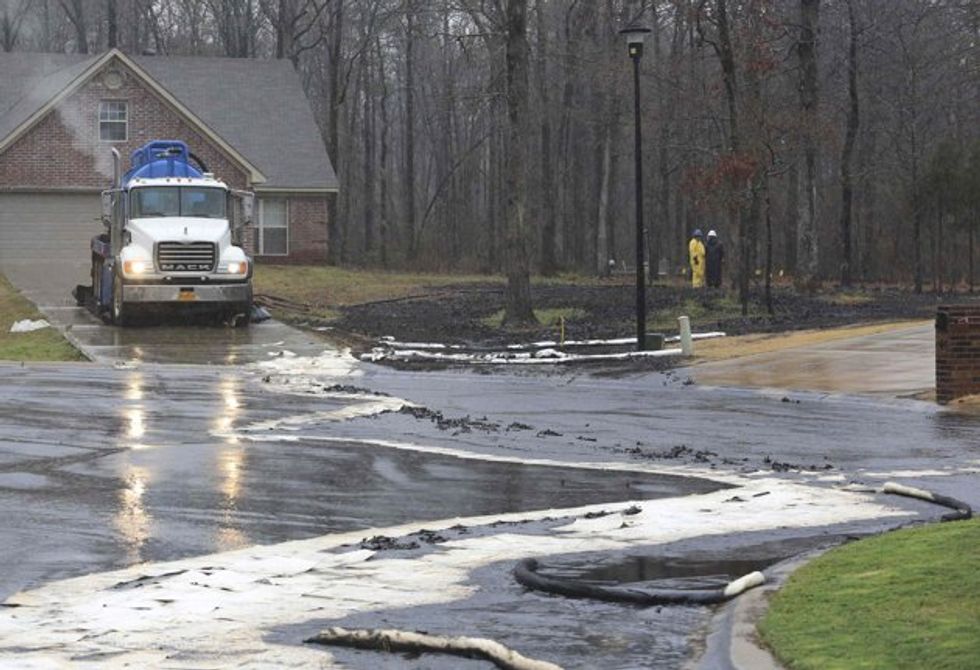 "This must have felt like a nightmare for the families suddenly having to evacuate their homes, but it's a glimpse into some of the very real consequences of building the Keystone XL pipeline, which would carry the same dirty tar sands oil across the country," said Dan Gatti, Environment America's Get Off Oil program director.
Lately, it seems oil spills have become a part of our daily news.
On March 27, a massive train operated by Canadian Pacific Railway derailed, spilling 30,000 gallons of crude oil in western Minnesota. The train originated in western Canada and was bound for Chicago.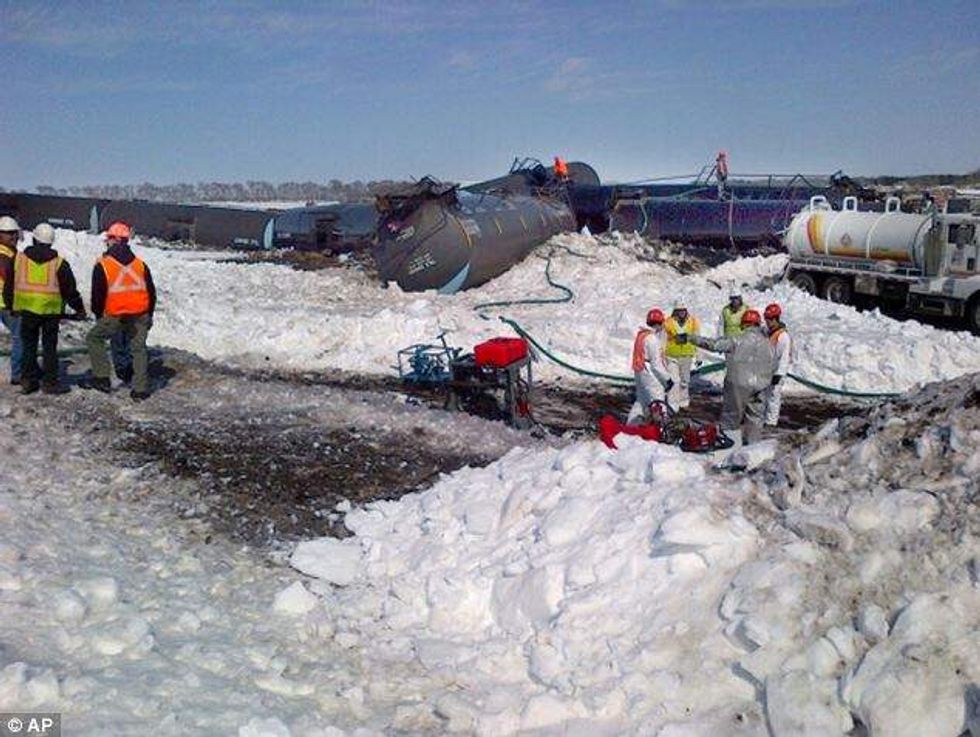 Dan Olson, a spokesperson for the Minnesota Pollution Control Agency, confirmed to Tar Sands Blockade that the substance spilled is, indeed, tar sands from Alberta, Canada. "Only about 1,000 gallons has been recovered," said Olson. "The remaining oil on the ground has thickened into a heavy tar-like consistency." The spill has triggered an investigation by federal officials.
The AP reports that the spill could play a role in the politics surrounding the Keystone XL tar sands pipeline.
"For years, we've been saying that it's just a matter of time before Keystone XL, if constructed, spills, bringing death and destruction to all in its route. The pipeline would also incentivize further tar sands growth and exploitation, signifying game over for livable communities and the planet," said Tar Sands Blockade.
"In addition to hazardous spills, according to EPA, the global warming impact of building the Keystone pipeline is the equivalent to over four million cars or six coal-fired power plants. For the sake of the health and safety of our environment, we ask President Obama and the State Department to reject the Keystone XL pipeline and to oppose other tar sands projects, like the pipeline that would take tar sands oil through Sebago Lake in Maine," said Gatti.
"Regardless of the transportation mode, an oil spill still contaminates Mother Earth and creates health and environmental concerns. This is why we want Enbridge's illegal pipelines to cease the flow of oil and to be removed from the Red Lake Reservation. It is just a game of Russian Roulette as to where and when a spill occurs," said Marty Cobenais, organizer for the Indigenous Environmental Network, a member of Red Lake Ojibwe and the Enbridge Blockade, in response to the catastrophe in Minnesota.
Visit EcoWatch's KEYSTONE XL page for more related news on this topic.
——-
EcoWatch Daily Newsletter
Recent Stories from EcoWatch