This website uses cookies to ensure you get the best experience while browsing it. By clicking 'Got It' you're accepting these terms.
Exxon, First Amendment Doesn't Give You Right to Commit Fraud
May. 06, 2016 11:42AM EST
Climate
With several state attorneys general now investigating whether ExxonMobil misled its shareholders and the public about climate change risks, it was more than a little ironic when the company recently cried foul.
"Collaboration, collusion, conspiracy," charged ExxonMobil Media Relations manager Alan Jeffers, "pick a word."
Pick a word? How about nonsense? If anyone could be accused of collusion and conspiracy, it's ExxonMobil. But more on that later.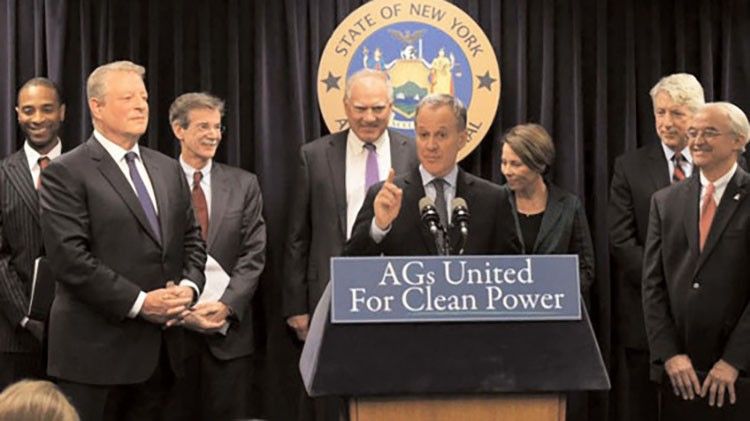 What prompted Jeffers' ludicrous allegation was a meeting that took place on March 29. My colleague Peter Frumhoff, lead climate scientist at the Union of Concerned Scientists and Environmental Attorney Matt Pawa briefed a handful of state attorneys general, including New York's Eric Schneiderman, who launched an investigation of ExxonMobil last November. Later that day, Schneiderman and 16 other attorneys general joined former Vice President Al Gore at a press conference to declare their support for more aggressive government action on climate change. During the event, Attorney Generals from the U.S. Virgin Islands and Massachusetts announced that they, too, would initiate investigations of ExxonMobil.
On April 15, Reuters broke the story that Frumhoff and Pawa had met behind closed doors with the state prosecutors before the press conference. The news organization had obtained emails disclosing the meeting through an open records request filed by a group called the Energy & Environment Legal Institute (E&E Legal).
"The previously unknown level of coordination with outside advisers offered a glimpse behind the scenes in an increasingly pitched battle between Exxon and environmental groups," Reuters reported. "Exxon has said it has been unfairly singled out and that climate activists are conspiring to rally public opinion against it."
Unfortunately, not only did the Reuters story fail to adequately identify E&E Legal, it also mischaracterized what amounted to a routine meeting in an ongoing legal investigation.
Confidentiality is Standard Operating Procedure
Reuters described E&E Legal, a small, three-person nonprofit, as a "free-market think tank with ties to the Competitive Enterprise Institute [CEI], whose website says it opposes U.S. Environmental Protection Agency regulation of greenhouse gas emissions." What it didn't mention is that E&E Legal—which could hardly be called a think tank—is at least partly funded by the coal industry and has repeatedly harassed prominent climate scientists, including Katharine Hayhoe and Michael Mann, by filing intrusive open records requests that have tied them up for weeks and wasted hundreds of thousands of public university dollars.
What's more, the story didn't explain that the group's connection with CEI is through CEI staff attorney Chris Horner, who handles E&E Legal's open records filings. CEI has been peddling lies about climate science on behalf of fossil fuel interests for decades and Horner is associated with other climate science denier groups as well as the coal industry, a relationship that was recently revealed by coal company bankruptcy filings.
More important, Reuters failed to clarify that the attorneys general were merely doing their jobs. By their very nature, legal investigations can entail gathering information privately from a wide variety of sources.
This is a key point. State attorneys general have the authority to meet with anyone they choose—be it a scientist, an environmental lawyer or a corporate official—in the course of an investigation on a confidential basis. In other words, there was no hint of collusion or conspiracy. Meeting privately with experts is part of the legal discovery process. Moreover, in New York—under the state's Martin Act—the attorney general can initiate a completely confidential investigation of potentially fraudulent practices.
But that didn't stop FoxNews.com, the Daily Caller, the Washington Examiner and the Washington Times—the climate science denial echo chamber—from providing ExxonMobil and E&E Legal a platform to make bogus charges about "collusion" and "conspiracy" in subsequent stories.
ExxonMobil's Disinformation Network
Schneiderman's investigation—and one launched in January by California's attorney general—followed the release of documents by the Union of Concerned Scientists (UCS) and reporters at InsideClimate News and Columbia Journalism School revealing that Exxon scientists conducted cutting-edge climate research decades ago and warned top management of the potentially catastrophic risks posed by global warming. Schneiderman's staff is now reviewing the company's statements to investors regarding those risks to see if they contradicted what it was hearing from its own scientists.
The New York Attorney Generals office also is taking a close look at ExxonMobil's support for a network of think tanks and advocacy groups that has been spreading disinformation about climate science for nearly 20 years. Here is where questions about "collusion" and "conspiracy" come into play.
That network was exposed back in 2007 when UCS documented that ExxonMobil had spent at least $16 million between 1998 and 2005 on more than 40 climate science denier groups. The group that got the most money? CEI, which received more than $2 million. Despite the fact that it had no scientists on its staff, CEI established itself as the go-to group to provide "the other side" of a manufactured scientific debate. It is perhaps best remembered for reassuring Americans that global warming is nothing to worry about in a TV commercial extolling the virtues of carbon dioxide. The spot's unforgettable tag line: "They call it pollution. We call it life."
ExxonMobil publicly ended its direct support for CEI in 2005, but the company continues to spend millions of dollars annually on denier groups and congressional climate science denier political campaigns. CEI, meanwhile, may have lost ExxonMobil as a benefactor, but according to the most recent available tax records, it is still receiving money from billionaire industrialist Charles Koch, co-owner of the coal, oil and gas conglomerate Koch Industries.
In any case, it is difficult to determine just where CEI gets its funding these days. Much of it comes from a secretive, pass-through foundation called Donors Trust and its affiliate Donors Capital Fund. Since 2002, the intertwined funds have laundered more than $457 million from anonymous corporations, foundations and individuals and distributed that money to hundreds of anti-regulation groups, including the American Enterprise Institute, the Heartland Institute and, of course, CEI.
The First Amendment Doesn't Protect Fraud
As one of ExxonMobil's top climate science denier grantees, CEI now finds itself in the hot seat. U.S. Virgin Islands Attorney General Claude Walker not only launched an investigation of ExxonMobil for defrauding investors and the general public, he also subpoenaed communications between ExxonMobil and many of its denier network groups. He specifically asked CEI for all its climate change and energy policy materials, as well as its donor lists, over a 10-year period beginning in 1997.
CEI has filed to quash the subpoena and pushed back in an April 23 op-ed in the Washington Post. CEI President Kent Lassman and his general counsel, Sam Kazman, insisted that their organization and ExxonMobil are being unfairly harassed for exercising their First Amendment rights. A week later, the Wall Street Journal editorial board chimed in, calling Walker's subpoena of CEI documents "a form of harassment" and "a dangerous turn for free speech."
Of course, the real issue is not CEI's or ExxonMobil's First Amendment rights. CEI, which has been exercising its right to mislead the public about climate change for quite some time, is being investigated to determine the extent to which it functioned as ExxonMobil's paid surrogate. ExxonMobil, meanwhile, is being investigated to ascertain if it is guilty of fraud. And, as Attorney General Schneiderman has noted, "The First Amendment, ladies and gentlemen, doesn't give you the right to commit fraud."
EcoWatch Daily Newsletter
A NOAA research vessel at a Taylor Energy production site in the Gulf of Mexico in September 2018. NOAA
The federal government is looking into the details from the longest running oil spill in U.S. history, and it's looking far worse than the oil rig owner let on, as The New York Times reported.
Golde Wallingford submitted this photo of "Pure Joy" to EcoWatch's first photo contest. Golde Wallingford
EcoWatch is pleased to announce our third photo contest!

Simple swaps that cut down on kitchen trash.
Sponsored
By Kayla Robbins
Along with the bathroom, the kitchen is one of the most daunting areas to try and make zero waste.
Damage at the Malheur National Wildlife Refuge from the 2016 occupation. USFWS
By Tara Lohan
When armed militants with a grudge against the federal government seized the Malheur National Wildlife Refuge in rural Oregon back in the winter of 2016, I remember avoiding the news coverage. Part of me wanted to know what was happening, but each report I read — as the occupation stretched from days to weeks and the destruction grew — made me so angry it was hard to keep reading.
Computer model projection of temperature anomalies across Europe on June 27. Temperature scale in °C. Tropicaltidbits.com
A searing heat wave has begun to spread across Europe, with Germany, France and Belgium experiencing extreme temperatures that are set to continue in the coming days.
Skull morphology of hybrid "narluga" whale. Nature / Mikkel Høegh Post
In the 1980s, a Greenlandic subsistence hunter shot and killed a whale with bizarre features unlike any he had ever seen before. He knew something was unique about it, so he left its abnormally large skull on top of his toolshed where it rested until a visiting professor happened upon it a few years later.
A house under construction with plastic bottles filled with sand to build shelters that better withstand the climate of the country where temperatures reach up to 50° C Awserd in the Saharawi refugee camp Dakhla on Dec. 31, 2018 in Tindouf, Algeria. Stefano Montesi / Corbis / Getty Images
A UN expert painted a bleak picture Tuesday of how the climate crisis could impact global inequality and human rights, leading to a "climate apartheid" in which the rich pay to flee the consequences while the rest are left behind.

The Oregon Senate Chamber. Cacophony / CC BY 3.0