Exxon: Destroying Planet Necessary to Relieve Global Poverty

The fossil-fuel divestment movement has been on a roll lately to the tune of $50 billion, but one of its biggest successes happened last month: The world's most profitable oil company squirmed. ExxonMobil's vice president of public and government affairs published a critique of divestment that concluded by saying that destroying our planet's climate by recklessly extracting and burning fossil fuel reserves is necessary to relieve global poverty.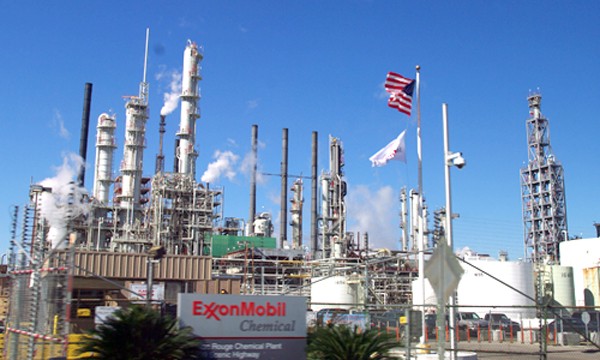 This sudden concern is interesting from a company that holds the record for the highest corporate profits ever posted in the U.S. and whose CEO made more than $100,000 a day in 2012 (including Sundays). ExxonMobil hasn't earned those kinds of profits by worrying overmuch about the poor of the world. As the Sierra Student Coalition's Anastasia Schemkes put it: "This is the oil industry saying 'please don't be mean to me' after bullying vulnerable communities around the globe for decades."
The real message of ExxonMobil's blog post was unintentional. The fossil fuel divestment movement, which started on college campuses but has since spread to foundation boardrooms and beyond, is achieving its principal goal, which is to raise awareness of how morally indefensible the actions of companies like ExxonMobil really are. I'm not just talking about its core business of extracting as much oil as it can, wherever it can, while it can. This is a company that pretends to care about climate disruption (with lots of talk about "mitigation," which is code for "do whatever it takes to keep burning fossil fuels"), while simultaneously funding the climate-denial industry and lavishing its largesse on obstructionist legislators.
How can we begin to get companies like this to change? It's tough to beat such a Goliath through financial pressure alone. Even the most wildly successful divestment campaign is unlikely to dent this mega-corporation's profits in the near term. But let's not forget that even the hugest corporation is made up of real people. And real people start to get uncomfortable when it's clear that not only is what they are doing terribly wrong—but that other people are taking note.
That's when they start to get defensive—and we can see that divestment really is making a difference.
YOU MIGHT ALSO LIKE
Join Beyond Extreme Energy Actions in DC
Scientists Say Fracking Makes Climate Change Worse, Not Better
MUST-SEE: Stephen Colbert and Neil Young Sing 'Who's Gonna Stand Up?'
Bill Maher is sick of billionaires' obsession with Mars, more like "Mars-a-Lago," he said.
In a new animation produced by ATTN:, the popular talk show host of Real Time, discusses the perils of our planet, including how "climate change is killing us."
Keep reading...
Show less
Dr. Benjamin D. Santer, research scientist
A group of prominent climate scientists have written a study explicitly refuting statements made by the U.S. Environmental Protection Agency Administrator Scott Pruitt on climate data. During his Senate confirmation hearing, Pruitt claimed in a written response that satellite data shows a "leveling off" of warming over the past two decades.
Keep reading...
Show less
By David Pomerantz
The Nevada Assembly passed a bill Wednesday that would dramatically increase the growth of renewable energy in the state, but Sheldon Adelson, the casino magnate and major donor to Donald Trump, is attempting to prevent the bill from becoming law.
Keep reading...
Show less
Matt Crossick
By Yosola Olorunshola
Whether it's through fashion or protest, Vivienne Westwood is not a woman afraid of making a statement.
On May 23, she rocked up to the residence of the Archbishop of Canterbury in London with a special guest—the Grim Reaper—to issue a strong statement on the Church of England's position on fracking.
Keep reading...
Show less
Military veterans from across Virginia released a letter Thursday opposing two proposed fracked-gas pipelines: Dominion Energy's Atlantic Coast Pipeline and EQT's Mountain Valley Pipeline. These pipelines would cross through pristine areas of Virginia, taking private property by use of eminent domain, removing mountain ridgetops and threatening valuable drinking water resources. The veterans view this as contrary to their service to protect and defend the freedom and security of American citizens.

Keep reading...
Show less
By Paul Brown
The food industry and big agricultural concerns are driving climate change and at the same time threatening to undermine efforts to feed the world's growing population, according to GRAIN, an organization that supports small farmers.
Particularly singled out for criticism are the large chemical fertilizer producers that have gained access to the United Nations talks on climate change. GRAIN accuses them of behaving like the fossil fuel companies did in the 1990s, pushing false information in the hope of delaying real action on climate change.
Keep reading...
Show less
May. 24, 2017 06:55PM EST
By Sydney Robinson
President Trump has no doubt been given a long list of extravagant, elaborate gifts in his lifetime, but the gift given to him today by Pope Francis may not make it on his most favorite list.
Keep reading...
Show less
May. 24, 2017 07:17PM EST
By John Rogers
Maybe it's because I first started working on clean energy while serving in the Peace Corps he founded, or maybe it's my years of working on these issues from his home state. But I can't help thinking about the 100th anniversary of John F. Kennedy's birth, and connecting his stirring rhetoric to the energy challenges of our times.
Here's what our 35th president might have said about the challenges of energy transition and the opportunities in clean energy:
"Change is the law of life. And those who look only to the past or present are certain to miss the future."
Keep reading...
Show less


Get EcoWatch in your inbox