This website uses cookies to ensure you get the best experience while browsing it. By clicking 'Got It' you're accepting these terms.
Exxon and Shell Double Down to Defeat Climate Change Legislation
Apr. 08, 2016 08:09AM EST
Energy
The dark channels through which corporations influence legislation are notoriously hard to trace, but a new detailed report estimates that the world's largest fossil fuel companies are spending upwards of $500 million per year to obstruct climate laws.
Published Thursday by the UK-based non-profit InfluenceMap, the report looked at two fossil fuel giants (ExxonMobil and Royal Dutch Shell) and three trade lobbying groups, discovering that all together the five companies spend $114 million dollars a year to defeat climate change legislation.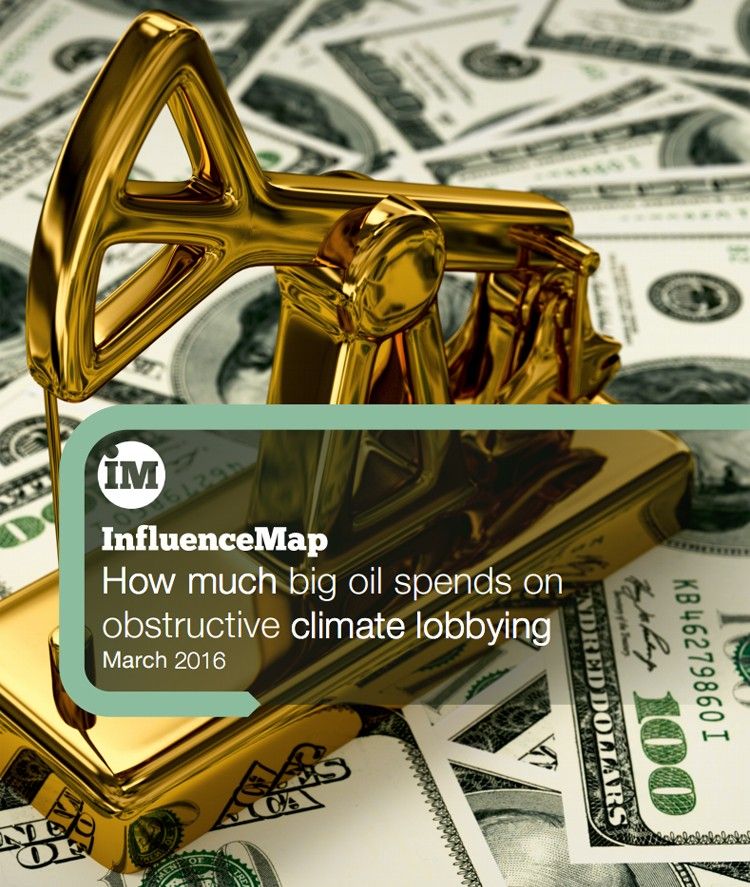 More significantly, InfluenceMap says, "Extrapolated over the entire fossil fuel and other industrial sectors beyond, it is not hard to consider that this obstructive climate policy lobbying spending may be in the order of $500m annually."
"It's remarkably useful to see exactly how much Exxon and its brethren are still spending to bend the climate debate," responded Bill McKibben of 350.org in a statement. "There's a shamelessness here that hopefully will be harder to maintain in the full light of day."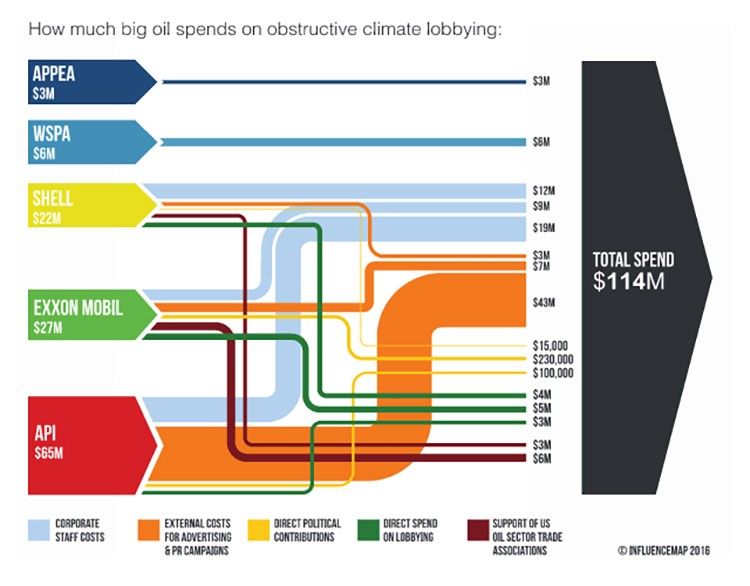 The group drew particular attention to the sinister lobbying group American Petroleum Institute (API), "one of the best funded and most consistently obstructive lobbying forces for climate policy in the United States," as InfluenceMap notes:
"With a budget in excess of $200m, we estimate, through a forensic analysis of its IRS filings and careful study of its lobbying, PR, media and advertising activities, that around $65m of this is highly obstructive lobbying against ambitious climate policy. We estimate that ExxonMobil and Shell contribute $6m and $3m respectively to API's obstructive spending of $65m. Its CEO Jack Gerard received annual compensation of just over $14m in 2013, probably one of the world's highest paid lobbyists. In the run up to COP21 last year, he dismissed the Paris process as a 'narrow political ideology.'"
InfluenceMap created the report to help concerned investors see how fossil fuel corporations were obstructing legislation to combat climate change. Since the #ExxonKnew scandal broke last year, such tactics have been under increased scrutiny from shareholders. "So far in 2016 alone," the non-profit said, "there have been over 15 shareholder resolutions filed by investors in the U.S. with fossil fuel companies on the issue of influence over climate policy."
In addition, the "sheer fuzziness of corporate influence prompted the project," wrote Bloomberg. "Nations hold companies to different standards—or none at all—for disclosures of how they are trying to influence public policy and what it costs. "
Bloomberg explained the study's methodology:
"To come up with its numbers, Influence Map first had to define what 'influence' actually means. The researchers adopted a framework spelled out in a 2013 UN report written to help companies align their climate change policies with their lobbying and communications strategies. It's a broad approach to understanding influence that includes not only direct lobbying, but also advertising, marketing, public relations, political contributions, regulatory contacts and trade associations."
Unfortunately, though, because of poor regulatory standards the "new report excludes so-called dark money or money spent on think tanks and institutes, as identified by Drexel University sociologist Robert Brulle in 2013," Bloomberg said, because "the researchers were unable to determine how these groups are funded."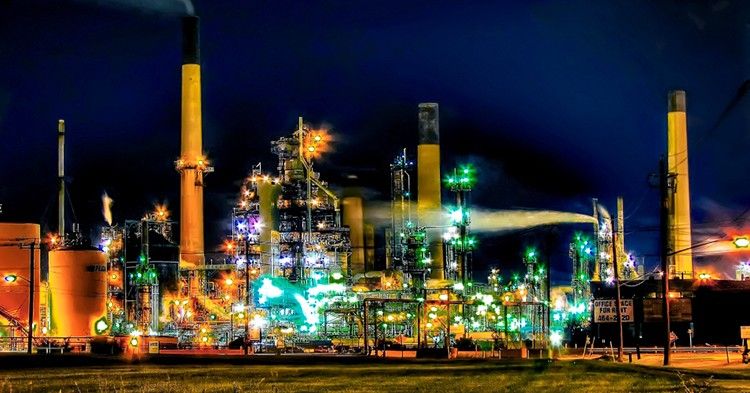 "We now know that Exxon knew about climate change impacts for decades and kept the public in the dark while they lobbied to prevent meaningful action," Vermont Gov. Peter Shumlin pointed out. "This report shows that while the world came together in Paris to embrace climate action in 2015, Exxon was doubling down with Big Tobacco tactics and obstruction. We cannot change this corporation by engaging with it, we must instead bring change from the outside by using economic pressure and divesting from Exxon."
YOU MIGHT ALSO LIKE
Big Oil Gearing Up to Battle Electric Vehicles
21 Countries That Reduced Carbon Emissions While Growing Their GDP
Hundreds Rally Asking Gov. Cuomo to Deny the Constitution Pipeline
EcoWatch Daily Newsletter
Artist's conception of solar islands in the open ocean. PNAS
Millions of solar panels clustered together to form an island could convert carbon dioxide in seawater into methanol, which can fuel airplanes and trucks, according to new research from Norway and Switzerland and published in the Proceedings of the National Academy of Sciences journal, PNAS, as NBC News reported. The floating islands could drastically reduce greenhouse gas emissions and dependence on fossil fuels.
Marcos Alves / Moment Open / Getty Images
More than 40 percent of insects could go extinct globally in the next few decades. So why did the U.S. Environmental Protection Agency (EPA) last week OK the 'emergency' use of the bee-killing pesticide sulfoxaflor on 13.9 million acres?
EcoWatch teamed up with Center for Biological Diversity via EcoWatch Live on Facebook to find out why. Environmental Health Director and Senior Attorney Lori Ann Burd explained how there is a loophole in the The Federal Insecticide, Fungicide, and Rodenticide Act under section 18, "that allows for entities and states to request emergency exemptions to spraying pesticides where they otherwise wouldn't be allowed to spray."
Simple swaps that cut down on kitchen trash.
Sponsored
By Kayla Robbins
Along with the bathroom, the kitchen is one of the most daunting areas to try and make zero waste.
View of downtown Miami, Florida from Hobie Island on Feb. 2, 2019.
Michael Muraz / Flickr
The Democratic candidates for president descended upon Miami for a two-night debate on Wednesday and Thursday. Any candidate hoping to carry the state will have to make the climate crisis central to their campaign, as The New York Times reported.
By Sharon Kelly
On Monday, the Wall Street Journal featured a profile of Scott Sheffield, CEO of Pioneer Natural Resources, whose company is known among investors for its emphasis on drawing oil and gas from the Permian basin in Texas using horizontal drilling and hydraulic fracturing, or fracking.
Pexels
By Craig K. Chandler
The federal government has available to it, should it choose to use them, a wide range of potential climate change management tools, going well beyond the traditional pollution control regulatory options. And, in some cases (not all), without new legislative authorization.
Denis Poroy / Getty Images
By Dan Gray
Processed foods, in their many delicious forms, are an American favorite.
But new research shows that despite increasing evidence on just how unhealthy processed foods are, Americans have continued to eat the products at the same rate.
By Sarah Steffen
With a profound understanding of their environmental surroundings, indigenous communities around the world are often cited as being pivotal to tackling climate change.