This website uses cookies to ensure you get the best experience while browsing it. By clicking 'Got It' you're accepting these terms.
Extreme Weather Will Be 'New Climate Normal' Without Immediate Action, Warns World Bank
Nov. 24, 2014 10:37AM EST
Climate
World Bank President Jim Yong Kim said this weekend that the organization's investment focus will be on clean energy and that it will back coal-fired and other fossil fuel projects only when there is "extreme need." Flying in the face of a popular climate denier narrative that says phasing out fossil fuels and addressing extreme poverty can't be done at the same time, Kim said climate change threatened efforts to tackle poverty.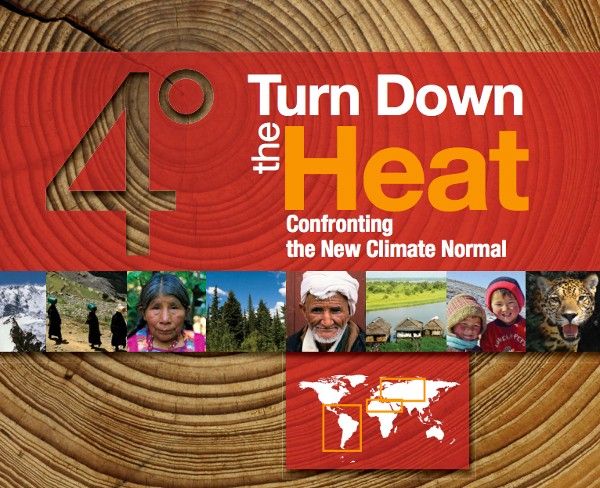 His remarks followed the release of the World Bank's new report, Turn Down the Heat: Confronting the New Climate Normal. It said among other things that the extreme weather impacts of climate change may now be unavoidable and that they are impacting people's food and water security as well as threatening their safety. But it also said, "More and more voices are arguing that is possible to grow greener without necessarily growing slower. Today, we know that action is urgently needed on climate change, but it does not have to come at the expense of economic growth."
"There is growing evidence that warming close to 1.5 Centigrade above pre-industrial levels is locked in to the Earth's atmospheric system due to past and predicted emissions of greenhouse gases, and climate change impacts such as extreme heat events may now be unavoidable," the report asserted. "As the planet warms, climatic conditions, heat and other weather extremes which occur once in hundreds of years, if ever, and considered highly unusual or unprecedented today would become the 'new climate normal' as we approach 4°C—a frightening world of increased risks and global instability."
"Today's report confirms what scientists have been saying—past emissions have set an unavoidable course to warming over the next two decades, which will affect the world's poorest and most vulnerable people the most," said Kim. "We're already seeing record-breaking temperatures occurring more frequently, rainfall increasing in intensity in some places and drought-prone regions like the Mediterranean becoming drier. "These changes make it more difficult to reduce poverty and put in jeopardy the livelihoods of millions of people. They also have serious consequences for development budgets, and for institutions like the World Bank Group, where our investments, support and advice must now also build resilience and help affected populations adapt."
The 200-plus page report enumerated the impacts of heat waves, prolonged droughts, disappearing glaciers, rising sea levels, heavy rainfall and vanishing forests on different parts of the world from Mexico City to Benghazi to Central Asia and spotlighted what it called "The Case for Immediate Action."
Immediate action, the report said, meant acting quickly to disinvest in what it called "the carbon intensive, fossil-fuel-based infrastructure" which releases climate change-causing greenhouse gases into the atmosphere. It said that in some cases, there might be no alternative to funding fossil fuel projects to supply electricity to impoverished areas, but overall, the World Bank's priority would be backing clean, renewable energy projects.
"At the World Bank Group we will use our financial capacity to help tackle climate change," said the report. "We will innovate and bring forward new financial instruments. We will use our knowledge and our convening power. We will use our evidence and data to advocate and persuade. In short, we will do everything we can to help countries and communities build resilience and adapt to the climate impacts already being felt today and ensure that finance flows to where it is most needed."
"The good news is that we can take action that reduces the rate of climate change and promotes economic growth, ultimately stopping our journey down this dangerous path," said Kim. "World leaders and policy makers should embrace affordable solutions like carbon pricing and policy choices that shift investment to clean public transport, cleaner energy and more energy efficient factories, buildings and appliances."
YOU MIGHT ALSO LIKE
Hottest October on Record Puts Planet on Track for Hottest Year Ever
Pope Francis: 'Unbridled Consumerism' Is Destroying Our Planet
Fossil Fuel Dependence Disastrous for Economy and Environment
EcoWatch Daily Newsletter

Andrea Rodgers, second from the right, takes notes during a hearing in the Juliana v. U.S. case before the 9th Circuit Court of Appeals in Portland, Oregon on June 4. Colleague Elizabeth Brown sits to her left, while colleague Julia Olson sits on her right, with co-council Philip Gregory on Julia's right. Robin Loznak / Our Children's Trust
By Fran Korten
On June 4, Andrea Rodgers was in the front row of attorneys sitting before a three-judge panel of the 9th Circuit Court. The court session, held in Portland, Oregon, was to determine whether the climate change lawsuit (Juliana v. United States) brought by 21 young plaintiffs should be dismissed, as requested by the U.S. government, or go on to trial.
Seventy Extinction Rebellion protesters were arrested outside The New York Times building Saturday.
SCOOTERCASTER / YouTube screenshot
Explosions and a blaze at the Philadelphia Energy Solutions Refining Complex on June 21.
VOA News / YouTube screenshot
A fire broke out at a Philadelphia oil refinery Friday morning, starting with an explosion so massive it was felt as far away as South Jersey and Delaware County, Pennsylvania, CNN reported.
Asian elephants in Bandipur National Park, India. Mike Prince / CC BY 2.0
By John R. Platt
Some of the tiniest creatures in Myanmar benefit from living near the largest species in the area.
Eucador's Waorani indigenous people celebrated a court ruling against oil extraction on their ancestral lands.
Oregon state capitol. Tashka / iStock / Getty Images
Oregon republicans fled their state rather than do anything to stop the climate crisis. The state republicans abrogated their duties as elected officials and ran away since they don't have the votes to stop a landmark bill that would make Oregon the second state to adopt a cap-and-trade program to curb greenhouse gas emissions, as Vice News reported.