This website uses cookies to ensure you get the best experience while browsing it. By clicking 'Got It' you're accepting these terms.


The best of EcoWatch, right in your inbox. Sign up for our email newsletter!
Extreme Weather Will Be 'New Climate Normal' Without Immediate Action, Warns World Bank
Nov. 24, 2014 10:37AM EST
Climate
World Bank President Jim Yong Kim said this weekend that the organization's investment focus will be on clean energy and that it will back coal-fired and other fossil fuel projects only when there is "extreme need." Flying in the face of a popular climate denier narrative that says phasing out fossil fuels and addressing extreme poverty can't be done at the same time, Kim said climate change threatened efforts to tackle poverty.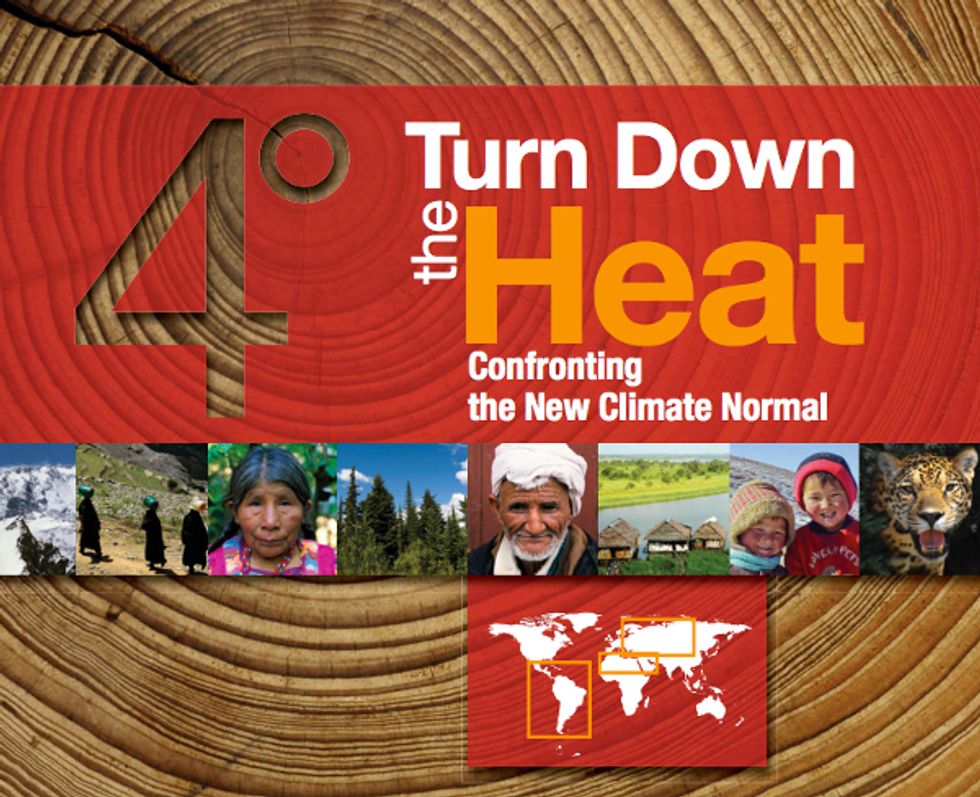 His remarks followed the release of the World Bank's new report, Turn Down the Heat: Confronting the New Climate Normal. It said among other things that the extreme weather impacts of climate change may now be unavoidable and that they are impacting people's food and water security as well as threatening their safety. But it also said, "More and more voices are arguing that is possible to grow greener without necessarily growing slower. Today, we know that action is urgently needed on climate change, but it does not have to come at the expense of economic growth."
"There is growing evidence that warming close to 1.5 Centigrade above pre-industrial levels is locked in to the Earth's atmospheric system due to past and predicted emissions of greenhouse gases, and climate change impacts such as extreme heat events may now be unavoidable," the report asserted. "As the planet warms, climatic conditions, heat and other weather extremes which occur once in hundreds of years, if ever, and considered highly unusual or unprecedented today would become the 'new climate normal' as we approach 4°C—a frightening world of increased risks and global instability."
"Today's report confirms what scientists have been saying—past emissions have set an unavoidable course to warming over the next two decades, which will affect the world's poorest and most vulnerable people the most," said Kim. "We're already seeing record-breaking temperatures occurring more frequently, rainfall increasing in intensity in some places and drought-prone regions like the Mediterranean becoming drier. "These changes make it more difficult to reduce poverty and put in jeopardy the livelihoods of millions of people. They also have serious consequences for development budgets, and for institutions like the World Bank Group, where our investments, support and advice must now also build resilience and help affected populations adapt."
The 200-plus page report enumerated the impacts of heat waves, prolonged droughts, disappearing glaciers, rising sea levels, heavy rainfall and vanishing forests on different parts of the world from Mexico City to Benghazi to Central Asia and spotlighted what it called "The Case for Immediate Action."
Immediate action, the report said, meant acting quickly to disinvest in what it called "the carbon intensive, fossil-fuel-based infrastructure" which releases climate change-causing greenhouse gases into the atmosphere. It said that in some cases, there might be no alternative to funding fossil fuel projects to supply electricity to impoverished areas, but overall, the World Bank's priority would be backing clean, renewable energy projects.
"At the World Bank Group we will use our financial capacity to help tackle climate change," said the report. "We will innovate and bring forward new financial instruments. We will use our knowledge and our convening power. We will use our evidence and data to advocate and persuade. In short, we will do everything we can to help countries and communities build resilience and adapt to the climate impacts already being felt today and ensure that finance flows to where it is most needed."
"The good news is that we can take action that reduces the rate of climate change and promotes economic growth, ultimately stopping our journey down this dangerous path," said Kim. "World leaders and policy makers should embrace affordable solutions like carbon pricing and policy choices that shift investment to clean public transport, cleaner energy and more energy efficient factories, buildings and appliances."
YOU MIGHT ALSO LIKE
Hottest October on Record Puts Planet on Track for Hottest Year Ever
Pope Francis: 'Unbridled Consumerism' Is Destroying Our Planet
Fossil Fuel Dependence Disastrous for Economy and Environment
EcoWatch Daily Newsletter
Pexels
By Danielle Nierenberg and Katherine Walla
As the holiday season ramps up for many across the world, Food Tank is highlighting 15 children's books that will introduce young eaters, growers and innovators to the world of food and agriculture. Authors and organizations are working to show children the importance — and fun — of eating healthy, nutritious and delicious food, growing their own produce, and giving food to others in need.
Pixabay
Purple cabbage, also referred to as red cabbage, belongs to the Brassica genus of plants. This group includes nutrient-dense vegetables, such as broccoli, Brussels sprouts, and kale.
Pexels
By Lauren Wolahan
For the first time ever, the UN is building out a roadmap for curbing carbon pollution from agriculture. To take part in that process, a coalition of U.S. farmers traveled to the UN climate conference in Madrid, Spain this month to make the case for the role that large-scale farming operations, long criticized for their outsized emissions, can play in addressing climate change.
Pexels
In recent years, acai bowls have become one of the most hyped-up health foods on the market.
They're prepared from puréed acai berries — which are fruits grown in Central and South America — and served as a smoothie in a bowl or glass, topped with fruit, nuts, seeds, or granola.
Investing in grid infrastructure would enable utilities to incorporate modern technology, making the grid more resilient and flexible. STRATMAN2 / FLICKR
By Elliott Negin
The Royal Swedish Academy of Sciences' recent decision to award the 2019 Nobel Prize in Chemistry to scientists who developed rechargeable lithium-ion batteries reminded the world just how transformative they have been. Without them, we wouldn't have smartphones or electric cars. But it's their potential to store electricity generated by the sun and the wind at their peak that promises to be even more revolutionary, reducing our dependence on fossil fuels and protecting the planet from the worst consequences of climate change.