Extreme Weather Will Be 'New Climate Normal' Without Immediate Action, Warns World Bank
World Bank President Jim Yong Kim said this weekend that the organization's investment focus will be on clean energy and that it will back coal-fired and other fossil fuel projects only when there is "extreme need." Flying in the face of a popular climate denier narrative that says phasing out fossil fuels and addressing extreme poverty can't be done at the same time, Kim said climate change threatened efforts to tackle poverty.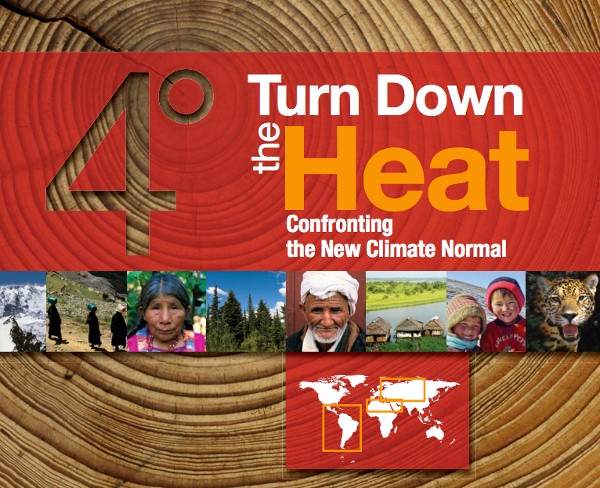 His remarks followed the release of the World Bank's new report, Turn Down the Heat: Confronting the New Climate Normal. It said among other things that the extreme weather impacts of climate change may now be unavoidable and that they are impacting people's food and water security as well as threatening their safety. But it also said, "More and more voices are arguing that is possible to grow greener without necessarily growing slower. Today, we know that action is urgently needed on climate change, but it does not have to come at the expense of economic growth."
"There is growing evidence that warming close to 1.5 Centigrade above pre-industrial levels is locked in to the Earth's atmospheric system due to past and predicted emissions of greenhouse gases, and climate change impacts such as extreme heat events may now be unavoidable," the report asserted. "As the planet warms, climatic conditions, heat and other weather extremes which occur once in hundreds of years, if ever, and considered highly unusual or unprecedented today would become the 'new climate normal' as we approach 4°C—a frightening world of increased risks and global instability."
"Today's report confirms what scientists have been saying—past emissions have set an unavoidable course to warming over the next two decades, which will affect the world's poorest and most vulnerable people the most," said Kim. "We're already seeing record-breaking temperatures occurring more frequently, rainfall increasing in intensity in some places and drought-prone regions like the Mediterranean becoming drier. "These changes make it more difficult to reduce poverty and put in jeopardy the livelihoods of millions of people. They also have serious consequences for development budgets, and for institutions like the World Bank Group, where our investments, support and advice must now also build resilience and help affected populations adapt."
The 200-plus page report enumerated the impacts of heat waves, prolonged droughts, disappearing glaciers, rising sea levels, heavy rainfall and vanishing forests on different parts of the world from Mexico City to Benghazi to Central Asia and spotlighted what it called "The Case for Immediate Action."
Immediate action, the report said, meant acting quickly to disinvest in what it called "the carbon intensive, fossil-fuel-based infrastructure" which releases climate change-causing greenhouse gases into the atmosphere. It said that in some cases, there might be no alternative to funding fossil fuel projects to supply electricity to impoverished areas, but overall, the World Bank's priority would be backing clean, renewable energy projects.
"At the World Bank Group we will use our financial capacity to help tackle climate change," said the report. "We will innovate and bring forward new financial instruments. We will use our knowledge and our convening power. We will use our evidence and data to advocate and persuade. In short, we will do everything we can to help countries and communities build resilience and adapt to the climate impacts already being felt today and ensure that finance flows to where it is most needed."
"The good news is that we can take action that reduces the rate of climate change and promotes economic growth, ultimately stopping our journey down this dangerous path," said Kim. "World leaders and policy makers should embrace affordable solutions like carbon pricing and policy choices that shift investment to clean public transport, cleaner energy and more energy efficient factories, buildings and appliances."
YOU MIGHT ALSO LIKE
Hottest October on Record Puts Planet on Track for Hottest Year Ever
Pope Francis: 'Unbridled Consumerism' Is Destroying Our Planet
Fossil Fuel Dependence Disastrous for Economy and Environment
Bill Maher is sick of billionaires' obsession with Mars, more like "Mars-a-Lago," he said.
In a new animation produced by ATTN:, the popular talk show host of Real Time, discusses the perils of our planet, including how "climate change is killing us."
Keep reading...
Show less
Dr. Benjamin D. Santer, research scientist
A group of prominent climate scientists have written a study explicitly refuting statements made by the U.S. Environmental Protection Agency Administrator Scott Pruitt on climate data. During his Senate confirmation hearing, Pruitt claimed in a written response that satellite data shows a "leveling off" of warming over the past two decades.
Keep reading...
Show less
By David Pomerantz
The Nevada Assembly passed a bill Wednesday that would dramatically increase the growth of renewable energy in the state, but Sheldon Adelson, the casino magnate and major donor to Donald Trump, is attempting to prevent the bill from becoming law.
Keep reading...
Show less
Matt Crossick
By Yosola Olorunshola
Whether it's through fashion or protest, Vivienne Westwood is not a woman afraid of making a statement.
On May 23, she rocked up to the residence of the Archbishop of Canterbury in London with a special guest—the Grim Reaper—to issue a strong statement on the Church of England's position on fracking.
Keep reading...
Show less
Military veterans from across Virginia released a letter Thursday opposing two proposed fracked-gas pipelines: Dominion Energy's Atlantic Coast Pipeline and EQT's Mountain Valley Pipeline. These pipelines would cross through pristine areas of Virginia, taking private property by use of eminent domain, removing mountain ridgetops and threatening valuable drinking water resources. The veterans view this as contrary to their service to protect and defend the freedom and security of American citizens.

Keep reading...
Show less
By Paul Brown
The food industry and big agricultural concerns are driving climate change and at the same time threatening to undermine efforts to feed the world's growing population, according to GRAIN, an organization that supports small farmers.
Particularly singled out for criticism are the large chemical fertilizer producers that have gained access to the United Nations talks on climate change. GRAIN accuses them of behaving like the fossil fuel companies did in the 1990s, pushing false information in the hope of delaying real action on climate change.
Keep reading...
Show less
May. 24, 2017 06:55PM EST
By Sydney Robinson
President Trump has no doubt been given a long list of extravagant, elaborate gifts in his lifetime, but the gift given to him today by Pope Francis may not make it on his most favorite list.
Keep reading...
Show less
May. 24, 2017 07:17PM EST
By John Rogers
Maybe it's because I first started working on clean energy while serving in the Peace Corps he founded, or maybe it's my years of working on these issues from his home state. But I can't help thinking about the 100th anniversary of John F. Kennedy's birth, and connecting his stirring rhetoric to the energy challenges of our times.
Here's what our 35th president might have said about the challenges of energy transition and the opportunities in clean energy:
"Change is the law of life. And those who look only to the past or present are certain to miss the future."
Keep reading...
Show less


Get EcoWatch in your inbox