This website uses cookies to ensure you get the best experience while browsing it. By clicking 'Got It' you're accepting these terms.
Extreme Weather Risk Index Unveiled at UN Climate Talks
Nov. 12, 2013 04:34PM EST
Climate
By Paul Brown
Haiti topped the chart as the country most at risk from extreme weather events in this year's Global Climate Risk Index, because of the devastation caused by Hurricane Sandy in 2012 that left 200,000 people homeless and destroyed many crops.
The Index, released on the second day of the UN climate conference here, noted that while the damage in New York made all the headlines it was in Haiti that losses were greatest.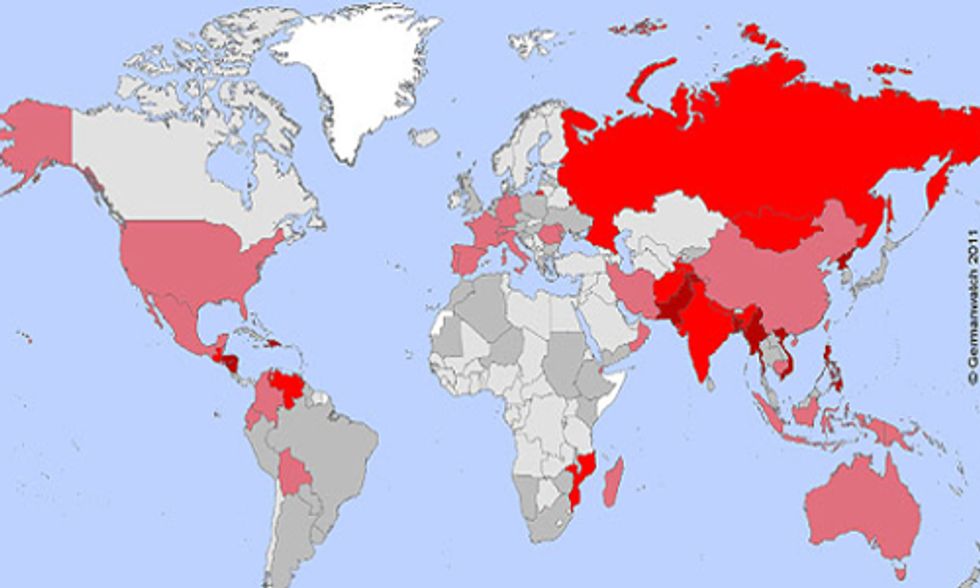 All ten of the countries most at risk from extreme events in the 1993 to 2012 period were developing countries, emphasizing the message in Warsaw that poor countries cannot cope with the increasing number of catastrophes by themselves.
The major issue at the conference in the wake of the current Philippine disaster is how to finance "loss and damage" caused by an increasingly unstable climate.
The index, compiled by a think tank called Germanwatch from figures supplied by the giant re-insurance company Munich Re, lists ten countries most affected in 2012 and the long-term climate risk from loss of life and damage from 1993 to 2012.
The Philippines came second in the 2012 list because of a devastating cyclone in that year and is almost certain to come number one in next year's table because of the current crisis caused by super-typhoon Haiyan, which has killed more than 10,000 people.
"…the self-help capacity of countries is being overwhelmed by the scale of the climate disasters they are facing."
Pakistan came third in both this year's list and the 2011 table, showing its increasing vulnerability to floods and droughts.
In the 20-year long-term risk list Honduras was first, Myanmar (Burma) second and Haiti third, reflecting a constant battering of these countries by extreme weather events.
"The report illustrates that the self-help capacity of countries is being overwhelmed by the scale of the climate disasters they are facing," said Christoph Bals, policy director of Germanwatch.
"These are the countries that have contributed least to climate change because they have tiny emissions, yet they are the countries that are suffering most from it," he continued. "Developed countries that have caused the problem have a moral responsibility to help."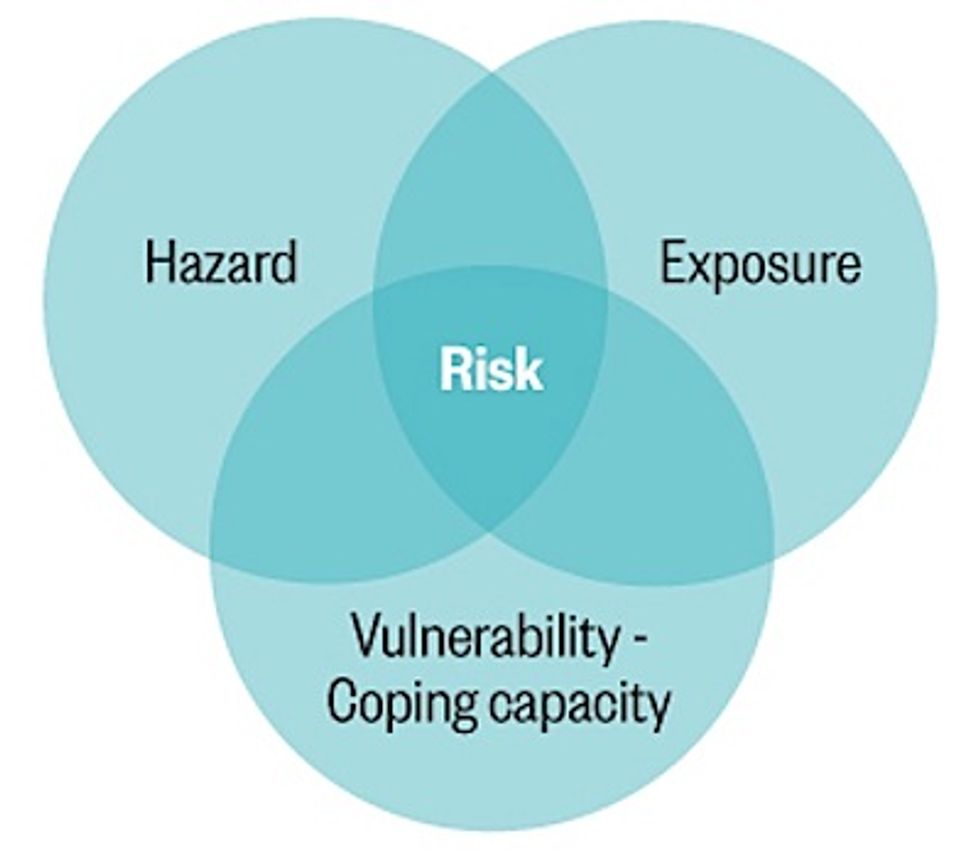 Bals admitted that the list had flaws, in that it did not include the gradual effects of sea level rise and melting glaciers, but said there were no data for the losses caused in this way, only by more sudden disasters. Africa was also under-represented because losses from drought were hard to evaluate.
"Our people have contributed least to climate change, yet they are enduring great suffering."
Muhammad Irfan Tariq, director general of the Climate Change Division of the Pakistan Government, who helped launch the report in Warsaw, said:
The report makes clear that my country is already adversely affected by climate change. Loss of glaciers, floods and droughts are causing suffering and loss of life, not to mention the economic losses in a mainly agricultural economy.
In 1950 we had 5,000 litres of fresh water available for each person in the country. Now it is less than 1,000. As a result we are suffering loss of energy from hydro-electricity, shortages of food, and general water scarcity. We need more reservoirs to capture the snowmelt in the spring to last us for the year.
Our people have contributed least to climate change, yet they are enduring great suffering. We have had disastrous floods followed by three years of droughts; we have not the resources to deal with this on our own.
Unusually several European countries, including Serbia and Bosnia/Herzegovina, made the 2012 list. The report says that after experiencing the hottest summer in 40 years the Balkan countries suffered from extensive droughts that destroyed most of their crops.
The ten most-affected countries in 2012, in order of seriousness, are Haiti, the Philippines, Pakistan, Madagascar, Fiji, Serbia, Samoa, Bosnia/Herzegovina, Russia and Nigeria.
The top ten for 1993 to 2012 are Honduras, Myanmar, Haiti, Nicaragua, Bangladesh, Vietnam, the Philippines, the Dominican Republic and Mongolia (equal 8th), and Thailand and Guatemala (equal 10th).
Visit EcoWatch's CLIMATE CHANGE page for more related news on this topic.
--------
Paul Brown, Climate News Network editor, is in Warsaw, host of the United Nations climate talks—the 19th Conference of the Parties (COP 19) of the UN Framework Convention on Climate Change. 

EcoWatch Daily Newsletter
The staircase to a subway station in SOHO with a temporary closure, flood control installation sign. Jeffrey Greenberg / Universal Images Group / Getty Images
The Metropolitan Transit Authority in New York City tested out a new system designed to protect its subways stations from flooding when another super storm hits, creating a bizarre sight on Wednesday, as The Verge reported.
Flat-lay of friends eating vegan and vegetarian Thanksgiving or Friendsgiving dinner with pumpkin pie, roasted vegetables, fruit and rose wine. Foxys_forest_manufacture / Royalty-free / iStock / Getty Images
Thanksgiving can be a tricky holiday if you're trying to avoid animal products — after all, its unofficial name is Turkey Day. But, as more and more studies show the impact of meat and dairy consumption on the Earth, preparing a vegan Thanksgiving is one way to show gratitude for this planet and all its biodiversity.
Residents wear masks for protection as smoke billows from stacks in a neighborhood next to a coal fired power plant on Nov. 26, 2015 in Shanxi, China. Kevin Frayer / Getty Images
By Matt Berger
It's not just kids in the United States.
Children worldwide aren't getting enough physical activity.
That's the main conclusion of a new World Health Organization (WHO) study released Wednesday.
By Tim Ruben Weimer
Tanja Diederen lives near Maastricht in the Netherlands. She has been suffering from Hidradenitis suppurativa for 30 years. Its a chronic skin disease in which the hair roots are inflamed under pain — often around the armpits and on the chest.