This website uses cookies to ensure you get the best experience while browsing it. By clicking 'Got It' you're accepting these terms.
Extreme Sports Legend Dean Potter Dies
May. 18, 2015 05:28PM EST
Dean Potter, 43, and Graham Hunt, 29, died on Saturday following a BASE jumping accident in Yosemite National Park. They were attempting a wingsuit flight leaping from a promontory at Taft Point, 3,000 feet above the valley floor.
Extreme athlete Dean Potter hailed as 'a visionary' by fellow climbers and friends http://t.co/5z162B7P1v

— The Guardian (@guardian) May 18, 2015
Potter was a climbing and wingsuit pioneer and creator of  "freebase," a hybrid extreme sport that combined rock climbing without ropes and skydiving.
BASE jumping is illegal in Yosemite and those that attempt it risk being arrested and fined. Potter and Hunt tried to clear a notch in the granite cliffs but missed and smashed into the rocks.
Reports say that the spotter heard a "pop-pop" and assumed it was their parachutes opening, but after she tried to reach them via text and there was no response, she informed park officials of their disappearance. According to park spokesman Scott Gediman, a search-and-rescue operation was launched early Sunday morning, with up to 100 people including park rangers and volunteers surveying the park for the men. Crews in a California Highway Patrol helicopter spotted their bodies on the wall of rock along Yosemite Valley, and both were flown out.
Potter lived in Yosemite with girlfriend Jennifer Rapp and his dog, Whisper. Hunt, who lived in El Portal, California, was described by friend Shawn Reeder as "an amazing soul living a human life to the fullest with humility, love and a shining light that affected most people it shined upon." Reeder said Hunt "was very inspiring" and he now wants to be sure he lives his "life more present in every moment, just like Graham did."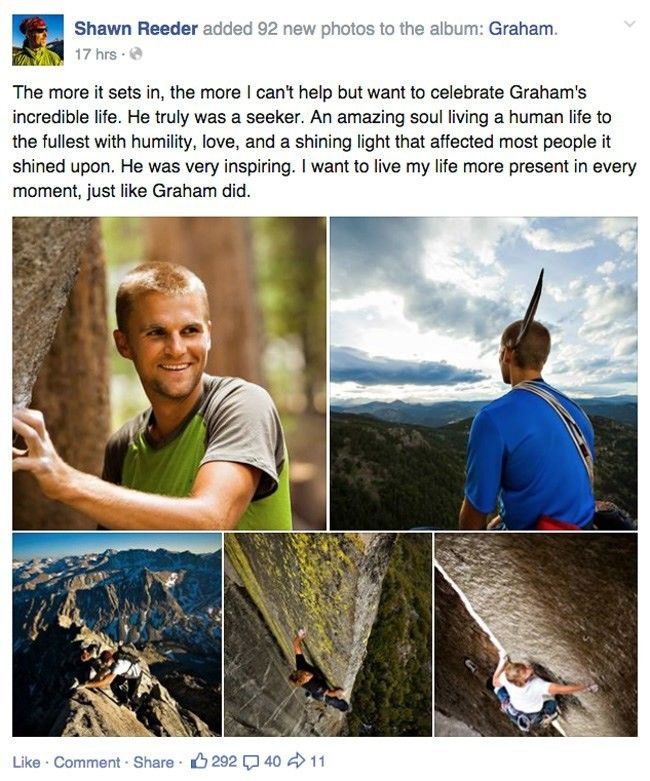 Last year in an interview with Outside, Potter said, "When I was a little boy, my first memory was a flying dream. In my dream, I flew—and I also fell. I always wondered as I got older if it was some premonition of falling to my death." Watch here:
In this video, Potter is Base jumping with his dog:
Potter, one of the most recognized figure in extreme sports, was also renowned for his tightrope walking. Watch this incredible video as Potter is crossing the Enshi Grand Canyon in central China's Hubei province, 1,800 meters above sea level in 2012:
YOU MIGHT ALSO LIKE
7 Facts That Prove the Renewable Energy Revolution Has Arrived
5 Signs the California Drought Could Get Worse
World's First Solar Road Already Generating More Power Than Expected
EcoWatch Daily Newsletter
Artist's conception of solar islands in the open ocean. PNAS
Millions of solar panels clustered together to form an island could convert carbon dioxide in seawater into methanol, which can fuel airplanes and trucks, according to new research from Norway and Switzerland and published in the Proceedings of the National Academy of Sciences journal, PNAS, as NBC News reported. The floating islands could drastically reduce greenhouse gas emissions and dependence on fossil fuels.
Marcos Alves / Moment Open / Getty Images
More than 40 percent of insects could go extinct globally in the next few decades. So why did the U.S. Environmental Protection Agency (EPA) last week OK the 'emergency' use of the bee-killing pesticide sulfoxaflor on 13.9 million acres?
EcoWatch teamed up with Center for Biological Diversity via EcoWatch Live on Facebook to find out why. Environmental Health Director and Senior Attorney Lori Ann Burd explained how there is a loophole in the The Federal Insecticide, Fungicide, and Rodenticide Act under section 18, "that allows for entities and states to request emergency exemptions to spraying pesticides where they otherwise wouldn't be allowed to spray."
Simple swaps that cut down on kitchen trash.
Sponsored
By Kayla Robbins
Along with the bathroom, the kitchen is one of the most daunting areas to try and make zero waste.
View of downtown Miami, Florida from Hobie Island on Feb. 2, 2019.
Michael Muraz / Flickr
The Democratic candidates for president descended upon Miami for a two-night debate on Wednesday and Thursday. Any candidate hoping to carry the state will have to make the climate crisis central to their campaign, as The New York Times reported.
By Sharon Kelly
On Monday, the Wall Street Journal featured a profile of Scott Sheffield, CEO of Pioneer Natural Resources, whose company is known among investors for its emphasis on drawing oil and gas from the Permian basin in Texas using horizontal drilling and hydraulic fracturing, or fracking.
Pexels
By Craig K. Chandler
The federal government has available to it, should it choose to use them, a wide range of potential climate change management tools, going well beyond the traditional pollution control regulatory options. And, in some cases (not all), without new legislative authorization.
Denis Poroy / Getty Images
By Dan Gray
Processed foods, in their many delicious forms, are an American favorite.
But new research shows that despite increasing evidence on just how unhealthy processed foods are, Americans have continued to eat the products at the same rate.
By Sarah Steffen
With a profound understanding of their environmental surroundings, indigenous communities around the world are often cited as being pivotal to tackling climate change.