This website uses cookies to ensure you get the best experience while browsing it. By clicking 'Got It' you're accepting these terms.
Extreme Heat to Sear Southwest, Plains: Phoenix Could Approach 120 Degrees
Jun. 17, 2016 09:16AM EST
Climate
By Chris Dolce
Dangerous and potentially deadly heat will spread toward the Southwest this weekend while continuing to impact parts of the Plains and South.
Some cities have already received record-breaking temperatures this week:
Columbia, Missouri, broke its old record high of 96 degrees (set in 1952) by reaching 99 degrees on Wednesday.
Des Moines, Iowa, tied its old record high of 96 degrees (set in 1913) on Wednesday.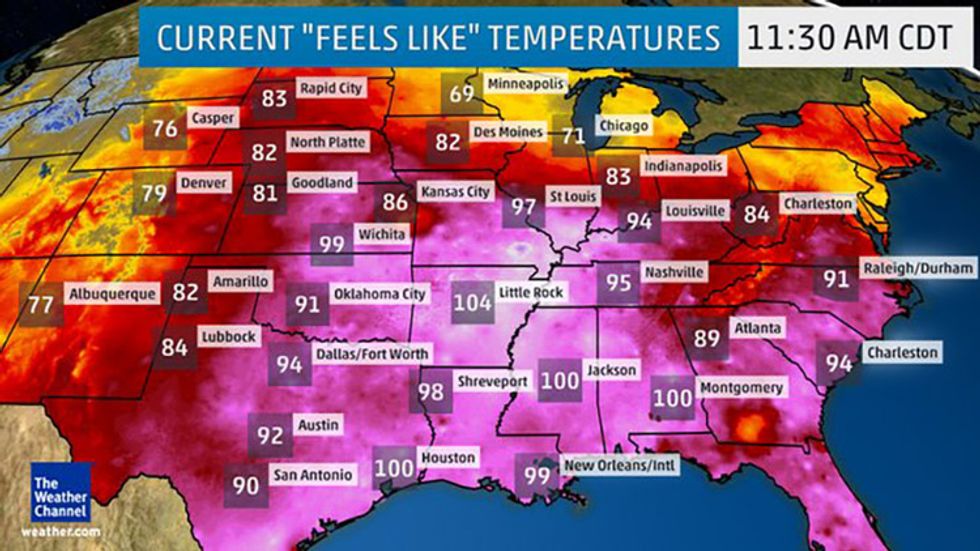 The most extreme heat in the coming days will be in the Desert Southwest where highs could climb to near 120 degrees, including in Phoenix, where it hasn't been that hot in more than 20 years. The National Weather Service in Phoenix said that heat of this magnitude in their area is rare, dangerous and deadly. Additionally, some cities in the Southwest may get within a few degrees of their all-time record highs for any calendar day in history.
Heat advisories, excessive heat warnings and excessive heat watches have been issued by the National Weather Service for parts of the Mississippi Valley, Plains and the Southwest.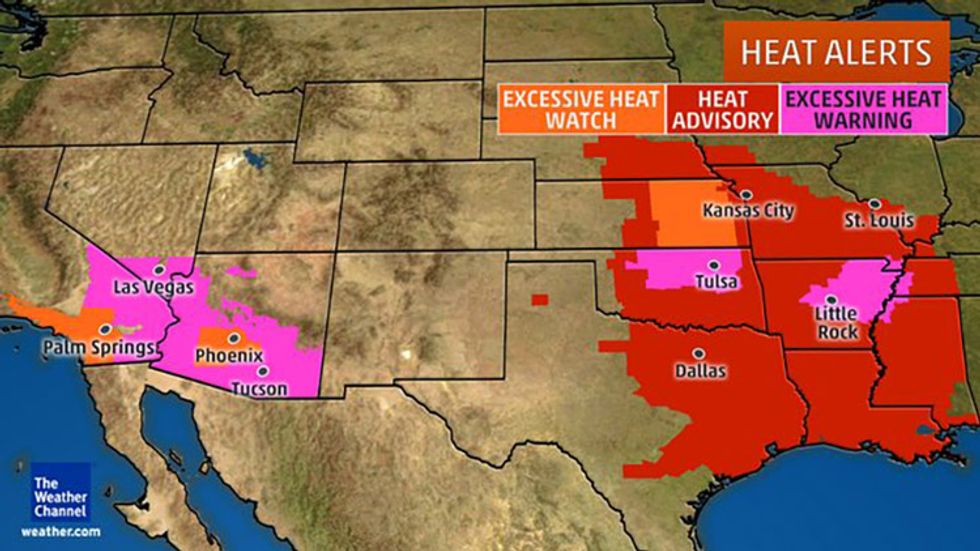 An expansive area of high pressure in the mid-levels of the atmosphere that is taking shape from the central states into Southwest is responsible for the torrid temperatures. When this pattern occurs, the air sinks and warms and the result is very few clouds and extremely high temperatures.
Below are the details on the heat.
Desert Southwest: Hottest in 20+ Years For Some?
High temperatures in the 110s and possibly approaching or exceeding the 120s, will be common in the Desert Southwest starting this weekend and continuing into early next week. Not only that, there won't be much relief from the heat at night with lows staying in the 80s in some areas.
Here are a few notables about the heat, which could reach levels not seen in 20+ years in some locations.
There is a chance Phoenix could get near 120 degrees on Sunday or next Monday. Phoenix has not hit 120 degrees since July 28, 1995, when it peaked at 121 degrees. The all-time record high in the city is 122 degrees on June 26, 1990.
Even if the 120-degree mark is not reached, it's likely Phoenix will set some daily record highs. The current standing daily record high temperature in the city Sunday, Monday and Tuesday is 115 degrees each day.
Low temperatures in Phoenix will only drop into the 80s Sunday, Monday and Tuesday morning.
It's possible the city could flirt with 115 degrees Sunday into Monday, which has only been reached or exceeded there four times dating back to 1894. The all-time record high in Tucson is 117 degrees.
Highs in the 110s possible early next week, potentially challenging some daily record highs.
Lows may only fall into the low to mid 80s early next week.
Highs in the low 100s are possible this weekend into next week. Daily record highs will be within reach.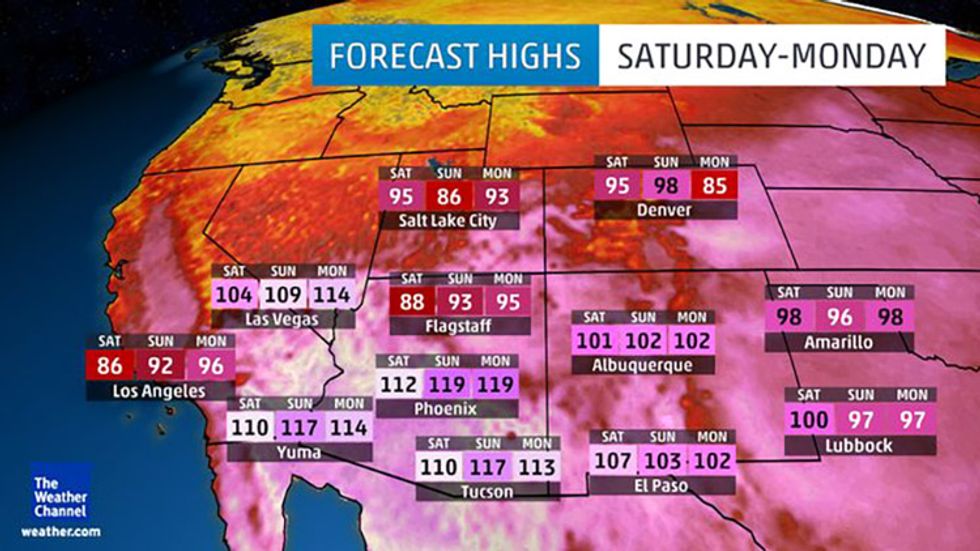 The early part of the summer months (June-August) is when the Southwest typically sees its hottest weather. This is before monsoonal moisture arrives, contributing to the development of showers and storms later in summer.
100s in Southern California
Parts of Southern California inland from the coast will also see very hot temperatures this weekend into early next week.
Highs downtown are likely to be in the middle or upper 90s on Sunday into Monday.
Triple-digit heat is likely slightly farther inland in Anaheim, Ontario, Riverside and Pasadena.
Inland valleys away from the coast, highs may push into the 90s or low 100s.
Interior Southern California Deserts:
High temperatures will push toward the 110s this weekend and may even reach or exceed 120 degrees, including in Palm Springs and Imperial.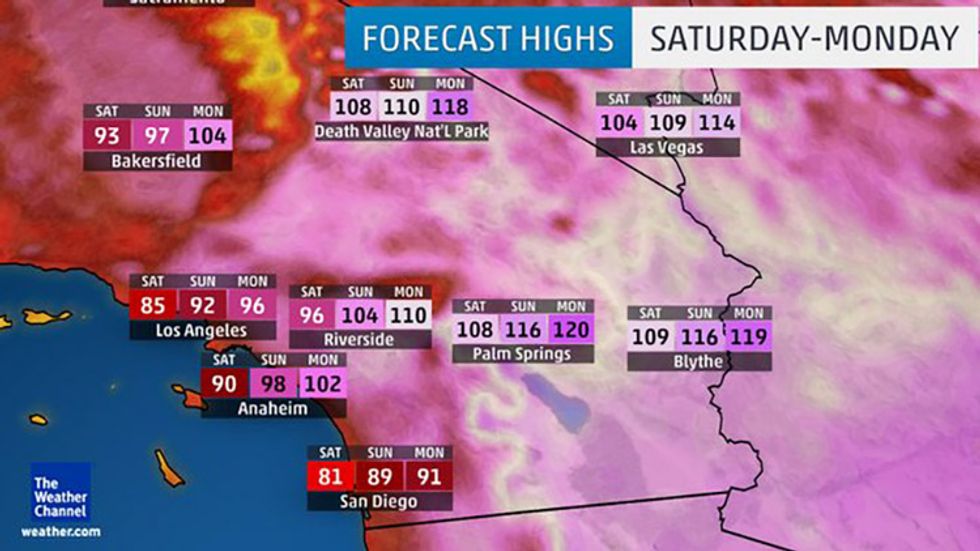 Plains, Midwest Heat
The expansive ridge of high pressure will also continue to bring widespread middle 90s to low 100s throughout parts of the Plains and Midwest at times into this weekend. Hot temperatures will also extend into the Southeast through late-week.
Heat index or the "feels like" temperature, will be in the 105-115 degree range for parts of the Plains and South.
Excessive heat warnings are in effect for northern Oklahoma and the Kansas City metropolitan area through Friday.
Heat advisories have been posted for portions of the central and southern Plains, along with portions of the lower and middle Mississippi Valley. This includes Little Rock, Arkansas and Dallas.
In some cases, daily record high temperatures will be within reach. Here are a few cities that may come within a few degrees of their record high for the day indicated.
Thursday: Colorado Springs (91 degrees); Paducah, Kentucky (98 degrees)
Friday: St. Louis (99 degrees); Springfield, Missouri (97 degrees)
Saturday: Alamosa, Colorado (90 degrees); Waco, Texas (99 degrees)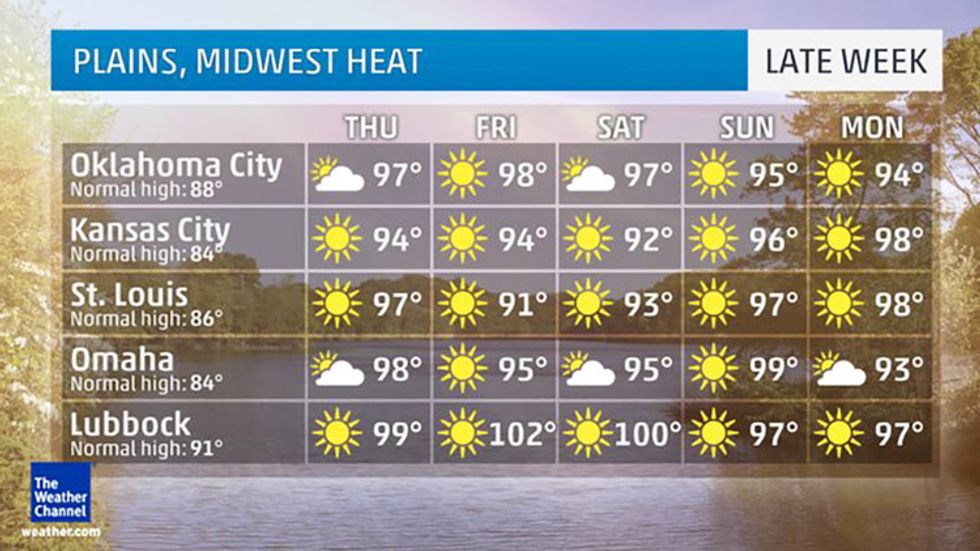 How to Prepare For Extreme Heat
This type of heat can be life-threatening for some, especially if you aren't adequately prepared. Remember: heat-related illnesses, such as heat exhaustion and heat stroke, are possible under these extreme conditions. If you are traveling with young children or pets, please do not leave them unattended in a hot vehicle.
The National Weather Service has issued some great heat safety tips.
Drink before you are thirsty.
Do not leave kids or pets in the car, even for a minute.
Avoid strenuous activity; postpone outdoor activities.
Seek air-conditioned buildings.
Help the elderly, kids and pets stay cool.
Keep window blinds closed.
YOU MIGHT ALSO LIKE
Dangerous Heat Wave to Grip the U.S.: 10 Ways to Survive Extreme Heat
Carbon Dioxide Levels Set to Pass 400 ppm and Remain Above Symbolic Threshold Permanently
May Shatters Yet Another Monthly Heat Record as CO2 Levels Soar
EcoWatch Daily Newsletter
The CDC has emphasized that washing hands with soap and water is one of the most effective ways to prevent the spread of COVID-19. Guido Mieth / Moment / Getty Images
The Centers for Disease Control has emphasized that washing hands with soap and water is one of the most effective measures we can take in preventing the spread of COVID-19. However, millions of Americans in some of the most vulnerable communities face the prospect of having their water shut off during the lockdowns, according to The Guardian.
A California newt (Taricha torosa) from Napa County, California, USA. Connor Long /
CC BY-SA 3.0
Aerial photos of the Sierra Nevada — the long mountain range stretching down the spine of California — showed rust-colored swathes following the state's record-breaking five-year drought that ended in 2016. The 100 million dead trees were one of the most visible examples of the ecological toll the drought had wrought.
Now, a few years later, we're starting to learn about how smaller, less noticeable species were affected.
Disinfectants and cleaners claiming to sanitize against the novel coronavirus have started to flood the market.
Natthawat / Moment / Getty Images
Disinfectants and cleaners claiming to sanitize against the novel coronavirus have started to flood the market, raising concerns for the U.S. Environmental Protection Agency (EPA), which threatened legal recourse against retailers selling unregistered products, according to The New York Times.
A customer packs groceries in reusable bags at a NYC supermarket on March 1, 2020. Eduardo Munoz Alvarez/Getty Images
The global coronavirus pandemic has thrown our daily routine into disarray. Billions are housebound, social contact is off-limits and an invisible virus makes up look at the outside world with suspicion. No surprise, then, that sustainability and the climate movement aren't exactly a priority for many these days.
Ingredients are displayed for the Old School Pinto Beans from the Decolonize Your Diet cookbook by Luz Calvo and Catriona Rueda Esquibel. Melissa Renwick / Toronto Star via Getty Images
By Molly Matthews Multedo
Livestock farming contributes to global warming, so eating less meat can be better for the climate.