Extreme Drought Hits South Florida
Aug. 25, 2015 09:09AM EST
Climate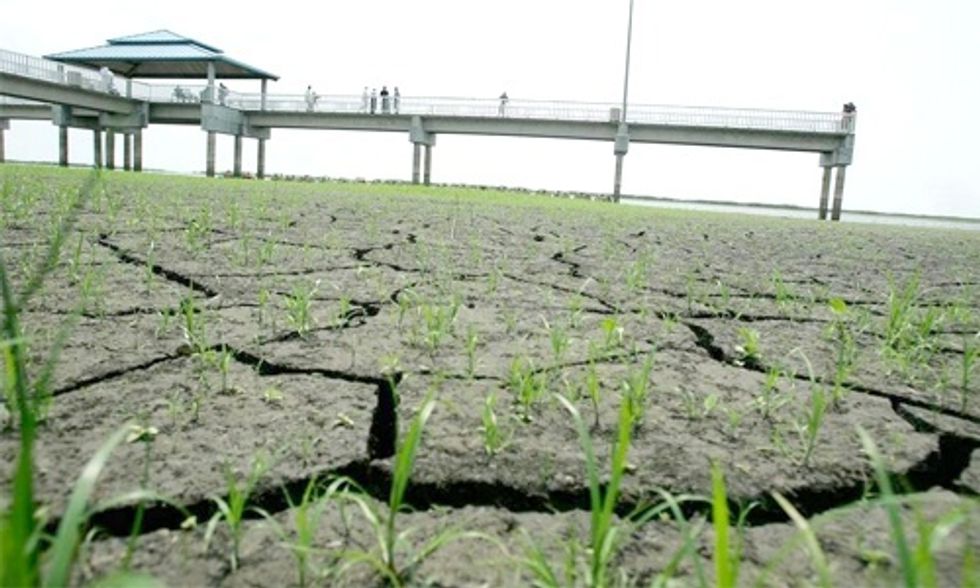 While the drought in California grabs headlines across the country, other places around the U.S. and the world are experiencing brutal droughts. It's well known that much of the Western U.S. is in some level of a drought—parts of Nevada, Oregon, Washington, Idaho and Montana are all experiencing severe to exceptional drought. But little attention has been paid to the drought gripping South Florida.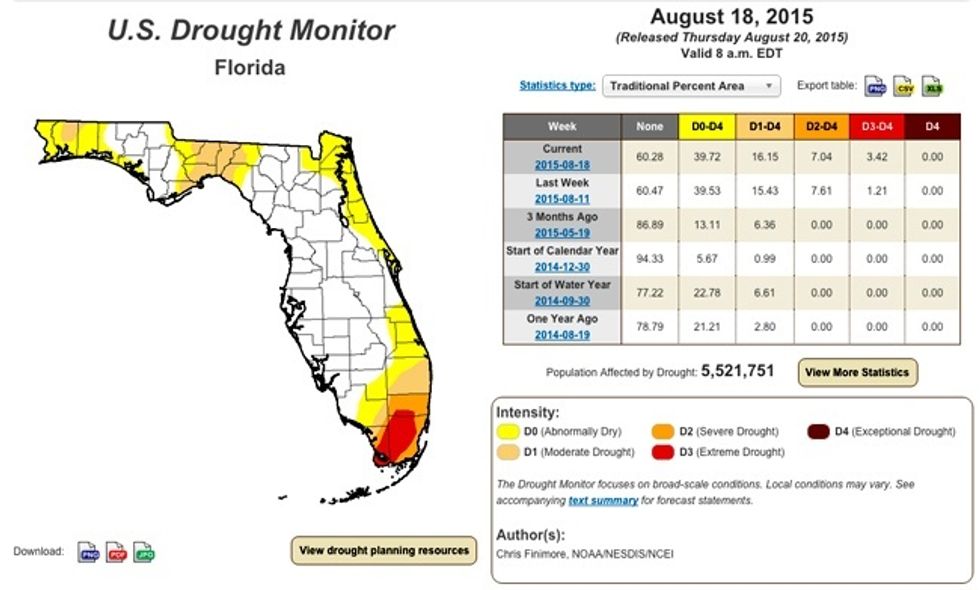 While it has not been languishing for four years like the state of California, South Florida is in the midst of a severe to extreme drought, according to the latest data from the U.S. Drought Monitor. And South Florida happens to be home to a whole lot of people—the drought there is affecting more than 5.5 million.
South Florida's tropical savanna climate has two distinct seasons: wet and dry. The dry season is considered to be roughly from November to April and makes up for about 25 percent of yearly rainfall. That means three-quarters of South Florida's rainfall arrives between May and October, and to date, many areas are recording 10 to 16 inches below normal with North Perry Airport recording a whopping 20 inches below normal as of Aug. 20. Rainfall that low has resulted in the driest wet season on record for North Perry along with Fort Lauderdale and Tamiami. And almost every other area in South Florida is having one of its driest wet seasons on record.
Parts Of South Florida Under Extreme Drought Conditions http://t.co/1oTWTuzerx pic.twitter.com/hKSLi0v9JC

— Miami Florida (@miamiFlRR) July 17, 2015
In addition to a lack of rainfall, "fresh water usage has been a big factor" in South Florida's drought, reports The Washington Post. "Agricultural irrigation, commercial and residential needs place demands on the region's fresh water supply, both in lakes and in the subterranean aquifers," said The Post.
Far too much of the freshwater that is available is polluted from farm runoff. The South Florida Water Management District board applauded farmers earlier this month for reducing phosphorus pollution again this year, but environmentalists were quick to point out that due to water quality restrictions the water could not go to the southern Everglades, where the water is desperately needed.
"That's a huge improvement from where they were, but that's not in compliance," Earthjustice attorney David Guest, who successfully sued the state to clean up water supplies, told The Miami Herald. "That's a little like saying we were driving at 140 mph and now we're driving at 100. That's great, but more is possible and more is necessary. They aren't taking responsibility."
Additionally, the state of Lake Okeechobee, a major source of freshwater for the region, has many concerned. The lake is the largest in the southeastern U.S. but it's average depth is only 9 feet, and its surface level is still 1.5 feet below normal for this time of the year. Biscayne Bay and Florida Bay are getting saltier because of saltwater intrusion, which could bring more salt into the Biscayne Aquifer—where most of South Florida gets its drinking water.
To add to South Florida's woes, they've experienced a number of brush fires recently due to the exceptionally dry conditions—more than 2,000 fires have burned 72,000 acres. The southern areas of South Florida continue to be at moderate to high risk for wildfires.
It remains unclear whether there is relief in sight. There's an equal chance of above or below normal rainfall across South Florida from September through November, according to the National Oceanic and Atmospheric Administration. Generally, Memorial Day weekend through July 4 are the wettest six weeks of the year for South Florida. Early July through mid-August is hotter and often drier. Late August through October is characterized by highly variable rainfall mainly due to tropical activity and cold fronts.
A couple tropical storms could make up a huge portion of the deficit, but the storms are no guarantee, and they could inundate an area with rainfall over a day or two, resulting in intense flooding and runoff—just ask Texas and Oklahoma about that. This does not allow the underground aquifers to recharge. Unfortunately, as seen by this tweet, not all Floridians are even aware that there is a drought going on right now.
the best part of living in Florida is that I can take an hour shower because unlike California, Florida isn't in a drought — miguel (@horchata4life) August 22, 2015
YOU MIGHT ALSO LIKE
Boyan Slat's 'Mega Expedition' Shows 'Our Oceans Are Riddled With Plastic'
7 Lessons Learned About the Politics of Climate Change
30 Whales Have Died Off the Coast of Alaska and No One Knows Why
EcoWatch Daily Newsletter
Recent Stories from EcoWatch