This website uses cookies to ensure you get the best experience while browsing it. By clicking 'Got It' you're accepting these terms.
Extreme Downpours up 30 Percent Since 1948 According to New Report
Jul. 31, 2012 11:26AM EST
Climate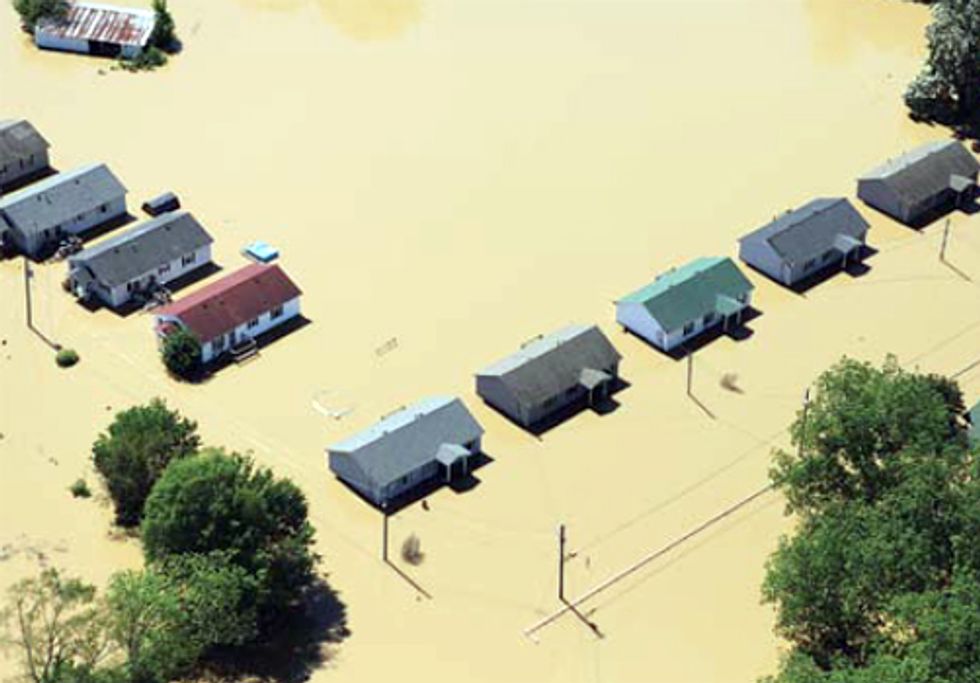 Nearly one year after Hurricane Irene and Tropical Storm Lee led to record flooding that devastated communities up and down the East Coast, a new Environment America Research & Policy Center report confirms that extreme rainstorms and snowstorms are happening 30 percent more frequently on average nationwide since 1948.
"As the old saying goes, when it rains, it pours—especially in recent years as bigger storms have hit us more often," said Nathan Willcox, federal global warming program director with Environment America. "We need to heed scientists' warnings that this dangerous trend is linked to global warming, and do everything we can to cut carbon pollution today."
Based on an analysis of state data from the National Climatic Data Center, the new report found that heavy downpours that used to happen once every 12 months on average now happen every 9 months on average. Moreover, the biggest storms are getting bigger. The largest annual storms nationwide now produce 10 percent more precipitation, on average than they did 65 years ago.
Scientists have concluded that the rise in the frequency and severity of heavy rainstorms and snowstorms is linked to global warming. Warming increases evaporation and enables the atmosphere to hold more water, providing more fuel for extreme rainstorms and heavy snowstorms.
In addition to the well-known stories of communities in Vermont being cut off from the outside world by flooding from Hurricane Irene last year, Willcox pointed to the 2010 flooding that hit Nashville, Tenn. as another example of extreme precipitation wreaking havoc. The flooding in Nashville, which was deemed a "1,000 year" flood, inflicted nearly $2 billion in damage and killed 30 people.
The new Environment America Research & Policy Center report, When It Rains, It Pours: Global Warming and the Increase in Extreme Precipitation from 1948 to 2011, examines trends in the frequency of and the total amount of precipitation produced by extreme rain and snow storms across the contiguous U.S. from 1948 to 2011. Using data from 3,700 weather stations and a methodology originally developed by scientists at the National Climatic Data Center and the Illinois State Water Survey, the report identifies storms with the greatest 24-hour precipitation totals at each weather station, and analyzes when those storms occurred. The report also examines trends in the amount of precipitation produced by the largest annual storm at each weather station.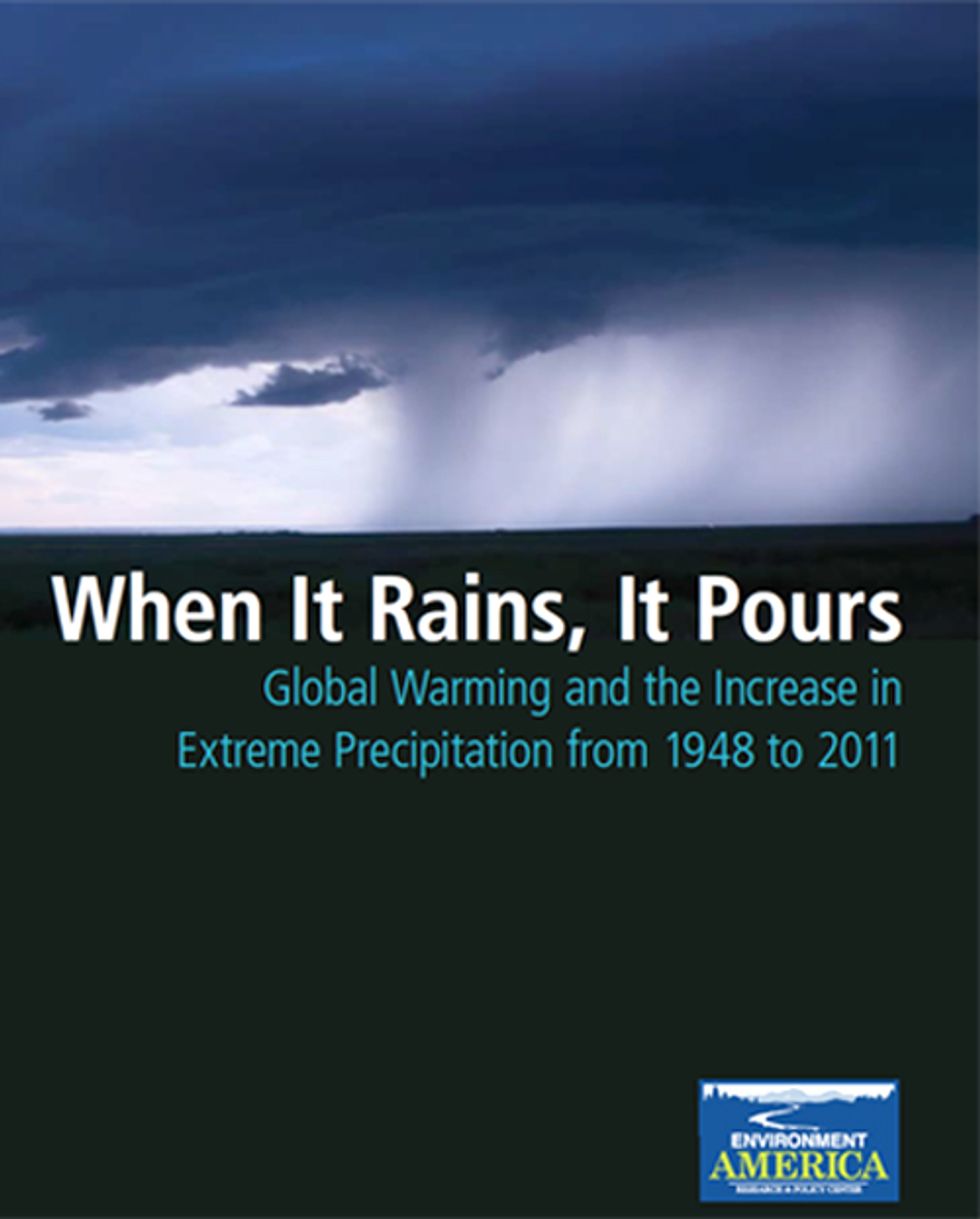 Nationally, the report found that storms with extreme precipitation increased in frequency by 30 percent across the contiguous U.S. from 1948 to 2011. Moreover, the largest annual storms produced 10 percent more precipitation, on average. At the state level, 43 states show a significant trend toward more frequent storms with extreme precipitation, while only one state (Oregon) shows a significant decline.
Key findings include:
Extreme rainstorms and snowstorms are becoming more frequent. There was a 30 percent increase in the frequency of extreme rainstorms and snowstorms from 1948 to 2011. In other words, heavy downpours or snowstorms that happened once every 12 months on average in 1948 now happen every 9 months, on average. 
The New England and Mid-Atlantic regions of the country experienced the largest increases in the frequency of extreme precipitation, seeing increases of 85 percent and 55 percent respectively. That means that heavy downpours or snowstorms that happened once every 12 months on average in 1948 in New England now happen every six and a half months, on average. 
The biggest rainstorms and snowstorms are getting bigger. The amount of precipitation released by the largest annual storms increased by 10 percent from 1948 to 2011 on average nationally.
Environment America was joined by U.S. Sens. Dick Durbin (D-IL) and Sheldon Whitehouse (D-RI) in releasing today's report.
"Illinois has seen it all in the last year—extreme flooding that forced residents of Cairo to evacuate, a severe blizzard in Chicago that shut down Lake Shore Drive and one of the worst droughts on record affecting the entire state," said Sen. Durbin.  "We are ignoring the obvious—our extreme weather events are getting worse, catastrophic in fact, and the federal government is unprepared. We need to begin to address the reality that there will be more extreme weather events and ensure that we are taking the necessary steps to protect our communities."
"Any Rhode Islander who lived through the historic storm and floods of 2010 knows about extreme weather," said Sen. Whitehouse. "The clear scientific evidence of increased extreme weather is also a warning—to prepare our communities, our natural resources and our economy for the potentially devastating effects of climate change."
Willcox was careful to note that an increase in the frequency and severity of extreme rainstorms does not mean more water will be available for human use. Hotter temperatures fuel extreme rainstorms by increasing rates of evaporation. At the same time, however, that evaporation increases soil dryness. Moreover, scientists expect that, as global warming intensifies, longer periods with relatively little precipitation will tend to mark the periods between heavy rainstorms. As a result, droughts are likely to become more frequent and severe in some regions of the U.S. Currently, more than half of the lower U.S. is suffering through prolonged drought, aggravated by the fact that the last six months have been the hottest January-June period on record.
According to the most recent science, the U.S. must reduce its total global warming emissions by at least 35 percent below 2005 levels by 2020 and by at least 85 percent by 2050 in order to prevent the most devastating consequences of global warming. Environment America highlighted two proposals from the Obama administration—carbon pollution and fuel efficiency standards for cars and light trucks through model year 2025, and the first ever carbon pollution standards for new power plants—as critical steps toward meeting these pollution reduction targets.
"How serious this problem gets is largely within our control—but only if we act boldly to reduce the pollution that fuels global warming," said Willcox. "We applaud the Obama administration for their proposals to cut carbon pollution from vehicles and new power plants, and urge them to move forward with finalizing these critical initiatives this year."
Visit EcoWatch's CLIMATE CHANGE page for more related news on this topic.
EcoWatch Daily Newsletter
The Ernest N. Morial Convention Center in New Orleans, Louisiana has been converted to a 1,000-bed field hospital for coronavirus patients to alleviate stress on local hospitals. Chris Graythen / Getty Images
An area in Louisiana whose predominantly black and brown residents are hard-hit by health problems from industry overdevelopment is experiencing one of the highest death rates from coronavirus of any county in the United States.
A woman lies in bed with the flu. marka/Universal Images Group via Getty Images
A central player in the fight against the novel coronavirus is our immune system. It protects us against the invader and can even be helpful for its therapy. But sometimes it can turn against us.
Several flower species, including the orchid, can recover quickly from severe injury, scientists have found. cunfek / iStock / Getty Images Plus
Calling someone a delicate flower may not sting like it used to, according to new research. Scientists have found that many delicate flowers are actually remarkably hearty and able to bounce back from severe injury.
A Boeing 727 flies over approach lights with a trail of black-smoke from the engines on April 9, 2018. aviation-images.com / Universal Images Group via Getty Images
With global air travel at a near standstill, the airline industry is looking to rewrite the rules it agreed to tackle global emissions. The Guardian reports that the airline is billing it as a matter of survival, while environmental activists are accusing the industry of trying to dodge their obligations.
A National Guard member works on election day at a polling location on April 7, 2020 in Madison, Wisconsin. Andy Manis / Getty Images.
ByJulia Baumel
The outbreak of COVID-19 across the U.S. has touched every facet of our society, and our democracy has been no exception.