Exposed: Lung Cancer Risks from Fracked Natural Gas in NYC Kitchens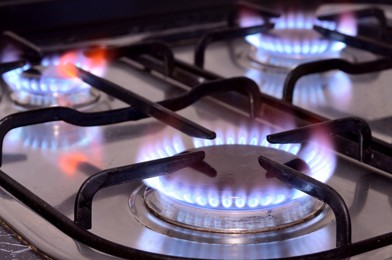 Photo courtesy of Shutterstock
At a public forum last night, leading voices in politics, public health, the environment and workers' rights analyzed the threat to New York City residents from increased radon levels that would be found in natural gas from new regional sources being promoted by Mayor Bloomberg. Radon, a dangerous substance found in natural gas that most New Yorkers cook with, is the leading cause of lung cancer in non-smokers. At the forum, Assemblymember Linda Rosenthal presented legislation sponsored by she and State Senator Diane Savino that would protect the public from the risks of radon in natural gas.
The Bloomberg Administration and Con Edison are promoting increased use of natural gas sourced from the Marcellus shale field of Pennsylvania. Gas from this field is know to possess much higher concentrations of radon than that from other regions, such as Texas and the Gulf Coast. New supplies of natural gas from Pennsylvania are becoming available due to a drilling boom caused by the controversial extraction technique known as fracking.
"With the proliferation of pipelines carrying natural gas to homes across the state and in New York City, it is critical that the state set standards for maximum levels to guard against the public's completely preventable exposure to a known carcinogen," said Rosenthal. "Clearly, there are far too many unknowns in this equation for anyone to be comfortable with the status quo."
Rosenthal's legislation would require the NYS Dept. of Health to continuously monitor the levels of radon in natural gas distribution to homes and report those levels on a publicly-accessible website.
"City and state leaders have failed to think through the consequences of promoting radon-laced natural gas, and they failed to heed clear warning signs that gas from Pennsylvania represents a major threat to the public health of New Yorkers," said Albert Appleton, former commission of the NYC Dept. of Environmental Protection and senior fellow at the Cooper Union Institute of Sustainable Design. "Now Governor Cuomo and Mayor Bloomberg need to do what they should have done months ago—conduct adequate studies to assess all the risks to public health before proceeding further down the shale gas path."
"Exposure to radon has been linked to the development of lung cancer later in life; it is therefore a serious public health threat," said Sheila Bushkin-Bedient, MD, MPH, a member of Concerned Health Professionals of NY. "Our elected leaders must consider the severe health impact brought on by the planned expansion of natural gas distribution for ovens and stoves throughout New York City."
"As a chef and business owner who is responsible for my employees' health under the law, it is my obligation to be educated and take a stand about the dangers of radon in gas. This could be the beginning of a workplace health disaster in the restaurant industry," said Heather Carlucci of Chefs for the Marcellus.
Visit EcoWatch's FRACKING page for more related news on this topic.
——–
Sign the petition today, telling President Obama to enact an immediate fracking moratorium:

Glyphosate, the main ingredient in Monsanto's widely used herbicide Roundup, will be added July 7 to California's list of chemicals known to the state to cause cancer, according to a Reuters report Tuesday. This news comes after the company's unsuccessful attempt to block the listing in trial court and requests for stay were denied by a state appellate court and California's Supreme Court.
California's Office of Environmental Health Hazard Assessment (OEHHA) announced the designation on Monday under the Safe Drinking Water and Toxic Enforcement Act of 1986, or Proposition 65.
Keep reading...
Show less
www.facebook.com
Keep reading...
Show less
Researchers from the Marine Animal Response Society examine one of the dead right whales. Marine Animal Response Society
Canadian government officials and marine biologists are investigating the mysterious deaths of six North American right whales. The endangered animals all turned up dead between June 6 and June 23 in the Gulf of St. Lawrence, off Canada's southeastern coast.
North Atlantic right whales are the rarest of all large whale species and among the rarest of all marine mammal species, with only about 450 right whales in the North Atlantic.
Keep reading...
Show less
Scott Pruitt testifies during his Senate confirmation hearing for EPA administrator, January 2017.
The U.S. Environmental Protection Agency's (EPA) chief of staff pressured the leader of its Board of Scientific Counselors to change her congressional testimony to downplay the impact of the agency's mass dismissal of scientists from the board, the New York Times reports.
Keep reading...
Show less
By Jason Mark
Sequoiadendron giganteum. That's the scientific name for the giant sequoia: the mammoth trees found in California's Sierra Nevada that are the largest organisms on Earth, and among the longest-lived. Biologists estimate that about half of all sequoias live in Giant Sequoia National Monument, a 328,000-acre preserve in the Southern Sierra Nevada established by President Clinton in 2000.
Now that national monument is in jeopardy.
Keep reading...
Show less
By Andy Rowell
Donald Trump this week is launching an "energy week," pushing the argument that the U.S. will become a net exporter of oil and gas.
The president and his cronies are talking about a new era of "U.S. energy dominance," which could stretch for decades to come. However, no one believes the president anymore.
Keep reading...
Show less
UN
By Colleen Curry
The United Nations has designated 23 new sites around the world to its World Network of Biosphere reserves—stunning natural landscapes that balance environmental and human concerns and strive for sustainability.
The forests, beaches and waterways were added to the list this year at the International Coordinating Council of the Man and the Biosphere Programme meeting in Paris earlier this month.
Keep reading...
Show less
Jun. 26, 2017 01:48PM EST
www.elysee.fr
By Andy Rowell
There is a growing feeling within European capitals that a quiet, but deeply positive, revolution is happening under Emmanuel Macron in France.
Macron's opinion poll rating is high, especially boosted in how the young French president has reacted to Donald Trump on the international stage.
Keep reading...
Show less
Jun. 26, 2017 12:32PM EST
www.facebook.com
Keep reading...
Show less